New Scottish Census
Do you have Scottish ancestors?
Perhaps you do and you just didn't know! Search our brand new Scottish census records today and discover if you have Scottish roots.
Genealogy Community
At some point in tracing your family history, you might well get a bit stuck with an elusive ancestor or four generations of 'John Smith'. Whereas in the past you'd have floundered alone or needed to enrol on an expensive night course, the internet can come to your rescue here too.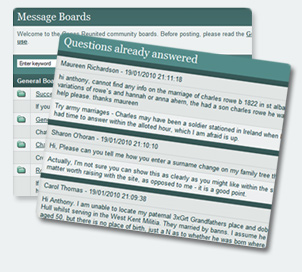 Many of the most successful sites on the internet have grown from people working together for common benefit, like Ebay, or helping each other with information such as Wikipedia. While online resources can't always be relied on, you can type most topics into a search engine and stumble across an amateur expert blog or recommendation site covering topics from buying televisions, choosing hotels to finding a plumber.
Family history is no different and you will be amazed by the lengths perfect strangers are willing to go to help you uncover your past. Contrasting with the more 'wild west' elements of the internet, it's reassuring to find so many groups of people who will help and advise others at no cost to themselves. Many of the individuals who are searching more difficult areas of their family history, such as adoptions, siblings separated in care homes and abandoned families have found message boards on sites like Genes Reunited a useful place to confer with others who have experienced the same thing.
Among the millions of amateur family historians tracing their family tree online, many have built up a huge knowledge of certain records, local areas or just common-sense tips that they will share with beginners to keep them on the right track. There are countless examples of members of family history sites helping, so don't be afraid to ask for advice if you get stuck or are unsure where to start.