New Scottish Census
Do you have Scottish ancestors?
Perhaps you do and you just didn't know! Search our brand new Scottish census records today and discover if you have Scottish roots.
Other Helpful Online Resources
British archives, from Britain's National Archives at Kew, to the many county record offices and local repositories, contain many different types of record suitable for family history research. You can locate archives relevant to your research and even examine many of their catalogues online at www.a2a.org.uk, for which the Scottish equivalent is www.scan.org.uk. Ireland's network of County Heritage Centres is accessible through www.irish-roots.net. To locate archives the world over, the best overall site is www.cyndislist.com. The National Archives holds much material that is relevant to families all over the British Isles. The records of the armed services up to the 1920s are there, for example. The National Archives' website www.nationalarchives.gov.uk includes its formidable catalogue, information leaflets on many of its holdings, and http://www.nationalarchives.gov.uk/documentsonline/, through which an increasing number of its records can be searched and viewed online.
Parish Registers
A mainstay of family trees before General Registration and the censuses started (ie, 1837 and 1841 respectively) are parish registers. The earliest of these date from 1538, though in practice few survive before the 17th century, whilst those for Scotland tend not to predate the 18th century, and few in Ireland go back before the early 19th century. Using baptisms, marriages and burials, it is often possible to trace family lines back as far as the registers will go. There is a major online index to many parish registers at www.familysearch.org. Though seductively large, it is by no means complete, or accurate, nor does this provide full details of the entries it has indexed. www.freereg.com is a small but growing index to registers that in many cases will provide full transcripts. Parish registers have not yet attracted much attention from the commercial genealogy websites, so images of the originals are not as readily available as they are for censuses. You will need to use the archives and examine the originals, or pay a researcher to do so for you. An exception here is Scotland, where many registers - the 'Old Parochial Registers' - are indexed and viewable online, at www.scotlandspeople.gov.uk. A formidable index to many marriages (1538-1840) is Boyd's Marriage Index, now online at www.britishorigins.com, which also has Boyd's Index to London Burials (1538-1872).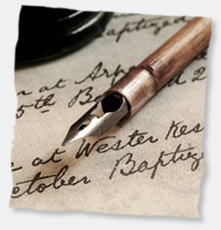 Many people were not Church of England or Church of Scotland, but belonged to other denominations. Most Roman Catholic registers are still with the churches, but many of Ireland's have been indexed in the County Heritage Centres. Many Protestant non-conformist registers for England and Wales are at The National Archives and are being indexed and made available on www.thegenealogist.co.uk.
Wills are tremendously useful, not only by bringing a bit of colour to family trees through their interesting bequests, but also because they tie family trees together. Will writers usually name their spouse and children, but can sometimes refer to parents, grandchildren, siblings, nephews and nieces or cousins. Through wills you can often discover a wealth of extra information about families, such as details of extraordinary belongings bequeathed, peculiar wishes and insight into how different family members felt about each other. This type of information can often bring your family tree to life in more ways than most other documents used by genealogists.
English and Welsh wills from 1858 onwards are available at the Principal Registry of the Family Division, First Avenue House, London (www.courtservice.gov.uk), and are not online. Before then, Prerogative Court of Canterbury wills (1387-1857) are available at http://www.nationalarchives.gov.uk/documentsonline/: the court's records contain some wills of the better-off sort from all over the British Isles, along with those of many British people who died abroad. Most pre-1858 wills were proved more locally. Some of the resulting will indexes are at www.britishorigins.com. Most others, and the documents themselves, are in county record offices. Many testaments (Scottish equivalent of wills) 1513-1901 are online at www.scotlandspeople.gov.uk. Ireland's surviving wills are rather disorganised, but indexes to some will abstracts are at www.irishorigins.com.