New Scottish Census
Do you have Scottish ancestors?
Perhaps you do and you just didn't know! Search our brand new Scottish census records today and discover if you have Scottish roots.
Top Ten Tips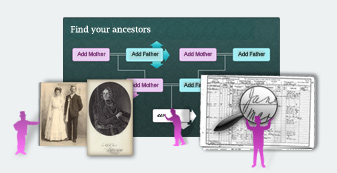 One: Never accept any information on face value. Whether you are told something by a relative, a contact made through www.genesreunited.co.uk, or read it on census form, a General Registration certificate or any other document, however official it looks, the information could still be slightly inaccurate or even, occasionally, a downright lie. Always try to verify what you have and to corroborate facts from other sources.
TWO: Don't set your search parameters too narrowly. If a birth was supposed to have taken place in 1855, and you find a likely entry, look in 1854 and 1856 anyway, to make sure there are no better possibilities. When looking for a marriage, search back from the year in which the couple's eldest known child was born (many brides waddled up the aisle already pregnant) and don't give up after a couple of years - it wasn't unusual for 19th century couples to have children over 20 years or more.
THREE: In censuses, places of birth might not be accurate. Instead of a small village, people might state the name of the nearest big town. Some census returns will give more detailed information than others - one year you might find the place of birth recorded as "Ireland" but ten years later, a county or even exact place of birth might appear.
FOUR: Men can have their mt-DNA and Y-DNA tested, but women do not have male-line Y chromosomes. Women can find out their father's male-line Y chromosome profile, however, by having a male member of the family tested - father, brothers, brother's sons, father's brothers and their sons will all have inherited the same Y chromosome.
FIVE: Whist we have focused here on material that is online, remember that the internet revolution is still quite young. Most genealogical records are not online, and need to be sought in archives. Equally, whilst you can rely on images of original documents seen on the internet, never place your trust in transcribed or indexed entries until you have followed them up and examined the records in the archives.
SIX: It is really worth visiting archives in person. If you can not, though, many archives have in-house research services, or you can pay a genealogist or record agent to do the searches for you. Professional researchers can be found at sites including www.expertgenealogy.com and www.genealogypro.com.
SEVEN: For tips, news and articles, check out the genealogy magazines in good newsagents. The main ones are Family Tree Magazine, Practical Family History, Family History Monthly, Your Family Tree, Ancestors and the brand new Who Do You Think You Are? Magazine.
EIGHT: Try some lucky dip searches in two "master" search engines www.nationalarchives.gov.uk/search enables a single search covering The National Archives' catalogue, Documentsonline, A2A, "Moving Here", various family records websites, the National Register of Archives and the Archon archives directory. A similar site www.surnamenavigator.org covers a variety of American-orientated sites.
NINE: To find out about ancestral places, which parishes they belonged to, and what they were like, look them up on www.genuki.org.uk and www.visionofbritain.org. For Ireland, many useful maps and associated data are accessible at www.ireland.com/ancestor.
TEN: When you've finished, switch off the computer and go and visit the places where your ancestors.lived. It's llike going on holiday, only with a purpose. You might be surprised how emotionally attached you find yourself becoming to a place you've never visited before