Find Ancestors
Welcome to the Genes Reunited community boards!
The Genes Reunited community is made up of millions of people with similar interests. Discover your family history and make life long friends along the way.
You will find a close knit but welcoming group of keen genealogists all prepared to offer advice and help to new members.
And it's not all serious business. The boards are often a place to relax and be entertained by all kinds of subjects.
The Genes community will go out of their way to help you, so don't be shy about asking for help.
Quick Search
Single word search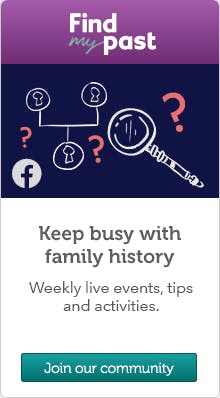 Icons
New posts
No new posts
Thread closed
Stickied, new posts
Stickied, no new posts
1911 Charlesworth born Gateshead, newcastle
Profile
Posted by
Options
Post Date

MarieCeleste
Report
20 May 2012 13:11

Henry's death:

England & Wales, Death Index: 1916-2006
Name: Henry B S Carr
Birth Date: abt 1870
Date of Registration: Apr-May-Jun 1953
Age at Death: 83
Registration district: Bradford
Inferred County: Yorkshire West Riding
Volume: 2b
Page: 72

MarieCeleste
Report
20 May 2012 13:16

There are loads of articles about actress Amy Singleton in the British Newspaper Archives - too many to transcribe. Some results on Google too, there is a picture of her in this link:

http://en.wikipedia.org/wiki/Molly_Pearson

MarieCeleste
Report
20 May 2012 13:21

Marriage of Henry's younger daughter:

West Yorkshire, England, Marriages and Banns, 1813-1935
Name: Amy Singleton Carr, spinster, aged 28
Birth Year: abt 1906
Marriage or Bann Date: 30 May 1934
Parish: Thornbury, St Margaret
Father's Name: Henry Burgess Singleton Carr < Wool salesman
Spouse's Name: John Jackson, bachelor aged 23. A manufacturer
Spouse's Father's Name: William Jackson < Manufacturer

Amy lived 1 Silverhills Ave, Bradford. John lived Manorfield, Gomersal, Leeds.

It looks like the two fathers were the witnesses.

MarieCeleste
Report
20 May 2012 13:59

Back to Cecil:

On 26/12/1896 Cecil Barton Carr married Annie Harper in Glasgow. He was 23 and a Railway Servant. His parents are named as Henry George (deceased) a theatre manager and Annie Carr, nee Hatch.
(Have sent record to Sue).


So, this must have been his birth:

Surname First name(s) District Vol Page
Births Jun 1873
Carr Cecil Barton Gateshead 10a 918
(Where did Barton come from?)


He died in Canada:

British Columbia Death Registrations, 1872-1986
death date: 26 Jul 1949
death place: Vernon, British Columbia, Canada
name: Cecil Barton Carr
gender: Male
age: 76y 2m 11d
birth date: 15 May 1873
birthplace: Bradford, England
marital status: Married
spouse: Elizabeth Devine
father: Henry Burgis Carr
mother: Amy Singleton Hatch
indian agency:
indian band/tribe:
film number: 2032571
digital folder number: 4438071
image number: 2417
british columbia archives film number: B13201
registration number: 49 09 007387

MarieCeleste
Report
20 May 2012 14:13

This may be Cecil arriving in Canada with a new wife and family:

Canadian Passenger Lists, 1865-1935
Name: Cecil Carr
Gender: Male
Age: 51
Estimated Birth Year: abt 1876
Birth Country: England
Date of Arrival: 6 Jun 1927
Vessel: Metagama
Port of Arrival: Quebec
Port of Departure: Belfast, Northern Ireland
Roll: T-14733

He's a motor driver but intends to become a farmer. The onward destination is Clan Donald Colony, Edmonton. His birthplace is stated as Bradford, which may be because he lived there when a child.

He's travelling with Elizabeth age 35, born Edenderry. Children Anny age 14, Kathleen age 12, Mary age 8, Cecil age 3. Children all born Magherafelt (isn't that where his mother died?)

Next of kin in the country they left is given as wife's brother John Devanney, Drumsurn, Co Derry.

MarieCeleste
Report
20 May 2012 14:24

At some point Cecil must have came back to England as this looks like the birth of an older son:

England, Births and Christenings, 1538-1975

name: Cecil Barton Carr
gender: Male
baptism/christening date: 06 Feb 1898
baptism/christening place: Horton (near Bradford), York, England
birth date:
birthplace:
death date:
name note:
race:
father's name: Cecil Barton Carr
father's birthplace:
father's age:
mother's name: Anne
mother's birthplace:
mother's age:
indexing project (batch) number: I00823-5
system origin: England-EASy
source film number: 6358466
reference number: yr 1875-1937 p 355

Source Citation
"England, Births and Christenings, 1538-1975," index, FamilySearch (https://familysearch.org/pal:/MM9.1.1/J7Y6-VH4 : accessed 20 May 2012), Cecil Barton Carr, 1898.

MarieCeleste
Report
20 May 2012 14:27

Cecil senior's second marriage:

Ireland, Civil Registration Marriages Index, 1845-1958
Name: Cecil B Carr
Date of Registration: Oct-Nov-Dec 1912
Registration district: Magherafelt
Volume: 1
Page: 973
FHL Film Number: 101262

Married Elizabeth Devanney

Sue
Report
20 May 2012 21:11

Thank you , thank you for all this information.

From notes discussed several years ago its possible Annie singleton Carr/charlesworth became Amy singleton for the purposes of her career as an actress.
I have no further detials of her being with Edmondson Charlesworth in his later years or when he died so she must have gone back to Ireland for some time where she died herself.

Reggie, you are correct ..John Carr was her first husband's father who was deceased 12 years earlier, a coal merchant in Gosforth, Northumberland so no idea why she told porkies about that.



Sue
Report
20 May 2012 21:40

Marie - Yes Amy/Annie did die in Magarafelt where Cecil travelled abroad from. What we just cannot confirm definitely is whether Annie did change her name to Amy and whether she was in fact the actress listed. Interesting though that her father in law was a theatre manager. Maybe he set her off on her travels and she chose to leave a mundane life back in Bradford with Edmondson.

Cecil snr had 2 sons who he named Cecil Barton Carr, 22 years between each other, the older died in 1917 in France.

Now to find burials as they sometimes provide extremely interesting reading.

I can't thank you enough for your help.



Sue
Report
20 May 2012 22:33

Regarding Amy the actress, I found these notes....but I've no idea at all who the son she mentions is....it muddy's the waters a little as to whether she is my annie/Amy or not.

1912 Passenger lists - Port of Departure, Glasgow, Amy Singleton, date of arrival Sept 25 1911 - SS California dep 16 Sep 1911
Amy singelton, 50 , widow, actress read & write Y, British Scotch, last perm residence London, relative , son J. Singelton , 87 Camberwell New Rd, London going to NY, passage paid by self, in possession of $50 or more, not in US before, journey, theatrical engagement, 5ft 3


MarieCeleste
Report
21 May 2012 21:06

Just to give some background on Annie/Amy and her family's birthplaces:

1841:

HATCH, Robert M 35 1806 Ireland < Hatter
HATCH, Ann F 30 1811 Ireland
HATCH, Robert M 9 1832 Surrey
HATCH, Sarah F 7 1834 Surrey
HATCH, Samuel M 2 1839 Surrey

Piece: 1085 Book/Folio: 1/40 Page: 29 Registration District: 29
Civil Parish: St George
Municipal Borough: Southwark
Address: Adam's Place, St George, Kent Road, Southwark County: Surrey
_______________________________________________________________

1851:
HATCH, Annie Head Widow F 44 1807 Silk Hat Cover Sewer Ireland Armagh
HATCH, Robert Son Unmarried M 18 1833 Grocer (App) London Westminister
HATCH, Sarah Daughter Unmarried F 16 1835 Silk Hat Cover Sewer London Westminister
HATCH, Burgess Son Unmarried M 7 1844 Scholar Edinr Midlothian
HATCH, Ann Daughter Unmarried F 5 1846 Scholar Edinr Midlothian

Piece: 685 Folio: 29 Page: 17 Registration District: 17
Civil Parish: St Cuthbert's

Address: 53, Pleasance, Pleasance, St Cuthbert's County: Midlothian
_______________________________________________________________

1861:

HATCH, Annie Head Widow F 57 1804 Hat Trimmer B S Spain
HATCH, Annie Daughter Unmarried F 15 1846 Hat Trimmer Midlothian

Piece: 644 Folio: 5 Page: 15 Registration District: 15
Civil Parish: St Enoch

Address: Stockwell Place, St Enoch County: Lanarkshire
_______________________________________________________________

Note that when her mother is with her, Annie's true age is given. She must've knocked a few years off somewhere along the line. It's only on the 1871 that her birthplace is given as Ireland, and that might be that it was assumed to be the same as her mother who was with them.
By the 1881 she has started calling herself Amy, but birthplace is again Scotland.


MarieCeleste
Report
21 May 2012 21:34

Ooohh!

Scope and content Divorce Court File: 1970.

Appellant: Henry George Carr.
Respondent: Annie Singleton Carr.
Co-respondent: [...] Baccarach.
Type: Husband's petition for divorce [hd].
Covering dates 1871 <<
Ref: J 77/113/1970

Held by The National Archives, Kew
Legal status Public Record(s)
Language English

So, if Annie and Henry divorced in 1871 then who was the father of Cecil b 1874? Is that middle name of Barton a clue? .....

This might go some way to explaining the cover story when she married Edmondson - it was probably a scandal then to be a divorcee, and if he was from a respectable family .......

I wouldn't be able to resist ordering a copy of the divorce papers from National Archives (or going to view the file at Kew), it might tidy up so many loose ends.

MarieCeleste
Report
21 May 2012 22:13

Maybe in 1901?

SINGLETON, Amy Widow Widow F 45 1856 Actress Clare Ireland

Piece: 72 Folio: 33 Page: 57 Registration District: 57
Civil Parish: Chelsea

Address: 272, Kings Road, Chelsea County: London

MarieCeleste
Report
22 May 2012 13:08

Just to note - it wasn't Annie's father-in-law that was a theatre manager per son Cecil's marriage record, it was her husband Henry George (unless you have some other info?)

As per the 1911 voyage to US, her age is way out but she was an actress, after all! This is that address per the 1911:

HUGHES, Alfred Head Married M 44 1867 Butter Private Service Winchfield Hants View
HUGHES, Elizabeth Ann Wife Married 12 years F 43 1868 Rugley Warwick
HUGHES, Evelyn May Daughter F 10 1901 School London
HUGHES, Lena Alias Daughter F 7 1904 School London Camberwell
HUGHES, Geoffrey Son M 4 1907 London Camberwell
MANSFORD, Leonard Boarder Married M 33 1878 School Master Portchalmers New Zealand Resident
MANSFORD, Helene Boarder Married 8 years F 30 1881 Nil Formerly A School Mistress London Kennington
NASH, Victor Albert Boarder M 26 1885 Managing Clerk London Chelsea
POWELL, Jefrey George Boarder M 25 1886 Brewers Clerk St Pancras Middlesex
NICOLLS, Edward Boarder Married M 33 1878 Electrical Sketch Proprietor And Comedian Meath Tullyard W Trime Resident
NICOLLS, Ada Boarder Married 11 years F 34 1877 Nil Cardiff

RG number: RG14 Piece: 2054 Reference: RG14PN2054 RG78PN72 RD25 SD4 ED5 SN394

Registration District: Lambeth
Sub District: Brixton
Enumeration District: 5
Parish: Lambeth

Address: 87 Camberwell New Road S E
County: London

No one there that really fits the bill, but I guess the occupants may have been quite transient.

There's also a record of actress Amy Singleton going to Canada, age 48 in 1913.

MarieCeleste
Report
22 May 2012 13:16

To tidy up the loose ends I think you really need to order a copy of that Magherafelt death that Reggie provided the reference for, the information on there could be very useful.

I'd also be after a copy of Cecil Barton Carr's 1874 birth certificate to see who the father is supposed to be.

Sue
Report
22 May 2012 23:36

Wow, good at this are'nt you? what a find! could it be possible there's another divorce for Edmondson Charlesworth too ? possibly not as he still classes himself as married in 1901 when Amy is possibly a widow .

What is a co-respondent? just a witness?

The name Barton looks like it comes from Cecil's grandmother Susannah Barton married John Carr of Gosworth, Northumberland.

Yes I agree MC, I can't leave it there, requests will be on the way very soon. Thank you for all your time and help. :-)

Sue
Report
23 May 2012 15:56

Think my luck is out, the divorce papers request from archives are unavailable due to insufficient information, next..?.......

MarieCeleste
Report
23 May 2012 16:26

I think it might be worth giving the National Archives a call or email, giving the divorce reference and asking what the problem is. I've never contacted them myself but have heard that they're helpful.

The co-respondent is the person named as the other party, i.e. Henry was divorcing Annie because she'd had an affair with someone called Baccarach. Shame there wasn't a first name for him. I've done a bit of searching on that surname but haven't found a likely culprit yet.

If Barton was from the Carr side of the family then that's interesting as Cecil was born in 1874 and the divorce petition was 1871. Perhaps he started proceedings but didn't complete them? I'm not sure how these things work and don't know if the records in NA only relate to divorces that were finalised.

Good luck and do keep us posted if you find out any more (I'm hooked on this one!).

Sue
Report
23 May 2012 18:20

I certianly will update if I get any further. I have found a reference to Cecil's descendants (I think) on gnforum but from 2010 so its worth shot emailing them.

Sue
Report
23 May 2012 18:22

Sorry keyboard stuck, as I said I'll let you know if there is anything more, thank you.