Find Ancestors
Welcome to the Genes Reunited community boards!
The Genes Reunited community is made up of millions of people with similar interests. Discover your family history and make life long friends along the way.
You will find a close knit but welcoming group of keen genealogists all prepared to offer advice and help to new members.
And it's not all serious business. The boards are often a place to relax and be entertained by all kinds of subjects.
The Genes community will go out of their way to help you, so don't be shy about asking for help.
Quick Search
Single word search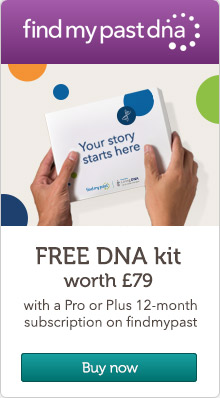 Icons
New posts
No new posts
Thread closed
Stickied, new posts
Stickied, no new posts
Kevin McLeish updated 18/3/2017
Profile
Posted by
Options
Post Date

Flip
Report
13 Aug 2015 16:08

Please go to last post updated 18/3/2017

I posted a thread earlier this week, which was reported within 5 minutes and has been removed today - this is the explanation I got from GR:

Good afternoon

You recently added a message board response using your Genes Reunited membership.

.It has been brought to our attention that the nature of this posting breaches the Message Board guidelines and terms and conditions of the Genes Reunited website due to a number of personal details and, as a result, your post has now been removed.

We ask for your co-operation in sticking to our Message Board guidelines so that the Genes Reunited community can continue to post in the spirit in which is intended for our community area.

If you wish, you can edit the original message and re post? Leave in some personal information regarding who you are looking for, but please do be careful with the information that is advised , remembering that this is a public forum.

With kind regards,

Genes Reunited Support Team

There was no dob (I only know an approx age of 80+), or even exact place of birth in original postings just a name and a couple of other details. I didn't give any personal contact details, so why are GR bouncing on this :-P :-P :-P

Researching:
Anything & everything!

Shirley~I,m getting the hang of it
Report
13 Aug 2015 16:18

Did you perhaps put your personal email address in the posting

Researching:
Surname Fahse. Germany. Essex .South East London My avatar is one of our wedding photos of 1957

°o.OOº°'¨Claire in Wales¨'°ºOO.o°
Report
13 Aug 2015 17:02

GR probably deleted your thread without reading it

Flip
Report
13 Aug 2015 17:43

No Shirley, I didn't post any contact details. I only posted his name and born around 1934 or a bit earlier in Ireland (don't know where though).

I also posted that he worked on the Hawswater Viaduct (linking Thirlmere to Manchester to supply water) and was based in Kendal, Westmorland in late 1953 - mid 1954, when he disappeared after leaving behind his girlfriend (who I won't name this time, but her surname was Smith) who was pregnant at the time.

I was asked if he had a middle name, but I posted that I wasn't aware of one. This morning I replied to a poster who had found a possible passage to US in 1955 - asking if there were any more details, but when I came back on later the thread had been deleted.

The girlfriend has since deceased, and I think Kevin may have done also. I was trying to find out what had happened to him, and maybe get some of his ancestry.

Researching:
Anything & everything!

Gritty
Report
13 Aug 2015 17:47

Seems quite ridiculous! You can see why some people might never return to use the boards.

I've no idea why some people feel the need to report posts without either putting a reply on the post stating their reason, or giving the poster time to change details.

I agree with Claire- GR probably just delete and send a standard message. If they had read the message they could've specified the details that they didn't like.

Flip
Report
13 Aug 2015 17:55

Yes, I agree with both of you it's so ridiculous, as was the fact that it was reported within 5 minutes of posting! I've been reported before after disagreeing with someone who had wrong info regarding passports, but my posts were re-instated, so I know the score.

Anyway, that aside, I'm still looking for him or any trace of his ancestry or what happened to him. When I last tried to look for a birth (using ancestry) there were very few civil records from the 1920s/30s for Ireland, and I'm sure that is where he was born, so I wondered if any more had become available since then.

Also the passage someone posted to US in 1955 looked promising, but I've no idea if the poster came back with more info re age etc.

I have very limited internet access due to location, so have let most of my subs lapse until I can get better access, so if anyone finds anything and I don't reply it'll be because I can't get online :-(

Researching:
Anything & everything!

Rambling
Report
13 Aug 2015 18:01

I would make a guess that as the fairly specific details of his work might well identify to any family he had subsequently, who might google his name, that he was 'the' Kevin that was being sought, it may have been reported because you mentioned he had left his girlfriend with a child?



Researching:
Trying not to be "waspish" in my old age.

Gritty
Report
13 Aug 2015 18:12

This maybe the record that someone posted earlier?

New York City Passenger Lists, 1820-1957 Transcription
First name(s) K
Last name Macleish
Sex Unknown
Arrival year 1955
Arrival city New York
Arrival state New York
Arrival country United States
Film number 002322122
NARA roll number 8676
NARA publication number T715
Country United States

However, the original states
Embarkation TISHRAN, IRAN- Point of Disembarkstion- Various, as indicated below.

FAX destined to New York
ARDALAN ESMAIL

FAX destined to Beirut (Crossed through)
O'BRIEN E
WIGGINTON R
MAC LEISH K

So not much help..

Flip
Report
13 Aug 2015 18:13

Possibly Rose, but it is 60 years ago - who would be watching for this to report it so quickly. He was one of a large number of workers on the project as it lasted over a number of years.

Let's see of this one gets RRd, but in the meantime if anyone could find anything I'd be very grateful :-)

Researching:
Anything & everything!

Flip
Report
13 Aug 2015 18:20

Thanks for checking that Gritty - like you say, not much help!

Researching:
Anything & everything!

Flip
Report
11 Oct 2015 14:58

Hi all

Does anyone have a sub for rootsireland.ie please, who would be willing to do a lookup.

I've found a hit in 1927-29 for a birth or bapitism record for Kevin McLeish, but don't want to have to subscribe for a month just to view what it says. If any kind person out there has a sub I would be grateful for a lookup.


Researching:
Anything & everything!

Flip
Report
18 Mar 2017 15:48

The roots Ireland hit was not anything worth while - it was not the right name, just a tempting "approximate match" - which cost to view.

I'm still looking for this guy, so if anyone has anything else worth checking out I'd be grateful.

Researching:
Anything & everything!