Find Ancestors
Welcome to the Genes Reunited community boards!
The Genes Reunited community is made up of millions of people with similar interests. Discover your family history and make life long friends along the way.
You will find a close knit but welcoming group of keen genealogists all prepared to offer advice and help to new members.
And it's not all serious business. The boards are often a place to relax and be entertained by all kinds of subjects.
The Genes community will go out of their way to help you, so don't be shy about asking for help.
Quick Search
Single word search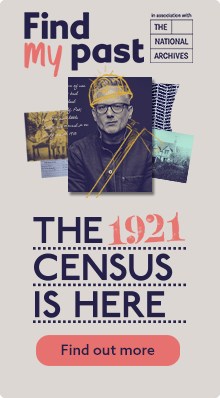 Icons
New posts
No new posts
Thread closed
Stickied, new posts
Stickied, no new posts
Henry Andrew Withey and Rhoda Beauchamp
Profile
Posted by
Options
Post Date

Glyn
Report
27 Aug 2018 16:25

Hi everyone,
As you can see from the previous posts you've helped a lot.
You have the details of Charlottes death which is great, but I wondered what was her cause of death.
I sent all the details to GRO but they refunded my money so I assume they never found her death certificate, although they didn't give any explanation.
I was wondering, as she died in the Workhouse, is there any other way I can find out cause of death?
Thanks
Glyn

Glyn
Report
9 May 2018 22:17

Her baptism was November 1871 so I think maybe her marriage was not long afterwards

Glyn
Report
9 May 2018 22:16

Rhoda was working in the Vicar of Christchurch household up until her marriage and was baptised so it seems unlikely they wouldn't have married. Strange there's no record of it

greyghost
Report
9 May 2018 10:08

The 1911 census says that they have been married for 39 years. 9 children born, with only 4 still living, 5 have died. So a supposed marriage around 1872 as you say, but not finding anything obvious. Perhaps they didn't?

1911 England, Wales & Scotland Census Transcription
22 Paget St Ynysybwl, Llanwonno, Glamorganshire, Wales

First name(s) Last name Relationship Marital status Sex Age Birth year Birth place Occupation
Dora Withey Daughter Single Female 18 1893 Frome Somerset -
Ralph Withey Son Single Male 22 1889 Frome Somerset Colliery Labourer Under Ground
Henry Withey Head Married Male 57 1854 Frome Somerset Retired Undergd Labourer
Rhoda Withey Wife Married Female 55 1856 Frome Somerset -

Glyn
Report
9 May 2018 09:05

I visited the prison in Shepton Mallet recently on one of their History days, where both Thomas and Charlotte were incarcerated at different times. A very grim reminder of life back then, where small misdemeanours like riotous behaviour led to imprisonment.
Anyway, when I reviewed all I knew about the family I thought it might be good to get the marriage certificate for Henry and Rhoda ( married 1872) if that's possible after all these years. I found out I don't have a direct record of their marriage, just a census record. I don't seem to be able to find one.
Can anyone help please?

AustinQ
Report
1 May 2018 09:23

https://search.ancestry.co.uk/search/db.aspx?dbid=60900

Hopefully link with take you to correct registers- just put Charlotte Bridgman in search.

Glyn
Report
1 May 2018 08:41

Thanks Austin Q. I looked there and nothing came up. Can I ask what you entered to get the information? I must be looking under the wrong heading

AustinQ
Report
1 May 2018 06:27

Morning Glyn, the gaol registers were on Ancestry.

Glyn
Report
30 Apr 2018 21:48

Also can anyone find a date for William Beauchamp death? I've searched without success so far.
Thanks
Glyn

Glyn
Report
30 Apr 2018 21:47

Just going through these replies again and I wondered Austin Q where did you find the gaol registers for Charlotte? I couldn't find them in the newspaper for the time

Glyn
Report
2 Feb 2018 19:42

Thanks AustinQ
What a sad life Charlotte had. And ending up in the workhouse. ??

AustinQ
Report
2 Feb 2018 11:33

Charlotte's death and Burial:

Death:
Name: Charlotte Beacham
Registration Year: 1863
Registration Quarter: Jul-Aug-Sep
Registration district: Frome
Inferred County: Somerset
Volume: 5c Page: 382
------------------------------------------

Church of England Burials, 1813-1914
Name: Charlotte Beachamp
Age: 48
Birth Year: abt 1815
Abode: The Workhouse
Burial Date: 6 Aug 1863
Burial Place: Frome St John, Somerset, England
Parish as it Appears: Frome Selwood
--------------------------------------------

William married again after Charlotte's death:

Name: William Beanchemp (Labourer, Grope Lane)
[William Beauchamp]
Gender: Male
Widower
Age: 40
Birth Year: abt 1824
Marriage or Bann Date: 27 Jun 1864
Marriage Place: Frome Holy Trinity, Somerset, England
Father: James Beanchemp (Labourer)
Spouse: Matilda Hurd
Spouse father: Job Hurd (Labourer)

William and Matilda are living in Newport, Wales in 1881 (under surname Beacham)

Glyn
Report
2 Feb 2018 08:48

Thanks Erika. Has anyone found what happened to Uriah? Perhaps he died too. Or Charlotte and William Beauchamp? It's very frustrating not having any census between 1911 and the 1939 register. That's just too far ahead. They must have died in between those years

ErikaH
Report
26 Jan 2018 12:21

Mercy's baptism - I don't think it's been posted before

Name: Mercy Bridgeman
Baptism Date: 9 Feb 1840
Baptism Place: Berkley, Somerset, England
Parish as it Appears: Berkley
Search Photos: Search for 'Berkley' in the UK City, Town and Village Photos collection
Father: Thomas Bridgeman
Mother: Charlotte Bridgeman

Glyn
Report
25 Jan 2018 22:53

I've done more checking and found out about Thomas Bridgman and his life in Oz.

I know Uriah Bridgman seems to have disappeared, but has anyone been able to trace what happened to him?

Glyn
Report
18 Jan 2018 21:40

Thanks Chris. I saw the images etc. Very interesting. Thanks AG too.


Glyn
Report
16 Jan 2018 22:23

Yes found it. That's really good. Thank you

alviegal
Report
16 Jan 2018 15:17

Top right hand corner of the page it reads ' transported for stealing 15 sheep-- Gaol rep ? etc, etc' and then the last line reads 'Money 8 ? married to wife Charlotte at Frome.'

It is difficult to read but that is the last line.

Glyn
Report
13 Jan 2018 22:38

Thank you all.
I couldn't see Charlotte mentioned on his conduct record, but maybe I was looking in the wrong place.
So now I see from that link that he applied twice unsuccessfully to marry, to Ann Tully by whom he had a child called Ann, and Ann Feely. He applied and was successful to marry Bridget Brian in 1854.
I don't have access to FMP at present, so that record about his death was interesting.

Shame Uriah can't be found but thanks for all the extra information so far

alviegal
Report
13 Jan 2018 21:46

This site has info about Thomas Bridgman.

https://linctas.ent.sirsidynix.net.au/client/en_AU/names/search/results?qu=thomas&qu=bridgman#

Cover image for Bridgman, Thomas

Name:
Bridgman, Thomas
Record Type:
Marriage Permissions
Ship/free:
Susan
Marriage to:
Feely, Ann
Ship/free:
Australasia
Permission date:
26 Feb 1851
Record ID:
NAME_INDEXES:1244391
Resource:
CON52/1/4


Bridgman, Thomas
Record Type:
Convicts
Departure date:
24 Apr 1842
Departure port:
Plymouth
Ship:
Susan (2)
Voyage number:
195
Index number:
7159
Record ID:
NAME_INDEXES:1375300
Conduct Record:
CON33/1/24
Indent:
CON14/1/15
Muster Roll:
CON28/1/1


If you look at his conduct record, his wife Charlotte is mentioned.