Find Ancestors
Welcome to the Genes Reunited community boards!
The Genes Reunited community is made up of millions of people with similar interests. Discover your family history and make life long friends along the way.
You will find a close knit but welcoming group of keen genealogists all prepared to offer advice and help to new members.
And it's not all serious business. The boards are often a place to relax and be entertained by all kinds of subjects.
The Genes community will go out of their way to help you, so don't be shy about asking for help.
Quick Search
Single word search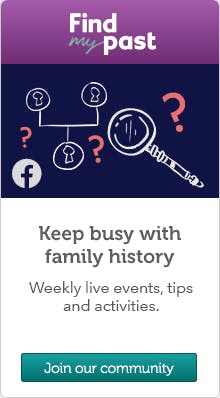 Icons
New posts
No new posts
Thread closed
Stickied, new posts
Stickied, no new posts
Kevin Mcaleese further request 16/7/2019
Profile
Posted by
Options
Post Date

Flip
Report
26 Nov 2018 21:40

Don't be sorry Maddie that you couldn't help further, you have both provided me with lots of info so far for which I'm really greatful.

I've done a bit more digging, and Hugh McLeish's (1858) christening on Scotlands people confirms his parents as Archibald McLeish and Margaret Gillan. I've taken out a short term sub to rootsireland.ie and found their marriage 12/1/1852 at St Mary's Rasharkin, Ballymoney. He is recorded as McCaleese. No fathers are recorded on the parish registers but the witnesses are John Mclary and Felix Ohale,

There are 3 more McCaleese marriages in the same parish married by the same priest, so I'm trying to tie them back to Archibald to see if they are related, but not getting anywhere:

19/5/1849 John McC to Mary A Mooney, witnesses John McC & Patrick Hagarth
20/4/1850 Ann(a) McC to Hugh Mcpeak, wit Roderick Murry & John Mclary
4/3/1853 Rose McC to Arthur McConnell, wit Peter & Mary Scullin

So, as ever, any more help would be appreciated.

Added, rootsireland is a bit misleading, they have many large gaps in the transcriptions which they do not make very clear before you purchase the sub.

Researching:
Anything & everything!

Flip
Report
5 Dec 2018 20:08

Hi all,

I've had a major breakthrough with DNA results. I found a cousin who has confirmed Kevin was actually the son of John McAleese (rather than McLeish as I'd thought) and Ellen. I believe her name was McMullan, although not confirmed this as yet. I know from the cousin Kevin is dead, and buried locally in Ireland.

Now, I can't find his birth although I've had a researcher looking at the GRONI she has found a likely death but no corresponding birth. I believe he was born in 1931, and according to the death it was 14 May 1931. We can't find this birth though - under any combination of the names.

Can anyone find anything else please?

Researching:
Anything & everything!

Shirley~I,m getting the hang of it
Report
14 Dec 2018 08:13

Did Kevin have a second name ??

There's an electoral roll address at 2009 for a Kevin Francis McAleese living in Belfast

Researching:
Surname Fahse. Germany. Essex .South East London My avatar is one of our wedding photos of 1957

Flip
Report
15 Dec 2018 14:04

Hi Shirley

I don't think he had a second name, and I believe he died in 1993 - which is the death recording the birth date I posted as a possibility. I'm going to contact his nephew (my cousin) who knew him, we are in contact through facebook/messenger but I've been ill all week and lost my voice so haven't been able to phone him so far.

Hopefully will be in touch with him this weekend, and may have more to search for after that.
Thanks Shirley, your input is much appreciated.

:-)

Researching:
Anything & everything!

Flip
Report
23 Dec 2018 13:34

I spoke to the cousin and got more info, we'll be in touch again but some of the info is about living people so don't want to post on here, but will be following up on it.

We both appear to be descendant from one of Archibald McLeish's siblings - a brother I would think (surname was McAleese until he moved to Scotland).

Archibald's death is on Scotland's people, he died 9/6/1885 - a coal pit labourer - and was registered by his son Hugh. According to Hugh, Archibald was the widower of Margaret Gillen, and the son of Edward McLeish and Mary Anne McGuigan (both deceased) and Edward had been an agricultural labourer. So I've managed to confirm some of the info on the ancestry tree.

I just can't find anything on Edward McAleese or Mary Anne McGuigan or their children other than the possible marriages, who could be siblings, I posted at the same church Archibald was married.

As always any help would be greatly appreciated.



Researching:
Anything & everything!

ArgyllGran
Report
23 Dec 2018 15:13

Hugh and family in 1911 in Scotland - from a free basic search on SP.

To see the details on the image, you'd have to spend credits.

MCLEISH
MAGGIE
1911
F
26
405/2 5/ 5
Lochgelly
Fife


MCLEISH
MARY
1911
F
22
405/2 5/ 5
Lochgelly
Fife


MCLEISH
CHARLES
1911
M
13
405/2 5/ 5
Lochgelly
Fife


MCLEISH
HUGH
1911
M
28
405/2 5/ 5
Lochgelly
Fife


MCLEISH
LIZZIE
1911
F
51
405/2 5/ 5
Lochgelly
Fife


MCLEISH
HUGH
1911
M
51
405/2 5/ 5
Lochgelly
Fife


MCLEISH
LIZZIE
1911
F
28
405/2 5/ 5
Lochgelly
Fife


MCLEISH
RICHARD
1911
M
17
405/2 5/ 5
Lochgelly

Fife

Researching:


Tiggit
Report
23 Dec 2018 16:31

Possible marriage???

9th Sept 1931 John Joseph Mcaleese to Ellen O'connell

Link:
https://civilrecords.irishgenealogy.ie/churchrecords/images/marriage_returns/marriages_1931/09025/5265991.pdf

but if Kevin was born in May 1931 and this is his mother marrying later that year I still can't see a birth for a Kevin O'Connell that would fit

ArgyllGran
Report
23 Dec 2018 20:40

Re Archibald, son of Edward and Mary Ann -

there's this - but date is about 30 years later than the 1831 suggested previously..

Has someone mixed up two different Archibalds?
Or were there two families in Lochguile with parents Edward and Mary, and son Archibald ?
This certainly isn't the one living in Renfrewshire in 1861.


Archie McAleese
in the Ireland, Catholic Parish Registers, 1655-1915
Name: Archie McAleese
Baptism Age: 0
Event Type: Baptism
Birth Date: 1863
Baptism Date: 20 Sep 1863
Baptism Place: Loughguile, Antrim, Ireland
Parish Variants: Loughuile
Diocese: Down and Connor
Father: Edward McAleese
Mother: Mary McAleese



Re the 1885 death for Archibald, it indicates that he was born 1834:

MCLEISH
ARCHIBALD
51
1885
572/2 98
Barrhead and Levern

Researching:


ArgyllGran
Report
23 Dec 2018 20:56

NO!

The above is probably just a coincidence - so let's not be distracted by a wild goose chase.
I expect there were lots of McAleeses in Lochguile, and probably much re-use of the same few first names.

That Edward's wife was a Mary McClusky:

Mary McClusky
in the Ireland, Catholic Parish Registers, 1655-1915
Name: Mary McClusky
Gender: Female
Parish Variants: Loughuile
Diocese: Down and Connor
Spouse: Ed? McAleese
Child: Daniel McAleese

This looks like the family in 1901 and 1911:

Edward McAleese
in the Web: Ireland, Census, 1901
Name: Edward McAleese
Gender: Male
Age: 82
Birth Year: abt 1819
Relation to Head: Head
Residence Date: 31 Mar 1901
Townland/Street: Corkey Nth.
District: Corkey
County: Antrim
Household Members:
Name Age
Edward McAleese 82
Mary McAleese 72
Archibold McAleese 30
Daniel McAleese 28
Bernard McAleese 40
Edward McAleese 32
Mary Dowds 13


Edward Mc Aleese
in the Web: Ireland, Census, 1911
Name: Edward Mc Aleese
Gender: Male
Age: 92
Birth Year: abt 1819
Relation to Head: Head
Residence Date: 2 Apr 1911
Townland/Street: Corkey, North
District: Corkey
County: Antrim
Household Members:
Name Age
Edward Mc Aleese 92
Mary Mc Aleese 82
Bernard Mc Aleese 56
Edward Mc Aleese 48
Archibald Mc Aleese 46
Daniel Mc Aleese 44
Helena Mc Aleese 42


Researching:


Flip
Report
24 Dec 2018 08:58

Thanks both for the suggestions. The 1911 census is spot on and all those children ended up in US, some going late 1911 the rest of the family & parents following in 1912.

I looked at the Edward and Mary, but like you discounted them as the dates just didn't add up, Archibald married in Jan 1852 and we believed he was born c1831 - the death does indicate a birth of c1834 so probably more likely.

I have confirmed Kevin's parents were John McAleese and Ellen McMullan who were married 5/6/1926 in Kilrea. GRONI gives their parents as Dan McAleese (farmer) and Hugh McMullan (farmer) which ties in with the cousins tree/knowledge of the family. Both families are showing on the 1901/11 census in the right area.

According to family, Kevin never married & with the closure periods for GRONI online records I'm leaving that for the time being, and trying to concentrate on Archibald to see if we can get any more leads.

Researching:
Anything & everything!

Flip
Report
29 Dec 2018 13:25

Well, I think I can put Kevin to bed. Christmas day revealed a message from another ancestry DNA match who had just got her results showing me as a match. She's my 1st cousin's daughter, and yesterday put me in touch with another 1st cousin, whose mother is still alive, and the sister of Kevin.

Today I woke up to another message passing on the e-mail address for another half sister a bit younger than me that Kevin left behind in England when he went back to Ireland!! Think he was a bit of a "lad" in his younger days.

Many thanks to everyone who has helped on both this and my previous thread <3

Researching:
Anything & everything!

Dea
Report
29 Dec 2018 16:24

So pleased that you have finally got this sorted Flip - It does seem though that your family is growing by the minute ;-)

So many more christmas cards to send next year.............

Dea x

Flip
Report
9 Mar 2019 11:13

Just thought I'd give an update. I've met up with my half sister recently, and there was a half brother as well, but he died in his 20s.

She dropped a bombshell that there is another half sister out there, born c1961. This child was brought up by Kevin until 1974, and she visited him in Ireland as a teenager - Kevin's sister confirmed this when we spoke a couple of weeks ago.

I've traced her, but so far have not made contact still debating whether to or not. So Dea, you're right, growing by the minute! Who knows how many more siblings are out there, he got around a bit

So thanks to everyone who has helped me reach this point :-D

Researching:
Anything & everything!

Flip
Report
16 Jul 2019 15:21

Hi all
Back on the trail, Kevin's father was John McAleese (c1894 - 1936) married to Ellen McMullan in 1926. Tracking back John was the son of Daniel McAleese & Lizzie Stewart who married in Dirraw church, Rasharkin Ireland 12/11/1892.

I have the family on the 1901/11 Ireland census.

Daniel was born around 1865 (according to 1911 census) or 1861 (according to 1901 census). (I've already eliminated a birth in 1865 with mmn Harbison.) When he married Lizzie he named his father as Patrick McAleese a deceased labourer. It's Patrick I'm trying to trace, as Daniel was born c1861-65 I'm guessing Patrick was born around 1830-40 or that sort of time.

I'm trying to establish a connection between Patrick McAleese and Archibald McAleese (McLeish when he moved to Scotland c1858). Archibald's death registered in 1885 (Scotland) by his son Hugh quotes his parents as Edward McAleese and Mary Ann McGuigan. I'm trying to tie them together, but having no luck so far, nor can I find Edward/Mary Ann with any degree of certainty.

Any help would be greatly appreciated



Researching:
Anything & everything!