Find Ancestors
Welcome to the Genes Reunited community boards!
The Genes Reunited community is made up of millions of people with similar interests. Discover your family history and make life long friends along the way.
You will find a close knit but welcoming group of keen genealogists all prepared to offer advice and help to new members.
And it's not all serious business. The boards are often a place to relax and be entertained by all kinds of subjects.
The Genes community will go out of their way to help you, so don't be shy about asking for help.
Quick Search
Single word search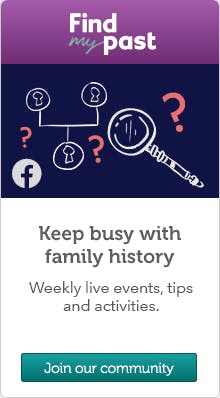 Icons
New posts
No new posts
Thread closed
Stickied, new posts
Stickied, no new posts
C W Barter - death?
Profile
Posted by
Options
Post Date

Marcus
Report
25 Jul 2019 19:51

Bit of a long shot and just out of curiosity -

I recently bought a vintage camera with its original leather case in a charity shop in Watford, Hertfordshire. Stamped on the back of the case is the name 'C W Barter'.


I have no idea who this is, or if this person has died or even if they are local to Watford area of Hertfordshire.

Can anybody help with such little to go on? I cannot find anything yet myself....

Thanks!

Dea
Report
25 Jul 2019 20:09

Approximately what age is the camera please ?

Dea x



Marcus
Report
25 Jul 2019 20:16

It is a 'Kershaw Peregrine iii' and made only between 1948 - 1950. Very few were made - approx. 700 cameras.

Case looks original to camera.

Dea
Report
25 Jul 2019 20:31

I have found a Cecil William Barter who died in 1944 - a WW2 death. so if your camera could not have been around in 1944 then it can't be the right person but I will post some details just in case:

This is him with his family on 1901 - in 1911 he is away at Boarding School:

1901 England, Wales & Scotland Census

19, Lindfield Gardens, Hampstead, London & Middlesex, England

First name(s) Last name Relationship Marital status Sex Age Birth year Occupation Birth place
Alfred Barter Head Married Male 46 1855 Managing Director Of Brewery London, Middlesex, England
Blanche I Barter Wife Married Female 30 1871 - Putney, Surrey, England
Dorothy K Barter Daughter - Female 6 1895 - Harrow, Middlesex, England
Cecil W Barter Son - Male 4 1897 - Harrow, Middlesex, England
Hilma A T Lilicquid Servant Single Female 31 1870 Nurse Domestic -
Mary Spencer Servant Single Female 34 1867 Cook Domestic Stockton, Norfolk, England
Amelia McDowall Servant Single Female 16 1885 Nursery Maid Domestic London, Middlesex, England
Vernon A Barter Son - Male 0 1901 - Hampstead, Middlesex, England
Cecil W Barter's Census Details
Details taken from the original census record.

I have more details on him if you think it might be possible.

Dea x


ArgyllGran
Report
25 Jul 2019 21:03

Other candidates, from 1900 to 1950:

Births Sep 1901 (>99%)
Barter Charles William Worcester 6c 279

Births Jun 1902 (>99%)
BARTER Charles Whitley Bedwelty 11a 129

Births Jun 1907 (>99%)
BARTER Charles William Weymouth 5a 286

Births Sep 1911 (>99%)
BARTER Charles W Metcalf Wandsworth 1d 1413

Births Dec 1913 (>99%)
Barter Charles W S King Dorchester 5a 522

Births Mar 1921 (>99%)
Barter Cecil W Tewksbury I.Wight 2b 1043

Births Sep 1921 (>99%)
Barter Colin W Potter Epping 4a 924


Others who may still be alive:

Christopher W, 1926 Dorchester.
Colin W, 1933 Southampton
Clive W, 1943 Surrey SE


A few deaths:

Deaths Sep 1967 (>99%)
Barter Charles W 65 Pontefract 2c 492

Deaths Mar 1972 (>99%)
Barter Charles William -Je1901 Norwich O 4b 2500

Deaths Dec 1972 (>99%)
Barter Charles Wood 2AU1883 Salisbury 7c 2068

Deaths Jun 1979 (>99%)
BARTER COLIN WILLIAM 21FE1896 ROSS 29 643


Researching:


SuffolkVera
Report
25 Jul 2019 21:08

Not the 1907 Weymouth birth as that Charles William Barter died in 1908

Marcus
Report
25 Jul 2019 21:19

Thanks Dea, ArgyllGran & SuffolkVera for your help so far...…



Dea
Report
25 Jul 2019 21:20

Yes, I have been listing them all too AG.

A lot of them didn't fit but this is the one I haven't discounted so far:

Name: Colin William Barter
Death Age: 85
Birth Date: 18 Jun 1921
Registration Date: Dec 2006
Registration district: Swindon
Inferred County: Wiltshire
Register Number: C71B
District and Subdistrict: 796/1C
Entry Number: 150

Not too far away down the motorway !!

Dea x

Marcus
Report
25 Jul 2019 21:48

This is a possibility, Dea, and a very good one!

A thought just came to me - It could be that C W Barter was the original owner and had his name embossed on the camera case, but since his passing, the camera has had several owners, hence ending up in Watford!!!



Dea
Report
25 Jul 2019 21:58

Just a thought...........

We often take unwanted items along to a local charity shop and, although I wish they wouldn't do it as it costs them the postage, they send us a little letter now and then saying how much has been raised from the sale of our items to that date.

I wonder if that charity shop you bought the camera from keeps a record of the name and address of the people who bring in items ? - It might be worth asking them ?

When my husband started to take things in, they asked him for his name and address (something to do with claiming extra money from the govenment - 'Gift Aid'.) Every time he takes in some more they add them to our list so that they can claim extra on those too.

Dea x



Marcus
Report
25 Jul 2019 22:03

Good idea, I'll give it a go, although I did buy it back in March / April this year, so they may not have the details....

Will try over the weekend.




Marcus
Report
17 Aug 2019 15:44

I tried the charity shop where I bought the camera, but unfortunately they were unable to tell me who donated the camera!

I could have been anybody from either a family member to someone who was given or subsequently bought the camera from the family.

Never mind!

My next question - I wondered if he ever married & had any children - Can anyone help with this, as I don't currently have access to Ancestry.

Thanks...….

ErikaH
Report
17 Aug 2019 16:06

You don't need Ancestry to look for BMD info

Freebmd is perfect for that purpose


ArgyllGran
Report
17 Aug 2019 18:10

Probably his birth - assuming he was born in England or Wales:

Births Sep 1921 (>99%)
Barter Colin W Potter Epping 4a 924


Parents' marriage :

Marriages Sep 1915 (>99%)
Barter Albert Potter Epping 4a 1355
Potter Nellie M Barter Epping 4a 1355


The family in 1939:


Albert Barter
in the 1939 England and Wales Register
Name: Albert Barter
Gender: Male
Marital status: Married
Birth Date: 27 May 1885
Residence Year: 1939
Address: 53
Residence Place: Ilford, Essex, England
Occupation: Principal Assistant to Chief of Dept Insurance Office
Schedule Number: 35
Sub Schedule Number: 1
Enumeration District: CCYF
Registration district: 191-2
Inferred Spouse: Nellie M Barter
Inferred Children: John C Barter
Colin W Barter
Household Members:
Name
Albert Barter
Nellie M Barter
John C Barter
This record is officially closed.
Colin W Barter - 18 June 1921



??? I don't know if this is the same man or not:

With Diana G Barter

Colin W Barter
in the Surrey, England, Electoral Registers, 1832-1962
Name: Colin W Barter
Residence Year: 1962
Parliamentary Division/Constituency: Epsom
Residence Place: Surrey, England
Place of Abode: 42a


Marriages Dec 1947 (>99%)
Barter Colin W Ring St.Austell 7a 353
King Diana G Barter St.Austell 7a 353


Researching:


ArgyllGran
Report
17 Aug 2019 18:17

???

Diana Gwendoline Barter
in the England & Wales, Civil Registration Death Index, 1916-2007
Name: Diana Gwendoline Barter
Death Age: 53
Birth Date: 23 Jan 1924
Registration Date: Jan 1977
[Feb 1977]
[Mar 1977]
Registration Quarter: Jan-Feb-Mar
Registration district: Surrey Mid eastern
Inferred County: Surrey
Volume: 17
Page: 0027

It's hard to say if they had children or not.
There are a number of Barter/King births - assuming King was Diana's maiden surname :

1951 Bishops Stortford
1954 Hertford
1965 Bristol
1970, 1974, and 1982 Enfield

Can probably rule out the Enfield births, as they are likely siblings , and one was born after Diana's death.

I'm not posting the names of the others, as they are probably living, but you can find them on FreeBMD.

Researching:


Maddie
Report
17 Aug 2019 19:14

WHAT YOU NEED TO KNOW ABOUT THE PEREGRINE CAMERAS

They were made at the Kershaw Works in Leeds, at 200 Harehills Lane. The company had earlier produced the famous Soho Reflex. Kershaw named most of their cameras after birds.

The Peregrine series comprised three variants, each model having different lens/shutter combinations - the Model I was fitted with a Kershaw f/4.5 lens in an eight speed shutter (with no flash synchronisation), the Model II with a Taylor Hobson f/3.5 in a Talykron 9-speed shutter and the Model III has a Taylor-Hobson f/2.9 lens in a Talykron 9-speed shutter. The II and III have flash synchronisation and all three models have double exposure interlock. The I and II have folding optical finders. The Peregrine III has a coupled rangefinder with a common viewfinder/rangefinder window. The Peregrine, was only available for a short time and not many cameras seem to have been made. The Model I cost £17 15s. 3d., the Model II cost £30 17s. 11d. and the Model III was £48 18s. 3d.(these prices exclude purchase tax). In 1950 a price reduction was announced for the Model II (£28 13s. 4d. including tax) The Model I appears to have been discontinued and the Model II price remained unchanged.

The company announced that the Peregrine 111 would be available from October 1948, but they also made it plain that these dates were for initial production runs and that supplies would be limited. By 1950 the range had been discontinued and some estimates of production numbers are as low as 500 (a figure that cannot be verified at the moment) but they are certainly very rare. From the sales records (below) the 'sold' camera numbers show at least 388 were made. It may well be that following the initial run, manufacture was discontinued due to insufficient demand. See the Kershaw advertisements of the time.

I am hoping to locate current owners via this web page and hopefully, serial numbers of their cameras may well provide some interesting info





MAY 2011
Please note that I am working on further additions to this site, so please come back again soon. gt.

LIST OF SURVIVING CURLEWS & PEREGRINES

Please let us know if you know of others

Kershaw Peregrine 3

www.statim.co.uk/Kershaw%20Peregrine%203.htm


might be worth contacting to see if any info available


Marcus
Report
17 Aug 2019 23:27

Thanks ErikaH, I forgot about this site - I have been out of practice for a while !

ArgyllGran, Thanks for the family info....

Maddie, Thanks for the info on the camera! Strange to think that I have a camera of which so few were made (Approx. 500 - 700?) !!

Thanks again all of you.