Find Ancestors
Welcome to the Genes Reunited community boards!
The Genes Reunited community is made up of millions of people with similar interests. Discover your family history and make life long friends along the way.
You will find a close knit but welcoming group of keen genealogists all prepared to offer advice and help to new members.
And it's not all serious business. The boards are often a place to relax and be entertained by all kinds of subjects.
The Genes community will go out of their way to help you, so don't be shy about asking for help.
Quick Search
Single word search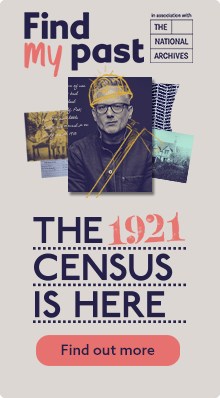 Icons
New posts
No new posts
Thread closed
Stickied, new posts
Stickied, no new posts
1921 census look up
Profile
Posted by
Options
Post Date

Jean
Report
31 Jul 2022 11:54

Could someone with FMP please have a look at the 1921 census for Duncan Jones b. 1907, parents are Alfred b 1866 and Mary b. 1870, some siblings are Francis b 1895 and Lucy b 1893 , They should be in the Liverpool area .
I would like to know if there is another daughter Janet b 1915,

Thank you

ErikaH
Report
31 Jul 2022 11:56

1921 has to be paid for - by everyone

Look for the girl yourself, then try to determine who she is living with by selecting 'view image'

Presumably you've found a birth for Janet Jones with correct MMN?

KathleenBell
Report
31 Jul 2022 12:00

The 1921 census has to be paid for unfortunately - even for those with a worldwide subscription.

Without looking at the transcrirption or image you can hover over the record and it tells you that there is also an Alfred F, a Mary and 7 others at the same address.

To get the details you would have to buy either the transcription or the image.

It costs £2.50 for the transcript and £3.50 for the image.

Kath. x

Jean
Report
31 Jul 2022 12:01

Oops sorry didn't know that
I will take a look for her,
thank you

KathleenBell
Report
31 Jul 2022 12:09

I can't see a birth in 1915 for a Janet Jones in Liverpool or West Derby where the mother's maiden name is Moore (mmn of Duncan born 1907).

Kath. x

Jean
Report
31 Jul 2022 12:47

Thanks for the help,
Janet was born in 1912, had a look at the 1921 and found her ,

ArgyllGran
Report
31 Jul 2022 13:21

The family in 1911:

Duncan J Jones
in the 1911 England Census
Name: Duncan J Jones
Age in 1911: 4
Estimated Birth Year: abt 1907
Relation to Head: Son
Gender: Male
Birth Place: Liverpool, Lanark, Scotland
Country: England
Street Address: 83 Spencer St Liverpool
Marital status: Single
Registration District Number: 455
Sub-registration District: South Everton
ED, institution, or vessel: 25
Piece: 22538
Household Members:
Name Age
Alfred F Jones 44 - Liverpool
Mary Jones 40 - Glasgow
Mary Margaret Jones 20 - Glasgow
Lucy Winifred Jones 18 - Glasgow
France Annie Jones 16 - glasgow
Florence Jones 14 - Glasgow
Alfred H Jones 12 - Glasgow
Lonjellus H Jones 9 - Glasgow [ Conjellus H ]
George L Jones 7 - Liverpool
Duncan J Jones 4


In 1921, as well as Alfred F, Mary and Duncan in the household, there are also
George 1902,
Alfred H 1899;
Frances 1895 [NOTE: not Francis as you've posted];
Mary M 1891,
Harold 1901 [ ie - Conjellus Harold ]
Janet 1912;
- and 1 other whom I haven't found yet.



Lucy had married Harry Edward Davies in 1916. and they're in a different household.
Florence didn't marry until 1924, but I don't see her in 1921 - certainly not with her parents.





Researching:


ArgyllGran
Report
31 Jul 2022 13:38

I think the 10th person in the household in 1921 is Florence, mistranscribed as Frances.

Two people named Frances Jones are said to be in the household, one born 1895, the other 1897 (which should probably be Florence).

Researching:


Jean
Report
31 Jul 2022 20:07

ArgyllGran,

Thank you so much for this information.

I found Janet just by chance while I was looking for marriages for some of Alfred and Mary's children.

Frances married Joseph Thomas Jordan .

As far as I can find out Janet married Thomas Atherton but still to verify that.
much appreciated

Shirley~I,m getting the hang of it
Report
1 Aug 2022 08:40

29 Moss Gate Road, Liverpool, Liverpool C.B., Lancashire, England
1939 register badge
Household members (4 people)
Copy to clipboard
First name(s) Last name(s) Birth date Sex Occupation Marital status Schedule Schedule sub number
Stephen Bancroft 29 Mar 1896 Male Chauffeur Mechanic Married 234 1
Mary M Bancroft 11 Sep 1890 Female Unpaid Domestic Duties Married 234 2
Margaret M Holden (Bancroft) 07 May 1925 Female Unpaid Domestic Duties Single 234 3
Janet Atherton (Jones) 09 Apr 1912 Female Saleswoman Confectioner Single 234 4
Female


Marriages Jun 1940
Atherton Thomas F Jones Liverpool N. 8b 1025
Jones Janet Atherton Liverpool N. 8b 1025

Researching:
Surname Fahse. Germany. Essex .South East London My avatar is one of our wedding photos of 1957

Jean
Report
1 Aug 2022 21:12

Thank you Shirley and sorry for the late reply,
So this is Janet living with her sister Mary and brother in law if I'm reading this right .
Didn't have Mary's marriage yet so thanks again .

ArgyllGran
Report
1 Aug 2022 21:58

BANCROFT, MARGARET MARY mmn JONES
GRO Reference: 1925 J Quarter in WEST DERBY Volume 08B Page 1103

She seems to be their only child.


Marriages Sep 1924 (>99%)
BANCROFT Stephen Jones W. Derby 8b 929
Jones Mary M Bancroft W.Derby 8b 929

Researching:


Jean
Report
2 Aug 2022 16:31

Thank you ArgylleGran for the marriage.

So far I have
Mary M Jones married Stephen Bancroft.
Lucy W married Harry Davies.
Francis A married Joseph Jordan .
Florence married Frederick Shaw .
Duncan married Linda Feast .
Janet married Thomas Atherton.
Congellus married Mary Moore ( still have to verify this )

Thank you for all the help, much appreciated.



ArgyllGran
Report
2 Aug 2022 17:09

Marriages Sep 1945 (>99%)
Jones Conjellus H Murphy Liverpool N. 8b 1420
Murphy Agnes Jones Liverpool N. 8b 1420

With that name, he's easy to find on FreeBMD, as well as on subscription sites!


Deaths Sep 1974
JONES CONJELLUS HAROLD 12MY1901 LIVERPOOL 36 879


Conjetlus Harold Jones [ Conjellus on image ]
in the England & Scotland, Select Cemetery Registers, 1800-2016
Name: Conjetlus Harold Jones
Age: 73
Record Type: Cremation
Cremation Date: 27 Sep 1974
Burial Place: Liverpool, Merseyside, England

Cause of death: Coronary thrombosis.


Conjellus Harold Jones
in the England & Wales, National Probate Calendar (Index of Wills and Administrations), 1858-1995
Name: Conjellus Harold Jones
Death Date: 24 Sep 1974
Death Place: Liverpool
Probate Date: 14 Mar 1977
Probate Registry: Liverpool

Address: 24 Oakdene Road, Liverpool.
Assets: £832.
Ref No: 771701290G

Researching:


Jean
Report
4 Aug 2022 17:34

Thank you ArgyllGran once again,

Don't know where I got the name Mary Moore from, must have got mixed up with births and marriages,

Actually got it mixed up with a Conjellus joseph Jones who married Mary Moore in Liverpool .
Such an unusual name I automatically thought he was my Congellus .