Genealogy Chat
Welcome to the Genes Reunited community boards!
The Genes Reunited community is made up of millions of people with similar interests. Discover your family history and make life long friends along the way.
You will find a close knit but welcoming group of keen genealogists all prepared to offer advice and help to new members.
And it's not all serious business. The boards are often a place to relax and be entertained by all kinds of subjects.
The Genes community will go out of their way to help you, so don't be shy about asking for help.
Quick Search
Single word search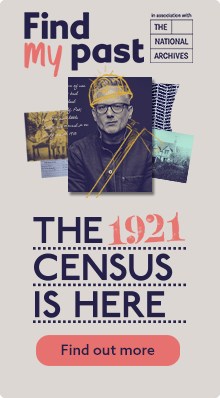 Icons
New posts
No new posts
Thread closed
Stickied, new posts
Stickied, no new posts
Tip of the day...Finding the missing
Profile
Posted by
Options
Post Date

Jonesey
Report
26 Oct 2009 08:30

There are many reasons why our ancestors do not appear in the census records where we expect them to be.

Census enumerators may have misheard what they were being told. They may have spelled names differently (Remember that there is no such thing as standardised spelling of names) or because they were human just like us they may have simply made a mistake.

The next step in the recording process is transcribing the record itself. Trying to decipher someone else's handwriting is not always easy and often results in the record being incorrectly transcribed. Once again the people doing the transcribing are human so mistakes are made. Mistranscriptions can be very frustrating.

Here is a tip which may help you to find who you are searching for.

Type the persons forename into the census search form but leave the surname box completely empty. You can do this in reverse if you wish, entering a surname but leaving the forename box empty. Remember that people often used a different 1st name from the one they were born/baptised with. E.G. Dick = Richard, Harry = Henry, Nellie = Eleanor, Betsy = Elizabeth ect. Be aware also of common enumerators abbreviations such as Thos = Thomas, Hy = Henry, Wm = William ect

Type the persons birth year +/- 2 or +/- 5 years. Some people were not sure how old they were or they may have deliberately lied about their age to make themselves appear younger or older than their spouse. Children's ages in census returns are generally more likely to be accurate than those of adults.

Type in their birth county/birthplace. Sometimes it pays to leave the birthplace blank because that too may have been misheard or mistranscribed. Some people genuinely did not know their exact place of birth.

Press "Search". This will bring up a list of all the people with that name of approximate age born in that county/place. Scroll through the list (It may be a long list) and hopefully you will find your missing ancestor shown as Borne instead of Bourne or Wilks instead of Wilkes or similar. It doesn't always work but it might.

Look for patterns in words rather than names just beginning with the 1st letter of the correct name. E.G. Baldrick has 8 letters and ends 'ick' as does Coldrick. Anyone looking for someone called Tucker may well be shocked to discover how some of their ancestors were mistranscribed.

Good luck with your research.

Researching:
Don't put off until tomorrow doing what you can do today. If you like doing it today you can do it again tomorrow. Be kind to your children for it is they who will decide which care home you end up in.

AllanC
Report
26 Oct 2009 09:04

Spot on as usual, Jonesey!

Just to add a couple of points about birthplaces. People moved around more than we sometimes think, and the poor were often in fear of being sent back where they came from if they became destitute, so they would say they were born in the place they were living even if they weren't.

But if they did state their real birthplace there can still be confusion because several villages might be part of a larger parish. On the census someone might have said the village name, which may be different from what you've found from parish records.


Potty
Report
26 Oct 2009 12:01

Entering just a forename and forenames for the parents can also find missing people.

InspectorGreenPen
Report
26 Oct 2009 14:08

Good advice, it shows that less is often better. Quite often people put in too much information thinking it will give a better result without fully realising that this is often counter productive as it eliminates possible results from the search.

In my own experience, it is not enumerator errors that are the problem, rather the poor handwriting on some of the returns, which in turn leads to masses of transcription errors.

The best on I have is my wife's grandmother Norah. Her name was transcribed as Beval

InspectorGreenPen
Report
26 Oct 2009 14:15

In the case of place names, the nearer to the place of birth, the more likely that a district or locality is recorded, especialy in towns or cities.

Whereas if the family has moved to another part of the country, it is more likely that only the town or city is shown as their place of birth.

So, someone born in the Everton district of Liverpool, but living in Anfield would show their place of birth as Everton.

However, ten years later, when the family had moved to Newcastle, their place of birth is shown simply as Liverpool.

Sandgroper
Report
27 Oct 2009 22:24

Wonderful tip, thank you. I've been looking for Anthony Heester for a friend. Couldn't find him on the 1881 census.

Tried your tip of leaving out the surname. It was easier, perhaps, because he was born in Holland.

He came up as Herstor and there they all were. His wife poor love with 4 small children was working as a laundress.


Jenny

brummiejan
Report
27 Oct 2009 22:44

Excellent advice as always Jonesey.
If using ancestry in particular less is definitely more, and beware of ticking "exact" boxes - even if spot-on it doesn't like it!
jan

Researching:
Myatt, Hanks, Eccleston, Powell, Clungunford, Birmingham

George_of_Westbury
Report
27 Oct 2009 22:51

Jonesey

I have been looking for one of my Ancestors on the 1911 census ( subscription site) for the past week using every combination of his surname i could think of,including the use of the variants.

After reading your tip of just using his christian name and i used his year of birth, i could not believe that i found him, albeit i had to trawl through 5 pages of entries, but what a result
His real surname was Tinley but it had been mistranscribed as TNLEY probably the only i had not done.

A great tip which i will not forget.

Many thanks George



Researching:
My avatar is that of my Dad and shipmates, taken onboard HMS Blanche in 1938, place unknown From left to right, my Dad,Sidney Mellor and Sidney Bateman.

brummiejan
Report
27 Oct 2009 22:54

George, make sure you check out Jonesey's thread on 1911 searching - on Tips Board. Recommend bookmarking it. Will nudge it for you.
Jan

Researching:
Myatt, Hanks, Eccleston, Powell, Clungunford, Birmingham

SylviaInCanada
Report
28 Oct 2009 02:43

Great thread Jonesey

these tips always bear repeating!


My gt gt gt grandparents have been lost after 1851 for some years, but I've had a concentrated search for the last 2 nights. I finally found gt gt gt grandmother on the 1861 Census last night, as a widow (which explains why I couldn't find gt gt gt grandpa!) .................. transcribed as Bealey.

Her name was Healey/Haley ........... the image showed a very fancy H with curliques etc, and could easily have been mis-read by someone who was not used to copperplate handwriting.

How did I find her??

I entered Albert (youngest son), birth year +/- 5, mother Jane ......... and prepared myself to search pages and pages.

And there was Bealey as the first name!



Our ancestors moved a lot ............ a lot more than we sometimes think! ...... and it sometimes helps to imagine what a name said in a thick country accent might sound like to someone with another thick accent ........... eg, a Buckinghamshire accent in a Lancashire village, or a Scottish or Irish accent.


Also remember that many of our ancestors were in fact illiterate ....... so they often didn't know how to spell their own names, and most certainly couldn't read so they were unable to check what the enumerator had written down!



Finally, please do remember that the 1841 census has another little "trap" ............ the ages of adults over the age of 15 were rounded down to the nearest 5, so people appear to be up to 4 years younger than you expect. It also results in several members of a family appearing to be the same age ........ it will be very rare to find that they really are twins or triplets ...... or even quadruplets! This is when using birth year +/ 5 or even +/- 10 is useful.

BUT, just to complicate matters ..... some enumerators did not obey the instructions, and did not round down ages.



sylvia

Researching:
My brother, photo taken in September 1990 just a couple of weeks before he died. ............................................................ To help us and to get better results, please post as much detail as you can, especially name, date(s) and place. Also say what you already know.

Battenburg
Report
28 Oct 2009 02:51

Sometimes the County where someone is born might be wrong. Boundary changes occur.

If you see a name with the correct age but the county does not match but is close by check out the image anyway to see if other family match.

Also ages can be wrong if the enumerator has checked of a name by putting a line through the age the transcriber can be out by many years.

Years are transcribed for months so if you are looking for an 8 month old and see a child 8 years old in the correct area check the image

Another common error is S and L and sometimes T. The old writing being difficult to read sometimes these are mistaken.

Eg: you are looking for John Large and he is transcribed as John Sarge or Targe.
It does not help that the transcribers are from other Countries so do not know areas. They are told to write what they see.

My 3xgt grandmother is transcribed as Carder and her name is Burden. Fortunately she had her grandchild with her and was living next door to her son so was found.

Jilliflower
Report
28 Oct 2009 07:43

Another great leap for my kind, Jonesey,
One ancestor was deaf and dumb and her name was Dessey and the enumerator thought she wasn't saying it properly and wrote Jessie.

But GR won't let me put just the Christian name in so have I got to wait for Father Christmas to bring Ancestry?
Thanks again,
Jill

AllanC
Report
28 Oct 2009 08:10

Jill

... or you could ask Santa for Findmypast.

But if you can't wait till Christmas it's not too expensive if you just buy credits rather than a sub.

Jilliflower
Report
28 Oct 2009 08:59

Nice one, Colin- I never thought of that! _but then, 'I know nussink'

Thanks Allan, but wouldn't ancestry be easier and what other advantage does FMP have - if any? While Santa is in spending mood I can have anything I want.....
what do you think?
Jill

AllanC
Report
28 Oct 2009 09:40

Christian names can be mis-spelt or mis-transcribed too. If the surname is a common one try narrowing your search by putting in the birthplace (assuming that's correct, of course).

I found Martha, mis-transcribed as Northa that way.

Jilliflower
Report
28 Oct 2009 09:43

I've learned more in the last few weeks on here than the rest of my life!
Thanks Allan
cheers,
Jill

AllanC
Report
28 Oct 2009 09:54

Jill

Not being an Ancestry user I can't compare it with FMP. What I like about FMP is:

a) credits last at least 90 days;
b) credits can also be used on 1911 (but you use more);
c) FMP has all censuses 1841-1901 (plus access to 1911) though coverage of some may be patchy;
d) when you find an individual and click for a transcript you get the household, not just the individual.

Hope that's helpful

InspectorGreenPen
Report
28 Oct 2009 10:09

It is also worth remembering that there was at least one transcription before the census pages were completed as details were not entered directly onto the page in front of the householder, rather than onto slips which were transcribed later.

I have seen census pages in beautiful copperplate and highly legible writing which looks as though it has been done by by a young teenager, possibly the enumerator's daughter.

I've also come across examples where the details supplied to the enumerator have clearly come from a child of the family, again possibly because she or he was the only literate one in the family. One example had the householders parents listed as grandma and grandad!

SylviaInCanada
Report
28 Oct 2009 16:30

Alan wrote

Not being an Ancestry user I can't compare it with FMP. What I like about FMP is:

a) credits last at least 90 days;
b) credits can also be used on 1911 (but you use more);
c) FMP has all censuses 1841-1901 (plus access to 1911) though coverage of some may be patchy;
d) when you find an individual and click for a transcript you get the household, not just the individual.

Hope that's helpful



a) ancestry is a subscription, although you can start with a 14 day FREE trial to see what is available ....

b) no limit on usage because you've run out of credits

c) unless you're going to be using 1911 a lot, I find it's better to use the 1911 site itself .... credits are good for 365 days, and they save ALL transcripts and images that you've looked at on site. fmp clears all at the end of each session, so you have to save to your own computer. That becomes a problem if you have looked at a transcript and/or image, decided it isn't yours, but then want to re-check at a later date.

d) ancestry has all censuses 1841-1901 (1881 is free to look at) .... plus many more records such as a lot of parish records ......... and are adding more and more all the time

e) when you click on an individual, you get first a box that shows the name of the individual, parents or spouse if any, date and place of birth and residence, so you can check quickly whether it is a possible ancestry .... if you then click on that you get the whole transcript ahowing the household, and then you can look at the image. The transcript has a line that you can click that allows you to easily see a listing of the neighbours.

PLUS you can submit changes and they accept them readily ...... at least I hae never had any turned down.



ancestry is my choice every time!!



sylvia

Researching:
My brother, photo taken in September 1990 just a couple of weeks before he died. ............................................................ To help us and to get better results, please post as much detail as you can, especially name, date(s) and place. Also say what you already know.

Reece
Report
31 Oct 2009 08:33

Started the day by reading Jonesy's tips on this thread. Thank you for this.

Could I add just one more possibility, from my own experience?

A direct ancestor missing from the 1841 census - his wife and family are recorded with her father and a lodger. I searched for ages through all the surrounding villages and parishes with no luck. I have a lot of information about his life in NSW and family stories.

Finally, I wondered could he possibly be a convict? Yes, I found the trial at the Assizes in the local newspaper and now have the transportation details, Ticket of Freedom in NSW and am looking for the last few items to finish that part of his life story.

Here I uncovered a "secret", kept for 180 years by a large family. So do please consider looking further when you can't "find" your missing ancestor.

Thank you Jonesy for all your wonderful tips but how do I find my Jones's in Wales??????

Reece

Researching:
Jones, (Wales) Morris, Rivett, Harris, Northamptonshire, Crabb(e), Cleal, Tizzard (Dorset/Somerset) Whiteman, Sargent, Gaymer in Sussex.