Genealogy Chat
Welcome to the Genes Reunited community boards!
The Genes Reunited community is made up of millions of people with similar interests. Discover your family history and make life long friends along the way.
You will find a close knit but welcoming group of keen genealogists all prepared to offer advice and help to new members.
And it's not all serious business. The boards are often a place to relax and be entertained by all kinds of subjects.
The Genes community will go out of their way to help you, so don't be shy about asking for help.
Quick Search
Single word search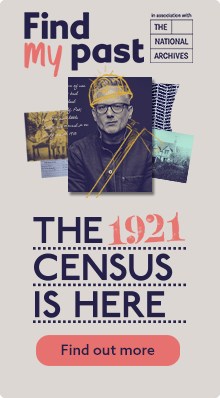 Icons
New posts
No new posts
Thread closed
Stickied, new posts
Stickied, no new posts
Tip of the day...Think of the future
Profile
Posted by
Options
Post Date

Patricia
Report
31 Oct 2009 09:58

This is such a lovely thread!

My problem is how to "organise" it. Once you get a marriage you get a branch and how do you go about putting it down in a readable form.

Even filing the certificates has me beat. Do I put them in strict date order (as I have them at the moment) or in family files. If in family files they are then missing from the other family if you get my drift. So if smith married jones do I file in Smith or Jones??

aaarrrgghhh.

Julia
Report
31 Oct 2009 10:39

Hi

I started creating a historical account about my maternal family as there is no one left but me and also it is the family I know the most about. I found that which each account I recalled and recorded another would spring to mind. I also attached relevant historical facts to each section as I wrote about the events with the intention of putting everything into context. So far I have going on for 150 pages recorded. and nowhere near finished yet.

I have also attached photos where possible and again with a brief description so that our grandchildren will be able to see whereabouts in central Europe my family originally came from.

It has also been a hugely absorbing event for me too.

Wildgoose
Report
31 Oct 2009 10:40

Hello Patricia and all

I put all my certificates in one binder file. Births, then marriages then deaths. Each section is in date order. I take two photocopies of each then they can go in the 'family' files.

I have a problem with books. I keep writing them, or starting them and find more information so I have to add or edit. So far I haven't bound any.

Researching:
Northampton/Blisworth Northants/Hinderclay Suffolk

FRANK06
Report
31 Oct 2009 12:17

Paper may seem old fashioned but it has been around for a long time so a photo book or similar will last for years, with the added bonus that anyone finding it in the future will open and peruse it's contents.

For anyone out there thinking that their data is fine on the CD / DVD / USB / HARD DRIVE etc, think again.
This was brought home to me when watching the BBC program about technology through the 70s / 80s / 90s / 00s ?
The majority of recording players from these eras have vanished, be it records, reel to reel tape, cassettes, video discs, floppie discs (large or small), with even CD / DVD apparently heading that way.

In thirty years time the much vaunted USB stick holding your Family Tree may only be readable in a museum, assuming of course that your grandcchildren realise what it is in the first place.
I am no old fogey, well almost, but it is only twenty seven years since I raved about my Sinclair Spectrum 48k and the required cassette player has long since vanished!

DazedConfused
Report
31 Oct 2009 12:55

One thing no-one has mentioned here is photo's. Do go over all your old photos & where possible date & name them. I know I have loads of very old photos, cannot bear to get rid of them, but I have NO idea who these people are.
As an only child I have no-one to leave me research to, so will arrange for it all to go to either a local history society or the such like.
I have also realised that many of my photos will mean nothing to whoever is going to clear out my belonginge, so have made the difficult choice to pass old photos of friends, family & ex "in-law" on now. One of my cousins was really pleased as some of the photos I sent of his parents contained photos of his own in-laws as well. For some reason his father threw out all his old photos when he moved, probably thought no-one would want them.

Researching:
We are all of us in the gutter, but some of us are looking at the stars, Oscar Wilde New avatar, my dad age about 3/4 months, could have been worse, it could have been the awful nude on a rug!!

Jan.
Report
1 Nov 2009 11:37

I'm very interested in reading all these tips and will try to get myself motivated in organisng my tree properly.
One thing I have been wondering about, is whether to leave all my research to the appropiate Record Office.
That in itself is a problem, as my ancestors lived in three different Counties. So I don't think any one Record office will take all my research, just the bits that relate to them. Am I right do you think?
I would really like to leave the research to just one record office, so it is all together.

What are the thoughts of others about this?

Jan

Jilliflower
Report
1 Nov 2009 13:58

What about copying it all and leaving it to ALL the record offices?
cheers,
Jill

Jan.
Report
1 Nov 2009 14:13

Hi Jill,
That's a good idea, and something I might consider.
Thanks.

Jan

Jilliflower
Report
2 Nov 2009 12:27

The books I have seen made up professionally are from Apple but apple use Kodak and if you look on the Kodak gallery site you will find instructions how to order a book. The superb ones I saw were around £30 or so. You make the book up yourself and they then send it to you.
there are loads of sites on line where they will print books for you.
You know what they say "google, google, google!"
cheers,
Jill

maggiewinchester
Report
20 Apr 2010 23:28

In the summer - whether she wants to or not, I'm going to have my grand daughter over to help me make a facsimile of the coffin of her g x 8 grandfather!
At the time he was the heaviest man in England (though only 32 stone) and one of the newspaper reports of his death gives the dimensions of his coffin!
If that , in some strange way, doesn't bring the past to life (?), I don't know what will!!

Researching:
Me in front of the Bessacar. Looks like it was the day we moved there, judging by the fence!

brummie46
Report
21 Apr 2010 07:52

i myself have always been intrigued re family tree/maters although my daughter does not follow me on this. But now she is to become a mother herself she might be interested in a few years time. - I have already started a story book/tree and will print all and insert into my own grandmothers sunday school bible (1896).
This will be of info for when my grandchild is older.

LakesLass
Report
21 Apr 2010 13:42

Isn't it strange how things are triggered off.

Last summer we had 3 family bereavements within 7 weeks - all on my Mums side. There are 8 of us cousins and at one of the funerals we all decided that we should 'stop meeting like this' and so began arranging a family get togther for the late summer.
This proved such a hit that we have had 3 more with another even larger one, hopefully in August.

My Mum is almost 90 and her sister 88, they are the only survivors now of their generation and so loved these get togethers. Both of them have written the 'life stories' - as they each remember things and are fascinating reading for all of us.

I have history on their Mothers side going back to 1600's and have shared it all with my cousins who have been fascinated. We are now all on a mission to share what we know and expand everything as much as we can at our next gathering when we'll all be there from New Zealand to Scotland and all over England! Wow!

I have started to expand the family tree I have with the more social side of things..i.e. who was on the throne at the time, living conditions, major events & discoveries during each generations lifetime. So far thats been amazing. I am doing it all in "word" and will print all to put in a folder. with certs, photos etc and also saving to cd or similar as back up

My son is reasonably interested too and as such we are all off to wales for more discoveries, hopefully, in the summer. He's quite happy to do that too which is great for me. However he is more keen to find out as much as he can about my dads side as dads grandparents were scottish and for some reason that appeals to him much more. However, he'll have to wait as I have hit a brickwall with them in the 1800's.

My OH's side is complicated as he has jewish father, irish Catholic mother and as such has hit the proverbial wall with his dads side. Polish/german jewish side in mid 1800's! Still he's getting there slowly

brummie46
Report
22 Apr 2010 17:17

can i just say that whilst in poland (krakow) a few weeks back, got talking to a family from Israel.The lady who was in her 80s had brought her son and grand daughters over to poland (and her first visit since w.w.2) to show them to where she lived as a young child.

This lady was a survivor from auchwichtz - would have only been in her teens when liberated, she went to Israel at the end of the war, so naturally she was passing on the stories to her children and grandchildren who could actually see for themselves the history behind it all.

littlelegs
Report
24 Apr 2010 10:43

hi
this is so good to read remember to add all the different spellings of the surname [s] you are doing as we all know spellings changed from one census to another
good luck to all of you
all the best
lorraine

Pam
Report
24 Apr 2010 12:36

I have 19 versions of my maiden surname. I keep them all listed so that when I can't find somebody on a census I go through the list to see if they appear under something different.

Researching:
Middlesex, Berkshire and Somerset

SueMaid
Report
24 Apr 2010 12:46

One thing I make a point of doing is labelling photos - easy to forget but when I look through old photos I find it frustrating not knowing who they are.

When I speak to my children about our ancestors I make a point of saying - "your great great grandfather" or "your great aunt". This allows them to see that it is their family I'm talking about. I also put our ancestors into historical context. For example my OH's father was born around the time of Jack the Ripper. This adds interest to the story.

Sue

Norma
Report
24 Apr 2010 22:38

Hi All
i too have typed a brief history of a couple of really unusaual stories that have occured with my Family research my son and OH are interested but as i havn't any Grandchildren there isn't anyone very young to pass it too,but I am doing it mainly for myself as i find it very enjoyable and it has given me a renewed interest in history.I find i wonder did my foebears live like that did they wear those clothes etc.

Norma

Researching:
Bedford, Pickavance, Pell ,Powell .Murphy, Olsen .Brown ,Davis

grannyfranny
Report
3 Jul 2010 21:53

All I can add to this is, leave it on a modern media form, such as a disc, they are more likely to read it than if you leave a paper document.

Researching:
Freeman of Berwick upon Tweed

LakesLass
Report
5 Jul 2010 13:53

Just been browsing through this.
On holiday this year we visited the church where my great aunt was married. My son then asked to go to this Talgarth place you keep talking about.. when my grandparents were married, which is close by to the village we were in. Its the first real time he's shown much interest in the family history other than listen to us all babbling on.
It took 3 family funerals in 7 weeks this time last year to bring all my generation together again and as such we have now had 3 family gatherings with the next due in August with family from New Zealand and Scotland also there
This time we hope to exchange info, add snippets etc as photos have been going back and forth for a while between us cousins.

Likewise I have started to write my info up into some kind of 'book', adding odd photos and certs where applicable, though i've only gone back to my great grandparents. Further back will be more condensed.

I love it but I get nothing else done when I'm in 'history mode'!!!

KathyinOz
Report
3 Oct 2010 12:09

Very important thread.