Genealogy Chat
Welcome to the Genes Reunited community boards!
The Genes Reunited community is made up of millions of people with similar interests. Discover your family history and make life long friends along the way.
You will find a close knit but welcoming group of keen genealogists all prepared to offer advice and help to new members.
And it's not all serious business. The boards are often a place to relax and be entertained by all kinds of subjects.
The Genes community will go out of their way to help you, so don't be shy about asking for help.
Quick Search
Single word search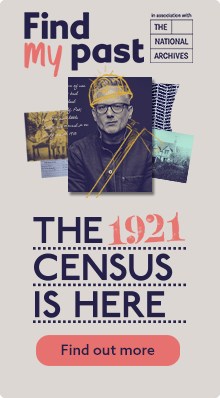 Icons
New posts
No new posts
Thread closed
Stickied, new posts
Stickied, no new posts
Tip of the day...Family stories
Profile
Posted by
Options
Post Date

Bob
Report
12 Jun 2014 20:07

Both my Gt.Grandfather and his eldest son were John Trafalgar Waight. The elder born 1842, and his son in 1886. None of his family were naval, and there were no Waights who served at the Battle of Trafalgar. Perhaps they were both conceived in Trafalgar Square. Bob

Joy
Report
5 Sep 2012 18:32

:-)

Fairways3
Report
26 Apr 2012 15:11

My father used to relate a story about his mother's family like a mantra.
It went like this:-

Five brothers came to New Zealand from Ireland. Three stayed and two went on to Canada. The family were R.C. when they arrived but turned Methodist in N.Z

The words five, brothers, three, two,Canada,Ireland,R.C.and Methodist are correct but make a different story.

Five brothers and their mother and father left Scotland and emigrated to New Zealand.

Their mother was Irish and R.C.

The eldest brother aged nineteen and born in Ireland died a fortnight into the journey and was buried at sea.

Six months after leaving England the family arrived at Auckland N.Z. after a horrendous voyage.

Their mother was carried off the ship in a sinking condition and died in Hospital five days after landing.

The second eldest brother born in Canada moved into the country to work and became a Methodist living to the age of eighty four.
.
Their father a Royal Artillery Pensioner died after five years in N.Z leaving the two youngest boys orphaned.

The third brother also born in Canada died after eight years in N.Z. and was buried without the two youngest boys being aware that he had died.

That left three boys to live out their separate lives in New Zealand.

~~ Jules in Wiltshire~~
Report
9 Dec 2011 13:34

My grandmother on my mother's side always said that we were related to Sir Christopher Wren...My uncle even has Wren as his middle name....I have yet to find a link!! :-D

Jules x

Researching:
Madgwick, Champion, Pont, Ramus, Hall, Pitt, Rudland, Coates, Wheatley, Collins, Van Staaden, Filmer....

Teresa With Irish Blood in Me Veins
Report
30 Nov 2011 23:04

My in-laws insisted that father-in-law was an orphan and ran away to sea at the age of 15. He was in a Naval uniform on his wedding photo. So that bit is true as we found his Chief Petty Officer's Badge after they had both died.

However, after tracing his family history we discovered that he had a sister and his mother didn't die until the 1960's His sister had 3 sons 2 are still alive in their 80's, whom we have now met.

They told us that father-in- law's parents split up in the 1920's and that they went their seperate ways. They never knew their grandmother existed either.
Father-in-law's father is buried beside his nextdoor neighbour....of the female kind!

The sadest thing is knowing that my husband's cousins, who he knew nothing about, had spent their lives wondering what had happened to their uncle Jack (father in law) used to take them to watch Fulham and Tottenham play football in London where they lived. They assumed that he had died in WW2.

I loved my father in law dearly and I do miss him, but I cannot understand why he and mother in law lied to their own son and me.

And why cut yourself of from living family members?

Good job mother in law isn't alive to see what I've discovered about her grandparents! They didn't get married until they were in their 50's and had 11 children out of wedlock! LOL !

There is nowt queer as folks

:-) :-)

Jonesey
Report
30 Nov 2011 16:03

:-D :-D :-D

Researching:
Don't put off until tomorrow doing what you can do today. If you like doing it today you can do it again tomorrow. Be kind to your children for it is they who will decide which care home you end up in.

GinaS
Report
5 Jul 2011 11:45

My Gran was a Milliner and the family stories - 'she mad hats for royalty'

She lived in London in the 1920's

I have no idea on where to look to see if this true.



Researching:
Haughton Brocken Unwin Tomsett Splane

Robin7
Report
5 Jul 2011 11:21

When i was a kid my grandad used to tell me he just missed the Titanic and wasnt that lucky.

I belived this for years until i was around 15 when my mum informed me he was pulling my leg as he was just a kid him self when the Titanic sunk.

he was a character and i am reading his diarys at the moment and do miss him so.

Rob

Researching:
Stirk(Yorkshire Eng and Western Australia)Benn(England).Whitaker(England). Lewis(Wales).Parry(Wales)

Jonesey
Report
5 Jul 2011 10:04

Nudging for newer GR members.

Researching:
Don't put off until tomorrow doing what you can do today. If you like doing it today you can do it again tomorrow. Be kind to your children for it is they who will decide which care home you end up in.

Mummy Bear
Report
6 Nov 2009 08:27

Firstly, these Tips are wonderful - thankyou Jonesey.

My FIL was mocked as a child during WW2 and for sometime afterwards that he was German and not to be trusted. It was a family joke and poking a bit of fun - nothing nasty. He was very blond, blue eyed. Even after he married in the late 50s this continued. Wasn't until I looked into his mothers side of the family - yes - they were from Berlin and called Schmidt.
MB

SylviaInCanada
Report
6 Nov 2009 04:26

We had a family story that my gt gt grandfather had died falling out of a train carriage at Guide Bridge .................. he had managed to stop a child from falling out but couldn't save himself.

Sounds quite the hero!


It took years, but I have gradually put the story together

His death certificate says he died of head injuries after falling out of a train ....... he died at Clegg Street Station Oldham, ON the Oldham, Ashton and Guide Bridge Railway Line

The inquest was reported in a short-lived Oldham newspaper, which the Local Archives and Study Centre found for me.

He had taken the last train from Clegg Street to Parkbridge Station (also in Oldham). As the train came into the station, he went to the carriage door, leaned on it to look out ..................... but it was the trackside door, and someone had not locked it. He fell out and cracked his head. He was eventually taken back to Clegg Street Station but died on the way there.

It was said that no drinking was involved.


It sounds like a complete disaster ......... his body was taken to a station in another town, no-one told the coroner until 3 days later when the police asked why there hadn't been an inquest, the inquest was held the next day (5 days after the accident), and the coroner concluded it was an accident but he considered that the family might have a case against the railway ocmpany or someone for dereliction of duty.



so ...... he did die after falling out of a train carriage, but ......................





sylvia

Researching:
My brother, photo taken in September 1990 just a couple of weeks before he died. ............................................................ To help us and to get better results, please post as much detail as you can, especially name, date(s) and place. Also say what you already know.

GranOfOzRubySlippers
Report
6 Nov 2009 03:16

All the family stories are wonderful and deserve to be archived in our trees for future generations. I have collected many stories, some true, some fairytale and some with an amount of truth. All wonderful.

I write the "Family Chinese Whispers" then do the research and attach the file to the person who told the story and the person involved. Stating whether true or not, with my findings. Regardless, it makes a great tale.

I have gone on many a merry search trying to prove or disprove a story, and had loads of fun doing so. That is part of genealogy, tracking down the truth.

Be also prepared for family members to still believe these stories to be TRUE, not everyone can be swayed by evidence.

My mother in law was always told she was of French decent, due to the Napoleonic wars. Turns out this is totally untrue, and that branch can be traced back to the 1500's in England. All of this because her mother changed her name to the French spelling in the early 1900's when she was orphaned, then made her own heritage. From Beeby to Bebe. The proof is there, the documents are there, Mother in law still tells people she is of French decent. No other branch of her family is French either.

Happy searching

Gail

Madmeg
Report
6 Nov 2009 00:57

Chipping in.

My dad (who did not make stories up), told me that during WW2 whilst serving in the Navy, he was forced to abandon ship in the Indian Ocean and drifted for 8 days on a life raft with no food. His raft by chance drifted to the coast where it was rescued and he and his 3 colleagues were given a heroes welcome. I can find nothing on this. He also said that his parents received the dreaded telegram "missing presumed dead". No sign of that either.

I've tried all the sources I can think of. Anyone got any ideas how I prove this?

BrianW
Report
5 Nov 2009 11:27

In my mother's side it was alluded that there was a connection to Lady Hamilton. There is even a statuette that was referred to a Lady Hamilton.

The only Hamilton I've found so far was a boarding house keeper in St Pancras in the early 1800's.

A local "Antiques Roadshow" type event attributed the statuette to be early 20th century probably acquired as a prize at a funfair.

Researching:
Sherwood (Kent); Jesson (London); Worboys (Herts)

Mick in the Sticks
Report
5 Nov 2009 09:49

As children we were always told we were descended from the son of a wealthy land owner who was disinherited when he got a maid into trouble. (Does it sound familiar?).

My genealogical research which goes back to the late 1600's really shows we were descended from a grand and noble line of Agricultural Labourers.

Of course there was always the Throgg line of the family one of whom was Pharoah Throgg. Little is known of him as his tomb still awaits discovery.... but that's another story.

Mick


Michelle
Report
5 Nov 2009 09:47

When I was a kid my grandfather used to tell us all these stories about his tmes on the boats (in the nz navy) unfortunately we were told by my grandmother that as grandad had hit his head in a mining company accident after they got married that these stories were all made up and to not listen to them. It was not until after my grandfather died that it was revealed that he had been in the navy, he had taken someone else's papers that did not want to serve, and served under another's name - as my grandmother had destroyed all papers relating to this time, we don't know what they name was.

AllanC
Report
5 Nov 2009 09:22

I think we all like to imagine we've got illustrious ancestors or relatives. My first foray into family history killed off my idea that I might have had a notable 18th century banker as an ancestor when I discovered my gt-grandfather was a chair maker. Incidentally I followed up the banking family history and discovered that their fortune passed to another family when an heiress was disowned for eloping to marry someone they thought unsuitable. So even if we were related I'm not in line for any government bail-out!
Another member of the family, according to a persistent tradition was a doctor's daughter disowned for marrying beneath her - but I've found no evidence at all for that.
And from the other side of the family I have a letter written in 1879 by a cousin of another gt-grandfather wondering if the family are related to a policeman who was in the news after arresting a notorious criminal - simply because they shared the surname Robinson!
But as Jillian says, they're worth preserving as unproved stories and one day the evidence might turn up (or you might win the lottery).

BrendafromWales
Report
5 Nov 2009 08:53

I alway believed that my g.grandfather who came from Tipperary lived in a castle and had an estate with horses etc.
I'm not doing very well with his family before he was born,but I have found he was born in Cashel c 1831 and think that is the mix up.He joined the army at Templemore and apart from overseas postings ended up as a shoemaker in retirement.
so no...listen to the romantic stories and don't stop them coming,but then try to find out for yourself.

Brenda
PS Am finding these threads so interesting and helpful to the new members especially.We are never to old to learn new tips!

Jilliflower
Report
5 Nov 2009 08:38

good morning uncle Jonesey,
I LOVE the family stories I learned from my grandmother. I have been advised to write them all down and attach them to my file - as unproved stories. I have proved many of my family stories by research and by comparing them with the branch of the family who emigrated to Canada, but I even love the possibles and even improbables!
Keep the tips coming, uncle Jonesey, I'm listening and learning,
love
Jill

Jonesey
Report
5 Nov 2009 08:30

Family stories can be fun but never take them at face value.

My old grandmother (Bless her) often told people that she was a descendant of an earl. She had a glint in her eye when she said it but she was actually telling the truth because her grandmother was named Maria Earl. Fortunately we knew that she was only joking but what would have happened if we didn't?

A friend of mine was a foundling and he often says that he believes that he is the offspring of a servant girl and a prominent member of the royal family who was born on a Greek island. His friends know that he is joking but what if his grandchildren hear the story one day and believe it to be true?

Family stories abound. Some are fact, others may be half true and others may be pure fiction. If there is a family story that amongst your ancestors there is someone rich and famous or infamous involved is it likely to be true? Did your great grandmother really have an affair with a member of the nobility? If you know that your great granddad was an iron moulder in the Black Country is it likely that his elder brother discovered the cure for some terrible disease? The chances are probably slim. Just because your ancestors shared a surname with someone "Famous" is certainly no guarantee that they were related to one another.

How do you prove what is fact and what is fiction? The answer is with some difficulty. The only advice that I can offer is to look at the odds of probability. Is it likely to have happened? Most famous or infamous peoples lives are well documented so it is often relatively easy to discover their background. Take some time to look at their biographies and who knows what you may find.

If you do discover the story to be true, document your findings. If you discover the story to be fantasy, kill it off once and forever, unless of course you enjoy telling people that you are really the rightful king.

Have fun.


Researching:
Don't put off until tomorrow doing what you can do today. If you like doing it today you can do it again tomorrow. Be kind to your children for it is they who will decide which care home you end up in.