Genealogy Chat
Welcome to the Genes Reunited community boards!
The Genes Reunited community is made up of millions of people with similar interests. Discover your family history and make life long friends along the way.
You will find a close knit but welcoming group of keen genealogists all prepared to offer advice and help to new members.
And it's not all serious business. The boards are often a place to relax and be entertained by all kinds of subjects.
The Genes community will go out of their way to help you, so don't be shy about asking for help.
Quick Search
Single word search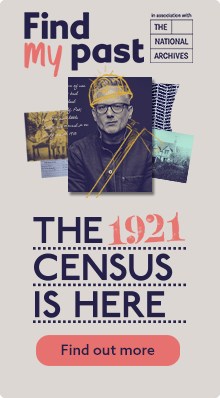 Icons
New posts
No new posts
Thread closed
Stickied, new posts
Stickied, no new posts
Tip of the day...Who married who?
Profile
Posted by
Options
Post Date

Kense
Report
27 Feb 2017 08:41

Thank you mgnv and Brian. I had forgotten that the GRO Index change didn't apply to marriages but I knew it was easier to find the spouse now.

BrianW
Report
26 Feb 2017 22:35

Freebmd gives MMN after 1912 so there is practically complete coverage from 1837 onwards.
So I think the procedure is:
Find the family on a census, select a child and look on the GRO index for the birth.
That will give the MMN.
Then use Freebmd to find a marriage as you will then have the groom's full name and the bride's given name from the census and her maiden name from the GRO birth index.

Researching:
Sherwood (Kent); Jesson (London); Worboys (Herts)

mgnv
Report
26 Feb 2017 17:29

GRO's new online index only covers birth and deaths thru 1915.
Which still leaves Jonesey's original problem of who wed whom pre-1912

Kense
Report
24 Feb 2017 08:53

Note that the GRO Index now gives the partner's name.

mgnv
Report
7 Nov 2012 17:58

The general portal I mentioned above:
http://www.ukbmd.org.uk/index.php?form_action=local

has links to Lancs and Gloucs BMD, and also to CheshireBMD and others

Jonesey's worked example of finding the missing name on the page is still what one has to do in many parts of the country, but here we can check.

Here's Jonesey's starting point:
Marriages Sep 1904 (>99%)
Ball James Dudley W Nantwich 8a 641
Barlow Herbert Nantwich 8a 641
Minshull Tryphena Nantwich 8a 641 [image says Tryphena]
----------------------------------
Letman Jessie Nantwich 8a 341 [image shows 641 - correct'n subm'd to FreeBMD]


Using http://www.cheshirebmd.org.uk/
Cheshire Marriage indexes for the years: 1904
Surname Forename(s) Surname Forename(s) Church / Register Office Registers At Reference
BALL James D LETMAN Jessie Crewe, Christ Church Cheshire Central 1029/4/385
BARLOW Herbert MINSHULL Tryphoena Crewe, Christ Church Cheshire Central 1029/4/384
[I've asked cheshirebmd to check on the spelling of Tryphoena]


Potty
Report
7 Nov 2012 16:02

Lancashire bmd also shows who married who and where and also shows both names of a women who was married before but does show which is her maiden name and which her previous married name.

MMN is also shown for some births.

BrianW
Report
7 Nov 2012 14:08

Totally agree - if we all enhanced the Freebmd records with a postem of what we know as fact it would save others, and eventually ourselves, a lot of searching and expense.
Anyone for a New Year's resolution?

Researching:
Sherwood (Kent); Jesson (London); Worboys (Herts)

ErikaH
Report
7 Nov 2012 12:04

What a splendid idea.................

DazedConfused
Report
7 Nov 2012 11:40

When I get any marriage certificates I will always go to FreeBMD and using the Postem facility indicate on both parties who married who, date of marriage and name of fathers.

If this helps just one person then I am a happy bunny... :-D

Researching:
We are all of us in the gutter, but some of us are looking at the stars, Oscar Wilde New avatar, my dad age about 3/4 months, could have been worse, it could have been the awful nude on a rug!!

ErikaH
Report
7 Nov 2012 10:38

The following site has spouses listed pre-1911

http://ww3.gloucestershire.gov.uk/bmd/

...........................and MMN

Jonesey
Report
7 Nov 2012 09:07

Another old tip nudged up because it may help newer members with their research.

Researching:
Don't put off until tomorrow doing what you can do today. If you like doing it today you can do it again tomorrow. Be kind to your children for it is they who will decide which care home you end up in.

Patricia
Report
11 Nov 2009 07:16

Ah that explains something that had puzzled me!

Many thanks Jonesey and everyone.

Pat

Barry_
Report
11 Nov 2009 01:19

I put this text on another thread recently and I would like to repeat a word of caution about marriages on FreeBMD as a result of an experience I had.

If you see / find one man and one woman in the marriage list (such a refreshing change way back when!) don't take it for granted they married each other. (I accept that 9 times out of 10 two persons would most likely have married each other.)

Point in question. Search Oct to Dec 1907 at Lincoln and listed is Maud Gent; click on her page ref 1094. For many years there was just Maud and Christopher Goodman shown (Mabel Morris was not listed).

Although Maud was a very distant relative, I naturally presumed that Christopher was her hubby (Mum always told me never to presume - and she was right. Again!) I even searched and found Christopher and his family on censuses way back. On a whim one day I ordered what I believed was their marriage certificate, giving both their names.

Imagine my horror when GRO replied Maud didn't marry Christopher! I'd very reasonably been presuming she did and while unknowingly barking up the wrong tree I also lost a few quid as well! I ordered the certificate again using only Maud's name.

Lesson / moral when ordering a marriage certificate. State only the ONE name you KNOW. Never presume two persons listed married each other. You might be very unpleasantly surprised!

Ciao.

Barry

Jilliflower
Report
10 Nov 2009 22:19

good evening uncle Jonesey,
I nearly missed this one as I had to go out.
Another fine wrinkle to add to my collection and another problem to look out for.
Thanks everyone
love Jill

AllanC
Report
10 Nov 2009 22:07

Regarding a woman who was married previously, if you get hold of the birth certificate of a child born in a second (or later) marriage it shouild show all the mother's previous surnames, for example "Ann Smith formerly Jones formerly Robinson".

Potty
Report
10 Nov 2009 17:08

Lancashirebmd site is another one that ties up the partners in a marriage and it also says which church. Also, some pre-1911 births give the mother's maiden name.

mgnv
Report
10 Nov 2009 16:49

As Jonesey states, who married whom is somewhat problematical when there are women with the same name on the page.
Finding them on the censuses before and after marr is one hope - maybe we can distinguish them by age or pob.
However, the following would be a problem as there's no useful census before the marr:

Surname First name(s) District Vol Page
Marriages Sep 1837 (>99%)
--------------------------------------------------------------------------------
CHICKEN Michael South Shields 24 97
DIXON William South Shields 24 97
GIVENS Elizabeth South Shields 24 97
MOUNTAIN Thomas South Shields 24 97
PARK George South Shields 24 97
PAUL Elizabeth South Shields 24 97
SPENCE Elizabeth South Shields 24 97
THOMPSON Jane South Shields 24 97

There is another comparitively trouble-free method which unfortunately has limited applicablity.
As you probably know, the GRO is not the only placeyou can buy an m.cert from - you can also buy it from the RO for the district where the marr occurred.
Why this matters is that some ROs have their local indices online, including South Tyneside (which covers the old South Shields RD).
A general portal is:
http://www.ukbmd.org.uk/index.php?form_action=local
and we can get to S. Tyneside via:
http://www.northeastbmd.org.uk/

Searching there we find:

Thomas MOUNTAIN Spouse: Elizabeth SPENCE Register: C F1 Entry: 17 Date: 16/08/1837
Michael CHICKEN Spouse: Jane THOMPSON Register: C F1 Entry: 18 Date: 19/08/1837
George PARK Spouse: Elizabeth GIVENS Register: C F1 Entry: 19 Date: 20/08/1837
William DIXON Spouse: Elizabeth OLIVER Spouse: Elizabeth PAUL Register: C F1 Entry: 20 Date: 30/08/1837

Since the local ref is by entry #, not page #, there's no bother sorting out who wed whom, and the site does this sorting for you. Actually this index gives more - it gives the exact date of the marr - it lists the marr name and MS of the widow William Dixon wed (without identifying which is which, but the GRO would usally index her marr name, so probably Oliver is her MS) Finally, the S Tyneside site gives a key that identifies the register with the church, so we know register C F refers to St Hilda`s.


Jonesey
Report
10 Nov 2009 08:30

When looking at the pre 1911 marriage registers at www.Freebmd.org,uk you normally find an even number of persons shown. So who married who?

If you are lucky all the individuals marrying had different first names which means that if you take a look at the census following the marriage you can probably identify the correct spouse. Things are not quite as simple if the females who married had the same first name. Here when the marriage took place becomes relevant because from September 1911 a child's mothers maiden name appears on their birth registration. If the couple married between say 1895 and 1911 then the mothers maiden name of any children born to them after 1911 can help identify who the marriage partner probably was.

One word of caution however. If the mother had been married previously then under normal circumstances her surname at marriage to the child's father should not have been shown as her maiden name but her previously married name. This can cause confusion so it sometimes pays to look at earlier marriage records to see if you can spot a previous marriage of the mother.

Occasionally when looking at the marriage registers you may spot that instead of an even number of persons marrying there is an odd number (3 or 5). This should alert you to the fact that something is not quite right. Sometimes the odd number is caused by indecision on the part of the transcriber who couldn't decide upon the correct name so included more than one option. These are usually easy to spot. Much more common is where due to some error, a name has not been recorded in the transcription in the right place. Several errors may have caused this but the most common is that the page number has been misread or transcribed.

One way to try to discover who is missing is to look at everyone who married in that quarter in that registration district. This is quite simple to do.

For example if you know that your ancestor James Ball married in the September Quarter 1904 in Nantwich (Vol 8a Pg 641) but only 2 male names and 1 female name are showing . Go to the Freebmd search page, click "Marriage", leave all the name boxes empty but select Nantwich registration district and in the date range boxes enter Sep 1904 to Sep 1904. That will bring up all the marriages. Run down the list looking for something odd E.G. a partial page number or a page number out of sequence . In this example you will discover that whilst most of those recorded have a page number in the 600's there is just one with a page number in the 300's (341) which is therefore likely to be the one that is missing.

There is no substitute for getting your hands on a copy of the certificate itself but this may help you to identify the correct one to order. Remember also that when ordering a marriage certificate you only need to specify the name of one of the parties who married.

Good luck with your research.


Researching:
Don't put off until tomorrow doing what you can do today. If you like doing it today you can do it again tomorrow. Be kind to your children for it is they who will decide which care home you end up in.