Genealogy Chat
Welcome to the Genes Reunited community boards!
The Genes Reunited community is made up of millions of people with similar interests. Discover your family history and make life long friends along the way.
You will find a close knit but welcoming group of keen genealogists all prepared to offer advice and help to new members.
And it's not all serious business. The boards are often a place to relax and be entertained by all kinds of subjects.
The Genes community will go out of their way to help you, so don't be shy about asking for help.
Quick Search
Single word search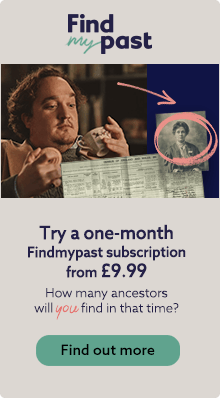 Icons
New posts
No new posts
Thread closed
Stickied, new posts
Stickied, no new posts
Exporting a GedCom File-Help needed Please
Profile
Posted by
Options
Post Date

ShelleyRose
Report
12 Aug 2011 11:51

Could someone please tell me how to export my GR family tree onto a Gedcom file? can no longer see the facility.
Many thanks,

ShelleyRose x :-(

RutlandBelle
Report
12 Aug 2011 11:57


Exporting Gedcoms


It is possible to export a copy of your Genes Reunited tree as a Gedcom file. You can do this by clicking on the Family Tree button at the top of your homepage, then selecting Gedcoms from the drop-down menu. Select 'import gedcom' from the green box to the left of the page. You can then click on 'export gedcom' from the left hand side of the page and a copy of your tree will be emailed to you within a few minutes. The file is sent as an attachment from the email address noreply@genesreunited.com. Please make sure that your email provider allows attachments and will allow emails from the above address.

You can then use this in conjunction with a family tree software package to view and edit your tree offline. You can also forward it to other family members by email if you wish.

Some packages may also allow you to print your tree. Your exported tree is compatible with Personal Ancestral File, Family Tree Maker, Family Historian , Roots Magic, Family Tree and Legacy. It should work with most software, but we are unable to guarantee this.

As soon as the file has been exported it will be sent to your registered email address. Please make sure this is correct by clicking on My Account in the top right hand corner of the site.

Even if you do not currently have a software package you can still export your file. However, in order to view it you will need the software to view it. There are various packages available to buy on the market. There are also internet sites where you can download packages for free.

Once you have exported your file you can save it to a CD or a memory stick. To save it externally you must first save it on your PC. You can then copy the file to your CD or memory stick. It will be saved as a gedcom.

Once you have edited your tree offline, you can then add it back to Genes Reunited. Please bear in mind that when you load a gedcom to the site will over write any previous tree you had loaded. Once you have loaded a new file the old tree cannot be restored.


Researching:
Please use the "ADD YOUR REPLY" box below to reply. Please DO NOT click on my username and send a private message (unless info is about living people or otherwise sensitive). Thank you.

KathleenBell
Report
12 Aug 2011 11:57

If you click on "Family Tree" and then on "Import Gedcom". Then on the left hand side of the screen you will see "Export Gedcom".

Kath. x

ShelleyRose
Report
12 Aug 2011 12:38

RutlandBellle & Kathleen,
Many thanks for that info, I'd updated my tree and couldn't remember how to export it from Genes.
Thanks again,

ShelleyRose x :-)

SueCar
Report
28 Apr 2012 23:04

Thanks RutlandBelle & Kathleen for posting on how to export Gedcoms. I have just tried it for the first time today and it worked fine. I have got Family Tree Maker on my computer. I even managed to amalgamate the newly downloaded gedcom with what I had already put into my FTM tree. :-)

Researching:
Pic: Montbretia. Researching Naylor, Halhead, Salt, Wright, King, Hayter, Garvey

Jacqueline Cynthia
Report
10 Jun 2013 15:35

When you export a Gedcom, does the GR tree become blank? Or does it retain the information?

Kense
Report
10 Jun 2013 15:36

It retains it.

Bazil
Report
12 Jun 2016 15:33

Exporting Gedcom File.
Can any one tell me how long it takes? I have a message that reads...."Your tree is currently being processed. Please wait until your tree returns to the ready state before exporting another GEDCOM file." for the last few days!!!
Cheers.
David :-(

Researching:
Lowe, Layhe, Wright, Whittle Prescot, Wigan

+++DetEcTive+++
Report
12 Jun 2016 16:48

That doesnt sound right. Can you cancel it and start again?

If you can't, send an email to Support asking for assistance. They generally work office hours Mon-Fri and aim to reply within 3 days.

Support@genesreunited.co.uk.

Researching:
Dormant member as from 20 Sep 2019 . Click on my board name to send a message

Kense
Report
13 Jun 2016 10:45

Yes Det is right it normally only takes a few minutes to revert to the ready state.

It seems that now and then the export software fails and unless anyone tells support they do not know about it.

Noeline
Report
7 Oct 2016 03:16

I am trying to update my tree onto my genesreunited site
I know I have to save my alterations I have done and then it comes up on my desktop as a gedcom file
then I think I go into Genesreunited site and import it there
I bring it up when I brouse and attach it by clicking ok Is this correct
I am having trouble putting it onto my desktop so I can do this
Please advise me
Noeline

Kense
Report
7 Oct 2016 23:17

Is the problem that you can't find the file on the list that GR gives you when you browse?

If so, store your GEDCOM in Documents. When you browse GR gives you the files on Desktop, at the top it says This PC > Desktop. Click on "This PC" and Documents will be one of the choices. Click on that and you file should be listed there.

When you select the file to upload you have to click on "Open".

If that is not the problem we need a bit more information.

Noeline
Report
19 Oct 2016 10:08

Tks for the info I will try again cheers

Olive
Report
4 Jun 2021 21:54

I understand that if I export my family tree as a GEDCOM file all the information I have added in the 'Extras' box for each of the individuals on my tree will not transfer. However, will the information in that box for the different people on my tree (and I have thousands of entries across individuals in my family tree) still be preserved in my original tree on Genes Reunited website? Thank you.

ArgyllGran
Report
5 Jun 2021 12:20

If you mean you are exporting a copy of your GR tree to somewhere else, then yes, everything will still be there on GR.

You're only taking a COPY of the tree to somewhere else - not the tree itself.

Researching:


Sarah
Report
7 Aug 2021 12:22

I have exported my tree as a gedcom file but it is only giving me a small part of my tree not the whole thing I have done it several times with the same issue, any ideas why and how i can get the whole tree?

ErikaH
Report
7 Aug 2021 12:23

From where to where?