Genealogy Chat
Welcome to the Genes Reunited community boards!
The Genes Reunited community is made up of millions of people with similar interests. Discover your family history and make life long friends along the way.
You will find a close knit but welcoming group of keen genealogists all prepared to offer advice and help to new members.
And it's not all serious business. The boards are often a place to relax and be entertained by all kinds of subjects.
The Genes community will go out of their way to help you, so don't be shy about asking for help.
Quick Search
Single word search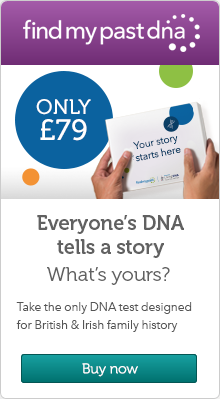 Icons
New posts
No new posts
Thread closed
Stickied, new posts
Stickied, no new posts
BMD certificates
Profile
Posted by
Options
Post Date

Paul
Report
10 Sep 2018 15:41

Having found where my Grandparents birth, marriage and death certificates are recorded, can I access the certificates themselves via Genes Reunited, or do I need to order copies ?

Thanks, Paul

KathleenBell
Report
10 Sep 2018 16:46

You need to order them from the GRO site. Here is a link:-

https://www.gro.gov.uk/gro/content/certificates/default.asp

The certificates will cost you £9. 25p each or £6 for a PDF copy. Don't purchase from any other site as some sites will charge anything up to about £25 per certificate.

Kath. x



Paul
Report
10 Sep 2018 16:55

Kath, many thanks for for your prompt response. Regards, Paul


Gwyn in Kent
Report
10 Sep 2018 17:17

Depending on where in the country that marriage took place, some parish records, identical after 1837 to marriage certificates may be on line via some sites.

If you'd like to give names and place, members will take a look for you.

Kense
Report
12 Sep 2018 22:10

It should be noted that, although in theory certificates and parish records should be identical, in the nineteenth century the parish record entries are more likely to be the originals.

The official certificates are made from a version that has been copied by hand probably more than once and errors may have occurred. In some cases the certificate has been typed although the event preceded the commercial use of typewriters.

I have come across a situation where the name in the GRO index is completely different to that in the parish register. From subsequent census entries, the name in the parish register was shown to be correct.

Gwyn in Kent
Report
13 Sep 2018 03:10

I would agree that viewing original parish records is always best, if possible.

A friend was able to compare signatures of original registers to prove that a James,who married in Southampton was the same person who previously married in the Newcastle area, although the Newcastle man was logged as Thomas in the GRO.

I have also seen a Maria transcribed as Maud, so viewing an original and making up your own mind is the best option, when possible.

Paul
Report
14 Sep 2018 10:36

Ben and Kense, thanks for your responses. Best wishes, Paul

mgnv
Report
18 Sep 2018 02:09

The GRO only has copies of the originals.
Original B , D and registrar attended / rego office marrs are held by the modern local Rego District that holds these historical rego's, e.g., all of the old Kentish RDs apart from its London boroughs and the Medway are now hels by the modern Kent RD.However most local RDs lack the ability to put digital images of their entry onto official forms, like the GRO does. The GRO now also sells "unofficial" digital iimages of its copies of older B & D entries, which capacity the local offices also lack.

Original marr certificates could be issued by the established church (Cof E /C of W), jews and quakers. Apart from the registrars, these were the only bodies initially authorized to keep official marr rego's. After 1898, other non-conformists could apply to become authorized to keep official marr rego's - although the RCs chose not to apply until 1980-ish. The local RD maintained a copy of these rego's and the GRO also had a copy of the entries. When a "church/'s" was completed and its copies checked, it was deposited in some archive - usually the county records office, and sometimes these deposited records are online and free, or available via Ancestry or FMP/GR.

My wife is from Wigan, and the C of E parish rego's are online with Ancestry.
I signed up for their free newsletter, and was warned of a free weekend for some of their records, so I was able to download some of her g grandparents' m.certs.
Her grandparents married as non-conformists, so I hadto buy those from the GRO, as I don't live near the Wigan records office.



When a church is approved to keep an official marr rego, they usually don't keep their own unofficial rego, whose info can differ quite markedly from an official entry.

Some local RDs have their own indexes online - see:
https://www.ukbmd.org.uk/local_bmd


The link of interest here is to:
http://www.lancashirebmd.org.uk/

This is the entry for her ggg garndparents' marr, and his bto's marr:

Lancashire Marriage indexes for the years: 1838
Surname Forename(s) Surname Forename(s) Church / Register Office Registers At Reference
MCCANN George ASPINALL Margaret Wigan, Register Office or Registrar Attended Wigan & Leigh ROW/1/50

Lancashire Marriage indexes for the years: 1840
Surname Forename(s) Surname Forename(s) Church / Register Office Registers At Reference
MCCANN Patrick HEATON Hannah Wigan, Register Office or Registrar Attended Wigan & Leigh ROW/1/144

The unofficial entries are transcribed at:
http://www.lan-opc.org.uk/

Marriage: 23 Jun 1838 St John RC, Wigan, Lancs.
[unnamed] McCann -
[unnamed] Aspinall -
Groom's Parents: Samuelis McCann, civitatis Wigan & Brigittae
Bride's Parents: Jacobi Aspinall, [of Wigan] & Mariae
Witness: Patricio McArdal, [of Wigan]; Esther Jackson, [of Wigan]
Married by: Hen. Segrave Miss. Apos.
Notes: [Bride's and groom's names not recorded. Here their surnames are taken from
their parents]
Register: Marriages 1837 - 1840, Page 40
Source: Original register at LRO

Marriage: 7 Jan 1840 St John RC, Wigan, Lancs.
Patricium McCann -
Hannam Heaton -
Groom's Parents: Samuelis McCann, de Drogheda in Hibernia & Bergittae
Bride's Parents: Danielis Heaton, de Comtu. Carloviensi in Hibernia & Hannae
Witness: Edwardo Diamond; Birgitta Smith
Married by: T. Dilworth M.A.
Register: Marriages 1837 - 1840, Page 53
Source: Original register at LRO

Geo's official m.cert contains the couples names, their addresses in Wigan, their fathers' names and occupations,
and is signed (or x marked) by the couple and the witnesses and the Hon Segrave, and couner-signed by an Asst Registrar.

Obviously the church rego is Latinized with its noun case endings. James Latinized becomes Jacobi - the other Latinizations are fairly obvious except William becomes Guilaume, said rather like the Welsh Gwillem. One can guess Co Carlow in Ireland easily enough.
English has lost its noun case endings (apart from 's for the possessive case), but still retains cases for pronouns].
Without these entries, I would not have known of Bridget, nor that Samuel came from Drogheda, (which is mostly in Co Louth, on the N bank of the R Boyne, but spills across the river so the southern part of town is in Co Meath).


One can buy BMDs from the GRO, or the local RD that now holds the rego's; one can also buy m.certs from the authorized person holding the m.rego provided it's in their current rego (recall the coompleted ones are in some archive).