Genealogy Chat
Welcome to the Genes Reunited community boards!
The Genes Reunited community is made up of millions of people with similar interests. Discover your family history and make life long friends along the way.
You will find a close knit but welcoming group of keen genealogists all prepared to offer advice and help to new members.
And it's not all serious business. The boards are often a place to relax and be entertained by all kinds of subjects.
The Genes community will go out of their way to help you, so don't be shy about asking for help.
Quick Search
Single word search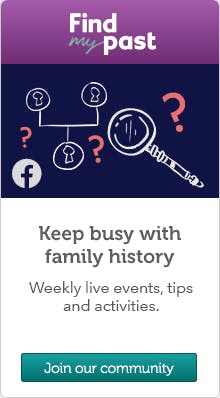 Icons
New posts
No new posts
Thread closed
Stickied, new posts
Stickied, no new posts
Is it possible...
Profile
Posted by
Options
Post Date

Bob
Report
18 Apr 2021 20:31

...to find out who lived at an address 150 years ago from census returns?

ArgyllGran
Report
18 Apr 2021 21:15

That would be the 1871 census.

It might be possible. Might take some trawling through the census pages.
What's the address?

Researching:


ErikaH
Report
18 Apr 2021 22:35

Yes, providing the address hasn't changed in any way

Bob
Report
20 Apr 2021 18:31

The address is Lowes Lane, Wellesbourne. Warwickshire.

greyghost
Report
20 Apr 2021 19:47

The only Lowes Lane coming up in 1871 appears to be in Stanton by Dale, Shardlow RD, Derbyshire

There's a Lowe Farm in Wellesbourne Mountford with the Plumb family -

Isaac 55 a Farmer,, Ann 61, Joseph 28, John 26 and Elizabeth 23 plus 2 servants Alice Durden 16 and George Nash 14

ErikaH
Report
20 Apr 2021 21:04

Where did you get the address? Do you have documents?

And something so non-specific isn't likely to advance your cause.

KathleenBell
Report
21 Apr 2021 00:18

There is a Lowe Farm, Wellesbourne, Warwickshire in the 1871 census. Could that be it?

A few different families listed.

Kath. x

ArgyllGran
Report
21 Apr 2021 13:18

The Plumb family at Lowe Farm in 1871 as mentioned by GG are also there in 1861 (though spelled Low Farm).

The other families in 1871, mentioned by Kath, aren't at Lowe Farm - they're just at various unnamed properties in Wellesbourne Mountford.

Richard Rostron, with his mother and various servants, is at "The Lowe Farm" in 1881.

John Pratt and family are at "Low Farm" in 1891.

In 1901, "The Lowe Farm and Cottages" are listed on the contents page, but none of the houses on the subsequent pages are named, which isn't helpful.

In 1911, Mrs G M Leaf filled in the form for "The Lowe", although she's not listed as resident there - just a few servants.
Thomas Parker and family are at "The Lowe Cottage".
Then there's another household of servants at "The Lowe" - Herbert Sinclair and household.

In 1939, Geraldine Gore-Langton is at "The Lowe" with an assortment of servants.
There are two families at "The Lowe Cottages" - Joseph Kelleghan and family, and Henry Holtom and family.



I see from a Google search that nowadays there's a Lowe Farm on Hunscote Lane in Wellesbourne, and also a Pit (or Pitt) farm which is next to The Lowe in 1939, so that would seem to be it.
However, it's about three miles away from Lowes Lane.

I had wondered if Lowes Lane had been built on land previously part of Low/Lowe Farm, but it seems rather far away. I can see it has some old buildings on it (per Google Street View) - maybe it's one of those which has prompted your enquiry?

But as already said, there's no Lowes Lane in Wellesbourne in any census, nor in 1939..

Researching:


Bob
Report
21 Apr 2021 18:24

Thanks for the help. The cottage in question was once accommodation for servants at the "big house" At least I have something to go on.

ArgyllGran
Report
21 Apr 2021 19:18

There was more than one "big house" in Wellesbourne Mountford - but it's hard to know exactly where each one was in relation to modern-day Lowes Lane.

Researching:


ErikaH
Report
22 Apr 2021 09:09

The name of the 'big house' was..........????

ArgyllGran
Report
22 Apr 2021 11:18

"Big houses" in 1871: (Most of the houses in Wellesbourne Mountford are unnamed in 1871.)

The Hall, although only various servants seem to be resident there on census night.
There are also labourers at Wellesbourne Grounds, which was the estate attached to The Hall, and is still a park, to the NW of Church Walk.
https://www.ourwarwickshire.org.uk/content/catalogue_her/wellesbourne-hall-grounds



>>>> Holly Lodge - which might be the "big house" you have in mind. Head of household - Edmund B Lucy, born in France.

" Holly Lodge in Lowes Lane, Wellesbourne Mountford was at the time [1917 ] a large house incorporating a stable block which the military requisitioned in 1918. With some additional work from the local builder, Owen England, the Lodge was now ready for its first intake of German Prisoners."
https://btckstorage.blob.core.windows.net/site2451/POW%20at%20Holly%20Lodge.pdf
I see on Google Maps that there's a modern group of houses on a cul-de-sac named Holly Lodge, off Lowes Lane.


The Lodge - head of household was Fitzroy Campbell, a retired lieutenant colonel with lots of servants.
???
https://historicengland.org.uk/listing/the-list/list-entry/1382038


Manor House - no owner listed, just servants (eg - Sarah A Taylor, 25, cook, born Matchell, Derbyshire.)
???
https://historicengland.org.uk/listing/the-list/list-entry/1382014


>>>> Re Holly Lodge - I imagine Edmund Lucy was related to the Lucy family who had Charlecote Park just outside Wellesbourne:
https://www.britainsfinest.co.uk/historichouses/charlecote-park
ADDED:
Yes, his father was George Lucy of Charlecote:
https://www.wikitree.com/wiki/Hammond-Lucy-6
https://www.wikitree.com/wiki/Hammond-Lucy-1



There's also a house called "The Cottage", which must have been a "cottage" in the sense that Frogmore Cottage is a cottage.
Head of household: Sackville G Conyers, who was a "Baron, peer of the realm". His wife Mary was listed as "peeress".
Various servants
https://en.wikipedia.org/wiki/Sackville_Lane-Fox,_12th_Baron_Conyers

Researching:


Bob
Report
23 Apr 2021 18:37

Holly Lodge is the right one. The cottage in question is called Holly Lodge Cottage. In one of the cellars is a bricked up tunnel which is reputed to have been for the servants to gain access to the main house. I will look up Fitzroy Campbell.

ArgyllGran
Report
23 Apr 2021 20:18

Edmund Lucy was at Holly Lodge/The Hollies, not Fitzroy Campbell.

There were two households between The Lodge (Campbell) and Holly Lodge (Lucy), and several households after Holly Lodge, all unnamed, so it's impossible to know which one might be the cottage you're asking about.

Researching:


ArgyllGran
Report
23 Apr 2021 21:05

In 1911 - (looking at this in case more houses had names - but most still don't have names or numbers) - Wilfred Millington Holden is at Holly Lodge, with his family and several servants.

After that there's Waterloo Cottage, then an unnamed house, then Hamps Barn, then The Lowe - which is away on the other side of the village.

Before Holly Lodge there's an unnamed house, and then Wellesbourne Hall (home of T S Chappell, chairman of Chappell & Co Music Publishers).
Then a couple of unnamed properties, then Wellesbourne Grange/


In 1891, John H Udney is at Holly Lodge, with wife and lots of servants.
After that there are two households of servants, and then Wellesbourne House (no owner in residence, but Benjamin Dennison is the butler), and after that there's Wellesbourne House Stables, followed by "New Cottage" occupied by Freeman Horniblow, a sstud groom.

Don't know if any of that is of any help in pinpointing the present Holly Lodge Cottage - I doubt it.

Researching:


Bob
Report
25 Apr 2021 20:34

Once again thanks for all the help. I'm sorry I should have mentioned that I know exactly where Holly Lodge Cottage is, it is now a pair of semi detatched cottages and my son and his wife own one of them, and my grandson rents the other. It is the history we are interested in. I will get on to the local history society.

ErikaH
Report
25 Apr 2021 20:49

Yes, giving the name of the property would have made sense

It would also seem more logical to start with 1939 register and work back progressively, rather than trying to jump 150 years in one 'go'.