Genealogy Chat
Welcome to the Genes Reunited community boards!
The Genes Reunited community is made up of millions of people with similar interests. Discover your family history and make life long friends along the way.
You will find a close knit but welcoming group of keen genealogists all prepared to offer advice and help to new members.
And it's not all serious business. The boards are often a place to relax and be entertained by all kinds of subjects.
The Genes community will go out of their way to help you, so don't be shy about asking for help.
Quick Search
Single word search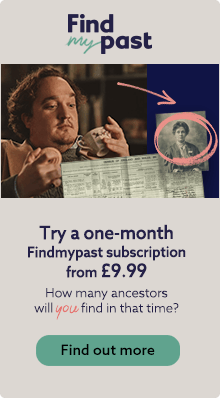 Icons
New posts
No new posts
Thread closed
Stickied, new posts
Stickied, no new posts
tabes mesenterica
Profile
Posted by
Options
Post Date

Unknown
Report
24 Sep 2004 23:45

Anyone got any relatives with this as a cause of death? I have two infant deaths in the same family (1878 and 1884) and wondered how common it was. It's a form of tuberculosis which destroys the lymph nodes in the mesentery (part of the intestinal wall), thought to be caused by drinking contaminated milk. nell

Unknown
Report
25 Sep 2004 00:05

Ooh yuk! Mandy :)

Mary
Report
25 Sep 2004 00:23

Hi Helen, I have not come across this as a cause of death but I would think that when a mother loses her milk, or when a mother dies, then someone has to feed the infant. If they cannot find a wet nurse, then there would be no alternative but to give the child cows milk. It must have been very distressing to know that you cannot feed the child yourself and by giving it cows milk, it could die. I would suspect that it was a very common cause of death. Mary

Geoff
Report
25 Sep 2004 00:35

I suspect Nell, that very few of us bother to buy death certificates for infants (they are possibly seen as "expendable" in our researches, callous but true). I suspect too that post-mortem examination of infants was probably pretty rare (in practice) and that different doctors had different "favourite" causes of death for infants, depending on their symptoms. Perhaps in reality, some form of (unspecified) gastro-enteric problem. PS: Having just seen your Swaffham post, I won't change ny opinion!

Unknown
Report
25 Sep 2004 00:49

Geoff I did wonder about the worthwhileness (if that word doesn't exist, it should) of getting infant death certs, especially as one was only a step-great uncle, but I am glad I did as it had a different address from the ones on other certs/the census. I must say it was news to me that cholera was easily cured! nell.

Wendy
Report
25 Sep 2004 09:57

Someone on my hubby's side died from this Wendy

Twinkle
Report
25 Sep 2004 12:45

I confess I rarely buy death certificates for anyone and never for children. Then again, most child deaths I am unaware of. If they were born and died between censuses then I won't know about them, because I can't buy birth certs for every child with a correct surname! Most of my child deaths I have found pre-1837 so I'll never know what killed them.

susie manterfield(high wycombe)
Report
25 Sep 2004 13:42

hi hellen yes! hubby has got them and they were also infants it was tb of the glandsin the digestive system.resulting wasting of the body poor little mites susie

Unknown
Report
25 Sep 2004 14:11

One of the children in my family died at only 5 weeks old. The other was his half-brother, born 8 years later, and on his death cert it says he'd had the disease for 2 years, which was most of his short life. His mother (my great-grandmother) was pregnant with her last child at the time of his death. She was apparently pregnant 9 times, gave birth to five live children, and reared 3 to adulthood. nell

Ramblin Rose
Report
25 Sep 2004 17:02

Poor little mites. It doesn't bear thinking about does it. The women in my famiy seem to have died so young. I am about to send for Certs and find ot what they died of. Rose

Brian
Report
22 Apr 2013 23:27

The brother of my GGM died of this aged 14 in the workhouse where the family was forced to enter due to the father's heart disease. The death certificate states that he had suffered tabes mesenterica for four months. I read somewhere that it is indeed caused by drinking milk from cows infected by TB and commonly affects the poor - probably because of their predisposition due to inadequate diet and living conditions.

Brian

Janet
Report
23 Apr 2013 15:51

I have one on my tree who died from this in 1871 (not sure how diet and living conditions would affect milk though)

But as I guess there was no infant formula as such and probably not pasteurised milk it would have been a lottery if you did not breastfeed.



Researching:
Campbell, Page ,Phippen, Alder, Rivett, Beinder, Mandy and Gainsbury,

zenawarrior
Report
24 Apr 2013 15:58

hi when i find a child death in my tree, i buy both the birth and death certificate. children who live to adulthood, usually have decendents to remember them. but the babies and small children dont. so i class it as my way to bring them back into the fold. probally not needed but just my way of a memorial as i have found no graves for them as yet
i do find it really moving when i find them
zena

Researching:
lewis smith mowbray townsend crowther holmes bourne hands

AndyTG
Report
7 Dec 2016 19:35

Well written Zena we are like minded. I discovered the grave of my mother-in-laws sister Betty Field 17/1/1927 - 16/7/1932 and found her grave it is now marked with a large wooden cross provide by the staff at Rood End Cemetery, Oldbury. I always lay flowers for her, but discovering 4 pictures of her as well pushed the search. William & Harriet Field (Love) is my wife's maternal great grandmother and had 16 children from 1884 to 1904! In last week I found 8 of 9 of the forgotten children by our family generation. Harriet deserved a Pride of Britain award! Remembering

Clara Elizabeth Field 1884 -1889
Florence Lilian Field 1886- 1887
James William Field 1889 -1889
Bert Field 1893-1893
Arthur Field 1895-1895
Horace Field 1899-1899
Howard Scott Field 1901-1901
Walter Field 1904-1904

Today I got 3 of the 1st 4 death certificates. Bert died 6 months old 28/6/1893 of tabes mesenterica! Using my own message on this site, 3 of the 1st 4 are at Rood end and e-mailed Sandwell Archive Services today to start to discover there plots. Geoff's comment on doctors favourite causes I'd challenge. I have 5 infant death certificates in late 1890s of Boulton & Field children in last month. How to spend your birthday money and get true value. Causes of death from Broncho Pneumonia Collapse, Diarrhoea Syncope, Tabes Mesenterica, Diarrhoea Fits, and Croup!

Andy

Researching:
Researching Gerencser, Buki & Petho, Balogh, family from Gasztony and Papa in Hungary respectively. My wife's side Boulton and Field's in West Bromwich, West Midlands they are everywhere now!

Trudy
Report
2 Apr 2017 09:11

Dear All
I have just found this threat.
I have a child in my tree that died of this at age 14 years of age and had the disease for 5 months in 1911, Campbeltown, Scotland.
Still trying to research more about this as it seems really late to be dying of something that seems to be an infant killer.
Does anyone have any further information?
Regards
Trudy Giles (Weir)
Esperance, Western Australia

JoonieCloonie
Report
6 Apr 2017 19:58

An adult sibling of one of my ancestors died of "phthisis abdominalis" in his mid-20s.

http://www.antiquusmorbus.com/Latin/Latin.htm

"Tuberculosis affecting the mesenteric glands or the intestines."

so the same thing.

I had obtained death certs for a few people in that family who died young -- my great-grandfather's first wife at about 25, first child at 19, that brother, and his sister's child -- after hearing from my uncle one of the few things the great-grandfather ever said about his family: that his first family had all died of a "plague". I suspected smallpox maybe, but it turned out to be tuberculosis. I suspect other deaths for which I have not got certificates (four of his siblings in childhood, the sister whose child died at 16, who died herself 3 years before at age 35, but outside England so no certificate available). I think the brother was the only one with phthisis specified as abdominal; the others were "pulmonalis", lung.

The family was from a mining area of Cornwall where I think tuberculosis was endemic, although the great-grandfather's first wife and daughter, and the niece, never lived there.

The brother seems to have had it terminally for some weeks/months as well. He was baptised early in the fall of the year he died, later that fall, and I would imagine the baptism was in anticipation of death.


Researching:
To get email notification of replies to your post, click WATCH THIS at the top of it! .........Researching Hore/Hoar/Hoare esp. St Austell/Roche Cornwall.

Tracey
Report
12 Oct 2017 10:00

I have this death on one of my certificates of a one year old child, in 1882. They were a poor family. Must have been awful :(

Alastair
Report
8 Jun 2018 10:15

I have just recently come across a relative of my wife's family who died of Tabes mesenterica in 1881, aged 7 years. His father was an iron miner, and the family lived in Darnconner in Ayrshire, which was a company village to house miners and their families. reports of living conditions in such villages at that time suggest poor levels of sanitation, crowded living conditions,, and little in the way of faclities beyond a roof over their heads - in other words, ideal conditions for tubercular diseases to flourish. At the moment I have only come across the one instance of this disease, but as several families in my wife's ancestry lived in and around Darnconner, there may be more for me to unearth. By the way, for those who want to locate Darnconner, it is completely ruined now, though there is a farm of that name on site. The village itself was situated more or less midway between Auchinleck and Lugar, two other mining villages in eastern Ayrshire. Al

Jean
Report
2 May 2019 09:53

I have had a death cert for a 8 month old relative who died in 1896 from tabes mesenterica.

Susan
Report
19 Jun 2021 13:20

I too have a relative who died in 1872 10 days short of his first birthday of Tabes Mesenterica.