General Chat
Welcome to the Genes Reunited community boards!
The Genes Reunited community is made up of millions of people with similar interests. Discover your family history and make life long friends along the way.
You will find a close knit but welcoming group of keen genealogists all prepared to offer advice and help to new members.
And it's not all serious business. The boards are often a place to relax and be entertained by all kinds of subjects.
The Genes community will go out of their way to help you, so don't be shy about asking for help.
Quick Search
Single word search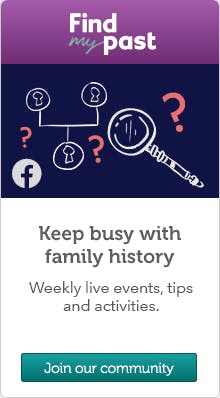 Icons
New posts
No new posts
Thread closed
Stickied, new posts
Stickied, no new posts
Just watched an episode of
Profile
Posted by
Options
Post Date

maggiewinchester
Report
19 May 2019 21:40

Madge, my wasn't at all 'controlling'.

As for his friend Ed - I wouldn't know if he was 'controlling' - an idiot, a racist and self-opinionated **** yes.
He certainly never 'controlled' me - finished off my jigsaw, yes, probably because he believed women became 'brain dead' after giving birth.
After I came home with the baby - he was out the door! :-D

Researching:
Me in 2014, apparently.

Madge
Report
19 May 2019 21:28

Maggie sorry but your ex sounds a little controlling :-D

You speaking your mind Sylvia .......never :-D

Researching:
Nothing on this site records are complete tosh!

SylviaInCanada
Report
15 May 2019 00:14

I was 33 in 1973, married 6 years, and about to try for a baby .................

BUT I still think I am still very much the same as I was then, though perhaps more confident in myself and with others than I was then.

I've lost height, put on weight, and my hair is now silver white rather than "dirty blonde: ............... but I'm still the same inside :-D

Maybe I am more opinionated now than I was then, and more willing to show it ;-)

Researching:
VE Day celebration, street party for the children. I'm sitting 5th from left, far side of the table with my grandmother standing behind me. ............................................................ To help us and to get better results, please post as much detail as you can, especially name, date(s) and place. Also say what you already know.

Allan
Report
15 May 2019 00:09

:-D :-D

maggiewinchester
Report
15 May 2019 00:05

That's okay, Allan, I'll edit my post!
I don't think my response is either dark or introspective - I just hate my ex's best mate - with good reason - I edited my post when I realised the effect Ed had! :-D :-D
I'm proud of my daughter :-D
Ed will be excluded from our 'Robin Hood' day this year.
Maybe ex will bring wife No. 3 instead, who, confusingly, is also called Maggie, but is nothing like me :-D

Researching:
Me in 2014, apparently.

Allan
Report
14 May 2019 23:46

Re Maggie's post above.

I edited my original post and removed part of it as may have been considered too dark and introspective.

Hence Maggie's response, which may seem odd without posters knowing that Maggie was replying to my unedited post, if that makes sense.

maggiewinchester
Report
14 May 2019 23:37

In 1973, I was 17, and had been living with my sister for 18 months.
I went to Saudi for 6 months to visit my parents, then came back to the UK and moved to Southsea with my (now) ex.
So began 7 years of adventure, moving hither and thither! :-D
I've not changed much, though I no longer sit in trees reading books, nor do I go for long walks in the dark.
I've become more confident in myself, and gathered lots of belongings, as when I moved here 24 years ago, it was 34, and it was the 28th move in my life. :-S

Ex and I still get on. He's on his third marriage - I prefer living on my own :-D

There's always the poser: "If your spouse and you met now for the very first time, would you still marry each other?"
Possibly - but I've been married to him before!
I know he likes women who are in some way, it sounds strange, but, not confident
(I was very young when I met him) - and no way do I fulfill the 'remit' now.
Far too confident and forthright - especially to bigots.
Politically, we're both the same as we were.

We have 2 children, now in their 30's.
He actually texted me a month or so ago, to thank me for the way they've both turned out! We split up when the children were 4 and 6, but to give him his due, he picked them up every other Friday night without fail.

We also have 5 grandchildren who we both like to see as often as we can.

Just remembered another major reason I wouldn't marry him if I met him now - he's a vegan :-\
Soya and me don't mix :-|
When we were married, he'd occasionally stuff a marrow with soya mince, and I would be quite ill after eating it :-(
As for tofu............

Edit: Another reason I wouldn't marry him now - his best mate.
A self named 'warrior' against the establishment (ie why should I work) who was well peed off when he got a pension!
This 'person' was living with us when I had my first baby.
I had been doing a jig-saw when I went into labour. I came home 8 days later to be told by this friend 'It's okay, I've finished your jig-saw for you'.
Apparently, according to him, I'd had a baby, therefore was incapable of finishing a bl**dy jig-saw.

Last year at the family camp, ex was invited for our pirate day, and bought this friend, who I shall call Ed.
In the early hours, after a few bevvies ex staggered off to bed, which left about 6 ladies and Ed, sat around the fire. Ed started 'spouting off' in a political/racist manner not acceptable to our family. His 'triumph' came when he started on about Islam, and the rubbish he thought he knew about the religion.
I pointed out I had a degree in religion, my father was Moslem, and eldest (who loved her grandad to bits) has an Islamic name - probably best to look around, see the situation and shut it now.
He didn't. The zenith came when he said women couldn't survive without men.

I mean, can you tell your 30+ daughter to stop shouting in the face of that elderly self opinionated racist/misogynist, and it's probably not a good idea to be poking him in the chest?
......and over backwards goes his chair! :-D :-D

He didn't feel too good the next morning - and he didn't know why!

Researching:
Me in 2014, apparently.

Allan
Report
14 May 2019 22:29

I have more of a 'past' than some of you.

I was twenty five in 1973 and had been married for three years.

I've definitely changed, but the changes have been so gradual that it is only when I look back that I realise how many there have been..



Rambling
Report
14 May 2019 21:27

I remember them Madge :-D

Researching:
Whetman, Budd, Fishlock, Kemp, Keating. Surrey, London and Ireland.

Madge
Report
14 May 2019 21:23

I was 6 in 1973 and not the dress size. I doubt I am the same person, my main concern in life was watching the double deckers on a Saturday morning. :-D

Researching:
Nothing on this site records are complete tosh!

Rambling
Report
14 May 2019 21:19

I was 16 in 1973, age not dress size lol.

Researching:
Whetman, Budd, Fishlock, Kemp, Keating. Surrey, London and Ireland.

David
Report
14 May 2019 21:13


Marilyn Monroe was allegedly a size 16

Researching:
.

AnninGlos
Report
14 May 2019 20:54

I am like Vera in that I have more confidence than my 33 year old self but essentially I am the same, there is just a lot more of me as I was a size ten then and a 16 now. And weigh two stone more.

Researching:
Photo garden February Researching Somerset, Dorset, Hampshire, Derbyshire, Staffs, Devon, Glamorganshire. Ingram, Masters, Tamblyn, Knight, Warner, Bate, Allen, Riggs, Dominey, Duffin

Rambling
Report
14 May 2019 20:37

I wish I was still a size 12 Vera :-)

I love the colour of your asters by the way, beautiful!

Researching:
Whetman, Budd, Fishlock, Kemp, Keating. Surrey, London and Ireland.

SuffolkVera
Report
14 May 2019 20:12

That's a difficult one to answer Rose. I think that essentially I'm the same person but I am more confident than I was in 1973 and more tolerant. As you said, there are more shades of grey now but I think my younger self would still recognise me.

I am still a size 12, but that's because dress sizes have increased along with my body size. I still weigh about the same but then it was muscle, now it's flab and I would definitely like to have the energy I had then :-)

David
Report
14 May 2019 19:38


Sadly James Bolam and Rodney Bewis fell out. While Bolam went on to a series

of TV successes, Bewis was hardly seen on TV again. :-(

Researching:
.

Rambling
Report
14 May 2019 19:23

"Whatever happened to the likely lads?" 1973

and thought the theme tune was so pertinent to how I am feeling lol.

"
Oh what happened to you, whatever happened to me
what became of the people, we used to be
tomorrow's almost over, today went by so fast
it's the only thing to look forward to, the past"

Well I know what happened to me, but what happened to you? Do you feel that you're still the same person you were in 1973?

My politics are the same, my beliefs are still much the same ( a few more shades of grey between the bkack and white), certainly a few more shades of grey in the hair lol.

NOT intended to be a nosey or confessional thread :-) Just whether you still recognise who you used to be.

Researching:
Whetman, Budd, Fishlock, Kemp, Keating. Surrey, London and Ireland.