General Chat
Welcome to the Genes Reunited community boards!
The Genes Reunited community is made up of millions of people with similar interests. Discover your family history and make life long friends along the way.
You will find a close knit but welcoming group of keen genealogists all prepared to offer advice and help to new members.
And it's not all serious business. The boards are often a place to relax and be entertained by all kinds of subjects.
The Genes community will go out of their way to help you, so don't be shy about asking for help.
Quick Search
Single word search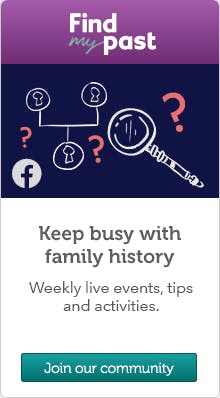 Icons
New posts
No new posts
Thread closed
Stickied, new posts
Stickied, no new posts
Not before time
Profile
Posted by
Options
Post Date

Sharron
Report
11 Sep 2019 20:25

It hasn't happened yet.
We went to a Harvester today and made the mistake of ordering a sundae each. One would have been enough for us and the people at the next table!

SylviaInCanada
Report
10 Sep 2019 17:15

It is very common over here, and people quite happily re-heat, or use the steak, lamb or whatever in sandwiches or as part of another meal the next day. Re-heating in a microwave works fine, or use meat as part of a casserole or something that is heated again in the oven.

Greek lamb is delicious on a sandwich, or eaten with a salad. Same goes for top-class steak.

I love a chicken teriyaki donburi from our local Japanese place .............. it's basically a large bowl of rice with 8 or so large chicken strips on top. It is served as a meal for one or to be shared, but OH doesn't like it.

I get dinner one night at the restaurant and then lunch next day ............. I never keep take homes longer than the next day.

Researching:
My Dad, a studio photograph taken in 1927/1928, and given to my mother before they got engaged in 1928 ............................................................ To help us and to get better results, please post as much detail as you can, especially name, date(s) and place. Also say what you already know.

+++DetEcTive+++
Report
10 Sep 2019 09:09

We take mother-in-law out for a lunch once a week. As much as we might fancy something off the starters or desserts, we've learnt that just the main course us sufficient. Even then we priorities protein & vitamins over carbohydrates!

We've only been tempted by the doggie-bag idea a couple of times & that was in Las Vegas. The portions were huge even for us with a 'good' appetite! Unfortunately it was impractical to takeaway with no way of keeping it cool or reheating. We did ask them to box up part of the breakfast fruit platter.

Researching:
Dormant member as from 20 Sep 2019 . Click on my board name to send a message

AnninGlos
Report
10 Sep 2019 08:52

We usually share starters or sweets. OH often helps me with my main course. We do have lunch quite often in Wetherspoons and they now serve half portions of several meals like scampi, fish and chips, ham egg and chips which is good.

Researching:
Photo Peonie in our garden Researching Somerset, Dorset, Hampshire, Derbyshire, Staffs, Devon, Glamorganshire. Ingram, Masters, Tamblyn, Knight, Warner, Bate, Allen, Riggs, Dominey, Duffin

SheilaWestWilts
Report
10 Sep 2019 08:11

I hate the idea of doggy bags, and cold unappetising left-overs the next day. Not a fan of leftovers generally unless I've cooked it myself (chicken, quiche etc.) or deliberately made extra to freeze.

We like eating out but avoid 'huge plate' places and chains.

Researching:
Gloucestershire, Dorset, Hampshire, Derbyshire, London, Lithuania, Russia

SylviaInCanada
Report
10 Sep 2019 00:47

Can't you ask for "doggie bags"???????

It is VERY common practice here, at all levels from cafes to high priced restaurants. Though it is usually a styrofoam or plastic box. ............. plastic will have to replace styofoam in the next 6 months or so.

No-one seems to even dream of the possibility of suing in the event of getting ill because take-home not being stored properly!

We used to have a very elderly friend (now dead) who would take a zipper plastic bag stuffed in her handbag into which she would scoop everything that she could not eat. Then push the plastic bag back into her handbag. Every one of her friends would tell her that she had no need to that, just ask for leftovers to be boxed, but she paid no heed! But we all cringed when she did it!

We have a favourite restaurant, usually ranked in the top 3 or 4 in the city and rated 4* or 5*, quite pricey but we go 3 or 4 times a year at least.

OH and I share an appetizer and usually only have a main course, no dessert ............ that is enough for us, and the mains are a nice size.

We were there about 3 weeks ago, guy in a big wheelchair, probably paraplegic, with his wife/partner/carer were at the table next to us ..... she fed him and also ate her own meal, but they went away with a take-out box, either containing dessert that they'd not had or something left over.

Researching:
My Dad, a studio photograph taken in 1927/1928, and given to my mother before they got engaged in 1928 ............................................................ To help us and to get better results, please post as much detail as you can, especially name, date(s) and place. Also say what you already know.

ZZzzz
Report
9 Sep 2019 23:23

What my son and I have done in the past is order a meal and an empty plate with cutlery then put some of the food on the empty plate. We have had some strange looks but it worked fine for us.

Researching:
Frame all over the world just in case? Vos from Netherlands. Nelson and Sowerby from Newcastle. Pickles from Saddleworth and Australia.

Sharron
Report
9 Sep 2019 19:02

I not very good at carveries. I try so hard tp only take a little, one stuffing ball, three roasties, a couple of spoonsful of veg, but it always turns out to be enough to feed the whole bloody pub and I can't understand how it happens.

supercrutch
Report
9 Sep 2019 18:15

I cannot eat large meals because of my bowel surgery :-(

I have to choose whatever I know I can share with hubby or friends or opt for a starter as a main course.

We always avoided offering doggy bags at the Hotel because if the guest didn't reheat properly or kept the remains of the meal for too long and they poisioned themselves they may have pointed the dreaded food safety finger at us :-0

What really irritates the hell out of me is at buffets when diners pile their plates so high that I cannot bear to watch them, especially as they leave a great part of their meal untouched. If we see that before we have ordered our drinks we exit PDQ.

Food wastage is a disgrace but if diners are unwilling to accept that certain dishes have sold out it won't change. Chefs who don't cook to order are under pressure to prep 100% of each menu option which is plain daft!

Sue

Sue

Researching:
Jones!!!!!!!!!!!!!!

Sharron
Report
9 Sep 2019 18:12

That café that Fred frequented used to serve enormous portions which one who would ask for a small tea every night would finish when I never could.

They had cut back a bit but, when we used to go there before him, there would be six halves of tomato on an ordinary sized breakfast.

I would not normally take breakfast left-overs home in my goody box.

Amokavid
Report
9 Sep 2019 18:04

Cafes & resturaunts are 2 different establishments! aren't they, cafes DO tend to serve up large portions.

There is a CAFE attached to our local garden centre who serves up some deicious meals, bit pricey but they are HUGE!

The couple of times I was in it I ended up with the soup! not because of the very large portions of the main meal but because I cannot read the menu which is written on a blackboard at the back of the serving area! it's too far away for me, the soup of the day listing is displayed ON the serving area, LOL.

Joan.

Researching:
Research covered........Harrison, Holiday, Sharp, Garthwaite, Buttle, Lund, Smurthwaite.... ..York, Malton, Thirsk, Darlington, H on Sp Moor, H le Spring, Whitby........

Maddie
Report
9 Sep 2019 17:44

my local cafe does take aways and my friend always gets me one on a saturday. The portions are such i can get two meals out of it if i add some baked beans and bread and butter. I don't want tthe portions reduced.

I also agree with Amokavid, hated coming away still hungry especially when the prices were eye watering as many of the restaurents in london are

but i also agree food should not be wasted, bring back the doggie bag, had them in the past

Sharron
Report
9 Sep 2019 17:41

You don't think I frequent that kind of restaurant do you?

I probably would not generally have chips because I am not that keen on them but most places serve enormous portions and they are usually not very special either.

We have had some quite cracking soup out of my doggy boxes.

Amokavid
Report
9 Sep 2019 17:29

Smaller portions!! really,
I thought resturaunts only served up those "fancy" VERY small portions, eg 6 chips (if oyur lucky), or a slice of carrot, with a wee squirt of gravy!!
Never seen the TV chefs serve up a large portion, never been into a resturaunt so perhaps I'm mistaken!

Joan.

Researching:
Research covered........Harrison, Holiday, Sharp, Garthwaite, Buttle, Lund, Smurthwaite.... ..York, Malton, Thirsk, Darlington, H on Sp Moor, H le Spring, Whitby........

Sharron
Report
9 Sep 2019 17:23

You will look as sad an old cheapskate as I do.

AnnMarieG
Report
9 Sep 2019 17:21

We try and lunch out at least once a week but are really being put off at the size of lunches.I feel guilty leaving anything on my plate as I feel it is wasteful. We sometimes manage to have a half size portion but not all places do that.

I have never thought of taking a take away box. Thanks Sharon for the tip. :-)

Researching:
arthur,tucker,king,harridine,robertson

Maddie
Report
9 Sep 2019 17:20

i always liked a doggie bag
when i worked the canteen would sometimes serve lamb shanks. I used to have a doggie bag of bones that i took home for my dog. She loved them

Sharron
Report
9 Sep 2019 17:02

Probably not but, at least the food you have paid for will not be going to landfill.

Maddie
Report
9 Sep 2019 16:53

are they going to reduce the prices, i doubt it :-(

Sharron
Report
9 Sep 2019 16:49

I caught something on the lunchtime news today.

It seems that, with a view to saving on food waste, restaurants are reviewing the size of their portions and serving them smaller.

I am very glad to see this as I usually take a couple of take-away boxes when I go out to put my left-overs in because I am nearly always over-faced by what is served me and will sometimes not return to a place that serves far too much.

Since it is no longer possible to send the food to swill it must be a sensible move to hold back a bit on the size of portion.