General Chat
Welcome to the Genes Reunited community boards!
The Genes Reunited community is made up of millions of people with similar interests. Discover your family history and make life long friends along the way.
You will find a close knit but welcoming group of keen genealogists all prepared to offer advice and help to new members.
And it's not all serious business. The boards are often a place to relax and be entertained by all kinds of subjects.
The Genes community will go out of their way to help you, so don't be shy about asking for help.
Quick Search
Single word search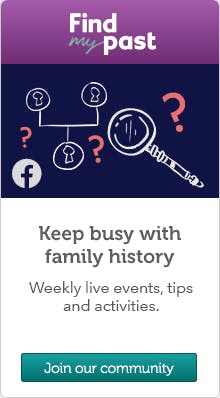 Icons
New posts
No new posts
Thread closed
Stickied, new posts
Stickied, no new posts
Disappointed
Profile
Posted by
Options
Post Date

Haydon
Report
19 Nov 2019 10:04

Having returned to this site after a break of a few years I cant help but feel a little cheated.

It appears that the last News update on this site was in December 2013. 6 years ago!!! Does that mean that apart from the records that you can still search or subscribe to, the site is just ticking along on its own with little administrator intervention? I can see message boards are still being used, albeit sparsely.

Don't get me wrong, its early days yet but my main reason for returning to this site was to connect with other members who had a common family connection and in the past this worked really well.

I am now left wondering how many people still use this site? Fingers crossed.



Rambling
Report
19 Nov 2019 11:17

Haydon, that's exactly how it is. Aside from moderating any reported posts there is virtually no involvement from GR admin. The sister site Findmypast is where all the staff are ( same office) and where all the new records, new events etc are focused.

Here you can still connect through trees, and people do still join. A solid group of people will help on any research queries and are very happy to do so! ( as you say there are fewer queries).

And people still chat on this board. :-)

Researching:
Whetman, Budd, Fishlock, Kemp, Keating. Surrey, London and Ireland.

KathleenBell
Report
19 Nov 2019 11:18

Not many to be honest Haydon. The boards are very slow and as for anything done by the administrators such as Hot Matches and News etc. then almost nothing. They concentrate more on their Facebook page I think.

There are some loyal members who still come on here most days - especially on the General board, but the site is a shadow of it's former self.

Kath. x

Haydon
Report
19 Nov 2019 11:34

Thanks for replying guys.

That's a shame. In its heyday it was the go-to site to connect with others who had a common ancestor.
I have sent a couple of messages to people who share my tree but don't hold out much hope of a reply. They've probable long gone.
It sounds a little more hopeful that there are a core of dedicated visitors who may be able to assist with searches etc.

I wasn't aware Findmypast was a sister site. I have also used them extensively in the past and will again. Its getting to that time of year when you prefer to stop in the warm and research. I think they are now launching a new feature on their site which enables you to contact members with ancestor links?

Thanks again

Fingers still crossed

:-)

Rambling
Report
19 Nov 2019 13:16

As Kathleen mentioned the GR FB page, that is also not updated, admin do answer there if there is a query re a sub, but that's it.





Researching:
Whetman, Budd, Fishlock, Kemp, Keating. Surrey, London and Ireland.

Haydon
Report
19 Nov 2019 13:21

thanks

KathleenBell
Report
19 Nov 2019 13:31

I didn't realise that the Facebook page was not updated Rose. I don't use Facebook myself.

Kath. x

Shirley~I,m getting the hang of it
Report
19 Nov 2019 14:00

Still think it's a great site though
Not for the back up cos that's non existent, but for the members who are very loyal and make the site tick over

I still enjoy the look ups for folks who don't subscribe to other pay sites even though at times it's a race with others to find and post info

We grab at any new enquiry and run with it

It's nice too to let your hair down and just have chats and a laugh even though there is a phantom RR err out there!!

Researching:
Surname Fahse. Germany. Essex .South East London My avatar is one of our wedding photos of 1957

Kense
Report
19 Nov 2019 15:53

I was surprised, looking at the Home page just now, to see that it has been recently updated. Only a few weeks ago it still carried details of Genes Extras and it now states that the site is owned by Findmypast, having said for years that it was owned by brightsolid. The company information still needs to be updated though.

Barbra
Report
19 Nov 2019 16:45

Hello Haydon it has changed over the years I myself joined in 2009 but since over the years one or two dominate the boards & Say anything against them well Use to have a good laugh it was fun then .that's the reason people have left they are also on Facebook some of them. not me .anyway good luck on your return I am not joining up again but saying that there are some nice folk still here Kath .Liz .Ann G Florence.Joan .Enjoy Take Care Barbara x

Researching:
Cain .Pipes .Ross .Davidson .Briers. Clark

KathleenBell
Report
19 Nov 2019 16:47

Nice to see you haven't gone yet Barbra and thank you for your kind words.

Kath. x

Rambling
Report
19 Nov 2019 19:07

It really isn't the reason why the majority have left, there have always been disputes and a fair amount of nastiness, often directed for no other reason than "because". That happened more in the past, 2007/8/9/10 I would say. Aside from a few personal fall outs it has been pretty pleasant for years. Of course sadly we have also lost a fair number of people ,many of those who contributed a lot of fun have died in recent years and because of that if for no other reason it can never be "the same".

But probably the main reason most don't use the site now is simply that there are many more records elsewhere, as people get more experienced they need the records and options that other sites provide ( eg the 1939 register and all the many records that FMP have now...that's why I pay my money there!)

I rejoined because I wanted to make contact with someone, and I stay ( for the moment) because I like to help. Research is my 'thing' :-)

Researching:
Whetman, Budd, Fishlock, Kemp, Keating. Surrey, London and Ireland.

SylviaInCanada
Report
20 Nov 2019 03:52

Barbra ................

I'm sorry to see that you are apparently so bitter about events on this Board, some of which you brought on yourself.

As a long-term member, I can agree with Rambling that things were worse in previous years, and that relatively few members have left for the reason that you suggest.

There most certainly is not the cliquey-ness that was once very apparent on here. It's mostly very nice people who most .........

....... but hey, we can't agree with everyone or the world would be a very boring place. If one disagrees too much with another person, then be like me, don't post on their threads!

People have left because they've found other things to do, other sites that they prefer, are sick, or unfortunately far too many have died.

Researching:
My Dad, a studio photograph taken in 1927/1928, and given to my mother before they got engaged in 1928 ............................................................ To help us and to get better results, please post as much detail as you can, especially name, date(s) and place. Also say what you already know.

Haydon
Report
20 Nov 2019 11:59

Well thanks guys for all your feedback and i hope i can call on some of you in the future if i struggle with research etc.

Barbra
Report
20 Nov 2019 16:41

:-D :-D ;-)very helpful on here just ask good luck .

Researching:
Cain .Pipes .Ross .Davidson .Briers. Clark

Rambling
Report
20 Nov 2019 17:04

Haydon, there is always someone around willing to help :-)


Researching:
Whetman, Budd, Fishlock, Kemp, Keating. Surrey, London and Ireland.