General Chat
Welcome to the Genes Reunited community boards!
The Genes Reunited community is made up of millions of people with similar interests. Discover your family history and make life long friends along the way.
You will find a close knit but welcoming group of keen genealogists all prepared to offer advice and help to new members.
And it's not all serious business. The boards are often a place to relax and be entertained by all kinds of subjects.
The Genes community will go out of their way to help you, so don't be shy about asking for help.
Quick Search
Single word search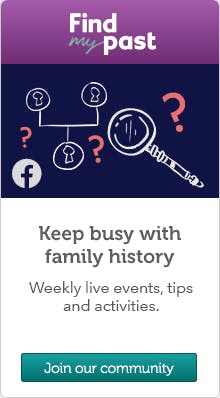 Icons
New posts
No new posts
Thread closed
Stickied, new posts
Stickied, no new posts
National Magazine
Profile
Posted by
Options
Post Date

Unknown
4 May 2021 09:16

This post has been requested for review

SuffolkVera
Report
4 May 2021 11:22

What on earth did you say Lisa? It's clearly upset someone.

I can never understand why you wouldn't contact the poster first and explain what has upset you and give him/her the chance to delete the post themselves. I've only done that once but the poster involved was happy to remove it once they understood why I found it offensive.

SuffolkVera
Report
4 May 2021 11:25

Even more puzzled now as while I have been typing the OP has changed from Posted by Lisa to Posted by Unknown :-S

PatinCyprus
Report
4 May 2021 11:30

Said she was writing for a magazine and did anyone want to tell their story in the hope someone they want to find will be found by publishing the story.

Researching:
Lloyd,Paddock,Cooper,Morris,Rigby West Midlands Salop Worc

PatinCyprus
Report
4 May 2021 11:31

Lisa can still be reached by hitting Unknown as it goes to her email.

Researching:
Lloyd,Paddock,Cooper,Morris,Rigby West Midlands Salop Worc

SuffolkVera
Report
4 May 2021 11:34

Yes Pat, I have just discovered her post on the Living Relatives Board. I understand now why it was rr'd

nameslessone
Report
4 May 2021 11:37

It was posted by unknown and signed off by Lisa earlier this morning.
The content is still on her post on the FLR board.

Lisa appears to be a journalist wanting 'subjects' for an article in a magazine. I wonder if she got permission to post.

PatinCyprus
Report
4 May 2021 11:37

:-( :-(

Researching:
Lloyd,Paddock,Cooper,Morris,Rigby West Midlands Salop Worc

JoyLouise
Report
4 May 2021 11:45

I read the initial post as being a commercial enterprise and, from what I gathered it was asking for unusual family stories which would then be put in a magazine/book which members may like to buy.

nameslessone
Report
4 May 2021 11:55

I didn't pick up on the book idea.

So that would be - give me your story for free, I'll write a book and then you can pay to read your story,!!!

JoyLouise
Report
4 May 2021 12:00

I may be wrong, names, but that's the way I read it - a book or magazine for interested parties to purchase. A bit like those books of poetry that are printed containing poems that people write and submit then it is a natural hop, skip and a jump for contributors to want to purchase a book with their published work inside.

nameslessone
Report
4 May 2021 12:06

I think she said she was writing for a magazine that was available world wide. A magazine is much cheaper to buy than a book - which is why I made that comment.

Wouldn't she need new permissions if she then converted the article into a book?

Edit: unsurprisingly the other post has now been reported.

JoyLouise
Report
4 May 2021 12:29

I may be a mile out but my guess is that people who contribute a story will be asked for permission to print - most will say yes, I would imagine because they'd like to see their work published.

Most of the contributors would then buy the book.

I'm not sure how those poetry books work but I remember years ago someone telling me that he had sent in a poem that had been published and he bought the book, naturally. At the time, he showed me the book and I thought that all contributors had done so voluntarily without payment for their work.

I remember thinking at the time (but certainly not saying to him) that it was a swizz and someone was making money out of people in a very easy way. That was my impression.

If I can get hold of him, I'll ask more - but it's been ages since we were in touch and even longer since we saw each other.

It's so long ago that I can't remember everything about it - just enough for me to avoid anything like that.



JoyLouise
Report
4 May 2021 12:29

Names - I've missed the other post. Where was it?

nameslessone
Report
4 May 2021 12:33

It was on the Find Living Relatives board but was reported some time in the last hour.

JoyLouise
Report
4 May 2021 12:45

It's coming back to me.

I started to look for a phone number and it's amazing how one's memory shoots back when thinking of a particular person.

I feel that the contributors of poems had to pay a small fee to have their work published.

Gawd, I'm going to have to look for his phone number to find out exactly how it went down as this was at least thirty years ago.



AnninGlos
Report
4 May 2021 13:14

I think her article was about unusual stories. I couldn't make up my mind whether it was commercial or that she really thought we would be interested. She has obviously paid to join GR.

Researching:
Photo snowdrop in our garden Feb 2020 Researching Somerset, Dorset, Hampshire, Derbyshire, Staffs, Devon, Glamorganshire. Ingram, Masters, Tamblyn, Knight, Warner, Bate, Allen, Riggs, Dominey, Duffin

nameslessone
Report
4 May 2021 15:18

If Lisa was to write for an unnamed magazine then I would have thought she would expect to get paid for it.

So - I think it is yes to both parts - yes it is commercial and yes she thought someone would be interested.

I did google her name (can't rmemeber what it was) and she was on Linkedin, journalism was amongst a list of experiences. But no articles seemed to come up.

Bobtanian
Report
4 May 2021 20:02

I recall some one was reported for mentioning GHD's......years ago..

Researching:
Now that food has replaced sex in my life, I can't even get into my own pants. My Dad's Squadron Patch...IRAE EMMISSARII my Royal Signals poppy

nameslessone
Report
6 May 2021 09:17

If would appear that Lisa's request was not very important to her as it seems she has not been back to either thread.