General Chat
Welcome to the Genes Reunited community boards!
The Genes Reunited community is made up of millions of people with similar interests. Discover your family history and make life long friends along the way.
You will find a close knit but welcoming group of keen genealogists all prepared to offer advice and help to new members.
And it's not all serious business. The boards are often a place to relax and be entertained by all kinds of subjects.
The Genes community will go out of their way to help you, so don't be shy about asking for help.
Quick Search
Single word search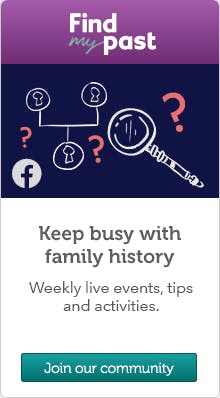 Icons
New posts
No new posts
Thread closed
Stickied, new posts
Stickied, no new posts
13 years ago ...
Profile
Posted by
Options
Post Date

JoonieCloonie
Report
4 May 2021 14:44

... my mum and my little sister received their cancer diagnoses, and began a year of gruelling chemotherapy, radiation and surgery. My sister was cancer-free at the end, and my mum's lymphoma was under control (we were told there was a risk of recurrence within five years, but it never happened.) Members of GR offered much appreciated support throughout that time.

Today, my sister is a covid long-hauler with serious and debilitating lung damage. And today, in about three hours, my mum's body will arrive at the crematorium, with my sister and brother and their families following, and me and my other brother alone at our homes because we are not allowed/unable to travel.

My mum was struck with cancer again three summers ago. She was desperately and essentially terminally ill, and might have had two months to live in horrible pain. But along came one of those miraculous new immunotherapies for her specific cancer, and within three months she was walking (with her rollator) and her pain was under control with rather massive doses of narcotics. But then a few months later the therapy ceased to be effective ... and along came, at that very moment, approval for a newer immunotherapy. She was on that treatment from the spring of 2019 until last month. Within a few months, the awful wound on her body had completely healed and her quality of life was almost what it had been before this cancer struck.

Unfortunately, the treatment made her ill. Physically and emotionally -- for days after the treatment, depression so deep and dark that eventually, this spring, with her doctor's approval given that the treatment had worked its magic, she skipped two of the every-three-week treatments. But two weeks ago she decided it was best to start again, and again she was ill and sad.

And who would not be sad? To be 90 years old and not have seen one of her children in over a year, and the other (me) only once during that time, when the world had begun to look brighter last summer and I joined her and my sister's family for a few days after we were all properly tested. For two years, I had repeated the mantra with her: it's not me, it's not the world, it's the treatment. Well, for the last year, it was the world. We comforted ourselves with the knowledge that no matter what the selfish and malicious people in the world were doing, we were all doing the right thing. Our anger will not go away.

But on Thursday she said the dark cloud had lifted again. She had a long talk with her closest remaining friend in our hometown. She and I had talked for a while the day before, and I sent her a long funny email, and she replied briefly to say she was feeling much better. And on Thursday night, she died. When my sister couldn't get her by phone Friday morning, two of my mum's friends in her building went into her apartment and found her. We are told that her death was instantaneous.

I've spent a few days calling and emailing close family and friends and then more distant cousins and friends. And having group email conversations with my siblings and nieces and nephew. My sister and her partner have made all the arrangements, with the funeral home next door to their business, for direct cremation, no formalities, so they will drive the 25 miles to the crematorium, in a peaceful countryside location, with one or two of my mum's local friends following with them, and then have to wait in their cars. We will have a gathering late in the summer, assuming that the lights have come on again by then, when her ashes are joined with my dad's and buried in my mum's parents grave plot in our hometown. She was loved by many people.

The silver lining in her last cancer was that my brother and I who live at a distance were able to spend so much time with her -- we shared 24/7 caregiving with my sister for several months, 10 days a month each. Later we were able to reduce our visits as my mum became more independent again, until, fortunately, she was able to live independently throughout this miserable time, with the help of her visiting nurses and home helps. For that time I will always be grateful. And she put her time to use for these months, sorting through and purging her stuff -- one drawer at a time. Good advice for all of us.

But there is still all the good stuff, and my sister and I will tackle it starting sometime next week. (No. 1 and I get our first shots this Friday, and I have to be taken there and brought home with him and my cat, both of whom are defective and require my constant care and attention. No. 1 was in better shape back in 2019-2020 I was caring for my mum, but the cat always had to come along so I could administer her twice-daily laxative, and she brought some joy to life for my mum, who had had to euthanise her sick last cat a year earlier.)

I know there are some here who will remember my mum, from when she was ill and from her emails. Some of those who would remember her are no longer with us too, and I miss them whenever I run across their names here.

<3

Researching:
To get email notification of replies to your post, click WATCH THIS at the top of it! .........Researching Hore/Hoar/Hoare esp. St Austell/Roche Cornwall.

KathleenBell
Report
4 May 2021 15:03

So sorry for your loss JoonieCloonie.

I don't remember your mother unfortunately but I remember your name from the boards.

I hope today goes smoothly for everyone in these challenging times and that your sister will improve over time. My husband lost a cousin to Covid and my 92 year old uncle was in hospital for a month with it.

I hope things improve for all of you.

<3 <3 <3 <3 <3 <3

Kath. x

Gwyn in Kent
Report
4 May 2021 15:47

What challenges you have faced and won to be able to share precious time together.

I am sorry for your loss and hope that you can gather as a family later this year.

LondonBelle
Report
4 May 2021 15:51

My condolences to you and your Family, JoonieClonnie <3

The passing of a loved one is never easy but in these times of restrictions it is heartbreakingly difficult for those left behind<3

May your Mum now rest in perfect, perfect peace <3 <3

Researching:
Give a dog a bone!

Florence61
Report
4 May 2021 16:57

I have just read through your post and i do remember your name from awhile back.

Sending you some positive thoughts and hugs to help you through the coming days and weeks.
So glad you managed to spend some time with your mum.

Thinking of you and all your family <3 <3

Florence in the hebrides

Researching:
house/hampshire prophet/cheshire skinner/kent

SylviaInCanada
Report
4 May 2021 17:39

I am so sorry to hear this, Joonie.

I remember you talking about your Mum, many times, and it was so great that you managed to have that extra time with her.

I hope tomorrow goes well, and that you do manage to have your family get together soon.

Thinking of you and your family xxx

Researching:
My brother, photo taken in September 1990 just a couple of weeks before he died. ............................................................ To help us and to get better results, please post as much detail as you can, especially name, date(s) and place. Also say what you already know.

AnninGlos
Report
4 May 2021 17:44

Have read your posts on the boards for many years but not actually had contact with you. Please accept the condolences of someone still grieving for my beloved husband. Among all the sorting out take time to draw breath and grieve.nyour Mum was obviously a fighter and took time to tidy things in anticipation, thinking of her family. :-S

Researching:
Photo snowdrop in our garden Feb 2020 Researching Somerset, Dorset, Hampshire, Derbyshire, Staffs, Devon, Glamorganshire. Ingram, Masters, Tamblyn, Knight, Warner, Bate, Allen, Riggs, Dominey, Duffin

SuffolkVera
Report
4 May 2021 18:15

Like AnninGlos I have read many of your posts over the years but not really had contact with you. As Ann says, give yourself time to grieve and be kind to yourself. My condolences to you and your family and a gentle (((hug))) <3 <3

JemimaFawr
Report
4 May 2021 19:24

I'm so sorry to read this very sad news
Please accept my sincere condolences JoonieCloonie

<3 <3 <3

Cynthia
Report
5 May 2021 09:54

Oh my! JC it is! How I miss those times on the boards.

We corresponded quite a lot at one time and I well remember your mum and her struggles. If I am right, I think we shared the same birthday. So very sorry to hear that she has died and I hope you can take comfort from the fact that she knew how much she was loved. Sending love and yes, prayers :-D

Cynthia. x
<3

Researching:
ADVICE: Click on 'My Threads' over on the left to find your replies. Please respond to your replies by typing in the Add Reply box at the bottom of the page. Enjoy!

SheilaWestWilts
Report
5 May 2021 14:34

So sorry to hear that you've lost your much loved Mum.

I lost my Mum almost a month ago, it wasn't unexpected but still leaves a huge hole in your life.

Sincere condolences to you all.

xx


Researching:
Gloucestershire, Dorset, Hampshire, Derbyshire, London, Lithuania, Russia

JoonieCloonie
Report
5 May 2021 17:29

Thanks for all your thoughts, and I'll be back after a time to have a word with some of you old friends, too much time having passed...

Researching:
To get email notification of replies to your post, click WATCH THIS at the top of it! .........Researching Hore/Hoar/Hoare esp. St Austell/Roche Cornwall.