Hobbies and Crafts
Welcome to the Genes Reunited community boards!
The Genes Reunited community is made up of millions of people with similar interests. Discover your family history and make life long friends along the way.
You will find a close knit but welcoming group of keen genealogists all prepared to offer advice and help to new members.
And it's not all serious business. The boards are often a place to relax and be entertained by all kinds of subjects.
The Genes community will go out of their way to help you, so don't be shy about asking for help.
Quick Search
Single word search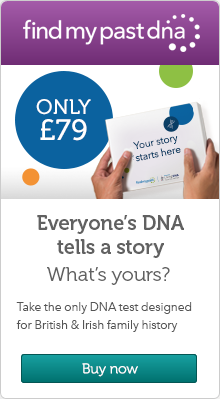 Icons
New posts
No new posts
Thread closed
Stickied, new posts
Stickied, no new posts
Genes Book Club - This Child of Mine reviews
Profile
Posted by
Options
Post Date

GenesBookClub
Report
20 Sep 2013 09:53

Congratulations to everyone who emailed in time to receive this book for free. Books will be sent in the post over the next few days. Please post your reviews in this thread.

To get you all started, we have a few discussion points starting with:

In This Child of Mine and many of Sinead Moriarty's novels, motherhood is at the forefront of the plot. What does motherhood mean for each of the characters and how does becoming a mother impact their lives?

Researching:
Genes Book Club in partnership with Penguin

Ladkyis
Report
3 Oct 2013 17:45

I got the distinct impression that with all the mothers in the book all they thought of was how they felt and how things affected them. I realise this is a fiction story and things were manipulated to make it a good story but as a mother I don't think I ever felt that possessive over my children. I have to imagine how I would have felt in that situation and that's so difficult but not the answer to the question being asked.

Motherhood for each of them seems to be about their own ability to be a good mother. Even the Grandmother spends time wondering about whether she was good or not. Do mothers wonder about that? I never put it into those words. I don't like analysing a book too deeply so I'll shut up now

GenesBookClub
Report
4 Oct 2013 12:46

We have a copy of the book doing the rounds in the office and I have just finished. If I was rating this book I would give it a 3 out of 5. There were lots of times when I found it gripping, but others where I felt like I was skim reading to make the story go faster.

SPOILERS! The books main focus is motherhood and people's perception of it. On one hand we have Anna who is desperate to be a mother and constantly watches other people being bad parents. Then we have Laura, a pregnant teen who sees her daughter as nothing but a burden until she is taken away from her.

Both women seem to set unrealistic standards to be the ultimate perfect mother in order to make up for their previous sins and this effects each of their daughters differently. The main thing I took away from the book was the nature vs. nurture question. The book seems to suggest that Sophie/Jody was always going to turn out as a bright, happy young woman because of her happy disposition as a child, whereas Mandy was always moody and fighting for her independence even as a toddler.

I think the book deals with some serious subjects, but in quite a lighthearted manner, and I would have preferred for there to be more serious consideration about how this would have effected everyone involved. I felt like some of the characters were steeped in stereotypes, particularly Lexie the wag with a good heart. This made them some of them unbelievable and I did roll my eyes a couple of times. However, overall I did enjoy the book and would read more of this author's work.

Katie - The Genes Team

Researching:
Genes Book Club in partnership with Penguin

Rambling
Report
4 Oct 2013 14:21


I struggled to read this book and have struggled to review it because I feel it could have been so much better given the potentially intriguing central plot and interesting underlying themes of motherhood and nature vs. nurture.

This reminded me of a tv movie adaptation of a potentially involving and thoughtful story. Based on a good initial idea but chopped about, with the customary large gaps in the plot, heavy handed emotional scenes and poorly drawn characters, needed to fit it into a 90 minute programme slot without any real depth.

Without giving too much of the story away SPOILERS! , for those who haven't yet read it, I had considerably more sympathy for the 'adoptive mother' Anna who was shown in a positive light from the outset in that she cared for the children in her role as a teacher ( just as she later cared for the child Sophie) not as an extension of herself but as individuals with their own potential and in need of nurturing and love. Yes she did the wrong thing, but she did it for the right reasons.

The birth mother was essentially selfish to the end and I felt the only times when she wasn't, were added in as an obvious afterthought by the author in order to tie up loose ends, rather than indicating a character who had developed and grown as a person because of loss and longing.

In the story had Sophie not shared the same condition with her birth mother ( synaesthesia, which I felt was not really explored as much as it might have been ) looked like her birth mother and had the same passion for art, I think it's unlikely that there would have been the 'happy ending' ( or 'happy beginning' if you see the characters making it work). Again I see this as the mother being selfish in the sense that she was more interested in the 'mini-me' than she was in her other daughter who didn't fit the mould, and children whether birth or adopted often don't 'fit' or have the same looks, interests or personality as their mother .

I felt that was the main problem with the book really , all the characters were essentially stereotypes and moulded to fit the requirements of the plot rather than the other way round, making it hard to have much empathy with them.


It would have been good to see a bit more depth in the characters to reflect more of the conflicting emotions and experiences of those who have found themselves in a similar situation, ie caught between the family you know and the family you come from.

But as with all books, you might love it, and see things in it that I have missed.


Researching:
Still Rambling, if rather more slowly.

Guinevere
Report
4 Oct 2013 15:14

I struggled as well. I haven't read anything by this author before and I won't again. I found the language sloppy and plot mundane. The characters were 2 dimensional and mostly not very sympathetic.

The "twist" was fairly obvious from the start and the reveal unsurprising. I think the meaning of motherhood has been written about better and in more depth than in this rather shallow tale.

Researching:
Lowestoft and North Suffolk, Monmouthshire, Breconshire, Somerset

+++DetEcTive+++
Report
6 Oct 2013 10:44

RamblingRose has given my own opinions more succinctly than I can.

The book is divided into different chapters, following the lives through flashbacks to 1993 and the present day 2011.

We were asked 'What does motherhood mean for each of the characters and how does becoming a mother impact their lives?'

Although it would have stopped the story before it got started, I wish that Laura had explored the possibilities of abortion or adoption more fully rather than acquiescing to her mother Joan's insistence that she carried the one night drunken side stand pregnancy to term. Laura didn't want to be pregnant and didn't want to be a mother.

It was Joan's selfishness and as it transpires inability to support her daughter in their mutual grieving over the death of her husband/father which caused the tragedy which is the basis of this book.

It wasn't until Laura's second daughter Mandy was born that she got her act together. In doing so, Laura became an over protective mother. Although for different reasons, so did Anna with her daughter Sophie.

Considering the stifling love that their mothers cocoon them in, both Sophie and Mandy seem to be quite well balanced. At 17/18 Sophie has a mature head on her shoulders but possibly an idealistic view of life which could come with age.

Although I had more sympathy for Anna, the mother I was most interested in was the peripheral character of Molly's mother, Molly being Sophie's friend. She is far more normal mother with 3 children loving them and their differing characteristics equally.

An interlude plot line which was ignored was when Mandy and Sophie return to Laura's home after a party, obviously the worse for drink. Considering Laura's behaviour at the same age, and the consequences of that, one would have thought that Laura's reaction would have been explored.

Although I read half the book in one sitting, it was a struggle to continue with it. If a reader is looking for a 'good news' story, this isn't it. Despite willing to read most books outside my preferred genre, this isn't one which I'd choose.

Researching:
I am NOT an employee of GR, just a paying member. All advice, guidance or suggestions offered are given in good faith.

Lesley
Report
7 Oct 2013 15:08

This Child of Mine.
I had not read a book by Sinead Moriaty before, but having read on the cover that this was a successful author of several best sellers, I was enthusiastic about starting her new book. After reading the first few pages already I had decided that I was not going to be so eager to read another in the near future. I have struggled through one hundred pages so far and will continue to struggle, always hoping that the book might improve (but my doubts grow as each page is turned). I have found the characters unconvincing and unlikely; and the dialogue clumsy and unrealistic. The school scenes and the rugby player scenes are completely unbelievable. I am sure that in a sink school the pupils and their parents would not have the conversations described in this book. Rugby players might be big, strong and at times boisterous, but whatever they do get up to, they do not have the conversations with girls described in this book.
Am I wrong in thinking that a body cannot be buried without the evidence of a death certificate? Is this the big flaw in the story or was this error just necessary for the rest of the plot? And was a child seat necessary, indeed compulsory in 1992? I am sure it was. Jody was a terribly responsive 19 month old, having seen several toddlers of this age in the last few days, none of them would have behaved as she did on that boat. I look forward to my next reading session to learn just how the child was kept quiet in the car trip from Liverpool to London. (Readers who take their children on long car journeys might learn the knack of keeping a child under control and amused without a car seat, nappies or any of the other items which fill the boot but are necessary for childcare). Maybe I will find out that the characters are all thrown in prison for their misdemeanours on the ferry crossing! An incentive to continue reading this book maybe?
Avid Reader

Susan
Report
7 Oct 2013 15:59

This Child of Mine - an interesting and unusual story which I enjoyed over all. However I do agree with others that say most of the characters had no real depth to them. The mothers and grandmother were all selfish in their way, and made me feel sorry for the daughters.
I also had thought the same as Lesley about the death certificate and the journey from Liverpool to London, they were conveniently skipped over.

Mike *
Report
8 Oct 2013 10:09

I think you would need to be a mother ( or at least have daughters) to appreciate this book fully.

I found the characters reflected today's society which is sad.
Not a "pleasant" read but easy enough to follow.

Have to admit I slightly lost interest half way through.

Jacqueline
Report
10 Oct 2013 19:22

I live in Alberta Canada and just received my book this morning. Very nice surprise! looking forward to reading it. Will post my reviews when I finish.

Lesley
Report
15 Oct 2013 15:31

This Child of Mine – Sinead Moriarty.
Finished the book! I am glad that I persisted as it became much more engaging after the first disappointing 100 pages. The book examined the struggle with her allegiances and emotions the protagonist Sophie/Jody had when she discovered that she had two mothers; neither of them perfect. Whilst reading, I found that I was examining the rights and wrongs of both women's actions. Both were fallible and had failed their daughter in many different ways, but both had been instrumental in producing the angel that was Sophie/Jody. Anna recognises this when she says, "...life isn't black and white, Sophie. It is mostly grey...." (Maybe a good thing given that two of the characters suffered from synaesthesia).
The male characters, Joe, Frank (as an adult) and David were credible as was the grandmother Joan. Lexie changed from being a caricature and completely unbelievable East End London "wag" to someone exhibiting the Wisdom of Solomon. Can someone have such sense yet behave in such a ridiculous way? Mandy shared some of this wisdom towards the end but earlier in the book was the Irish equivalent of the London Holly who remained a caricature of a teenager obsessed with sex throughout.
What a shame that the book contained the sections on school age children and their parents discussing sex in an unlikely manner. It could have been strong without these sections which in my opinion added nothing, and possibly even detracted from the important issues the book was really concerned about. And remembering that this book is written about a child who was abducted, why were the children in Killduf discussing their parents' sexual habits with this odd stranger? Their mother had told them not to talk to strangers but there they were having a lengthy conversation with Anna (a stranger) about sexual matters. And where was their mother? I think that it would have been much better if the mother had immediately prised them away from Anna (who was already feeling wretched about what she had done) and told them not to talk to strangers.

P.S. Apologies. The ferry went to Holyhead! Still a long way from Putney.


Whizz
Report
16 Oct 2013 08:49

I have just finished this book. Sinead Moriarty was a new author for me. Since this is the first book in the Genes Reunited Book Club I wasn't surprised by the subject matter of the book and I tried to keep that in mind while I was reading. If I were to review this book in general terms I would have to say that I found the writing almost amateurish in places and there was an inevitability and predictability about the way events unfolded. But if one was to review in terms of genealogy it throws up some interesting points, The first big issue was that I didn't think a funeral could take place without a death certificate and Hope's does. Despite the fact that Laura and her family believe Jody to be dead without a body they would not have been able to obtain a death certificate either so we have two birth certs and no death certs. We know that Anna used Hope's birth certificate for Sophie's passport and this throws up some interesting considerations regarding identity theft because, as well as abduction, identity theft would be another crime of Anna's!!
Overall the book has its flaws; the characters served their purposes within the narrative but I never felt I really got to know them. And the characterisations were inconsistent. It's nice to think that people can change and develop through life and all the traumas it throws at us but I found the younger Laura as unbelievable as the older one and as for Lexie!! Leopard. Spots. Change? It all felt contrived. But having said all that I did read it all and I certainly didn't hate it. But I doubt I will be seeking out more of Ms Moriarty's books.

Linda
Report
18 Oct 2013 12:02

This is not usually the type of book I read but I thought I would give it a go.

In the first few pages I laughed out loud and cried. The book is well written and the first half is really good then the story seems to trail off. I agree with other posts that it felt as it was a more of a filling the final pages with words rather than continuing the story, a run our of ideas moment.

Both mothers appear to have been overcompensating for problems in their own lives which effected the ability for their children to develop confidence and Independence, its affected them and possibly their future relationships.
I can't have been easy for them.

I know this is fiction but am trying to write my comments as it has some truth, as requested.
:-S :

Researching:
Ward/Rowley/Hall/Davies/Bates/Evans

Susan10146857
Report
18 Oct 2013 20:58

I am afraid I too lost interest half way through.

Do I live in a different world? Maybe, but I cannot come to terms with the fact that children were portrayed as all swearing little monsters and never reprimanded. Are we to believe this is the norm or is it just in particular areas? does anyone else think that maybe the author added the scenes as shock tactics to spice up the book. I expect someone will tell me that I live in a different world and that these things do happen. If so I am glad my little world is bereft of such goings on.

The story line, to me was nothing spectacular, with a few shocks thrown in to spice it up a bit.



Maureen
Report
20 Oct 2013 19:03

This Child of Mine by Sinead Moriarty..........

Initially I thought this book would never draw me in. Who was the reader target? Surely, not me, or so I thought. Just mediocre in its content and a story which probably could have a reveal on The Jeremy Kyle Show. Little did I know that the more I read, the more enticed I would became - a bit like prey to a spider's web, once hooked, I didn't want to put it down. It speaks volumes about love in all its many guises, especially a mother's love. I don't know whether it was just me, being a bit of a softie but some moments touched the core of my being and I felt a tear or two run down my face. A triumph of love over adversities.
Would I recommend it as a light but intriguing read?.....Absolutely. Am I passing it on for someone else to read? Not yet, I want to read it again to see if Sinead Moriarty's words can evoke the pain and the love I encountered as I turned the pages the first time. Have I been known to read a book a second time? Rarely.
If you are a mother and fail to be moved by some of the narrative, I'd be surprised.

Researching:
Fulham/Putney/Wiltshire

HelenW64
Report
20 Oct 2013 19:08

I thought the book was a light easy read. The subjects were serious but on the whole glossed over - surely there would have been some sort of investigation regarding an abducted child, this was skipped over a little too lightly. The nature / nurture debate could have been explored but it was just presented that happy child with loving mother was going to be perfect. There was not enough contrast between the sisters, they had very different upbringings, one all happy and supportive, the other in a tense blame culture yet both are presented as mature and well balanced who on the whole bond very quickly despite the disruption. I enjoyed the story but I was disappointed that serious topics were treated so lightly. I probably won't rush to read anything else by this author.

Carole
Report
21 Oct 2013 10:02

I had never before read a book by this author but I intend to see if my library holds any of her other works.
I thought this book was enjoyable with touches of the humour that the Irish seem to have genetically inbuilt in them ( e.g. the incident of the Postman). On reading I swayed from feeling the birth mother was most in the wrong to feeling most compassion for her .
Well presented story - as a Marion Keyes reader it kept me enthralled.

Kellie
Report
21 Oct 2013 11:30

This Child of Mine

I too like others have never read any books by this author. As I was late in receiving this book I thought I'd best get on and read it, so I begrudgingly put to one side the other book that I was currently reading.

The introduction had me intrigued and I was keen to read on. What I do like about this book is the parallel narrative – keeps it moving along nicely. When I got to about page 87 the penny dropped, and this made me eager to get to the end.

As a mother myself, the character of Laura filled me with anger and I was extremely happy when 'the incident' happened. However, I did warm to her slightly towards the end.

I found myself getting a bit bored in the latter stages, and the ending was predictable, as I thought it would be.

It was a nice story, but a bit lacking in description. I probably wouldn't have picked this to read if I had seen it in the shop, however, I might be tempted to read a different story by this author.


Andrea
Report
21 Oct 2013 21:44

Andi53
This Child of Mine is a lightweight book that becomes tedious early on but as it was a gift I felt duty-bound to finish it. I felt it was a very unlikely long term scenario, the main storyline padded out with so much repetition! One hopes Madeline McCann is found before SHE is eighteen and I don't believe Laura wouldn't go straight to the police to have Anna arrested. Would the police really be so complacent in assuming that Jodi drowned just on the evidence of a pair of floating sandals?? Too contrived and annoying. Next please!!

Winifred
Report
21 Oct 2013 22:16

I live in Cyprus and just received my book today. I will read it this week hopefully get the review done by the weekend. Thank you for sending it. It was a lovely surprise. Mind you I don't normally read girlie books but I'll give it a try.