Hobbies and Crafts
Welcome to the Genes Reunited community boards!
The Genes Reunited community is made up of millions of people with similar interests. Discover your family history and make life long friends along the way.
You will find a close knit but welcoming group of keen genealogists all prepared to offer advice and help to new members.
And it's not all serious business. The boards are often a place to relax and be entertained by all kinds of subjects.
The Genes community will go out of their way to help you, so don't be shy about asking for help.
Quick Search
Single word search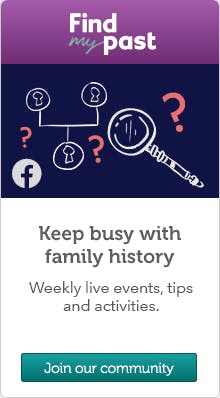 Icons
New posts
No new posts
Thread closed
Stickied, new posts
Stickied, no new posts
Genes Book Club - Expo 58 reviews
Profile
Posted by
Options
Post Date

GenesBookClub
Report
12 Dec 2013 14:52

Hi everyone,

Congratulations to everyone who emailed in time to receive their free copy of Expo 58. We hope you enjoy reading it, and we'd love to hear what you think of the book!


Researching:
Genes Book Club in partnership with Penguin

Denise
Report
20 Jan 2014 17:35

Really enjoyed this book,found it light hearted,easy to read and easy to follow the story line.Having had many holidays in Belgium the book came to life for me as I could visualise the areas the story took place.
Book was romantic,but did not distract from the main story.couple of twists in the storyline which was great ,as it always happened just as you thought you'd grasped who was linked to who .
Would definitely recommend it .

suze55
Report
20 Jan 2014 23:30

This was a very readable book and I enjoyed it alot. It was certainly of a period and about something I knew nothing about (Expo 58) but then I was only a small child then. The main character was clearly an unsophisticated middle class man from suburbia who found the experience both exciting and scary at the same time. I loved the twist of the illegitimate child though it was always on the cards.

Excellent - have passed it to my sister to read.

Jacqueline
Report
21 Jan 2014 00:23

An excellent insight into Expo 58, encouraging those of us who didn't know about it to do some extra research. Some familiar names and those I didn't recognise I found out about. A good mix of fact and fiction, containing romance and Cold War intrigue. It includes a wonderful analysis of Honegger's 'Pastorale d'Eté', which I listened to, whilst re-reading the description, and thoroughly agreed with the author's interpretation of the piece.

Totally enthralling from start to finish.

+++DetEcTive+++
Report
22 Jan 2014 10:41


Thomas Foley is a 32 year old junior copywriter at the Central Office of Information whose tasks are normally to write such edifying articles such as how to cross the roads or avoid catching colds. Described as a cross between Gary Cooper and Dirk Bogarde, his life revolves around his Tooting home and family when he is plucked out of his comfortable existence to front up 'The Britannia' at the Expo 58 on the basis that his mother was Belgium and his father ran a pub.

One theme that stands out is the change in attitudes he is faced with. The Expo is constantly described as Modern as a place to meet people of other nationalities. The people with whom he forms friendships appear to be free thinking and open to opportunities. This is compared to the relationship he has with his wife where both are both fulfilling the traditional rolls of the time – homemaker and provider. He is torn between two worlds – that of his traditional one and the 'modern'.

As his stay progresses he is caught up in the Cold War intrigue, being manipulated by two comical British Spooks. Anyone who has been Positively Vetted would find his interview (in a coffee shop) hilarious!

Although the last chapter is fairly brief, it does chart the gradual decline of the building where so much of his time was spent. Is this an allegory of how the hopes and dreams of the world gradually come embittered?

This book is a gentle read set in an era when Britain is still clinging to its Traditions, and the Cold War where even naïve Thomas starts to realise that not everyone is who they seem.

No graphic violence or descriptions of torrid sexual encounters. It won't get your heart pumping, but you will fall under its spell.




Researching:
Dormant member as from 20 Sep 2019 . Click on my board name to send a message

Lesley
Report
22 Jan 2014 16:41

17 Jan 2014 15:28 - posted in another section first!
Expo 58 by Jonathan Coe
I did enjoy the book which I took every excuse to read rather than do other things! From the start I was reminded of the hapless, innocent protagonist in Lucky Jim and Thomson and Thompson from the Tintin books, although Messrs Wayne and Radford were quite comic they are effective in their roles as secret service agents.
I enjoyed the novel's description of the Expo 58 exhibition which took place at a time when Britain was emerging into an exciting technological era after the post war austerity. We learn that the civil service was not altogether streamline and efficient, still bungling along with the old boy network firmly in control. The naive Thomas's dislike of the Russian Andrey is fuelled by personal motives and not by fears about national security. Thomas Foley's experiences in Belgium were exciting, almost enough to make him reject his life back in boring old Tooting. But fate takes a hand and there is a surprise ending.
I had not read any of Coe's previous books, but I shall definitely do so in the future.


:-)

GenesBookClub
Report
30 Jan 2014 19:04

Hi everyone,

Thanks for your reviews. This title has proved popular, definitely one to pass around!

We will be issuing a new title for February - keep an eye on the Announcements board, and get in touch if it sounds like something you might be interested in.

Regards

The Book Club

Researching:
Genes Book Club in partnership with Penguin

Neil
Report
10 Feb 2014 07:16

Bittersweet comedy of manners. EXPO 58 by Jonathan Coe.

I am not quite sure how he does it, but Jonathan Coe's has managed to write a novel that both captures the very nature and feelings for the nineteen fifties in every line, yet at the same time is never dated. When Thomas Foley, a mild mannered civil servant working for the Central Office of Information in London, is sent from dull, ordinary, post war Tooting to the excitement of Exposition 58 in Brussels, a trade convention and world fair designed to cement European and global relations in a friendly and open minded exhibition, he enters a complex chimera where nothing seems quite real.

Reflecting at the end of his assignment, Thomas muses "...the thing that struck him as most mysterious about his adventures at Expo 58 was not, after all, the improbable intrigue in which he had become embroiled, but the proven fragility of his loyalty to Sylvia [his wife] during those weeks. As he grew older, it seemed to him more and more likely that he had done a cruel thing not by marrying her but by staying married to her." It is this sense of silent, unrelenting introspection that lifts this nominally comedic book into the realm of deeper thought and makes me, at least, reflect upon and inspect my own motives for actions taken long ago.

I loved this book, from the old fashioned illustrations on the dust cover, through the improbable Thompson Twin comic clowns from MI? and their utter rejection of James Bond's antics to the unexpected revelation at the end which washes it all with a final, fifties ochre lacquer. Wonderful...do try it...You will not be disappointed.

Researching:
Spurgeon/Spurden: Essex . Farley: Thanet . Hill: Jamaica, Hampshire, Down, Antrim . Plumley/Male/Newis: Somerset

Marie
Report
11 Feb 2014 02:50

Easy read, very interesting book to me. I had no prior knowledge of Expo 58 at all. Light romance was refreshing. I could relate to characters and throughly enjoyed the entire story.

Gillian
Report
11 Feb 2014 16:32

Expo 58 by Jonathan Coe

This tale of love and espionage is set in the bygone era of the Cold War. A time when foreign travel for pleasure was unusual and distrust of Johnny Foreigner and his food was the norm. (Perhaps the latter even now has not altogether altered?) However, the late 50's and early 60's were also a time of hope when Britain was proud to show off her 'superior' goods and way of life. Therefore, of course, the flag had to be flown at Expo 58 in Belgium. It was here that Thomas Foley, employee of the Central Office of Information, finds himself overseeing the running of a British Pub in the midst of the Exhibition which includes Russian and American pavillions.

Thomas finds himself in strange but exciting surroundings, finds love and is embroiled unwittingly in international intrigue during his time in Belgium. However, there are complications: he is married and is a father. Will love or duty prevail ? Will the sinister but well mannered Mr Wayne and Mr Radford, (surely British agents) prevail upon Thomas to do his duty as an Englishman ? Read the book to find out.

It is a darkly humorous book with a believably authentic setting. Thomas is caught up in events and sympathy for him grows as he becomes entangled in the machinations of others. I did not, initially, like the character but, by the time I reached the book's bitter-sweet ending, I was on his side.

Joan
Report
28 Feb 2014 04:07

Sorry my review is so late. As a young woman of the late 1950's, Jonathan Coe's Expo 58 is, for me, as evocative of the period as it could be. I sensed the 'spies lurking in the shadows'; that whole 'one of them - Burgess and Maclean' thing; and all seen through a thick fog of tobacco smoke, just the way it used to be in those days.
Yet there is an underlying morality still clinging by a thread to the era which is also obvious in the book.
Compared to some other contemporary literature, Expo 58 is a fairly simple tale which is nonetheless amusing and charming, as well as intriguing.
In a novel twist, the final chapter took me through a time-line from, what I consider to be, the best period in living memory, right up to today - where I landed with a metaphorical bump.
A thoroughly good read from an author who has researched his subject so well as to make me feel he might have been there to see it as I did - but no, he is too young.

Researching:
Mortimer; Gregory; Cowell; Powell; Perry; Dell; Howes

GenesBookClub
Report
28 Feb 2014 16:26

Hi everyone,

Thanks for your reviews! Great to see that you all enjoyed the book, it certainly has been a popular one.

Today we announced the March title, Spilt Milk by Amanda Hodgkinson. If you would like to receive a free copy please PM book club with your address (including postcode) in the next 7 days.

Regards

The Book Club

Researching:
Genes Book Club in partnership with Penguin

Whizz
Report
11 Apr 2014 09:46

A little late with my review of this, apologies. I enjoyed the book overall but it won't go down as one of my favourites. It seemed to have it's finger in two many pies. Was it historical fiction, a comic novel, a spy thriller? And indeed there's no reason why it can't be all of these and more but the fusion between genres wasn't seamless enough for me. There were some funny bits that made me chuckle, but much of it was predictable. I found it hard to engage with many of the charactersBut . I'm glad I read it, I'd be a fibber if I didn't say that and I thank Genes Reunited very much for the copy but it wasn't a memorable read for me.