Hobbies and Crafts
Welcome to the Genes Reunited community boards!
The Genes Reunited community is made up of millions of people with similar interests. Discover your family history and make life long friends along the way.
You will find a close knit but welcoming group of keen genealogists all prepared to offer advice and help to new members.
And it's not all serious business. The boards are often a place to relax and be entertained by all kinds of subjects.
The Genes community will go out of their way to help you, so don't be shy about asking for help.
Quick Search
Single word search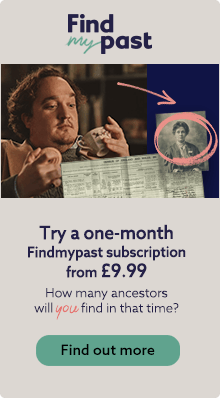 Icons
New posts
No new posts
Thread closed
Stickied, new posts
Stickied, no new posts
Genes Book Club - Aren't We Sisters reviews
Profile
Posted by
Options
Post Date

GenesBookClub
Report
16 Jul 2014 12:29

Hi everyone,

We hope you enjoy reading Aren't We Sisters. Please posts your reviews here, we'd love to hear what you think of the book.

The Book Club

Researching:
Genes Book Club in partnership with Penguin

Shirley
Report
22 Jul 2014 22:36

Hi
Sorry can't post review,not yet received Aren't we sisters as promised on 16th and it's now 22nd.

Shirley

Winifred
Report
29 Jul 2014 14:16

I've not received mine either :( so sorry no review from either.
Wynn

SuffolkVera
Report
29 Jul 2014 15:04

Nor I so perhaps they haven't been sent out yet. They seem a bit late but I am just pleased to receive a free book whenever it arrives

Pammy51
Report
29 Jul 2014 16:16

I'm still waiting for the Separation to arrive :-( (as well as this one).

GenesBookClub
Report
1 Aug 2014 17:25

Hi all,

If you are waiting for a book, please send me a PM and we will arrange for another copy to be sent.

Regards,

The Book Club

Researching:
Genes Book Club in partnership with Penguin

Winifred
Report
15 Aug 2014 22:28

Just got mine today. Should be finished reading it after the weekend.

Patricia
Report
16 Aug 2014 19:30

Loved 'Aren't We Sisters' and read it quickly because I wanted to get back to it all the time.
The story is told in the voices of each character one chapter at a time but it still flows well. The characters are well developed and most of them are likeable as we understand their motivation for their actions.
I am old enough to remember talking to women of the period - my parents were married in 1937 - and this book increased my understanding of some of their attitudes. The circumstances around childbirth are frightening from the point of view of my generation.
The plot gathers pace and reaches a satisfying conclusion.
Now I want to read Patricia Ferguson's previous book 'The Midwife's Daughter'.
Thank you Book Club for a great read.
Pat

+++DetEcTive+++
Report
18 Aug 2014 20:59

Unlike the other books I've been fortunate enough to receive, this one is 'a keeper'.

It is set in 1933 in a Cornish town and brings together the lives of three women from different 'Classes'. To a certain extent it illustrates how post WW1 and the Depression there was the gradual leavening of society.

Middle class Norah has to work for a living, but is unable to afford the upkeep of her large family home. She lets a room to Lettie. Lettie has managed to avoid her mother's profession and is a nurse.
Rae, for much of the novel, is a rich, secretive person trying to live in obscurity. She needs Lettie's help to deliver her of her child.

Although the blub says "there's a killer quietly at work" that theme is not introduced until about ¾ of the way into the book. Instead, the main thrust deals with societies changing ideas towards female contraception, child birth and the attitude of men who still saw females as lesser people to command.

It was an easy read, but an enjoyable one.


Researching:
Dormant member as from 20 Sep 2019 . Click on my board name to send a message

Winifred
Report
22 Aug 2014 14:51

This is a fascinating book. Lots of layers. I did get a bit muddled with the way it was written at first but then got to love the layout with each chapter heading in a characters name so you knew who's life you were going to reading about next.
This book was well researched and at first I thought .....not a story about birth control please!!.....but I was wrong it was more...... it was about empowering woman and the changes in society towards childbirth. There were lots of characters in this book some more clearly drawn than others. It left me wanting to know more about the life of Berty's Mum and what had happened with the Pyncheons and the cinema future. And did Bea ever return for her baby?
I will definitely now read 'The Midwifes Daughter, by Patricia Gerguson.

Another wonderful read. Thank you Penguin and Genes Reunited. W x

AnninGlos
Report
22 Aug 2014 21:28

I have started it but so far failed to get into it. However I think this is possibly because I am due to go away for four weeks and know the book is too heavy to pack. So, my review will be late I am afraid, I will be reading it in October. :-)

Researching:
Photo Allium in my garden June 2021 Researching Somerset, Dorset, Hampshire, Derbyshire, Staffs, Devon, Glamorganshire. Ingram, Masters, Tamblyn, Knight, Warner, Bate, Allen, Riggs, Dominey, Duffin

SuffolkVera
Report
25 Aug 2014 17:26

Unlike others reviewers I found this book a bit disappointing. On the front cover the book is described as a "sparkling novel of crime and intrigue" and I think this is a slightly misleading description.

There are three main female characters: Norah, born into the upper middle class but now impoverished, Lettie born into poor and unpleasant circumstances and Rae, a famous and wealthy actress. As their lives cross and their stories become entwined, we learn more about their backgrounds and past lives and perhaps gain an understanding of why they behave as they do. But I still found it difficult to have any sympathy with them, with the possible exception of Norah.

There are a number of other characters, some of whom play an important part in the story but they all have secrets to hide or something unhappy in their past. One of the problems with this book, I think, is that there is no contrast in tone. While there are people from different walks of life and even different colour skin they are all unhappy, angry, embittered etc. I feel their stories would have appeared more tragic if they were played out against a backdrop of "normal" people.

Having said all that, the themes running through the book were interesting and thought provoking. The book suggests that in 1933 when the story takes place men still have all the power and women are still very much in subjugation to men and are often abused physically and emotionally. Many of them are exhausted by constant pregnancies and childbirth and it is when female contraception becomes available that women can start to control the number of their offspring without resorting to illegal abortionists. In this way they can take more control of their own lives. I do think the author is very good at showing that this was not a sudden great change but was gradual and, in the early days, secret and to a degree shameful.

Without giving the story away, there was one twist at the very end of the book that did catch me by surprise.

An easy and interesting read but, for me, not a very satisfying one.

Whizz
Report
26 Aug 2014 15:39

I had got three quarters of the way through this novel before I could honestly say I 'got into it'. There was much to admire in the novel but I found there was a lack of precision that left me feeling a little muddled and I had to frequently refer back to double check something or to grasp the intended concept. I didn't see the book as a crime novel in the accepted sense of the genre. I saw it as a social commentary on several levels, abortion, contraception, feminism, race and a commentary on social class and the differences and expectations of women from widely differing social backgrounds. i think this may have the weakness of the book in trying to attempt too much and thus spread itself too thinly. I'm glad I read it because I;m sympathetic to many of the issues woven into the narrative. I already have a copy of The Midwife's Daughter to read at a future date so Ms. ferguson must have done something right!!

Morag
Report
28 Aug 2014 17:47

Since I hadn't looked at the back cover, it took me a while to realise this book features some of the same characters as The Midwife's Daughter. It's not necessary to have read the first book but it was a treat to find out what happened to the characters. I found the first chapter about a family planning consultation a bit graphic for my taste but after that I really enjoyed the stories of the three women.
This was a good insight into the lives of women before the widespread availability of contraception and a reminder of the disgrace an unwanted pregnancy could bring.
I found the characters of the three women convincing throughout: nurse Lettie has been forced by circumstances to be pro-active in making opportunities for herself and strikes up an unlikely friendship with her genteel but impoverished middle-aged landlady Norah who displays what would now be considered an alarming innocence about the mechanics of sex and childbirth. The glamorous actress Rae's interaction with these two women and the involvement of the despicable Doctor Heyward make for an engrossing read.
Thanks Genes and Penguin for another good choice.

AnninGlos
Report
27 Sep 2014 17:17

Review Aren't we Sisters? By Patricia Ferguson
For Genes book group

It has taken me a long time to read this book with a break in the middle when I went away on holiday and didn't want to take it with me because of the weight on the flight. I apologise for the delay.
I found it a hard book to read, it didn't 'grab' my attention and it took a long time to get into it, if I ever did. There were a lot of characters and at first I got confused between the females.
The main story about a secret baby and the prejudice surrounding illegitimacy was well thought out and well written. In fact the book itself is very well written as a comment on the social aspects of the times; the ignorance of women regarding childbirth and how to prevent it and the beginning of the emancipation of women.
Once I had sorted out the different female characters, representing different class backgrounds it was obvious that PF had researched them well and her characters were well rounded and believable.
There was a good twist towards the end which I had not seen coming which made sense of part of the story line. And I can't leave out the doctor, hoping there were not many like him around in those days.
I don't know that I agree with the blurb on the front cover. I would not call the book sparkling and to me it didn't read like a novel, or I was not able to read it as a novel, almost a text book really. I am not sure that I want to read more of her books.


Researching:
Photo Allium in my garden June 2021 Researching Somerset, Dorset, Hampshire, Derbyshire, Staffs, Devon, Glamorganshire. Ingram, Masters, Tamblyn, Knight, Warner, Bate, Allen, Riggs, Dominey, Duffin

Dorothy
Report
7 Oct 2014 13:39

I have only just finnish arent We Sisters I am not a slow reader but had just started to read another book when Aren't we sisters arrived. I found the beginning of the book hard to get into but after the first chapter I was away and found that I could'nt put it down. A really good read.