Hobbies and Crafts
Welcome to the Genes Reunited community boards!
The Genes Reunited community is made up of millions of people with similar interests. Discover your family history and make life long friends along the way.
You will find a close knit but welcoming group of keen genealogists all prepared to offer advice and help to new members.
And it's not all serious business. The boards are often a place to relax and be entertained by all kinds of subjects.
The Genes community will go out of their way to help you, so don't be shy about asking for help.
Quick Search
Single word search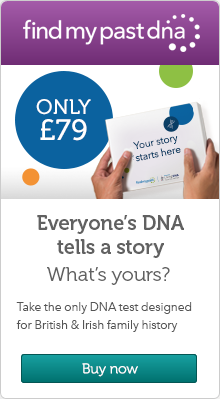 Icons
New posts
No new posts
Thread closed
Stickied, new posts
Stickied, no new posts
Genes Book Club - Everland reviews
Profile
Posted by
Options
Post Date

GenesBookClub
Report
12 May 2015 11:35

To those of you who were selected to receive a free copy of Everland, we hope you enjoy reading it and would love to hear what you think.

Based on your feedback, we're going to avoid the discussion questions this month, and ask you to just post up your own responses - did you enjoy it?

Researching:
Genes Book Club in partnership with Penguin

Patricia
Report
31 May 2015 10:22

I still have not received my copy of Everland. I am very grateful for the books that I have had the opportunity to read through the Book Club but the timing of announcements, sending out of books and then announcements of the next book seems to have become very hit and miss.
Pat

+++DetEcTive+++
Report
4 Jun 2015 12:18

Same here Patricia. Still no book.

To be honest, as the copies are sent out by the publishers we can't really blame GR. it may be disappointing if it never arrives, but at least we didn't have to pay.

Researching:
Lapsed member as from 20 Sep 2019 . Can't post on the boards but can reply to personal messages & can PM those already in my contact list.

GenesBookClub
Report
5 Jun 2015 15:59

Thanks both - as we've said to people who messaged us, we're checking in with the publishers. Sorry for the wait but we'll make sure you get your books!

Researching:
Genes Book Club in partnership with Penguin

Patricia
Report
5 Jun 2015 19:00

Thanks for letting us know.
Pat

Patricia
Report
19 Jun 2015 12:49

I did receive my copy of Everland and read it fairly quickly as I found it a great read.
The book is very well written and I found myself pulled in to the atmosphere of Everland.
In spite of the time difference between the visit to the island of the two teams (100 years) the feeling of danger and risk is the same for both. There are hints that there may be something supernatural about the place.
There are parallels between the two teams. Each has a 'weaker' member and the two remaining members are tougher and more experienced. In spite of the better equipment and communications of the modern team the expedition almost ends in tragedy as it did for the older team. This seems, at least in part, to be due to the stronger characters who cannot always agree on what action they should take in an emergency.
The factual details around the routines and everyday living of both teams are very convincing and make the reader realise how easy it is for the situation to become dangerous as the explorers become exhausted and ill as a result of injuries and mishaps that would be relatively trivial in normal surroundings.
This book is thought provoking and stayed with me after I had read it.
Thanks again to Genes and Penguin for the chance to enjoy a good read.

Morag
Report
21 Jun 2015 15:18

I loved this book. The descriptions were evocative, especially the noise and smell of the penguins, the changes of the light and ice and the hard physical effort needed not just to do the work but even to survive in these conditions.

The parallels between the two expeditions are well handled, with a sense of suspense as well as inevitability. Each team has a weak link; an excellent scientist but with insufficient experience for the task. The interplay of characters is exceptionally well done, with a drip- feed of information that causes the reader to constantly revise their opinions about each character. Each one is flawed, but each has his or her part to play in the day- to-day running of the expedition and, eventually the quest for survival. Hunt is particularly skilled at describing the minor irritations of a person's personality which loom large in the confined space of a ship or a tent on a small Antarctic island.

This is more than a polar exploration story however; Hunt deals with issues of conscience and morality: how far should someone go to save his own life at the expense of others, what of a doctor who gives extra morphine to hasten the death of a patient in distress or a captain who subverts the truth in his memoir in order to preserve his reputation and gain funding for additional research?
This was a page turner, but thought- provoking and informative. A thoroughly good read but not necessarily one I would have chosen for myself, so thank you for the opportunity to read it.

Whizz
Report
24 Jun 2015 19:59

I doubt I would have picked this book for myself to read but having had the opportunity to read it courtesy of Penguin and Genes Reunited I'm glad I have read it.
It's very well written and researched. I am wondering whether the writer spent much time in the Antarctic as the atmosphere created was palpable.
I enjoyed the dual timescales and the similarities and differences between them. I enjoyed the fact that Everland remained immutable throughout the passing of the decades.
The parallels between the two groups of explorers was fascinating and in a weirdly Lord of the Flies manner we see how disparate groups of people react and interact making life changing and affirming decisions. I often asked myself what I would have done in some of those situations.
And in a sense the Antarctic scene was a backdrop for the drama of human personalities and frailties to be played out. Given any extreme set of circumstances in a hostile environment would the decisions made be any different, relative to the situations the characters find themselves in. The concept of responsibility is an interesting one here too; it can be bestowed according to rank or position or it can be assumed according to personality and disposition. And there are some contemporary issues, even if they are dealt with in the 1913 time frame, euthanasia and the manipulation and corruption of facts to achieve a desired end.
So all in all a very substantial read on several levels. Whether I enjoyed or endured is debatable. I felt very cold and exhausted by the time I reached the end!!! :-)

Janine
Report
29 Jun 2015 19:32

An unknown island in Antarctic, an exploratory expedition by three men in 1913. Two of the men are experienced in polar exploration, the third is an inexperienced scientist who has helped to fund the expedition and whose inclusion is resented by the others. The third man, Dinners, is badly frostbitten in a severe storm which occurs shortly after their boat is launched from the Kismet, and is mostly thereafter unable to carry out his share of the workload on the island.
Fast forward 100 years, and a similar trio is dropped off by plane in a re-enactment of the original journey. The male team leader and female field assistant are experienced, the third woman is a scientist who has been included as a favour, and is more hindrance than help initially.
Parallel stories of both groups weave through the book, the author deals insightfully with the personality conflicts that arise in all groups of people, and allegiances change as initial impressions are altered by events.
When the Kismet returns to pick up the earlier group of explorers, they find just one man, Dinners, seemingly abandoned by the others and almost dead. The assumptions made are manipulated and chronicled by the ship's captain and later made into a film which is well known to the later group, though erroneous, as we find out as the stories evolve.
Likewise, the 2012 group manipulate the truth and one member is found abandoned in a very similar position to the earlier Dinners.
There is mystery, adventure, and a touch of the supernatural in this book. A great read, I rate it 4.5 out of 5.
:-)

Persephone
Report
4 Jul 2015 06:09

Everland by Rebecca Hunt

I am another that enjoyed this book.

It starts in April 1913 when one member named Dinners of a group of three is located by his ship mates on the beach at Everland. Two chapters later we are in 2012 and I was left with the feeling 'is that it', however, the story goes from 1913 in one chapter to 2012 in the next. This is fiction but could very well be fact. Rebecca Hunt paints an excellent picture of the starkness and how unforgiving the Antarctic can be.

The second party of three in 2012 only know what the Captain of the Kismet (ship base) has written about the 1913 scientific expedition which is made into a well watched movie as being factual but instead the reader is aware that he has written from a biased point of view. He is at odds with the Doctor and the first mate (Napps) on the Kismet. Napps leads the 1913 search on Everland, and during that time disaster overtakes Napps, Millet-Bass and Dinners. Millet-Bass has the strength of two men and outdoes Napps in all their tasks. Napps is unhappy to the point of wishing Dinners dead. There journey from the ship in a dinghy to Everland has encountered stormy conditions and Dinners ends up with frost bite with his hands being practically useless and feet that he cannot bare to look at. Napps and Millet-Bass nurse him back to reasonable health.

The 2012 a team will survey and gather data for species monitoring and protection. Team leader Decker and assistant Jess are physically tough and experienced in extreme conditions. The third, Brix, is a scientist and ordinary everyday tasks are a challenge to her. Jess does not warm to Brix and believes she is a hindrance but Decker keeps on covering for and defending Brix. They have far more advantages than the team a hundred years before. In 1913 they used sleds, in 2012 they used quad bikes. In 1913 the party of three had no contact with their base, in 2012 they used radio telephones. Their living conditions were better, they had better supplies and appear to be better organised.

Everland remains the same but both teams have to survive the starkness, the sastrugi, soft snow, crevasses and slippery ice caves.

In both time frames the Everland volcano leaps to life and the earth trembles. In both trips the weaker member of the team is there by nepotism. Both teams pull against each other rather than support each other. In 1913 and 2012 both parties hallucinate and wander off in different directions. I actually thought that the 2012 team would lose Decker. There are so many similarities hence the going backwards and forwards in the chapters.

It is a compelling read, I enjoyed it immensely but would not go so far as to say it was terrifying or gripping as stated by the Sunday Telegraph. Not a thriller but it is an adventure story and making the wrong decisions can prove fatal.

An aside:
Perhaps they should have used three converted Ferguson tractors with 'windshields but no roofs' as in Hillary's expedition to the South Pole in 1958. His biographer has likened the journey to driving 'across Antarctica in convertibles'. Two sledges and a caboose - essentially a caravan on skis - containing bunks, cooking and radio facilities, also survived the journey to the Pole.




Researching:
The latest tree member our Grandson, Stellan born 09/12/14

Gillian
Report
8 Jul 2015 11:59

As someone else wrote, I would not have been likely to choose to buy this book. However, I too was glad to have read it. At first I found the swapping of events and eras rather tedious but soon appreciated how the two stories were inter-twined.

+++DetEcTive+++
Report
16 Jul 2015 10:47

Although I read this book relatively quickly, I didn't find it a page turner.

The characters in each expedition had similarities, some of which they kept hidden. Napps (1913), although charismatic, is believed by his ship-mates to be cruel towards animals were as the narrative explains that he was compassionate.
Decker (2012) recognises that nature will take its course and that resources and time should not be used trying to save an injured seal.

Both Napps and Decker have to weigh up the survival of their group with the risk that they will all die versus sacrificing one member in the hope that the remaining two will live.

Thankfully the advances in communication and technology do bring about the rescue of all 3 members of the 2012 team.

The latter part of the book highlights the dangers of hyperthermia on the mind. Despite the 21st Century advances, it warns us that we can't fight nature.

Researching:
Lapsed member as from 20 Sep 2019 . Can't post on the boards but can reply to personal messages & can PM those already in my contact list.