Find Living Relatives
Welcome to the Genes Reunited community boards!
The Genes Reunited community is made up of millions of people with similar interests. Discover your family history and make life long friends along the way.
You will find a close knit but welcoming group of keen genealogists all prepared to offer advice and help to new members.
And it's not all serious business. The boards are often a place to relax and be entertained by all kinds of subjects.
The Genes community will go out of their way to help you, so don't be shy about asking for help.
Quick Search
Single word search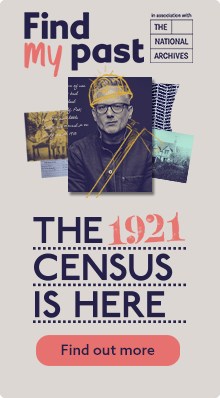 Icons
New posts
No new posts
Thread closed
Stickied, new posts
Stickied, no new posts
Looking for Juanita Gill, last seen Cheltenham, UK
Profile
Posted by
Options
Post Date

Peter
Report
13 Jun 2022 15:24

Thank you, and I will definitely update here when we do! :-)

ArgyllGran
Report
13 Jun 2022 15:01

Good luck, Peter!

Do let us know if you find her.

Researching:


Peter
Report
13 Jun 2022 13:53

@Shirley~I,m getting the hang of it

Yes, you're right there! Online searches have proved fruitless. The positive of no marriage record is that, assuming there's been no change of name for any reason, it should mean she is still Juanita Gill.

@Gwyn in Kent - Thank you! I'm convinced we will find Juanita, and as you say the SA will have access where I don't so I'm sure they will be able to help.

nameslessone
Report
13 Jun 2022 12:42

What a good positive story to spur Peter on with his hunt.

Gwyn in Kent
Report
13 Jun 2022 12:02

Good luck Peter.

Whether or not Juanita is recorded on electoral lists will probably depend on the severity of her disability, but to give you hope, some years ago we did manage to track down and contact a previously unknown relative who we had found in birth records (very unusual surname ) and who ERs showed was living in a home for people with learning difficulties.
It was not in our area, so we tried to talk to the home manager on the phone, but someone else was 'in charge' and they were understandably not keen on speaking about the residents, but when we next visited the area, we took copies of everything that verified who we were and our link to the resident.
After satisfying themselves that our quest was genuine, the manager went to speak to the resident in private and after some disbelief, we met and chatted.

We made a point of visiting the area more often and were welcomed each time we called at the home and gradually a comfortable relationship developed and has continued for many years now.

I know for a fact that Salvation Army searches can access areas not available to the general public, as a friend made contact with a step brother with their help.

I hope you find Juanita for Bill.

Peter
Report
13 Jun 2022 10:33

@ArgyllGran

I think that's most likely, as Jean found in her initial search and as I've found, it was like both Bill and Juanita disappeared shortly after Bill was born! No online records of any sort.

Bill does make me laugh whenever we talk about that and how Jean couldn't find him, he always says "Well, I was here!"

The SA Family Tracing service will likely be able to explore much further than I'm able to. I hope to be able to submit the application this week. :-)

ArgyllGran
Report
11 Jun 2022 14:03

If it wasn't for her presumed learning difficulties I would have suggested she might have moved abroad.

But if she was a resident at Merrowdown, that doesn't seem very likely.


If she's still living in a home -
I imagine that residents in homes, with learning difficulties, are not on the public ERs, for their own protection.
If that's the case, it doesn't seem likely that there will be any online record of her until her eventual death.

Researching:


Shirley~I,m getting the hang of it
Report
11 Jun 2022 13:34

The only record online for her is her birth

She isn't showing on fmp under any electoral roll address

No marriage shows either

Researching:
Surname Fahse. Germany. Essex .South East London My avatar is one of our wedding photos of 1957

Peter
Report
10 Jun 2022 21:40

@ErikaH - thanks for the advice and done. Birth certificate should be on it's way today!

@KathleenBell - that's the correct record Kath, I'm awaiting a copy birth certificate to confirm the date of birth for sure.

@nameslessone - I have enquired with a couple of social workers that I am currently working with to see if there's any way social services can help, awaiting their response. So far dead ends with agencies in Cheltenham, confidentiality is an issue in obtaining information which is fair enough.

@ArgyllGran - Yes! I'm still in touch with Jean, whilst we connected Bill with extended family, we're still searching for Juanita!

ArgyllGran
Report
10 Jun 2022 18:48

I though this sounded familiar.

The earlier thread you mention:

https://www.genesreunited.co.uk/boards/board/living_relatives/thread/1287727

But you've summarised everything, plus more, in your new opening post here.

The elusive Jean, who started the old thread but is no longer a GR member, is active on Curious Fox -
https://www.curiousfox.com/uk/mbprof2.lasso?eid=182278&-nothing

Not that that helps find Juanita.



Researching:


nameslessone
Report
10 Jun 2022 17:57

If she was in a home with learning difficulties then wouldn't she have had a social worker? Is it worth trying the local social services to see if they have record?

KathleenBell
Report
10 Jun 2022 17:41

EDIT - SORRY, you already have this information.

Can't really help but this looks like Juanita's birth which gives two middle initials which could help with the search:-

First name(s) Juanita A F
Country England
Last name Gill
Volume 5G
Birth quarter 3
Page 379
Birth year 1954
Record set England & Wales Births 1837-2006
Mother's maiden name Groft <<<<<<<<<<<<<<<<(Croft on the image)
Category Birth, Marriage, Death & Parish Records
District Surrey Northern
Subcategory Civil Births
County Surrey
Collections from Great Britain, England

Kath. x

ErikaH
Report
10 Jun 2022 17:38

Her birth was registered in Surrey, 3rd qtr 1954

Please remove the actual DoB, as it could leave her open to identity theft, although the birth registration doesn't actually tally with the date you have given

Has anyone obtained her birth cert?

You are also leaving Bill open to identity theft by posting his DoB


Peter
Report
10 Jun 2022 17:12

I'm a support worker for my friend Bill (William Gill) in Farnborough, UK. Bill has a learning disability and is unable to read and write, hence my spearheading the search.

My apologies for a lengthy thread.

A couple of years ago while searching for Bill's sister Juanita I came across a message on here from someone searching for Bill and his sister, so I know this can work! Bill is now in touch with half sisters and a brother he never knew he had. I hope to be able to connect Bill and Juanita again, and also to connect Juanita with the extended family she doesn't know she has.

This is the info I have.

Full name of Bill's sister: Juanita Ann Frances Gill, born in London, UK (possibly Hammersmith) 1954. Bill was born in Hammersmith, London, UK 1955.

Mother - Marilyn Croft, b. January 1932 in Wandsworth Reg. District, d. 17th March 2015 at Ableton Nursing Home, Stoke Bishop, Gloucestershire as Marilyn Farrow.

Father - James Francis Gill, Steelworker, b. March 1928 in Boyle, Roscommon, Ireland; d. August 2009.

James and Marilyn married in 1953 (sometime between April and June 1953), but no record of divorce.

James remarried in 1963 as James Patrick Foster (reason for name change unknown). It seems as though James also used a different birth date when remarrying. Marilyn also remarried in 1963.

It's likely that Bill and Juanita were moved into a children's home together sometime between 1955 and 1960.

At some point they were separated as Juanita moved to a different home, and Bill moved from one childrens home to the next whilst growing up. But it seems they remained in contact for a time.

When Bill first spoke to us about his sister, he called her Nita, which we assumed was short for Anita. From our initial searches we realised that her name was actually Juanita.

Bill is able to tell us that he last met Juanita in Cheltenham, but is unable to say exactly when that was.

He says that he made the journey to Cheltenham by coach, and walked from the coach station to meet Juanita at a nursing home where she lived and worked, and then from there they went for a drink at a pub with a Police Officer Juanita was dating. At other times visiting before that he says he travelled by coach or train.

Just before the pandemic began in 2020, Bill and I travelled to Cheltenham to see if Bill could remember the route he walked the last time he went to meet Juanita. As he is unable to read or remember road signs or names, everything he remembers is visually prompted.

Upon arriving he was able to recognize a few landmarks, and then I asked him to walk the route as he remembered it. He was able to walk us to a certain point, again recognizing landmarks along the way, but eventually he was no longer able to recognize the road layout and was sure it had changed.

Following Bill giving us this information and the visit to Cheltenham, I was contacted by a lady who was a member of a Cheltenham Facebook Page where I had posted some information in the search for Juanita.

She was able to say that as a child she lived with her nan who was the matron of a nursing home in Cheltenham called Hatherley House (this closed as a nursing home in 1985), and that they used to "employ" people from a nearby home for people with learning disabilities called Merrowdown (there were two homes right next to each other, Merrowdown for women, Eildon for men, now Skybourne Aviation Academy).

She remembers that sometime between 1978 and 1982, they had someone from Merrowdown called Juanita Gill come and live and work at the nursing home, who she called Nita. We have since shared lots of information, including pictures of Bill and of Bill and Juanita's father and mother. She says Juanita was the spitting image of her mum! It appears that Juanita went back to Merrowdown following working at Hatherley House.

I have also been able to use Google maps to plot the walking route from the old coach station in Cheltenham (closed 1984) to Hatherley House which still exists. It is the exact route that Bill led me when we visited, until he could no longer recognize the road layout.

Unfortunately the trail goes cold from there. Knowing Bill as I do, and with the information received regarding Juanita, I would imagine that due to learning disabilities they weren't able to remain in contact as time went on.

As mentioned, Bill's perception of time passed isn't likely the reality. He has said that he thought that the last time he saw Juanita was maybe around 10 years ago. Based on the information I have gathered, and the two stories fitting together, I think it's more likely that Bill and Juanita haven't seen each other for around 40+ years.

It appears there are no records of marriage or death for Juanita, so we are confident that her name remains the same and that she is still alive.

I have tried all sorts of searches online, agencies etc. Understandably confidentiality is an issue with some avenues.

I am in the process of submitting an application to the Salvation Army Family Tracing service, and am hopeful they may be able to help. But I thought I would try posting here with the info I have.

Any leads, thoughts or information would be greatly appreciated!