Military Chat
Welcome to the Genes Reunited community boards!
The Genes Reunited community is made up of millions of people with similar interests. Discover your family history and make life long friends along the way.
You will find a close knit but welcoming group of keen genealogists all prepared to offer advice and help to new members.
And it's not all serious business. The boards are often a place to relax and be entertained by all kinds of subjects.
The Genes community will go out of their way to help you, so don't be shy about asking for help.
Quick Search
Single word search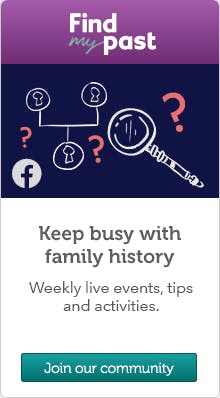 Icons
New posts
No new posts
Thread closed
Stickied, new posts
Stickied, no new posts
Royal Artillary
Profile
Posted by
Options
Post Date

Mary
Report
9 Sep 2015 11:46

Trying to trace my Irish Great Gandad he was in the Royal Artillary
when he married in Leith Scotland in 1877. How would I trace his military record?

MarieCeleste
Report
9 Sep 2015 13:34

Hello Mary. If you give us his name and when/where he was born we'll see if we can help you get started. Did the marriage record give his rank at that time?

Cynthia
Report
11 Sep 2015 11:16

Welcome to the Community Boards Mary.



(I'll let Mary know how to find her replies) :-)

Researching:
ADVICE: Click on 'My Threads' over on the left to find your replies. Please respond to your replies by typing in the Add Reply box at the bottom of the page. Enjoy!

Mary
Report
13 Sep 2015 11:02

Hi Cynthia, Thank you for replying to my message. My great grandfathers name was James Sullivan b.1846 I believe County Cork in Ireland. His marriage licence says Private Royal Artillary.He was married in1877 to Ellen Mills from Leith Edinburgh.

KathleenBell
Report
13 Sep 2015 11:27

I can't find him on Findmypast's military records. Does his marriage licence give his army number by any chance?

Kath. x

Mary
Report
14 Sep 2015 00:02

Hi Kath - No no rank number

AustinQ
Report
14 Sep 2015 09:00

I think this is him- on Janes (his daughter's) birth certificate (Glasgow 1879) he is listed as a Gunner in the Royal Artillery- which fits with his discharge in 1882. I can't read some of the record but I don't think it mentions his marriage- although he is in the right places at the right time: (And I notice he is not listed on the 1881 census with Helen/Ellen- she is listed as unmarried, living with her children and parents). The original service record is on Find My Past.

British Army Service Records 1760-1915 Transcription
Name(s) JAMES SULLIVAN
Birth year 1843
Birth parish ST PETERS
Birth county CORK
Birth country IRELAND
Service number 13221
Rank GUNNER
Document Type Discharge
Attestation 23rd March 1861
Attestation age years 18
Discharge Corps O BATTERY BATTALION 2ND BRIGADE Royal Artillery
Discharge service number 13221
Series WO97 chelsea pensioners british army service records 1760-1913
Box 1838
Box Record Number 90

The record has him born in Saint Peters, Cork. He enlisted in Woolwich to the Royal Artillery in 1861 for a period of 12 years, but re-engaged at Bangalore for a further term. The record shows that in 1876 he was in Leith and 1877 Glasgow. His next of kin is given as Mother, Jane from Inniskillen. It is quite a lengthy file and contains information on illnesses and where/ when he served.
-------------------------------------------------------------------

Helen/Ellen in 1881:

1881 England, Wales & Scotland Census Transcription
3, St Andrews Lane, South Leith, Midlothian, Scotland

John Mills Head Married Male 62 1819 Dock Labourer Ireland
Bridget Mills Wife Married Female 47 1834 - Ireland
Helen Mills Daughter Unmarried Female 23 1858 Washerwoman Leith, Midlothian,
Jane Mills Daughter Unmarried Female 18 1863 General Servant Domestic Leith, Midlothian,
William Mills Son - Male 9 1872 Scholar Leith, Midlothian, Scotland
Kate Mills Daughter - Female 13 1868 Scholar Leith, Midlothian, Scotland
Jane Sullivan Granddaughter - Female 2 1879 - Glasgow, Lanarkshire, Scotland
James Sullivan Grandson - Male 0 1881 - Glasgow, Lanarkshire, Scotland
----------------------------------------------------------------------------

James in 1881:

Name: James Sullivan
Age: 36
Estimated birth year: abt 1845
Gender: Male
Where born: Ireland
Civil Parish: Woolwich
County/Island: London
Street address: "Royal Artillery Barracks" Woolwich
Marital Status: Married
Occupation: Gunner Royal Artillery
Registration district: Woolwich
Sub registration district: Woolwich Dockyard
ED, institution, or vessel: Royal Artillery Barracks 3
Piece: 745 Folio: 68 Page Number: 10
-----------------------------------------------------------------

On his marriage, James gives his mother as Bridget Henwright, yet on his service record his next of kin is Mother- Jane- despite this, I still think it's the correct record: See below for explanation...


AustinQ
Report
14 Sep 2015 11:30

On James Discharge papers he gives his intended address on discharge as 50 Becketts Street, Camberwell, Surrey. This is where a possible brother Eugene was living:

1881 England, Wales & Scotland Census Transcription
50, Beckett Street, Camberwell, London, England

Eugene Sullivan Head Married Male 30 1851 Gen Lab Cork, Cork, Ireland
Hannah Sullivan Wife Married Female 27 1854 Laundress Camberwell, Surrey,
Daniel Sullivan Son Single Male 7 1874 Scholar Camberwell, Surrey, England
Mary Sullivan Daughter Single Female 6 1875 Scholar Camberwell, Surrey,
Anne Sullivan Daughter Single Female 2 1879 - Camberwell, Surrey, England
Ellen Sullivan Daughter Single Female 0 1881 - Camberwell, Surrey, England
------------------------------------------------------

If we follow Eugene back to the 1871 we see he is with his parents BRIDGET and Patrick (matching the parents listed on James marriage):

1871 England, Wales & Scotland Census Transcription
Bachelors Hall, Camberwell, London, England

Patrick Sullivan Head - Male 60 1811 - Ireland
Bridget Sullivan Wife - Female 57 1814 - Ireland
Eugene Sullivan Son - Male 19 1852 - Ireland
Bridget Sullivan Daughter - Female 16 1855 - Ireland
------------------------------------------------------------------------


Eringobragh1916
Report
14 Sep 2015 12:26

Excellent finding AustinQ...!

I have looked a the "Parish" of St Peter Co.Cork where James' record states he was born and the RC Church records would be for St Peter and Paul...using the names Patrick Sullivan and Bridget Henwright/Enwright have found the following Baptisms for that couple....
Patrick: 27 December 1840
Cornelious : 13 August 1843
Nicholas : 5May 1846
Bridget : 8 August 1852

I haven't found a James to correspond but there is a big gap between Nicholas and Bridget....The Baptism of Cornelious above 1843 shows James Birthdate to be incorrect if it is the same family...
Its puzzling James states his mothers name to be Jane and address as Inniskillin
I wonder if this has been written incorrectly and could be Enniskeen...

Mary
Report
14 Sep 2015 12:57

Hi - Thank you so so much! I knew James's parents were Bridget and Patrick but that's as far as I got I even visited Dublins record office but could not find anything on James or Bridget Henwright only that she was born in C.Kerry but still wasn't sure if it was the right one.I am so over the moon with this information very much appreciated - Mary

Eringobragh1916
Report
14 Sep 2015 13:23

Mary...I was going to suggest that Enwright /Henwright name was from the Co Kerry..I did find a Wm Sullivan marriage to a Brid.Enwright but then wasn't really looking as such..! Will have a further search around to find a possible marriage and/or children....

AustinQ
Report
14 Sep 2015 13:51

I think that many of the parish records held at Dublin Records office were destroyed during fires in 1922 so may not exist.

On the baptism of Patrick Sullivan 1840 Godparents were ABIGAIL ENRIGHT and Pat Collins.

On the baptism of Cornelius Sullivan in 1843 Godparents were DANIEL ENRIGHT and Patrick Shea

Perhaps Daniel and Abigail were siblings/ relatives of Bridget?

An Abigail Enright married Daniel Dempsey on 16th Jan 1842 KINALEA (TRACTON ABBEY) (year is mistranscribed on irishgenealogy as 1872)


Eringobragh1916
Report
14 Sep 2015 16:45

AustinQ..That applied mainly to the Non Catholic Docs.The RC ones by and large survived having been kept within the individual parishes...

The Enright surname was found mainly in the Co Kerry although It is a name I was surprised to find...must have a search and find where it actually originated from...

EDIT.....Showing "Enright."....Thanks AustinQ...


AustinQ
Report
14 Sep 2015 16:50

Ahh.. I hadn't realised, thanks for that Eringobragh, my knowledge of Irish Records is very limited.

If you apply variations to the name there are many more Enright/ Enwright/ Henwright

Bridget appears as Enright (no W) on the baptism for Cornelius and Patrick.

Eringobragh1916
Report
14 Sep 2015 21:16

AustinQ...Irish Roman Catholic Records can be found at either of these sites...The first is the actual registers...only released a couple of months ago. They are Free.

Both are excellent ..The Registers are a dream but you need to know which Parish you are looking at ..that in itself isn't as straightforward as it may seem !!!
I think I may have added the "W" in error..!!

http://registers.nli.ie/


http://www.irishgenealogy.ie


Eringobragh1916
Report
15 Sep 2015 09:24

Mary Just for ref.

Eugene Sullivan married Joanna Flynn daughter of James and Mary Flynn who were living 25 Beckett St. Camberwell (1881 Census)..probably there earlier but I don't have access to confirm..



Joanna Flynn

England and Wales Marriage Registration Index

Name Joanna Flynn
Event Type Marriage
Registration Quarter Apr-May-Jun
Registration Year 1873
Registration District Lambeth
County London
Event Place Lambeth, London, England
Volume 1D
Page 770
Line Number 342

Marriage corresponds with Eugene Sullivan.



Mary
Report
16 Sep 2015 11:18

Hi - Its taken me years to try and find the information that you have given me in one day! cant thank you enough -Mary

Eringobragh1916
Report
16 Sep 2015 11:36

Mary..My only concern is that we have the correct family/extended family for James..!!
I cannot understand why he would put his mothers name as Jane and address Innis/Ennis...on his Military docs. but I have no access to look at them in depth

What happened to his family in Scotland...?

.

Mary
Report
17 Sep 2015 09:46

Hi Eringobragh1916 and AustinQ - James Sullivan and Helen (Ellen) nee Mills settled in Leith Edinbugh and had a large family including Mary Sullivan b.1895 she was my grandmother. You are welcome to view my family tree - Mary



Eringobragh1916
Report
17 Sep 2015 20:05

Mary ...Have you followed Ellens family back ?

I am wondering about Eugene Sullivan and if he was the son of James Sullivan and Brid Enright or was there another Eugene Sullivan living Camberwell..the reason I mention this is I would have expected the family to follow traditional Irish naming pattern and none of Eugene's children other than Mary (Maternal grandmother) seem to fit...