Military Chat
Welcome to the Genes Reunited community boards!
The Genes Reunited community is made up of millions of people with similar interests. Discover your family history and make life long friends along the way.
You will find a close knit but welcoming group of keen genealogists all prepared to offer advice and help to new members.
And it's not all serious business. The boards are often a place to relax and be entertained by all kinds of subjects.
The Genes community will go out of their way to help you, so don't be shy about asking for help.
Quick Search
Single word search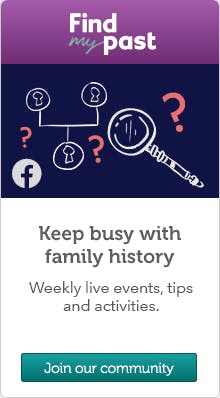 Icons
New posts
No new posts
Thread closed
Stickied, new posts
Stickied, no new posts
Coundon men in www1
Profile
Posted by
Options
Post Date

TRACY
Report
8 Mar 2019 21:35

Hi I am trying to find out which regiment my Grandfather served with. He was a butcher in Coundon Co Durham and his name was Benjamin Race Thompson.
Any help or advice would be appreciated.
Thanks Tracy

+++DetEcTive+++
Report
8 Mar 2019 23:52

Although about 70% of full WW1 records were destroyed in WW2 bombing, the medal cards survived.

Unless there were two men of the same name, this might be his

UK, WWI Service Medal and Award Rolls, 1914-1920
Benjamin Race Thompson
Military Year: 1914-1915
Rank: Private
Medal Awarded: 1914-15 Star
Regiment or Corps: East Yorkshire Regiment
Regimental Number: 13415

He disembarked in to a theatre of war on 9 Sep 1915.

A different version -
Benjamin R Thompson
Regiment or Corps: East Yorkshire Regiment
Regimental Number: 13415

The image says he was also awarded the British & Victory medals.
He must have been wounded at some point as the image says he was on the Silver War Badge list.

Researching:
Dormant member as from 20 Sep 2019 . Click on my board name to send a message

+++DetEcTive+++
Report
9 Mar 2019 00:20

Is this your Grandfather or a different person??

Probate

Benjamin Race Thompson
Death Date: 10 Apr 1960
Death Place: Yorkshire, York, England
Probate Date: 5 May 1960
Probate Registry: York, England

Of Rigg House Farm Sutton Thirsk Yorkshire. Probate to John Thomas Thompson agricultural contractor. Effects £1907 14s

Death record giving age at death
Deaths Jun 1960 (>99%)
THOMPSON Benjamin R 72 Thirsk 1b 875

Matches up with a birth reg 1888 which is presumably your grandfather

Benjamin Race Thompson
Registration Year: 1888
Registration Quarter: Apr-May-Jun
Registration district: Auckland
Volume: 10a
Page: 217



Researching:
Dormant member as from 20 Sep 2019 . Click on my board name to send a message

+++DetEcTive+++
Report
9 Mar 2019 00:27

1939 Register

Thompson Household (5 People)
Rigg House Farm , Thirsk R.D., Yorkshire (North Riding), England


FIRST NAME(S) LAST NAME(S) DOB SEX OCCUPATION MARITAL STATUS SCHEDULE SCHEDULE SUB NUMBER
Benjamin R Thompson 10 May 1888 Male Farmer Mixed Married 3 1
Ada Thompson 14 Apr 1893 Female Unpaid Domestic Duties Married 3 2
Sorry, this record is officially closed. Check if you can open a closed record.
Robert J Thompson 11 Dec 1927 Male At School Single 3 4
John T Thompson 09 Jul 1931 Male At School Single 3 5


Researching:
Dormant member as from 20 Sep 2019 . Click on my board name to send a message

ErikaH
Report
9 Mar 2019 11:34

Name: Benjamin Race Thompson
Publication Year: 1914
Residence Place: Durham, England
Occupation: Butcher

Name: Benjamin R Thompson
Registration Date: Jul-Aug-Sep 1924
Registration district: Weardale
Inferred County: Durham
Spouse: Ada Forster
Volume Number: 10a
Page Number: 580

ErikaH
Report
9 Mar 2019 12:49

1911

4 Victoria Terrace Coundon Bp Auckland, Coundon, Durham, England


Benjamin Race Thompson Head Single Male 22 1889 Butcher Durham Coundon
Ethel Thompson Sister Single Female 19 1892 Assisting In Business Durham Coundon
Ethel Annie Roxborough Servant Single Female 24 1887 General Servant Domestic Durham Eldon

ArgyllGran
Report
9 Mar 2019 13:04


Benjamin Thompson
in the 1901 England Census
Name: Benjamin Thompson
Age: 12
Estimated birth year: abt 1889
Relation to Head: Son
Gender: Male
Father: Robert Thompson
Mother: Francis Thompson
Birth Place: Coundon, Durham, England
Civil Parish: Coundon
Ecclesiastical parish: Coundon St James
Town: Coundon
County/Island: Durham
Country: England
Street address:
Occupation:
Registration district: Auckland
Sub-registration district: Bishop Auckland
ED, institution, or vessel: 35
Neighbors:
Piece: 4648
Folio: 70
Page Number: 35
Household schedule number: 208
Household Members:
Name Age
Robert Thompson 60 - butcher
Francis Thompson 42 - wife
Benjamin Thompson 12
Ethel Thompson 9
Thomas M Rain 19 - son-in-law, butcher (slaughterhouse)
Elizabeth Watson 17 - servant

Is it only his military history you want to know about, Tracy?
Is it worth our while delving further back into his ancestry, or do you have all that info already?

Researching:


+++DetEcTive+++
Report
11 Mar 2019 10:25

As Tracey is a new member, PM sent asking her to return to the thread & to acknowledge posts.

Researching:
Dormant member as from 20 Sep 2019 . Click on my board name to send a message

TRACY
Report
12 Mar 2019 10:37

Hi thank you all for your help, it is much appreciated. I had not thought about him being in an East Yorks regiment so have been barking up the wrong tree.
I would now like to research where he fought and ideas of how to go about that would be appreciated. Many thanks Tracy

ErikaH
Report
12 Mar 2019 13:31

As his personal records haven't survived, the only hope you have is to research the unit's movements.

You've got a starting point with the info that he embarked on 9/9/1915.

+++DetEcTive+++
Report
12 Mar 2019 14:12

Link to website The Long, Long Trail

https://tinyurl.com/yxww4ezd

The main problem you have is that you don't know which battalion he was in, whether he was sent to bolster a particular company's numbers or if it was the first overseas posting.

Researching:
Dormant member as from 20 Sep 2019 . Click on my board name to send a message

mgnv
Report
8 May 2019 20:10

As DetEcTive says, he could have gone out in a replacement draft to one of these 5 bns

1st Battalion Part of 18th Brigade, 6th Division.
Landed at St Nazaire on 10 September 1914.

2nd Battalion attached to 83rd Brigade, 28th Division.
16 January 1915 : landed at Le Havre.

1/4th Battalion Part of York and Durham Brigade, Northumbrian Division.
17 April 1915 : landed at Boulogne.
12 May 1915 : formation became 150th Brigade, 50th (Northumbrian) Division.

7th (Service) Battalion came under orders of 50th Brigade, 17th (Northern) Division.
14 July 1915 : landed at Boulogne.

If the theatre of war is not specified, then there is also:

6th (Service) Battalion (Pioneers) came under orders of 32nd Brigade, 11th (Northern) Division.
1 July 1915 : sailed from Avonmouth for Gallipoli via Mudros and landed at Suvla Bay 7 August 1915.


However, it seems much more likely that he was one of the 1000 men who landed on 9/9/1915 as the 8th bn.

8th (Service) Battalion
Formed at Beverley on 22 September 1914 as part of K3 and came under orders of 62nd Brigade, 21st Division.
9 September 1915 : landed at Boulogne.
16 November 1915 : transferred to 8th Brigade, 3rd Division.
17 February 1918 : disbanded in France. Troops formed 10th Entrenching Bn with men from 12th West Yorks.
http://www.longlongtrail.co.uk/army/regiments-and-corps/the-british-infantry-regiments-of-1914-1918/east-yorkshire-regiment/

Advanced parties [of 21 Div embarking] for France began on 2 September and the main body began to cross the Channel five days later. Units moved to assemble near Tilques, completing concentration on 13 September. The Division's first experience was truly appalling. Having been in France for only a few days, lengthy forced marches brought it into the reserve for the British assault at Loos. GHQ planning left it too far behind to be a useful reinforcement on the first day, but it was sent into action on 26 September, whereupon it suffered over 3,800 casualties for very little gain.
http://www.longlongtrail.co.uk/army/order-of-battle-of-divisions/21st-division/

http://www.longlongtrail.co.uk/army/order-of-battle-of-divisions/3rd-division/

**********************************

A typical British infantry Division had 15000-18000 men.
Its main strength was 3 infantry brigades, but there were also 2 RFA brigades, each consisting of almost 800 men organized into 3 batteries of 18-pdr guns and 1 batt of 4.5" or 6" howitzers.
A standard battery had 6 guns, but some initially had just 4. Howitzers fired high trajectory shots, so could hit enemy gins hiding behind hills and ridges.
The divisional RFA also had its own ammunition column and staffed the trench mortar companies
The RAMC provided 3 Field Ambulance Coys and a sanitation coy.
The RAVC provided a vetenary section to look after the (mostly) draught horses and mules.
The RE provided 3 field coys and a signals coy.
The division usually had a battalion or 2 of regular infantry, maybe converted into pioneer troops, and initially had a squadron of mounted troops (effectively a coy), and maybe a coy of cyclist troops.
The ASC provided an employment coy and the Divisional Supply Column who were responsible for bringing supplies and food from the depot or railhead to the frontline.
The ASC would later take over the pioneer bns, and form entrenching bns.
An inf bde initially had 4 inf bns, a trench mortar battery and an MG coy.
The MGC provided a MG coy to each inf bde. Later, the coys were withdrawn into a divisional mgC bn

A battalion had 1007 men of all ranks. An infantry company had 227 all ranks.
A bn had 4 coys, and an HQ which included signalers, stretcher bearers, and drivers for the bn transport.
NB Other coys could be larger, e.g., RE field coys.

In the winter of 1917/18, it was realized that reinforcements were too few for the expected German spring offensive - Germany had knocked Russia out of the war, and could bring its eastern army to the western front.
Most British bns were understrength, sometimes severely so, due to casualties.
It was decided that one quarter of the battalions would be broken up, and their soldiers sent as replacements to the surviving bns
This applied throughout the British Army, except in the Guards Div.
It also applied to the South African bde and in the 2 ANZAc corps to the Oz divisions
The NZ division was unusual, having 4 bdes of 4 bns each. It chose to break up its 4th bde and keep 3 4-bn bdes.
The Canadians were also different - they had 4 divisions with the Canadian Corps in France, and a recently completed 5th division in England.
They had already broken up 2 bns from 5 Can Div (one was replaced by 12/2/1918). Having 45 bns in 5 divs would mean forming a second corps, so it was decided to break up the 5th div and use its 11 inf bns to reinforce the existing 48 bns.
There was some men left over, so they got Haig's permission to overstrength its 48 bns by 100 men each.
The 5 Can Div's artillery arm had gone out in 1917 - May, I think - along with the Div Ammo Col, plus detachments from the 5 coy signalers and the divisional supply train.
The trench mortar men were sent into reserve at the same time.
Conscription was passed later in Canada - the first draft had to report by 11/11/1917 and, with 6 m training, it's not surprising that Canada's first conscript KIA happened in June 1918.


mgnv
Report
8 May 2019 20:23


UK, WWI War Diaries (France, Belgium and Germany), 1914-1920

Go to:
https://www.ancestry.co.uk/search/collections/ukwardiarieswwi/

and browse (in the right column of page) selecting:

Various infantry brigades, 3rd (or 21st) division
and then the division gets lists of piece numbers, viz

Piece Description
Piece 2151/1-4: 62 Infantry Brigade: Headquarters (1915 Sep - 1916 Dec)
Piece 1416/1-4: 8 Infantry Brigade: Headquarters (1914 Aug - 1916 Dec)
Piece 1417/1-3: 8 Infantry Brigade: Headquarters (1917 Jan - Aug)
Piece 1418/1-4: 8 Infantry Brigade: Headquarters (1917 Sep - Dec)
Piece 1419/1-5: 8 Infantry Brigade: Headquarters (1918 Jan - Aug)
Piece 1424: 8 Infantry Brigade (1914 - 1918)
plus others

Above are the relevant pieces - you'll want to go forward in 2151 and 1419 as they cease to be relevant later on. Also, 1n 1424, you only want the 2nd (of 4) piece.
I presonally find it slightly quicker to work backwards.

If you have an Ancestry sub, then you've no worries.
Otherwise, check if your local library has a sub.
The alternative is to wait and see if Ancestry offers a free weekend for these records.
They often do around Remembrance Day, but 11/11/2019 is 6 m off.
Sign up as a free member (not the free trial) at
https://www.ancestry.co.uk and check that ypu want their emails - you don't want to miss a freebie.

Also do the same at https://www.ancestry.com since memorial day is coming up.
Memorial Day is a federal holiday in the United States of America that is observed on the last Monday of May [so 27 May 2019]
Memorial Day is a day of remembrance for those who have died in military service for the United States.

If you are downloading during a freebie, don't stop to read stuff.
Periodically check that, say, 43112_2821_0-00601.jpg thru 43112_2821_0-00700.jpg does contain 100 records.

Incidentally, if I look at the downloaded files, and I choose a view-details option, I can click on the first file listed above, hold the shift down and then click on the 20th file, I will highlight the fitst 20 files.
Now, right-clicking on this block, I can send it to a zip-compressed folder (of 13.2MB size).
I could repeat this to get all 100 files into 5 zipped folders, and then send 5 emails with an attachment from a library to my home email addy.



malyon
Report
14 Jun 2019 12:21

Name:
Benjamin Race Thompson
Alias:
RACE
Event Type:
Census
Event Date:
1911
Event Place:
Coundon, Coundon Bp Auckland, Durham, England
County:
Durham
Parish:
Coundon
Sub-District:
Bishop Auckland
Sub-District Number:
1
District Number:
547
Enumeration District:
23
Registration District:
Auckland
Gender:
Male
Age:
22
Marital Status:
SINGLE
Marital Status:
SINGLE
Occupation:
BUTCHER
Number in Family:
3
Birth Year (Estimated):
1889
Birthplace:
Coundon, Durham
Relationship to Head of Household:
Head
Schedule Type:
241
Page Number:
1
Registration Number:
RG14
Piece/Folio:
479
Affiliate Record Identifier:
GBC/1911/RG14/29725/0479/1
Household Role Sex Age Birthplace
Benjamin Race Thompson Head Male 22 Coundon, Durham
Ethel Thompson Sister Female 19 Coundon, Durham
Ethel Annie Roxborough Servant Female 24 Eldon, Durham

ErikaH
Report
16 Jun 2019 18:01

Posted that on MARCH 9th!!!