Quizzes and Games
Welcome to the Genes Reunited community boards!
The Genes Reunited community is made up of millions of people with similar interests. Discover your family history and make life long friends along the way.
You will find a close knit but welcoming group of keen genealogists all prepared to offer advice and help to new members.
And it's not all serious business. The boards are often a place to relax and be entertained by all kinds of subjects.
The Genes community will go out of their way to help you, so don't be shy about asking for help.
Quick Search
Single word search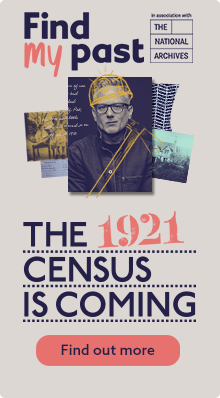 Icons
New posts
No new posts
Thread closed
Stickied, new posts
Stickied, no new posts
Can you add to this without using any 'e's
Profile
Posted by
Options
Post Date

JemimaFawr
Report
9 Apr 2015 22:34

Hi Myk :-)

Sorry you r not snoozing :-( :-( It's not good as you watch clock ticking away and still cannot drop off, or as is my way, snoozing, waking, loo, snoozing waking and loo again! all night long!

OR... snoozy but much too hot to drop off, as is way of things for a woman at an obvious point, starting changing to b old!!!!! :-0 :-0 :-0

OK... too much information!:-0 :-D :-D

And waking b4 light and giving up on snoozing and so ironing and watching Pobol Y Cwm (Cymru's Soap) or Coronation Road from Sky Box. :-D


But obviously, snoozing for you is difficult cos of sad things Myk. I am hoping this will b improving for you soon :-)


I also am hoping Colourful Digits is ok :-)
~~~~~~~~~~ to Jan if looking in :-) :-) :-)

Mike *
Report
9 Apr 2015 02:19

Thanks Mima. I'll drink to that.

Missing our Colourful Digits from this yarn.
Hoping all is OK.
Good to chat and talk stuff through.

No 40 winks for I tonight.
Wish I could drift off but no such luck.

JemimaFawr
Report
5 Apr 2015 19:30

It is hard Myk :-(

At point of lots to do and sort out, it distracts you from it all.

At point of family and pals slowly going back to normality, and all things to do with solicitor having a conclussion, at that point is most difficult in my opinion. Distractions are away, and you r on your own with thoughts and thinking back.

You had a good bond with your Mum, Myk. I can pick up on this by how you would talk about your Mum, and this will comfort you in days coming :-)

Mike *
Report
5 Apr 2015 19:15

Past month was tough.
Now just going through motions on occasion.
Lots to do with solicitors and such so that should distract a bit.
Had many visitors staying so now that all away I should start to sort things out in my mind.
Hard to adapt isn't it?

Thanks for asking.

JemimaFawr
Report
5 Apr 2015 10:04

Thank you, my pal Myk :-)

My post was a bit "tung:-S in fatty bits of front of top of body!" :-D and aiming for dramatic! :-D :-D :-D

Sorry if I was causing you to worry for I, Myk.

Grandson has just grown up, too rapidly for I, and at occasions it is causing I to b sad, cos I miss my small boy!

His pals r not bad boys, thankfully. But I still worry. I'm a Worrywart! :-D :-D


How r you now Myk? :-) and how's your family doing? :-)

Mike *
Report
5 Apr 2015 00:53

Oh Mima that is so sad.
Clocks tick away childish charm but not good if causing worry to folks who can do without such rubbish.
Must b awfully worrying for you.
Walking roads at night with wrong pals is not good. Can turn into worst kind of conclusion.
Why buck stops with you ?
Can his mum not sort it ?



JemimaFawr
Report
4 Apr 2015 23:10

Who wants a Grandson? Going chirp! :-S :-D :-D :-D

At what point do small boys who r always good as gold, and <3 Granny, abruptly turn into big boys who do not monitor your words and r arguing back always?

CONTRARY! :-|

Also! Not in own snoozing bunks, all cosy and warm, but now walking roads at night with pals and up to no good, that is to say, not so good as at occasion of small boyhood anyway!

If only clocks would go back! I miss that small boy- to what location did small G.Son go? :-( ;-) ;-) ;-) :-D :-D

JemimaFawr
Report
23 Mar 2015 08:19

It is good to catch sight of you Myk :-)

Thinking of you x



Mike *
Report
23 Mar 2015 00:10

Thank you for your kind words.

I'm ok , just sad

Graham
Report
18 Mar 2015 22:08

So sorry for your loss :-(

JemimaFawr
Report
18 Mar 2015 21:58

I'm so sorry to catch sound of this Myk.

I am dispatching a PM now.


Mike *
Report
18 Mar 2015 21:48

Afraid not doing too good at mo.
Lost my mum last night following long fight on mum's part.
Not a shock to all of us but it still hurts.
Poor lady now out of pain so that's a consolation.

92 nxt birthday so thankful to hav had mum with us for so long.
Sorry this is a sad post but you did ask !

Will try to lift spirits in coming months. ('prapps a glass or two )

As for 6 nations, I'm afraid I'm not in mood to join in rally cry for our lads this Saturday.
Pity as I normally look forward to it all.
Good luck to your lads ... Hoping it's a good fight.

By for now
Myk (orphan ) :-S

JemimaFawr
Report
17 Mar 2015 12:16

Thank You Myk :-) for your good wishes for my constitution probs.

Also thanks for your good sportsmanship in your salutations of Cymru v Irish match!

Both Lands' boys did soooo good!
But Cymru's playing took roof off our living habitat! :-D :-D :-D

Pity that Cymru did not start Six Nations Championship off so good though!
Cymru has to thrash Italy on Saturday to gain opportunity to win Championship now, as your XV has many Points Variation atop of Cymru, and so too Irish!

Mima was at Cymru Grown-up Girls v Irish Grown-up Girls Six Nations Rugby Match last Sunday Myk:-D :-D :-D
Cymru Grown-up Girls lost!:-( :-D


I am hoping that all is good with you and your family Myk :-)

What land is going to gain thrill of your visit in forthcoming months Myk?
Any plans afoot?


I am hoping that Jan Colourful Digits is good too :-)

MIMA :-) :-) :-)

Mike *
Report
15 Mar 2015 01:01

Myk is ok thanks Mima

Must say I thought that Cymru / Irish confrontation was brilliant to watch.
You did us a favour in a way.
Our lot, disappointing, win or no win.

Hoping that your family drama is not too drastic and that you rally round with your constitution.

JemimaFawr
Report
21 Feb 2015 21:32

Hi Pals :-)

Sorry not visited this yarn for a short occasion, but I am having a complication with my constitution nowadays and also a big family drama.

It is profoundly cold in my part of Cymru today, but sunny.

I am hoping that Jan and Myk r ok :-)

Mima :-) :-) :-)

Mike *
Report
16 Feb 2015 00:56

Got your drift colourful digits.
Actually had my sunnys on today which was good.
Not long to go now till Spring
Soon will b complaining it's too hot !



Greenfingers
Report
9 Feb 2015 18:18

Glad to b not on own ....how hard it all is. Sun today, but misty too,damp and unhappy I am I unhappy that is not damp !!!

Researching:
Picture is Queen of the Night Helleborus

Mike *
Report
8 Feb 2015 01:40

Myma I know your pain.
I know that situation on similar occasions that our lads lost on own turf.

I'm afraid I couldn't stop whooping at final play and almost spilt my brandy as I did jump into air.

What a match !

JemimaFawr
Report
7 Feb 2015 00:16

Hi Pals :-)

I'm wanting consolation today!

This is as my rugby boys that play for Cymru lost against an opposing XV that got mighty in part 2 of match! :-( :-(

I know that I will not b having much consolation on this yarn, as Myk is a fan of that mighty XV that was basis of Cymru's humiliation :-( :-( :-( :-(

I can audibly catch Myk's gloating "hip, hip hooray" from up in Lancs right now! ;-) :-D

Congratulations Myk. Your XV did good :-)

Cymru will fight again soon :-D :-D :-D :-D :-D

Mike *
Report
6 Feb 2015 19:12

Just good that you visit post on occasion.
Not just you who lacks inspiration.
but it aids brain to wrack for words without that awful symbol.

Crosswords too can aid brain to stay ticking.
Must not allow us to go ga-ga for lack of stimulation.