Quizzes and Games
Welcome to the Genes Reunited community boards!
The Genes Reunited community is made up of millions of people with similar interests. Discover your family history and make life long friends along the way.
You will find a close knit but welcoming group of keen genealogists all prepared to offer advice and help to new members.
And it's not all serious business. The boards are often a place to relax and be entertained by all kinds of subjects.
The Genes community will go out of their way to help you, so don't be shy about asking for help.
Quick Search
Single word search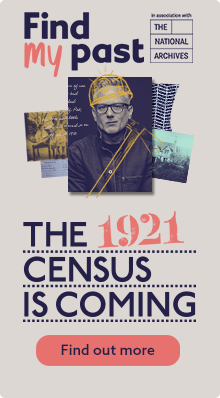 Icons
New posts
No new posts
Thread closed
Stickied, new posts
Stickied, no new posts
Can you add to this without using any 'e's
Profile
Posted by
Options
Post Date

Greenfingers
Report
9 Aug 2014 16:01

V.Good..so good to b back,

Researching:
Picture is Queen of the Night Helleborus

JemimaFawr
Report
9 Aug 2014 13:48

BALLAD OF URNY ......... Part 3

Now Urny darts into Riddly Road, his gold top in his hand,
Urn said, "If you want to marry Mau, you'll fight just like a man.":-| :-| :-|
"Us two should now play cards for Mau!" said Bob with words that stank,
"And just to make it gripping, why not a shilling on t'flank ;-)" (Bob was from Yorks!)

Now Urn did drag him from his van and blazing mad in sun,
Two maniacs stood glaring and Bad Bob did draw his bun.:-| :-| :-| :-|
But Urny was too quick for Bob, No way could Urny miss,
A strawb'ry-flavour yogurt hit it spinning from his fist.

Now Mau, in running panic, to part silly boys did try, :-0 :-0
But Urny would not mind Mau, and so a rock bun hit him in his i !
As Urn looks up in pain and shock at Bad Bob full of lust,
A syrup tart caught him in his <3 and Urny's tooth bit dust.:-( :-( :-(

Poor Urny :-( :-( :-( :-( :-( :-( (Urnyyyyyyyyyyyy)

Who drohv a most fast Milkcart in North Lancs.

STAY ON THIS YARN FOR LAST PART (4) OF URNY

Mike *
Report
9 Aug 2014 01:12

Stumping match a wash out today.
But golf still going strong.

Lots of cash ran through my digits today.. shopping, booking flights and paying bills.
Also mum having nu fangs which will cost an arm and a limb.

Not to worry... it's only cash !

JemimaFawr
Report
8 Aug 2014 22:50

Hi Jan Colourful Digits :-) :-)

Glad you and Myk r both having fun with Urny!!!!

Part 3 will b along soon :-D

Mike *
Report
8 Aug 2014 20:21

WahHay.... Colourful Digits is back :-D

Nothing drastic you should know about.
Much similar to b4
'Mima hit many things containing plonk.
Allan still causing havoc with miscounting and cross posting.
GP missing symbols and hiding so as not to incur wrath.

I ? ... I'm packing for flight in 4 days, so can I count on you C.D. to crack whip during my holiday.?
Don't want chaos again similar to days I was abandoning my post and going to Cymru .


Greenfingers
Report
8 Aug 2014 15:42

Urny was good, two lots of nuptuals dun now, should not hav any now till 2015. Wos missing chat with you all,,,,how r you ....sunny thing in sky must stay a lot longa luv warmth tho not thunda storms and rain .....

Researching:
Picture is Queen of the Night Helleborus

JemimaFawr
Report
8 Aug 2014 13:47

My long lost Granny is on it's way Myk!

Strong Wind B*rtha :-D :-D

Got to go now. C you anon :-) :-)

Mike *
Report
8 Aug 2014 13:45

Just brilliant 'Mima

Almost chaos just now as I put my Blu-tack on wrong symbol. :-S
That would land I in hot H2o if I didn't spy it b4 I did writing.

Waiting for rain to start in Lancs.
Still warm and sunny but warning on tv of bad stuff on its way.
Hoping warning is wrong.
Don't want bat & ball stumping match to abandon at Old Trafford.

JemimaFawr
Report
8 Aug 2014 13:36

Did you c the bit I just put in Myk?

Mike *
Report
8 Aug 2014 13:34

'Mima I don't know how you do it.
My brain is awash.
I couldn't find so many synonym words .

Up too long last night....zzzzzzzzz too long this morning, must turn in at a mor fitting hour tonight.

JemimaFawr
Report
8 Aug 2014 03:13

BALLAD OF URNY ...Part 2

Mau's idiosyncrasy was to soak in milk, Urn said, "All right, My Mau,"
And following his shift that night, as Urn was loading up to go-
Urn said, "Do you want it Past ur iis? 'Cos Past ur iis is optimum,"
Mau said, "Urn, I will b happy if it fills up past my bosom.":-0 :-0 :-0

That was tickling old Urny, :-D:-D :-D :-D :-D (Urnyyyyyyyyyyy)
......As Urn drohv a most fast Milkcart in North Lancs.


Now Urny had a rival, a villainous no-good man :-| :-| :-|
Known as Big Bad Bob from Bobbington who drohv a Doughman's van.
Bob was tantalising Mau with currant buns and with tasty custard tart,
Voluminosity of Bob's pasty almost caught Mau's <3

Mau did start to swoon at his macaroon! Bob said "If you approach it right ,
I'll bring hot rolls for your morning snack and toasty muffins at night."
Knowing Mau would try his Victoria Sandwich, Bob would win his naughty way,
Cos all poor Urny had for Mau was a pint of milk a day.

Poor Urny :-( :-( :-( :-( :-( (Urnyyyyyyyyyyyyyyy)
......though Urn drohv a most fast Milkcart in North Lancs.

1 lunch hour Bob saw Urny's nag and cart at Mau's front door :-S :-S
It drohv him mad to find it still by Mau's at half past four
And jumping down out from his van, fury making him act silly, :-| :-| :-|
Bob ran across to Urny's cart and didn't half kick his filly :-0 :-0 :-0

Whose name was Sparky, (Sparkyyyyyyyyy)
Who was pulling a fast Milkcart in North Lancs.


Stay on this yarn for Part 3 ;-)

JemimaFawr
Report
8 Aug 2014 01:19

Good Night Myk

zzzzzzzzzzzz soundly :-)

Mike *
Report
8 Aug 2014 01:07

Now that's funny :-D :-D :-D

Drinking my Horlicks so not long off zzzzzz
Didn't do much forty winks last night, was up at 5... dropping now.

Goodnight 'Mima


JemimaFawr
Report
8 Aug 2014 00:24

BALLAD OF POOR URNY ...part 1

You could catch a sound of hoof bumps pound, as racing across ground,
And rumpus of circular gyratory things during spinning 'round and 'round.
And galloping into Shopping Road, his ID upon his torso,
His monica was Urny, and Urny drohv a fast North Milkcart, morso :-S

Now Urny <3 a widow, a lady known as Mau,
Who was solitary in Riddly Road at no. 24.
Folk said Mau was too good for him, Mau was haughty, proud and chic,
But Urny got his cocoa, in that flat, four nights a wk.

Folk shout out Urny,~~~~~~~~~~~~ (Urnyyyyyyyyyyyyyy)
As Urny drohv a most fast Milkcart in North Lancs.

Story following on soon :-D :-D :-D

ORIGINAL SONG LYRICS- Sung by B*nny Hill

https://www.youtube.com/watch?v=8e1xvyTdBZI

JemimaFawr
Report
6 Aug 2014 23:33

Hi Myk :-)

Glad your Mum is in good spirits Myk :-) Hoping that your Mum will b improving daily.

I took Grandgirl 1 (14yrs) and Grandgirl 2 (12yrs) to Cymru's Cultural Gala today.

Now worn out. Sun was shining mostly, And I caught sun and got a pinkish tan :-D :-D

Mike *
Report
6 Aug 2014 21:52

Almost lost my blu-tack for a mo.
Found it on floor.
A bit fluffy now but still works.

Mum in good spirits today so am thankful for that.
Not YOUR kind of spirits though 'Mima ... not alcoholic sort ! :-D

JemimaFawr
Report
6 Aug 2014 11:37

I know Myk :-)
I know your humour now :-D :-D :-D

Back soon :-)

Mike *
Report
6 Aug 2014 01:24

Still drying out.
Did you lot start out as fish.. or ducks ?

Was Noah a local lad and his only way out was to build a craft to sail away?

(only joking with you 'Mima )



JemimaFawr
Report
4 Aug 2014 01:18

Myk is now in Cymru having to don his mac and rainboots :-D :-D :-D

Oh what fun :-D :-D :-D

JemimaFawr
Report
31 Jul 2014 15:13

:-D :-D :-D :-D

I'll pm you Myk- it's on word so I could omit things not to do with story!