Quizzes and Games
Welcome to the Genes Reunited community boards!
The Genes Reunited community is made up of millions of people with similar interests. Discover your family history and make life long friends along the way.
You will find a close knit but welcoming group of keen genealogists all prepared to offer advice and help to new members.
And it's not all serious business. The boards are often a place to relax and be entertained by all kinds of subjects.
The Genes community will go out of their way to help you, so don't be shy about asking for help.
Quick Search
Single word search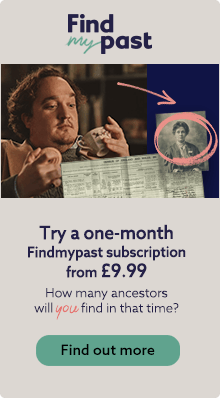 Icons
New posts
No new posts
Thread closed
Stickied, new posts
Stickied, no new posts
Can you add to this without using any 'e's
Profile
Posted by
Options
Post Date

Kathryn
Report
2 Dec 2017 18:21

Hi Mima, hi Myk

R you both looking forward to Christmas ?

JemimaFawr
Report
29 Nov 2017 23:45

Aw Myk! :-(

What a bad bad thing to occur! Poor man! and poor you to c such a horrid thing!
Hoping you had sum fun though b4 bad thing was occurring

Good to c that you r back intact and sound :-)

~~~~~~~ to Kathy :-)

Researching:
Avatar: JEMIMA NICHOLAS' HAT

Kathryn
Report
29 Nov 2017 10:17

Oh Myk how sad
But did you Njoy most of it? What did you visit whilst on holiday?
You must B sorry to cum back to this big chill
Anyway glad to know you R back :-D

Mike *
Report
28 Nov 2017 20:47

Hi Y'all

Suitbag now vacant.

Bit of an odd holiday.
Not all good.
Sunny Sky and hot with good-looking sights .
But saw a man drown right in front of accommodation.
Coast guard did his utmost with CPR but to no avail.
Harrowing.

:-(

JemimaFawr
Report
14 Nov 2017 21:23

Hi Pals :-)

I am trying to pinch a small amount of chronological duration to catch up with my good pals on GR :-)

Thank You Pals for your kind thoughts and words. <3
Knowing that your pals r thinking of you and wishing you ok at duration of big difficult trials is uplifting and comforting.

Myk, thank you so much. On no occasion b4 hav I had joy of b'ing thought of as "inspirational". My gob has had it's smacking .... but in such a good way. Thank You :-)

PS .... any room in your suitbag for moi?
Which situation is having you visit it?

Thankyou Kathy too :-)
Glad you r liking my cat.
It is giving joy to know that following a hard living, it now has comfort in my living accommodation.

He is a silly cat!
If I go into bathroom, it will rush in and jump in bath! Following this straight away, it will turn around and look at moi in a playful way as if to say "Look at I, Mam, I'm in bath and you cannot b pulling I out!".
Until Mam puts tap on that is!!! :-D :-D

https://www.genesreunited.co.uk/keepsafe/asset/details/59837422


I am hoping you r all good and happy :-) :-) :-)

Researching:
Avatar: JEMIMA NICHOLAS' HAT

Kathryn
Report
13 Nov 2017 18:22

You wish! Just moi trying for a laugh :-D

Bobtanian
Report
13 Nov 2017 14:46

must be a story about that!

Researching:
Now that food has replaced sex in my life, I can't even get into my own pants. My Dad's Squadron Patch...IRAE EMMISSARII my Royal Signals poppy

Kathryn
Report
13 Nov 2017 09:11

Can I cum ? :-D

Mike *
Report
13 Nov 2017 01:07

Packing :-D

Kathryn
Report
6 Nov 2017 19:03

Hi Myk r you off again? I think you must AV ants in ur pants

Still it will b good to go to sum warm town in another country
Think of Moi in t'cold

N joy your jaunts :-D

Mike *
Report
6 Nov 2017 02:18

Air around us will soon turn cold and frosty.
Not looking forward to that.
Hoping to miss sum of it but may B a good thought to control auto warmth to cum on daily whilst away so as to not cum back to damp habitat.

Wrap up warm. ;-)

Kathryn
Report
31 Oct 2017 18:21

Hi Myk good to c you r back, not many want to play just now , anyway you N joy your nxt jaunt and fill us in on your r'turn :-)

Mike *
Report
31 Oct 2017 16:33

Hoping all good with Myma.
You r inspirational.

Just passing by as am back from trip abroad... but will be missing again shortly as am going away again for short trip soon.

Don't miss I too much !!
Will b in touch.





Kathryn
Report
21 Oct 2017 19:01

Hi Mima what a tym you ar having its a good job grandson 1 has you to look to

Luv your cat it looks comfy

Big (((((( hugs ))))))) to you all <3 <3

JemimaFawr
Report
15 Oct 2017 19:38

Hi to my good Pals on this yarn that forbids a particular Non-Consonant :-D :-D

Ooooo I am soooooo worn out!
Grandson 1 has had a stay in hospital with ongoing probs. So round clock vigil.
GS1 has a bad psychological malady called Dissociativ* Attack Disord*r which is causing him black outs, fits and such.
Cos of this condition any additional physical probs r having much magnification.

GS1 has had to start living with us again for a tym, and now I am giving living accommodation to a poor cat that GS1 had found and did not want to abandon.
Woman not far away from GS1 was owning it (according to folk in district) and had thrown him out. It was half starving and full of jumping things, so GS1 and following door folk was nourishing it.

Cat is now happy, with jumping things and worms having had banishing doctoring, and is now comfortably good as you can c from my avatar and photo! :-D
https://www.genesreunited.co.uk/keepsafe/asset/details/58669670

Animal Doctor said Cat is about 4/5 and now in good condition apart from a <3 murmur. But food in-taking is now not to b so much cos cat is a small bit fat now:-D

Thanks Pals for your thoughts of worry about moi <3

Researching:
Avatar: JEMIMA NICHOLAS' HAT

Kathryn
Report
15 Oct 2017 18:30

Hi Haribo, it will b good as soon as Mima is back with all things back to normal with family :-)

Haribo
Report
14 Oct 2017 19:54

Hi Pals, what a warm and happy group! You all should pat backs of all folk taking part in this task, a big grin for all ??

Kathryn
Report
8 Oct 2017 18:53

Hi Mima, luv your cat <3 <3

JemimaFawr
Report
8 Oct 2017 02:15

~~~~~~~~~~ Pals :-)

Back asap :-D

Researching:
Avatar: JEMIMA NICHOLAS' HAT

Mike *
Report
6 Oct 2017 20:50

That's not good.
Will post a PM to Myma's inbox.