Suggestions
Welcome to the Genes Reunited community boards!
The Genes Reunited community is made up of millions of people with similar interests. Discover your family history and make life long friends along the way.
You will find a close knit but welcoming group of keen genealogists all prepared to offer advice and help to new members.
And it's not all serious business. The boards are often a place to relax and be entertained by all kinds of subjects.
The Genes community will go out of their way to help you, so don't be shy about asking for help.
Quick Search
Single word search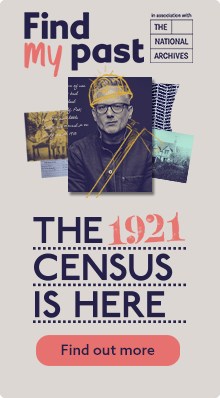 Icons
New posts
No new posts
Thread closed
Stickied, new posts
Stickied, no new posts
Suggestion: RECORDS
Profile
Posted by
Options
Post Date

Estelle
Report
11 Sep 2012 10:42

Thank you to you all for your suggestions so far. I am sorry I haven't posted on here for a while, but I have been on holiday. I will be taking some time out this week to have a good look at all the suggestions though.

Kind regards,

Estelle

Researching:
Working on all things tree-related. Looking for Tooley in Lincolnshire, Sadler in Derbyshire, Rogerson in Yorkshire, Goldstein in Liverpool/Poland.

RolloTheRed
Report
8 Sep 2012 16:35

Ay does have a lot of Scottish records including the census, but not the census images only transcriptions.


Researching:
The Man In the High Castle

DazedConfused
Report
8 Sep 2012 14:52

Sadly the contract with Brightsolid is with the Scottish Government not the English one.

The same would go for the Eire records if they were to be made available an agreement would have to be made with the Irish Government.

Both Scottish & Irish records would be a boon to many of us, but I think we are a long way from them being made available through any English Genealogy site (or US such as Ancestry).

However, I do believe that if the Irish Government can make the 1901 & 1911 census available for free that our Government should do the same with at least a few of the census years (I know 1881 is available).

Researching:
We are all of us in the gutter, but some of us are looking at the stars, Oscar Wilde New avatar, my dad age about 3/4 months, could have been worse, it could have been the awful nude on a rug!!

RolloTheRed
Report
8 Sep 2012 08:03

Gru should add Scottish records which it is in a position to do as BrightSolid is the parent company..

A significant proportion of Gru site visits come from North America inc Canada. Many Canadian families have roots in Scotland. Australia/NZ too have strong Scottish and Irish connections.






Researching:
The Man In the High Castle

RolloTheRed
Report
4 Sep 2012 07:18

John & Roger are getting themselves into a tizzy over nowt.

GenesRU has simply created three public threads where members may offer suggestions. It has not undertaken to make individual replies to any post, either on the board or via pm. So far GenesRU own follow up posts are nil - this is a sounding board, that is all.

Thus it is perfectly reasonable that other members comment on any suggestion made, for or against.

I would draw J&R's attention to the GenesRU policy that unjustified referrals may lead to a temporary or permanent ban from posting.

Calm down.




Researching:
The Man In the High Castle

jax
Report
3 Sep 2012 23:34

Quote

I will just ask this once. Why are PigletsPal and Jax answering these suggestions (or amending them). Ditto on General and Tree threads. Can we all do that?

You can remove what you like John I will not....GR can remove them if they wish

Researching:
Nothing much

jax
Report
3 Sep 2012 23:15

I am so sorry that the members have tried to help you Roger...

I suggest you remove your comment, as that is not a suggestion nor is the other post further down the page.


If you would like to go to the suggestion about the tree and complain about how you want the old tree back....please do....because thats ok

Just to add neither I nor Pigletspal has made any comments on that one....so John get your facts straight

Researching:
Nothing much

SylviaInCanada
Report
3 Sep 2012 19:05

John


are you really suggesting ......................... censorship??????????



and that people should NOT post on threads ................


or, heaven forfend, contradict you?




So far as I am aware, the UK is still a free country, and anyone can comment anywhere.


and that is especially true when someone knows a reason for, or an explanation of, the way something happens.




there used to be a saying where I grew up ......................


"keep tha' trap shut unless tha' knows what is going on!"




those of us with more experience than you are trying to educate you with what has gone on in the past ................ not necessarily because we want it to continue that way but because it can provide an insight




that is no reason for you to attempt to suggest that certain people not post on "your" threads.



and like Jax ......................... I care not if GR removes this post.


I do care if you RR it because that is censorship by another member trying to control others.

Researching:
My brother, photo taken in September 1990 just a couple of weeks before he died. ............................................................ To help us and to get better results, please post as much detail as you can, especially name, date(s) and place. Also say what you already know.

jax
Report
3 Sep 2012 16:41

What has it got to do with you John?

If Genes do not like us posting they can remove them. which does not bother me in the slightest

Researching:
Nothing much

CupCakes
Report
3 Sep 2012 09:03

Option to correct records as other sites do.Or a space for a comment so other reseacher can see the correct information
So many names spelt incorrectly. places of birth and even years of births

PP Anc... add or update records every month - you have to click on the home page link for the list to come up :-)

DazedConfused
Report
31 Aug 2012 10:57

I think with all sources amendments take up to 14-28 days to appear.

FreeBMD - after checking that the suggested amendment is right - they do a general update about once every 4-6 weeks

FMP - about 14-28 days

Ancestry - no amendments appear to be added but any alternative suggestions are shown.

Hope this helps.

Researching:
We are all of us in the gutter, but some of us are looking at the stars, Oscar Wilde New avatar, my dad age about 3/4 months, could have been worse, it could have been the awful nude on a rug!!

jax
Report
31 Aug 2012 00:03

I know for a fact that I made amendments to the transcriptions on FMP for some census's for my ancestors....and when I checked GR they had been changed on here too.....dont know how long after, but as I am the only person with this family in a tree on here, I feel it must have been from my reporting it to FMP

Researching:
Nothing much

LadyScozz
Report
30 Aug 2012 20:36

I noticed the records are listed as British. That was some time ago, it may have changed?

I asked, and was told there were no Scottish records.

It should be CLEAR ~ English, Scottish, Irish, Welsh, whatever GR has.

Roger
Report
26 Aug 2012 16:24

I would like somewhere to add corrections to the records you have on your site.

As I have found many incorrect spelling which when you look at the oringinal records are perfect.

Colin
Report
25 Aug 2012 16:13

Strange question as findmypast is a Brightsolid title as well and one would presume the source of the records on this site. Therefore the new records will be what they are working on as Genes do not seem to have the needed staff to do their own research.

So then the question would be separate membership of each site, combined membership or an ability to access the full range of records from Genes on a pay as you go basis.



nameslessone
Report
25 Aug 2012 15:05

Improve the search on British Newspapers.

I have 30 free credits to use up -
I know the date + Newspaper title.
I do not wish to search through 12 months of London papers to find the entry I want.

RolloTheRed
Report
25 Aug 2012 14:26

Well you could start with making sure that yr parish records deliver what is says on the tin. I have a lot of parish records east midlands 1700 - 1840. Using the search parish records for the Lincs, Leicestershire, Rutland, Northants, Notts returned 1 female for the name in question. Results marginally better after 1840 with about a dozen of the name in Derbyshire. Not likely to sell many credits with such a poor database.

:-\

Researching:
The Man In the High Castle

JustJohn
Report
24 Aug 2012 10:49

Chapel records (as opposed to church)
More foreign databases (Calais, India, Chile, southern Africa)
SEarchable database of old books with much genealogical information (eg History of Myddle by Richard Gough)

Researching:
Amelie my granddaughter's ancestry. My ban until 1 Jan 2021

Genes
Report
24 Aug 2012 10:24

Please add your suggestions here for our Records section.
What record collections would you like to see on the site?

Please note: duplicate posts, general questions and anything that isn't a suggestion will be removed.

If you are having trouble using the site please contact our customer support team who will be very happy to help you: support@genesreunited.co.uk.

The Genes Team.