Genealogy Chat
Welcome to the Genes Reunited community boards!
The Genes Reunited community is made up of millions of people with similar interests. Discover your family history and make life long friends along the way.
You will find a close knit but welcoming group of keen genealogists all prepared to offer advice and help to new members.
And it's not all serious business. The boards are often a place to relax and be entertained by all kinds of subjects.
The Genes community will go out of their way to help you, so don't be shy about asking for help.
Quick Search
Single word search
Genes Extras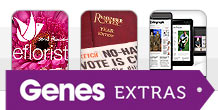 As a way of saying thank you to our subscribers, we have launched Genes Extras. You'll find exclusive competitions and discounts on family history magazines, days out and much more.
Icons
New posts
No new posts
Thread closed
Stickied, new posts
Stickied, no new posts
Most amusing.....Cause of death
Profile
Posted by
Options
Post Date

Jack
Report
6 Dec 2004 21:19

I rather liked this one I read the other day while looking through some old documents - "killed by a sack of caraway seeds falling off a crane"! Jack

Peter
Report
6 Dec 2004 19:16

On a grave stone Defanition of a life. A dash between two dates. 1904-1960 Think about it

Ceri
Report
6 Dec 2004 19:02

how about softening of the brain??? hope its not hereditry!! my nickname is 'nanna moon'

Heather
Report
4 Dec 2004 11:36

I still chuckle at that old favourite: Man goes to a newspaper office, "I want to put in a death notice for my wife". He writes down "Jean Smith died Tuesday" The lady looks at it and says kindly, "You are allowed 7 words" "Oh right" says the man and writes, "Jean Smith died Tuesday. Fiesta for sale".

Unknown
Report
4 Dec 2004 08:46

Alan Bennett story about a Yorkshireman who was widowed. He ordered a tombstone and discussed the engraving on it - "I'd like 'she was thine" he said. The monumental mason agreed this was a fitting tribute, and said it would be ready next week. The widower goes to inspect the work. It read 'she was thin'. "Oh, you've missed off the e" he fretted. The mason reassured him "So I have, but there's plenty of space to add it. Come back in an hour". An hour later the man returned to read 'E, she was thin'! nell

An Olde Crone
Report
26 Nov 2004 00:38

Well, Hazel, now you have introduced the subject I can admit to my shameful hobby, which is collecting Awful In Memoriam Verses. My favourite so far is: We heard the angels calling We heard the distant drum The gates of heav'n flew open And in walked Mum. (PS, this is NOT meant to offend anyone who has lost their Mum, and I apologise in advance)

Unknown
Report
25 Nov 2004 21:34

Talking about gravestone inscriptions, when I worked for a Funeral Director, we also arranged headstone engravings. One family came in with their desired inscription: Quickly and quietly came the call, His sudden death suprised us all. Another one.......'Peace at last!' (but for whom??) Shouldn't laugh but couldn't help it. Clients actually thought I was a lovely person!! So much so, one bereaved husband came to 'view' deceased wife several times a day and needed lots of tlc. Only TWO days after the funeral, he phoned me up asking for a date!!

Heather
Report
25 Nov 2004 20:14

Thanks for that Marjorie, I shall have to tell my husband who was fascinated when I told him how she died. Today I had the great pleasure of meeting a distant cousin who I found through this site. He had come up from Devon to do some research for a few days. A lovely man and although we share a GFx4, family resemblence still there - isnt that incredible. Anyway this poor chap has spent two whole days in the records office and he showed me the stuff he had turned up and then said, he had found this entry for 1598 in one parish record and he wrote it down because it made him feel so choked "Mary, name unknown, poor girle who was found dead by the wayside in the cold". Isnt that just so sad! No one claimed her obviously.

An Olde Crone
Report
25 Nov 2004 19:31

Heather I was so taken with the woman who fell into a cart of feathers and suffocated that I had to find the report of the Inquest. Apparently, she and five other women were returning from a remote farmstead, where they were working as seasonal labourers when it started to rain heavily. A Carter was passing, with a load of feathers for market and gave them a lift. On the way home they got a bit thirsty and visited the Dog and Bottle for rather a long time, it being dark when they came out. Three of the women sat up Front with the Driver, the other two sat on a sort of board behind the Driver with their backs to him. On going up the final hill to their home village, which was also the Carter's home village, one of the women on the back slid slowly forward and landed face down in the feathers. Arriving at their destination, the others could not rouse her and left her to sleep it off in the cart, which was put in the stable with the poor old horse. The Carter remarked at the Inquest that he had been much annoyed by the Horse braying and snorting all night, but was now of the opinion that the beast had been trying to alert him to the dangerous situation that the woman was in. He also remarked that he had never heard tell of anyone coming to harm before by feathers. Verdict: Accident Death due to suffocation in a Cart of Feathers.

Peter
Report
25 Nov 2004 19:05

Nicola is wrong about the teeth. It is a little ,known fact that a wild heard of dentures lived in the wilds of southen England in the 1700 and would jump out on passers by and bite them this would kill them because of infection as they had not heard of tooth bruses then.

Stardust
Report
25 Nov 2004 12:35

Giving this a nudge because I think its the best on the tips board and its sooo funny. GraceR

Christine
Report
24 Nov 2004 23:09

Just got death certificate of my ggrandfather which says he died of Heart Failure brought on by shock during an operation to remove a testicle having died while under anaesthetic. Bet that brings tears to a few eyes Chris

Louise
Report
14 Nov 2004 11:09

This inscription is on the tomb in the graveyard of a local village. IN MEMORY OF JOSHUA MANN WHO FELL JUMPING ST. IVES TOLLGATE AT MIDNIGHT JULY 25 1809 THE 33RD ANNIVERSARY OF HIS BIRTHDAY Its a bit sad...but he obviously knew how to party!! Louise

Beverley
Report
13 Nov 2004 18:29

Lyla, I am quite new and have just found this, havent laughed so much in ages.. keep it going. I dont have any yet but I am now looking in the hope that I can add more. Bev:)

Heather
Report
13 Nov 2004 13:47

I think my fav was the guy who suffocated in a cart load of feathers - what on earth could he have been doing?

Unknown
Report
13 Nov 2004 13:40

My favourite was the one who fell out of bed, only I cant find it again now.

Heather
Report
13 Nov 2004 12:09

I think the lady with the Grandad who died by dogs must take a prize on this thread.

Pat
Report
12 Nov 2004 23:16

Yes Agree with that, BUT would it make good Tele??? Think of all those other things she could have found out i.e. the helpful tip about the lettuce when ordering a Pie at the local Pub??? very valuable LOL Pat x

Kevin
Report
10 Nov 2004 11:21

My 4 x great grandfather died of Enlargement of the liver, a syptom of drinking too much. He was an Innkeeper and Brewer in Wiltshire. I like to think that his beer was the best in Wiltshire because he kept trying it until it was perfect. This unfortunatly led to his death but he died for his art.

NicolaDunbyNocula
Report
10 Nov 2004 10:29

For those of you who are wondering what death of teeth is this is what it means. The entire process which results in the eruption of the teeth. Nineteenth-century medical reports stated that infants were more prone to disease at the time of teething. Symptoms were restlessness, fretfulness, convulsions, diarrhea, and painful and swollen gums. The latter could be relieved by lancing over the protruding tooth. Often teething was reported as a cause of death in infants. Perhaps they became susceptible to infections, especially if lancing was performed without antisepsis. Another explanation of teething as a cause of death is that infants were often weaned at the time of teething; perhaps they then died from drinking contaminated milk, leading to an infection, or from malnutrition if watered-down milk was given.