General Chat
Welcome to the Genes Reunited community boards!
The Genes Reunited community is made up of millions of people with similar interests. Discover your family history and make life long friends along the way.
You will find a close knit but welcoming group of keen genealogists all prepared to offer advice and help to new members.
And it's not all serious business. The boards are often a place to relax and be entertained by all kinds of subjects.
The Genes community will go out of their way to help you, so don't be shy about asking for help.
Quick Search
Single word search
Genes Extras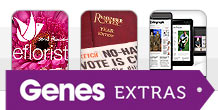 As a way of saying thank you to our subscribers, we have launched Genes Extras. You'll find exclusive competitions and discounts on family history magazines, days out and much more.
Icons
New posts
No new posts
Thread closed
Stickied, new posts
Stickied, no new posts
Answer a question with a question??
Profile
Posted by
Options
Post Date

DizzieLizzie
Report
16 Aug 2010 10:55

I had dark hair in my youth so my skin is not fair. I'd go so far as to say it was quite sallow and fairly oily so I was lucky in that I rarely got close to burning. (On the other hand it was always pretty troubled with acne and never really properly cleared up from that until a few years before menopause started.) It could still take me some time to tan and look healthy in the summer. Now my skin is drier and tans pretty quickly but I now have to take care not to burn which has become more likely and at the beginning of summer I tend to forget about that. Luckily it's usually only a little bit of redness and it starts to irritate which reminds me before it goes too far.

Nearly the end of Woman's Hour - I like to try to listen every day. Do you have any little rituals like that?

*$parkling $andie*
Report
15 Aug 2010 22:04

I do all the evening meals and prep the Sunday lunch.
Hubby looks after cooking the Sunday veg,( he enjoys it as it is usually home grown by himself .Mmmm) and he does most lunches ,if anyone is home during the week, he always does Sat lunch.( With a little help from me..not to feel guilty )
Everyone fends for themselves on Sunday evenings !!

Are you fair skinned or do you tan easily..?

( I think I'm just 'weathered' now I don't work 9 to 5 altho my moisturiser is SP15)



Researching:
Nothing.. cos I'm fed up !

DizzieLizzie
Report
15 Aug 2010 21:39

We usually do. It's one of those things I like to do as part of the rhythm of the week and although it takes time to actually cook it's so easy to do as part of a slow relaxing day. Especially now we have an aga, the heat's there all the time so might as well use it. Also it's something that can be kept really simple or dressed up to the nines for a special meal like when I cooked my daughter and her boyfriend their last roast beef before going off on their 6 month travels.

Today I didn't cook though as we won our pub quiz this week and Sunday lunch is the prize. It's just at the top of the road so a short wobble home before falling into a chair for the requisite afternoon snooze.

We do go off piste sometimes though, but even if the alternative is really good it still makes us feel that we appreciate our trad roast all the more somehow.

I've always enjoyed cooking, but love it even more now I have the aga and the time to play with it. My husband and both kids (adults now) love it too and are all very good so I get plenty of breaks from it.

Are you the main cook in your house or does everyone pitch in?

*$parkling $andie*
Report
15 Aug 2010 18:18

Started off dull, but dry and have dried a line full of washing.
Hubby's sat on the patio with his shirt off, I'm in short skirt and vest top !
Its glorious:)) has been since about 3pm.

Do you have a traditional Sunday lunch ..?



Researching:
Nothing.. cos I'm fed up !

DizzieLizzie
Report
15 Aug 2010 09:13

I LIVE in trousers, I used to wear dresses and skirts if I was going somewhere I wanted to dress up, but I've always felt so much more comfortable in trousers. I have some lovely dressy pairs now with gorgeous tops so until my two get married I reckon my legs won't get cracked out. They do get an airing in summer, though when I wear shorts.

What's the weather like your way? It was a deluge yesterday and today it is dull, cold and windy here.

*$parkling $andie*
Report
14 Aug 2010 21:36

Hi Anne
I remember my ring size cos it's small, and they are children's sizes below that.. however my dad was also called Jack:))

Fav piece of jewellery is my grandmother's red gold ring, it's a signet ring which looks as if it has a cluster of roses on it. ( it is a K so can wear it on my right hand :)) close 2nd is a 22 ct bracelet hubby bought me in Turkey, very modern style. I wore it constantly for 4 yrs, then a jeweller fancied it when I was having dad's wedding repaired, and asked where I had bought it, he advised me not to wear it daily as although it has very large links they are joined by finer ones, which he said would wear with time.
So my next Xmas pressie was a heavy solid pretty link gold bracelet which I now wear every day instead ::) Crafty move lol

Do you feel more comfortable in trousers or skirts / kilt..?





Researching:
Nothing.. cos I'm fed up !

Anne
Report
14 Aug 2010 17:38

Mine is also a J which I remember easily because my dad's name started with J [Jack]

Apart from rings I only wear a gold necklace with a small stone most of the time. What is your favourite piece of jewellery discounting wedding & engagement rings.

Researching:
Watersland, Tenterden, Kent. Childhood home. Kent & Sussex names

*$parkling $andie*
Report
13 Aug 2010 22:08

A small China dog (one of a pair, but no one knows the other one went )
My nan (whom I never knew died before I was born ) and grampa had it , or the 2 as a wedding present in 1908. Grampa died when I was 5, but i was always dog mad and he used to let me ' play ' with it and always said I could have it. I have the left hand one of a larger pair of theirs, again no one knows or admits to where the other one is !!
They are treasured and I wouldn't let anyone 'play ' with them.lol
I have my other grans wedding ring1911 mum's engagement ring 1940 and dad's wedding ring 1941, wouldn't part with any of them for any amount of money:)

What is your ring size, wedding finger ..? Mine is a J and can wear mum's ring and mil first wedding ring:)



Researching:
Nothing.. cos I'm fed up !

Anne
Report
13 Aug 2010 21:03

I have my mum's rings but would have to have them made smaller to fit my fingers, my husband wears his dad's wedding ring.

I have some very old decorative plates that belonged to my great grandmother and possibly her mother's.

What is the oldest possesion you have had handed down to you ?

Researching:
Watersland, Tenterden, Kent. Childhood home. Kent & Sussex names

DizzieLizzie
Report
13 Aug 2010 19:31

I can't throw things out, but if I know something I don't use that someone treasured will go to a good home I can part with it knowing it will be looked after and well used. For instance Mum had a silver cigarette lighter but none of us smokes or has need for such a thing. Her neighbour does smoke and was often very helpful so she got that as a little memento among a few other bits and bobs that she liked and we weren't so attached to. But there are a few things of Mum and Dad's for example that meant a lot to me but OH wouldn't give house room to, so I have them tucked away safely and they won't go anywhere. So I'm a bit of a mixture.

I always wear my Mum's wedding ring on my other hand and her watch, my brother wears our Dad's. Do you keep anything of a loved one's on you at all times?

*$parkling $andie*
Report
13 Aug 2010 19:02

Yes many,
Since my dad died I've inherited loads of things I couldn't throw out.
My sister lives in USA so she couldn't take with what she would have liked so I have kept them, some lovely collectible plates in their boxes in the attic, I've no space to put them but I would never part with them.
Nan's tea set which is in my glass fronted cabinet., to name but a few.

Are you sentimental or will you throw things out..?



Researching:
Nothing.. cos I'm fed up !

DizzieLizzie
Report
12 Aug 2010 18:01

I would love to have flowers always in the house but I wouldn't be able to afford it as I'd have to have them arranged for me. I'm pretty hopeless. I do sometimes treat myself to some from the supermarket if they look like they can be unwrapped and plonked in a suitable vase without much doing. And since we moved here I find there are enough roses in the garden to sometimes bring a few of those in. I also have a couple of wigwams of sweet peas which smell good indoors. It's mad really because I have quite an inheritance of vases from Aunts and Mums but they have to serve as ornaments in themselves half the time.

Do you have mementoes that are not put to their intended use?

Easter Bunny
Report
12 Aug 2010 16:21

I don't have a garden,just a small yard with a few pots and hanging baskets. I do sometimes do a bit of weeding/watering in the church garden.

Do you like to have cut flowers in the house most of the year or only if someone buys them for you on special occasions?

Anne
Report
12 Aug 2010 09:59

Although I work for the local Arts Centre & Theatre and have two Uncles that were artists plus my brother lectures in Art history, unfortunately I have no artistic tendency whatsoever. My job is accountancy but I really appreciate artistic talent which I see every working day among my colleagues. My main hobby is gardening which also takes up a lot of my spare time.

If you have a garden, do you spend much time in it ?

Researching:
Watersland, Tenterden, Kent. Childhood home. Kent & Sussex names

*$parkling $andie*
Report
11 Aug 2010 23:14

I used to when hubby bought me a Ricoh SLR in the early 80's'
I have files full of both children it still is an excellent camera. Don't use it now so much tho, may put it on E bay !..... No I won't I will keep it. whilst it is not digital it produces beautiful photos., and I have probs viewing the picture on the digi.
I like to see what I'm taking thro the viewer , dau thinks I'm outdated, but my photos well out beat hers !

Yes I still take loads of photos on the digi camera and my phone, but I must upgrade the camera, will go to my local specialist shop for a good /best updated digi.

I enjoy making pottery and creating Art.... Do you have a similar hobby, or another ?

Researching:
Nothing.. cos I'm fed up !

Easter Bunny
Report
10 Aug 2010 12:06

just one of my mams maternal grandmother Phoebe and even then my cousin has the original but I have it on a disc. My mam didn't like her by all accounts lol.

Do you take many photographs?

*$parkling $andie*
Report
9 Aug 2010 22:14

Other than my maternal grandfather who was born near Bristol, when the Severn tunnel was being excavated,and his line of the family, all my other grandparents and great grandparents were from the village where I was brought up, or within a mile or 2 .
I love it now, I go to the chapel where nan and gramps were married, unfortunately the one in the village where they ,mum ,aunt and uncles went 3 times on a Sunday has been demolished. When I was a child I did it every day( walked in their footsteps), although they had all died before I was 5, Mum and Dad still had my grandparents respective houses for some time before they were sold and I lived in the village until I married at 21. But dad still lived there until he died 6 years ago,so I was always back an fro and still am:) So yes I am still walking in their footsteps and cherishing what might have been.
Mum and dad used to tell me stories, and I do remember gramps, and my mums' sister is still alive, physically and mentally marvellous at 90 as was my dad at 90 and they loved /love to reminisce :))

Do you have any photo's of your great grandparents ?
I have a lot of old photos but neither dad or my aunt could /can recognise them.

Researching:
Nothing.. cos I'm fed up !

DizzieLizzie
Report
9 Aug 2010 17:01

I know from my Mum that her Mother loved wild flowers and could always name them inlcuding unusual ones of the time. When I was small my Mum would tell me the names of any we saw but I wasn't really interested, however I remembered quite a lot of them and have now become interested myself and find myself having to learn those I didn't manage to remember. I wish I'd listened. I also know I follow in their footsteps as far as sayings and old wives tales go. For instance the other day I found myself going anti-clockwise round a church yard and promptly changed direction!

When it comes to my Dad though, I have to wonder. He was adopted and I know as a child I used to look very much like him. Now I'm a bit of a mixture of Mum and Dad. I'd love to eventually get in touch with someone on Dad's side for lots of reasons including discovering who I get some of my features from and if my own children have picked any up.

As I've researched my tree I like to find, and if possible visit places my ancestors lived or were associated with. Do you like walking in the footsteps of your forbears?

Easter Bunny
Report
9 Aug 2010 11:21

yes I think about when my mams mother was widowed and left with 4 young children and I wish I could have helped them as it was a very tough time.

do you wonder what traits/mannerisms have been handed down to you?

*$parkling $andie*
Report
7 Aug 2010 23:28

n

Researching:
Nothing.. cos I'm fed up !