General Chat
Welcome to the Genes Reunited community boards!
The Genes Reunited community is made up of millions of people with similar interests. Discover your family history and make life long friends along the way.
You will find a close knit but welcoming group of keen genealogists all prepared to offer advice and help to new members.
And it's not all serious business. The boards are often a place to relax and be entertained by all kinds of subjects.
The Genes community will go out of their way to help you, so don't be shy about asking for help.
Quick Search
Single word search
Genes Extras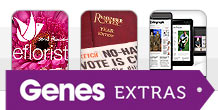 As a way of saying thank you to our subscribers, we have launched Genes Extras. You'll find exclusive competitions and discounts on family history magazines, days out and much more.
Icons
New posts
No new posts
Thread closed
Stickied, new posts
Stickied, no new posts
What kind of things do you remember from Childhood
Profile
Posted by
Options
Post Date

Annx
Report
24 Sep 2016 12:13

Afternoon All,

Nice and sunny and quite breezy here. It's the sort of day I love as I don't get so hot so will find somewhere to go to I think.

I hope you managed the shower ok Frank. You must be extra careful while everything is healing. Yes, it's good Ros can have a break and get out. I think anyone would be a bit miserable in your situation just now. I remember driving the mile down the road to the shops just 2 weeks after my hysterectomy!!!! I did check I could brake hard and use all the controls before I did it, but it wasn't wise doing it that soon really. I only managed about 10 minutes in the shop, then had to recline the car seat and lay down for about quarter of an hour before I drove home again. Like you I was just wanting to get away from the 4 walls for a bit as OH was working then.

That was lucky you found a good little mouse picture in the end Mel. What are you doing with the jar and leaves?? I keep thinking I should make some decoration thing for Christmas.

I'd better get on and order some beads next. I got nicely stocked up with beads over the summer and wouldn't you just know it we are using lots of new types/shapes this year. Diamond duos, silky beads, pinch beads and ones I've never heard of like Kheops beads and druks.

Researching:
Staffordshire, Warwickshire What a difference 29 years make!

Frank
Report
24 Sep 2016 10:54

Morning Mel and all, Evening Kim,

Again nothing really to report from this end. Sitting around most of the day gets very boring.

I did say to Ros I MIGHT try getting to the pub at lunchtime, but the way the knee is feeling I think it will be beyond me !! I know these exercises are good for me but they do hurt and stiffen up the joints.

Good luck for Cas today, I hope everything goes well for her.

That was lucky finding the little We mouse. I hope it's what Di wants.

Ros is out with Martine this morning as usual, It's nice for her to get away from me for a few hours. I know I can be a miserable Bugger, and must be difficult to live with at the moment.

We are meeting up with Lewis and hid Mum and Dad tomorrow in Milton Keynes for lunch for hid 18th Birthday, We have bought him a Sat. Nav and a bottle of BLUE VODKA with his name etched on the bottle. That just something to have on his birthday.

Bright and blustery morning here, but the rain is staying West of us today, so they say.

Now to see if I can manage THE SHOWER. Wish me luck.



Researching:
Coopersale,Epping, Essex earls barton,Northampton woodford bridge,essex Canning town, Bethnal Green.

Mel Fairy Godmother
Report
24 Sep 2016 10:14

Morning all,

Not such a nice day as we have had over the past week but it is dry with a grey sky.

Hope Cas does well today bless her. She does like to please that happy little dog.

Up the shop this morning for the paper and then I thin k I may have a fiddle with some autumn leaves and a jam jar.

Mel Fairy Godmother
Report
23 Sep 2016 21:35

Good luck to Cas and Ian for tomorrow Liz. She will do better this year as she was only a baby last year and it was just to get her used to it if I recall.

Di came this morning and we had a good natter. She told me her hubby had made her a mouse door and two little windows to go on the skirting board. She wanted a small picture of a mouse to put in one of the windows. Do you think we could find one? We looked all through my magzines (Landscape and Landlove.) and nothing small enough. After Di had gone we had lunch and oh had brought the post in. We get The Garden magazine because we have a sub for the RHS. In the magazine was a booklet with their Christmas stuff in and low and behold there I found a small picture of a mouse just in the pose Di wanted with it two little feet in front of it as if it was leaning them on the windowsill.

Ann I hope your throat gets better soon so you can have your flu jab. That reminds me I must book ours but over the last couple of days mine is feeling a little sore so I hope it dos'nt get like yours has been.

Jane did you have enough dinner to fo round in the end? I am sure you did...

David
Report
23 Sep 2016 19:48


I'm always quietly in awe of GPs
Despite seeing fifty plus sick people a day, they remain robustly healthy

Researching:
We are dwarfs, standing on the shoulders of giants

Annx
Report
23 Sep 2016 19:22

Evening All,

Mandy you are doing fantastic losing all that weight! :-) I bet you feel better and are having to take some clothes in now!! Yes, we have done some earrings before, but I don't think I'll be bothering to finish these! We all had trouble with the pattern which didn't seem to make sense, so ended up doing our own version. They are a tear drop shape and larger than I would wear. The class is full this term and we are having an extra table added for next week. We are using some different types of beads we haven't used before and also doing some hammered wirework so that should be good.

There is another bead sale at the house with the cakes soon, but their letter said they won't be doing any more after this one. Boo-hoo! they are still selling on line and doing workshops. I must admit it must be a lot of work to move your furniture to set out all the bead racks etc like they do.

This throat woke me at 5.00am this morning and was so sore to swallow I got up again to get some paracetamol with some milk. It was much better all day, but now it's bad again. I want to get my flu jab done, but they won't do it till this clears up. :-S

That's good news about your knee Frank and it's still early days yet! :-) I hope Ros got on ok at the dentist's and got the car light sorted. I hate driving when the sun gets in your eyes like that. I'm pleased the visor flips down really low in the car I have now. Being a tich, in the past in a lot of cars I've had to stretch up in the seat to get any help from the visor which isn't very comfy after a while.

I've never smoked either Liz, but got plenty of passive smoke as a child as dad was a heavy smoker. OH used on special occasions to smoke those small, thin cigars when I met him, but didn't for long. He'd always been just a social smoker, able to start or stop as he wanted. His mother was a one for buying them as a 'surprise' present at Christmas and took a bit of convincing over a few years that he didn't want them anymore!! :-S Cheese and bottles of Port were the same with her and despite OH telling her many times that cheese seemed to trigger his migraines, we'd still get big enough slabs of cheese to keep him in Migraines for a year!!

What a shame those naughty hens still attacked, even with the jacket!! It's not as if it was birdseed colour. ;-)

Good luck to Ian and Cas for tomorrow Liz. I bet she has improved a lot since last year so fingers crossed she does better this second time.

Researching:
Staffordshire, Warwickshire What a difference 29 years make!

Jane
Report
23 Sep 2016 17:53

Afternoon All

Glad you liked the pic of the Air Balloon. :-D..It was a lovely sight at that time of the morning.

I have been out and about all day doing this and that and then cleaning and tidying in preparation for Gareth .You would think the King was coming lol I have just made a Chicken Pie for Dinner (that Joe Wicks one) That was Hannahs request.I just need to put the Filo Pastry on top and bung it in the oven later.Lots of veg to go with it.I will roast some Carrots/Parsnips and Courgettes and have Broccoli.

Liz I am sure Cas will be a star tomorrow :-D,Looks like good weather too.It will be a great day I am sure.

So all good news for you Frank.That is brilliant :-D :-D and i am sure a big relief to know all is well with the new knee.

Oh Mel what are you going to do with your poor Hen? It seems a huge problem .It must be horrible to see her being attacked all the time by the others.

I found huge Hedgehog Poos on the Patio today. I couldn't believe how big they were !!! I looked up the pooter just to check it was Hogs :-)
I have to cook a bit more Chicken and Mushrooms as I had forgotten dinner is for 5 and not the usual 4 !!!! Heck

Anne
Report
23 Sep 2016 16:47

Good afternoon All

Jane you do have lovely views from your bedroom, thank you for the air balloon photo.

Glad to hear how well you got on at the hospital Frank, keep up the good work, when is your next appointment due?

As I haven't been on here for a few days I still need to read most of the posts.

Researching:
St Mary Star of the Sea, Hastings 1960

MillymollyAmanda
Report
23 Sep 2016 15:54

Afternoon all,

Beautiful day here we're just sitting out having a cuppa .

Oh dear Mel thats no good then , i did wonder if the others would leave her alone with the vest on , it would make her stand out more , they are just jealous that they haven't a nice vest to wear too the big bullies.

Frank glad to hear you got a good report from the hospital, you've been a good boy doing as your told and its paid off with the good report , that 95 % bend is very good .

Colin goes to see the surgeon the 5th Oct so not long ,i think he will still have to use his crutches for a few weeks after that as they told him he would need them for at least twelve weeks .

Good luck to Cas tomorrow at the game fair , i'm sure she will do well , have a nice time with the family Liz ,hope the weather is good for you.

Nice photo of the hot air balloon Jane , hope it didn't spook the horses in the field.




magpie
Report
23 Sep 2016 15:48

OH and I have never smoked in our lives thank goodness, and neither do our two or their partners! Hopefully grand children won't either! We certainly don't drink like that either! People who deliberately cane their health deserve all they get imo. Glad you're so much better Frank, and thinner!!! :-)

Frank
Report
23 Sep 2016 15:10

Turned out to be a nice afternoon, and quite warm.

Done the veg for dinner, just leaves Ros to do a few spuds. I'm only eating two maximum. No wonder I have gone to under 13 stone.

I've had a wonder round the garden, it still looks nice and Ros did the lawn the other afternoon. Front lawn not looking to bad.

I have been round pulling Picture hooks out of the walls, almost filled an envelope !!

Just been watching J KYLE Emergency room. There was a chap on there who drinks 5 pints a day and 7/8 each day over the weekend. He wonders why he has pains in his chest/stomach.and he smokes as well. !!!

Researching:
Coopersale,Epping, Essex earls barton,Northampton woodford bridge,essex Canning town, Bethnal Green.

Mel Fairy Godmother
Report
23 Sep 2016 14:29

Iv'e had to take it off of her as the others just would'nt leave her alone and kept jumping on her back. There were feathers flying everywhere.

Good results then Frank so you did'nt have to have another xray then?

Frank
Report
23 Sep 2016 12:48

Afternoon all,

ALL CLEAR from the Physo and Surgeon. She gave me a good going over, and boy was my leg sore last night. Mr Munday (the surgeon) was very pleased with my progress and the fact that I can bend my knee 95% He asked if I had an X ray while in hospital after the operation. I said NO. so he sent me down to have one. When the girl came to do it, she looked up my records and said I had one on the 1st August. It could be I was under so much drugs, that I didn't know !!!! Ros came in to see the X RAY and asked the question, "CAN YOU GIVE ME A NEW SPINE" No we haven't got that far yet. !!!

Oh I see, it was for the chicken. !! I had to ask the question.

The sun last night was neigh impossible to drive in. When we came our from having something to eat, it was so low in the sky, that poor Ros didn't know how to see to drive.

Good luck for Cas at the weekend. I bet she will improve on last years results.

Not sure what the weather is going to do. Nice and bright this morning but clouding over now.

Ros has showered and washed her hair. She is off to the dentist for 2.30 pm. I have told her to call in at the garage to have a new rear stop light fitted, and book a service as it's due.

I am going to try to prepare dinner for tonight, and cook it.

Ann I bet you will be glad when these builders are finished making all this mess in your close, and you can try to get back to normal.

How did the coat fitting go Mel ??

Time for lunch and a cuppa. See you later.

Researching:
Coopersale,Epping, Essex earls barton,Northampton woodford bridge,essex Canning town, Bethnal Green.

magpie
Report
23 Sep 2016 12:47

Thanks for the photo Jane!
I've frozen some more courgettes, and some cooking apples. OH is going to make an apple rack to store the rest of them on including the eaters. I've also pruned the budleiah, so that's another autumn job done!
This afternoon, Cas and I will laze around, get the washing in, fold it all and put it away, make long spaghetti for supper and that's my day done and dusted!!!

Mel Fairy Godmother
Report
23 Sep 2016 11:56

We were going to go Liz as oh said get ready. I went round to the chickens and got the jumper on Tattiana and took a couple of photos and when I got back to the house I had a message from Di asking if I was in. I replied Yes and oh said its such a nice day we'll go on Monday and I can get on with the gateway and arch.

I have just had a message to say my message to Di did'nt get through so here I am waiting for her to arrive and she dos'nt know I am in!!!! There's also an exclaimation mark after all Di's messages on her phone and Iv'e tried to ring but just get a funny noise three times and then nothing.

magpie
Report
23 Sep 2016 10:08

Lovely morning here so bed changed and washing on the line. Tomorrow were going to a Game Fair and Cas has been entered for the Scurry! Last year she got 30/100!!!! but she was only 6 months old. Hopefully this year now she's older she will do better!. Son and partner are up here for the weekend staying at his cottage, so we shall meet them at the Fair. It should be good!!
Mel can't you ask your OH about going to the Garden Centre?! Maybe he's forgotten!!
OH is tidying his workshop!! That should take all day+ a few! I'm keeping well out of the way!!!

Mel Fairy Godmother
Report
23 Sep 2016 09:52

Morning all,

Bright sunny morning here with beautiful blue sky again!!!! I don't knwo whats happened to the weather but I'm not saying much incase it goes away.

Oh mentioned goping to the garden centre the other day and I thought it may have been today but he's not said anything this morning and if his brother comes its usually on a Friday.

Just about to go round to the girls so shall have another bash this morning at catching Tattiana.

Mel Fairy Godmother
Report
22 Sep 2016 22:07

Mandy thats amazing. It must be all the walking your doing with Max. I am a bit worried about the colour of the jumper for the chicken Mandy as hens seem to peck at anything red. I still could'nt get near her tonight when I gave them the corn. Think I will have to try and grab her when she comes out in the morning but the trouble is they come out two at a time sometimes. I may have to use one of oh's fish nets but they might not like the pole. The size looks just about right and it would definately be too big for the banties.

I have just watched the program about the doctor who is trying to get people off their drugs. It was very interesting.



MillymollyAmanda
Report
22 Sep 2016 21:33

Oh its for one of the big girls Mel , i hope it fits then.
Ann , Mel said the chicken is ginger in colour, so i did the vest in red ,i had lots of pale colours but i thought they might make the chicken really stand out .
So it ear rings your making this week, I'd love to see them when they are finished , have you made ear rings in class before ?

Jane the weight is still slowly coming off , nearly four stone now .



Annx
Report
22 Sep 2016 20:10

Well I was pleased to see one of the doctors I like this morning. He has a dry sense of humour but is also quite serious and thorough. He checked me over and the verdict was that it very likely a viral infection that is taking a while to recover from. He said normally a throat should be better within a fortnight, but to go back if it takes much longer or gets worse, so no treatment needed. I got there 15 minutes before my appointment and it said there were 2 others before me, but I went in almost straightaway. I think the doctor was either making good time to fit me in before his next appointment or maybe the next patient was a bit late.

Oh yes you must get a pic of the chicken in the jacket to send us Mel!! lol. You are clever to knit one Mandy.........does it match the chicken colour?

It's good Max has been a bit better lately Mandy. He must be quite big and strong now and full of energy. There was a pup on a prog I watched recently that was biting at everything and everyone and they said it would do it good to socialise with other dogs as they would soon let it know when when it bit too hard or too much, so the puppy classes may help in all sorts of ways.

The driveway is clear again now and the tarmac strip put back so it is much easier driving out again. It looks like this is only the start though as the men that brought the tarmac lorry today told OH the road will be dug up TWICE more yet to lay the electric and then the telephone/broadband cables!! :-S The road is only wide enough for one car to drive down and wouldn't you think the builder would work with the utiliy people to get all the pipes/cables laid together at the same time?? :-S The house that's being built has a roof and new black windows now but they haven't started the 2nd bungalow yet. The house will be partly rendered outside, and totally out of keeping with the rest of the close.

I've recorded the new series 'Paranoid' that's on tonight. It's my sort of thing and Jane's too I expect! :-) We have a loo seat in the en suite that works loose as well.

My beads are all sorted and packed for tomorrow. Apparently we are doing earrings tomorrow which should be good as I keep meaning to make some.

Researching:
Staffordshire, Warwickshire What a difference 29 years make!