General Chat
Welcome to the Genes Reunited community boards!
The Genes Reunited community is made up of millions of people with similar interests. Discover your family history and make life long friends along the way.
You will find a close knit but welcoming group of keen genealogists all prepared to offer advice and help to new members.
And it's not all serious business. The boards are often a place to relax and be entertained by all kinds of subjects.
The Genes community will go out of their way to help you, so don't be shy about asking for help.
Quick Search
Single word search
Genes Extras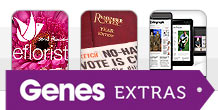 As a way of saying thank you to our subscribers, we have launched Genes Extras. You'll find exclusive competitions and discounts on family history magazines, days out and much more.
Icons
New posts
No new posts
Thread closed
Stickied, new posts
Stickied, no new posts
What kind of things do you remember from Childhood
Profile
Posted by
Options
Post Date

Mel Fairy Godmother
Report
17 Mar 2017 22:50

Another puppy to get pictures of how nice. My aunty Joy had a dog called Molly. I think thats a lovely name. She then had a cat called MIlly and now her latest cat is called Lilly!

Made the lemon mangue pie and we have eaten half of it. It was smashing. Must make some pasty cases for the freezer so I can do more and some quiches too now I am getting more eggs.

Glad Liz is getting on ok and sending wishes to her and Carmel. I hope there is not a third person.

Annx
Report
17 Mar 2017 20:03

We get a list of the beads for the following week's project Mandy, but often other similar beads will do. It can be tricky sometimes though as, although there is usually eg a bracelet sample for us to see, we don't often get the pattern till on the day and it isn't always easy to know which beads go where and plan the colours beforehand! I tend to use my phone to photograph the sample now. Everyone's efforts look completely different and we all troupe around the big table to look at each other's work! How exciting.......another puppy!!! :-D It sounds like Max will have a lady friend........Max and Molly! Young Chelsea will have lots to tell about her trip won't she! :-)

Researching:
Staffordshire, Warwickshire

MillymollyAmanda
Report
17 Mar 2017 19:31

Liz if your looking in i have sent Max's email again .

Annx
Report
17 Mar 2017 18:58

Freezing as you say Frank! I was boiling when I set off this morning after my shower and buzzing about getting ready, my palms and neck were dripping so I set off in just a short sleeve top. By lunchtime when I came out from class I dived in the car boot for my coat!! I have cooked lamb shanks from scratch many years ago when we used to buy half a lamb for the freezer. I did mine sitting on a trivet in the pressure cooker. It was the quickest way as they need quite a long cook to be really tender. I have some ready cooked ones in the freezer too and might have them tomorrow now you've put me in the mood for one! :-) No, I haven't bought anything from jewellerymaker yet but keep intending to as I love the Laboradite and would like to do a beaded pendant with a stone. Thanks for mentioning the sale......I will have a look to see if there are any! :-) ;-) I hope the Robins haven't been scared off. Is the Blackbird still there?

I might wear something Jane. (just reread this and I mean JEWELLERY. lol) I have a nice necklace that would go with a top I might wear. It is in the pile to finish off at the moment and is quite intricate, but if I set my mind to it to get back into the pattern it would soon be done! I must have a look at the menu..........tooth seems to be a lot better today! I woke up yesterday morning feeling weird too. I sat up and felt disorientated but not exactly dizzy and sat on the edge of the bed a few moments before getting up. It seemed to wear off and I checked my BP which was fine, but as soon as I lay down in bed last night it seemed to come back again till I propped myself up. This morning I was fine again. How is your finger now? Are you itching all over?

I wonder if Jess's mum will mind looking after the puppy once it's older and house trained? I suppose it's a bit of a handful at the moment.

Mel, did you know chocolate and chocolate drink have a bit of caffeine in too? You will get used to water after about a month. I only drank a small fresh orange juice just in the morning, otherwise only water for the 3 years before I had a hysterectomy. I'd probably still be doing the same now only the nurses kept plying me with tea and coffee like I was being deprived or something and in the end I had some and then carried on when I went home! One of my beading buddies only drinks water.

Researching:
Staffordshire, Warwickshire

MillymollyAmanda
Report
17 Mar 2017 18:38

Evening all,

It's been quite a bright day here although we haven't had any sun ,now the wind has really got up and it's turned quite cold so the fire is now lit .
Colin has been outside cutting some wood and the blooming sawdust has blown every where ,i think i have some in my eyes as they are all itchy .

Good to hear Carmel is coming along ok William ,it's still early days for the getting out of bed but i'm sure she'll soon get there .
The hospital parking is a nightmare here too that's why i did the hospital park and ride .

Thats good Liz is doing ok i did wonder as i sent the email of Max and i hadn't heard any thing from her .

I'd love to see your bracelet Ann , do they give you all a list of beads to buy for the things you are making each week ? it must be nice to see what the others buy and see how their bracelets turn out especially if they buy different colours to yours.

My sister rang last night they had been to see a golden Lab puppy she is eight weeks old and they are having her :-D :-D :-D they have to wait for the kennel club papers to come through and then they will pick her up ,i think the name Molly was mentioned :-D
Sister was writing a list of all the things they would need and was shopping today for them as she said she doesn't have a thing ready.

Family are coming tomorrow so i expect we will hear all about Chelsea's trip , i think son is going to sweep our chimney as it wasn't done before we started having a fire in the autumn .





Frank
Report
17 Mar 2017 17:20

What a cold horrible day it has been. Ros came in at lunchtime FROZEN. She said as they came out of Tesco the wind just hit them. Poor Carolyn, after all that warm sunshine. Needles to say we haven't moved this afternoon, and I won't be tonight.

The lamb shanks are cooked and the meat is falling off the bone. I put them in the oven in our big casserole pot with carrot, onion, celery, leeks, bay leaves, various spices that are in the rack. Left it on a low heat for three and a half hours. The bungalow is full of the lovely smell. Veg are Mash, cabbage and spouters , and carrots. I will thicken up the gravy with a bit of corn flour. It's all drained off now, ready to dish up at 6 ish. Mel, it doesn't appear to be difficult, but I do like the pre-packed ones.

Ann do you buy any beads/gems from the Jewellery channel ?? As you know Ros buys a lot from there. They have had a big clearance sale this week.

Hair dryer just gone off so I can sit down again.

Researching:
Coopersale,Epping, Essex earls barton,Northampton woodford bridge,essex Canning town, Bethnal Green.

Jane
Report
17 Mar 2017 17:16

Good to hear from you again today William. I think it sounds as though it would be good for Carmel to go to a rehab centre for a little while before coming home.I think it is quite a common thing especially when one is elderly(Don't tell Carmel I said she is old LOL ). I hope that she had had a good day today and has been able to have a little time up and out of bed.She will feel so tired and sore.It is great that she is having wonderful care even with the Nurses run off their feet.
Hospital carparking !!!! what a nightmare.I think it is the same in every large hospital these days. At our hospital they are going to be building a Multi Storey car park to help the problem . We will see .

Heard from Liz today.. All doing extremely well :-D :-D.Coming along a treat by the sound of things.Brilliant :-D :-D

Ann will you be wearing one of your lovely creations next week?. I do love to see them in real life :-D

Frank ,like you and Mel I have never done a Lamb Shank from scratch . My favourite is still Tesco Finest . Talikg about this has made me think I must got and get them :-D

St Patricks day.I hope your pal is sober enough tonight Frank LOL.. Some years ago Hannah and a bunch of friends went to Dublin for St Patricks. Well she came a cropper and after a day of dancing and partying in the streets ,went over on her ankle and ended up with a foot the size of a football which turned the colour of an Aubergine .She couldn't walk for the next week !!!. That was a trip she will never forget LOL.But all great fun :-D

It is so chilly here today with this wind.Chris has just come in from the garden and is warming up.
I haven't got much done really after good intentions.I have just felt a bit weird.Just one of my woozy,dizzy feeling days.Itchy skin too. (not like Mel). I just wonder if there is pollen or something in the air now.
I am just sat here at the dining table and looking out it seems the trees are swaying even more than they were earlier.
James is home this weekend.The first time in 3 weeks.Jess still hasn't been to stay as her Mum won't look after the puppy. As James says her Mum is being a bit of a bitch !!
Jess hasn't been here now since before Christmas!!!!. James said that when Chris and I go to Hay on Wye in April for a couple of nights and Thomas is in the Cattery he will bring her and little Benjy up here.

I wonder where your camera is then Frank? It can't be too far away.

Annx
Report
17 Mar 2017 13:52

Afternoon All,

Good to hear your news of Carmel Will. As you say if she doesn't feel the need for painkillers it sounds like a good sign. Hopefully she will be on her feet for a few moments tomorrow and that will make her feel she is making progress. Please look after your self and keep us up to date. The situation at hospital carparks is dreadful isn't it, spaces round here are hard to find too. A week's ticket sounds like a good idea to save a few bob.

I have been busy continuing sorting out the study. There's just the 3 trays of beadwork to sort through now and the tops will be straight and then I can start on the shelves and stuff that is on the floor! :-S At least I have room to do some painting now when I'm ready. :-)

Today's bracelet at class is nice and uses flat round beads with 2 holes called lentil beads.

OH is hailing me to go out so BBL. :-)

Researching:
Staffordshire, Warwickshire

Mel Fairy Godmother
Report
17 Mar 2017 13:16

Its like that here now Frank so you are not alone.

Did some ironing but not much as I now have to get the lunch.

Fed the birds this morning and the first thing on the bird table was the little wood mouse. It is a very cheeky chappy and I shall have to get a pic of it to show you.

Must get something out the freezer for dinner tonight as I forgot this morning.

Frank I have never cooked lamb shanks from scratch either as we sometimes have the boxed ones if they are on offer. I thought you boiled them for some reason.

We did'nt hear from Ann yesterday. I hope she is ok and not unwell again. Its beading day today so perhaps she was busy yesterday out and about.

Wishes to Carmel and hope she had a quieter night and managed to get some sleep. <3

Frank
Report
17 Mar 2017 11:30

Good morning all, evening Kim,

HAPPY PADDY'S DAY. My mate will be off to town in his leprechaun outfit, going from Irish pub to another throughout the day. In all the 38 years I have known him, Drunk as he is sometimes, I have never seen him get nasty. A real nice chap. I might get to have a pint with him tonight. If he can still stand ;-) ;-) ;-)

it's 59 years today that I was called up for my National Service. Tell me where all those years have gone please !!!.

I was in bed by 10.20 pm and settled down by 10.30. Woke for the loo at 3.10 and had a job getting back to sleep. So tossed and turned until Ros got up at 8.00 am. Mind you I did get over 5 hours undisturbed sleep.

Carolyn has taken Ros for a ride to Tesco. They can have a good catch up while they are out.

Ros bought TWO Lamb Shanks yesterday, so I am doing those in the oven for dinner tonight. I have never cooked them from scratch, so hope they will be alright. We always get the Aldi/Lldl ones that are all prepared.

I trust Carmel, had a peaceful night last night, and feeling a little more comfortable this morning. A drop of the Irish might go down well WILL. lol lol.

We haven't seen the Robin for two days, so we are wondering if the cats scared them away. Ros said the mealworms haven't been touched.

I have mislaid my Camera. I wanted to take a photo of the front garden, but I have searched everywhere, will no luck. :-( :-( :-(

Hope the weather improves for everyone, as it's a right miserable day here :-| :-| :-|

Researching:
Coopersale,Epping, Essex earls barton,Northampton woodford bridge,essex Canning town, Bethnal Green.

Mel Fairy Godmother
Report
17 Mar 2017 11:15

Morning all,

Not a bad morning here at the moment and we have had some sunshine but it is now starting to cloud over with grey clouds and there's a very cold breeze.

When we were watching the wether forecast last night, Oh came out with, "Why can't he just push those clouds up out of the way?"
The man was casting his hands over where the clouds were showing on the map. It made me laugh.

After dinner last night oh said Lovely he really enjoyed the pie.

William
Report
17 Mar 2017 09:17

Good morning my dear friends and a Happy St Patrick's Day to you all. It is also my late Mum's birthday today as well, what a coincidence I ended up marrying an Irish Coleen.
Sorry, I don't get to read the posts in detail, I just seem to have a lot to keep up with. I visited twice yesterday, with a break in the middle while her friend was visiting her. She did well for visitors yesterday as her daughter Dorothy was then when I arrived at 11.30 am, grandson Matthew called between finishing work and getting back to his lovely baby boy (Lincoln). She also had one of the Nuns from Our Lady of the Angels call in to see if Carmel wanted to share some prayers. Being R C AND Irish, no contest, just hope they do some good, at least they are never wasted. Yesterday morning they tried to get her out of bed but it was far too painful so depending how things go, she may have to be transferred to a rehabilitation centre for assessment before being allowed home. On the plus side, on the evening drug round, she told the nurse she didn't need any pain killers, which I think is positive. I left a St Pat's card for her last night, which I hope she remembered to open this morning. I'm taking her Irish Coleen doll in today 'to visit her Mammy', so hopefully that will cheer her up. The staff are being marvellous, can't fault them - but we were remarking yesterday that they don't get a minute. With the weekend coming up, the car parking should get a little easier but not cheaper! I'll probably get a weeks worth which will work out cheaper depends what they tell me the agenda is. The parking is on vehicle recognition which means that as you drive in, your number plate is registered electronically. When leaving, you go to the cash machine, type in your number - it says how much your stay as cost, takes your cash and gives you a receipt (if needed) and how much time you have to exit. Then when you drive up to the barrier, a sensor reads your number plate and the barrier goes up. Sounds all very easy but in the daytime the problem is actually getting a space! I park round the back mostly by the physio unit which is easier and quicker to get to the ward. But that's not available evenings or weekends.
Those who are on Facebook can also find an update I'm running there plus all the well-wishers greetings, family and friends etc. That's it for now, I'll let you know more tomorrow or tonight. Just one more thing - when her friend came yesterday afternoon I took the chance to visit my pal who lives not far from the hospital and is also recovering from major surgery. A chance for a cuppa, a chat and help him pass some of his time away from daytime TV. Hope I haven't made an mistakes!!!

Researching:
Roe, Teedon, Brooks, Davey, Hearst, East London, Southwark

Jane
Report
17 Mar 2017 08:26

Morning Gill and Everyone.
I just saw the weather and thought 'oh dear' Gill has a wet day today. It is dry here and just a grey sky.

Chris is off soon to collect the lawnmower .He rang yesterday as it has been in for weeks.The man said it was ready.I bet it has been ready and just sitting there for ages.

I think I am going to have a bit of a cobweb sweeping session today.There are so many :-S.I too need to sort out clothes .I have so many now that I will never wear again.
Must have another cuppa now :-D

Gillx
Report
17 Mar 2017 07:53

Morning all

Dull and wet here today, not at all like the sunshine we've had lately. It's quite windy too.

I haven't had lemon meringue pie for years Mel, it used to be my favourite but mum made one the day my braces went in as a child and it put me off, I've not had one since.
Are there any clues to what your craft is, I love a bit of detective work ;-)

Hope Carmel is on the mend and has had a decent nights sleep, we haven't heard about her for a while.

Housework today, this place needs a good going over, then we'll catch up with some more programmes, I can't get over how many Sandra has put on the planner, she'll have to slow down a bit as they are recording quicker than we can watch them. I did have to show her again how to do it, but that's okay at least she's learning......well, sort of.

I can't believe another week is almost over, where is the time going? Easter will be here soon. I noticed on the TV last night that Morrisons are selling Easter eggs for £1, hope Tesco's follow suit as we don't have a Morrisons around here.

What is everyone up to today?

Mel Fairy Godmother
Report
16 Mar 2017 18:58

O you will definately see it Gill when the time is right or maybe a bit before.

Jane you did make me laugh at you rotting! That is just how I feel too. What with the tooth episode and the hand last year and now these spots and itch. I also need to go to the optitions for my eye to have a check as |I hav'nt been for a few years now. What with paying out for the dentist last year when I thought I would go so I think this year I really must.

Yes the Doublebase is really good. Have you mixed some up with a little water to shower with? Thats what I have to do and put it on my arms on the spots.

Poor Abbie it must be horrid for her not to get on too well with her step dad and argue with her mum. At least she has you to stay with and I am sure it will give you more time for other things apart from seeing to Ruby's needs.

Sending more wishes to Carmel and hope you are getting better nights sleep. Have they said how long she is likely to be in William?

Made the pie and a pastry case as I have been fancying a lemon merague pie and I actully bought the mix this week. I hav'nt seen it in the shops for ages now and wondered if they had stopped making it. They changed the products on the isles in Morrisons and I had to look for something else and spotted them so I just bought one as they can go off.

Gillx
Report
16 Mar 2017 17:55

We have rain now :-( it'll do the garden good after all the lovely sun we've had lately. Maybe this is the start of the bad weather we're suppose to be getting at the weekend. It's gone colder too.

So you've finished your craft now Mel, what is it? I'd love to see a picture if you take one.

That's a good idea to take your own shampoo Jane, especially if your scalp is a bit sore.

Hope Abbie is feeling a little better after her upset with mum. I'm sure she'll have a great time with you and Ruby Anne.

Pleased to hear you had a good nights sleep Frank. Isn't it annoying when the prescriptions aren't done properly. Hope you get it sorted soon;.

How is your tooth today Ann, hope it's not giving you to much trouble?

Just catching up on some programmes with Sandra, the planner was starting to fill up and I want to make some space in time for the F1 starting again, it's the Australian one so will be on in the early hours of the morning, to early to watch so I'm recording it.

Jane
Report
16 Mar 2017 17:51

Frank ,Churston Court looks a lovely place. Just had a look at the menu.. Deep pockets! :-D.I am sure it will be a great meal.

Jane
Report
16 Mar 2017 17:28

Afternoon All

What a grey day today.I actually caught the sun yesterday !!.It's blooming cold now :-S
Haircut for me this afternoon.I took my own shampoo as I am having a right old performance with my scalp at the moment. :-S.

I hope that Carmel managed to get some sleep last night with no-one singing and keeping everyone awake and that she is less pain now <3 <3

Glad you are feeling much better today Frank.That is bad that half your meds were missing . :-S It sounds like a great place you will be going for a meal on Mothers Day :-D..Bank balance will take a bit of a bashing LOL

Oh that look on Max's face was hilarious Mandy!!!!!!..Fantastic pic :-D
Mel I am using the Double Base(blancmange) on the eczema on the bottom of my foot.It is good stuff .Also on my fingertips .I just feel at the moment I am rotting :-S

Oh dear Anne,trouble at home again for Abbie :-(.. What would she do with out you.It is good that she feels able to come to you. More company now for Ruby :-D

Ann, I know exactly that feeling of a tooth feeling it is higher when you bite down on it and the achey feel. Hopefully it has settled down now. Maybe it is just a bit of inflammation going on and not an infection or abscess Fingers crossed it will be ok for next week.

Gill I bet you can't wait now to get a good run in the car and get out of the house for a change :-D

Nothing much for dinner here tonight.Chris is having a ready meal and veg.James and me are having sausages and potato and mediterranean veg.

Mel Fairy Godmother
Report
16 Mar 2017 15:52

Anne I have the fruit teas but still find they leave a nasty taste in my mouth. I would rather drink water. I am not aloud decaff tea or coffee for two months.

She is just a perfect puppy Anne and has taken to you so well with no trouble at night.

Mel Fairy Godmother
Report
16 Mar 2017 15:47

I have just finished my craft!!!!!!!!!!!!!!!!!!!!!!!!!!!!!!!!!!!!!!!!!!!!!!!!! <3ly.