General Chat
Welcome to the Genes Reunited community boards!
The Genes Reunited community is made up of millions of people with similar interests. Discover your family history and make life long friends along the way.
You will find a close knit but welcoming group of keen genealogists all prepared to offer advice and help to new members.
And it's not all serious business. The boards are often a place to relax and be entertained by all kinds of subjects.
The Genes community will go out of their way to help you, so don't be shy about asking for help.
Quick Search
Single word search
Genes Extras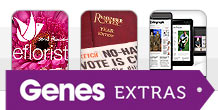 As a way of saying thank you to our subscribers, we have launched Genes Extras. You'll find exclusive competitions and discounts on family history magazines, days out and much more.
Icons
New posts
No new posts
Thread closed
Stickied, new posts
Stickied, no new posts
Renting - use an agent or not?
Profile
Posted by
Options
Post Date

JustDinosaurJill
Report
6 Nov 2012 23:15

Hi. Wondered if some of you have some experience of renting out a property.
Hubby and I just about finished renovating the house which came to him.

A few weeks ago we were approached by the next door neighbour there as his granddaughter needed a place to rent from the end of November. She came and looked and liked the house and we settled on a price we considered fair and have now agreed that she can have the house from 17th. Because she wanted to be a long term tennant, we let her choose the colour of the carpets upstairs and because of asthma agreed to laminate downstairs. She wanted to fit the carpet herself as she said she had done it before and to get it done before she moved in. So last week she and her sister fitted the carpets in three bedrooms. Truthfully, they haven't exactly done a very good job but she is the one who is going to be living there. At the weekend, her sister and another relative were going to fit the laminate. I figured if they were happy to do it, it would save me a lot of money and we are at the end of our budget. We chose the laminate together and I asked if we needed to do the edging. She said, didn't have it where they were so didn't want it in this house.

Anyway, I call in at the house on Saturday afternoon and her sister and sister's mate who is a carpenter (not another family member) sister is paying to lay the laminate as a surprise. I walk into the house to be greeted with a demand of "We need beading. Are you going to pay for it?" I was taken aback at the way I was spoken to but the family are all that way. So I said that I would. Then she tells me to come with her and look at the floor and how it isn't level in the front room and where the wooden floor front room meets the solid floor in the hall. She points out numerous faults which makes me wonder. Then we are in the back room with the fitter who probably isn't even thirty yet and as I'm old enough to be his mother, I was pretty p'd off by his attitude. He told me in a very strong voice what he would have done if it was his house which included destroying and removing a very lovely old fireplace and several walls to create open plan. Then he asks me if the skirting is new. I told him yes. He said very sharply "Shame. You should have put the flooring down first". I told him that every tradesperson I'd used had wanted to do things first or in a particular order. Then the sister must have picked up my mood because she said that we had changed from having carpets to laminate to accommodate her sister. So he told me in no uncertain terms that I should never carpet a rental house.

There's a bit more which also upset me but you get the picture. Hubby knew how upset I was because I had gone very quiet and it really knocked me to be treated in such a fashion in my house so to speak.

And now I'm thinking that I don't want to deal with them again in any way. And if a problem occurs in the house, I'm going to have to deal with it.

Hubby says if our paths cross again and I get any grief, if I want to, I can say if it's so bad forget it and we'll rent to someone else. That will be a shock to the family who are very pleased to have the house.

I've been reading more and more about letting. We hadn't expected to let it until it was completed rather than complete it in the time left. We had agreed a rental that was more than fair but now I am thinking I'd like an agent to be in the middle.

Am I so bad for changing my mind. I don't want to be the one to go in and check it out every so often. Hubby will go with whatever makes me happy. I would go with the agent we were originally going to use. I'm certain that we would not be out of pocket after agent fees but would mean an increase in what we decided.

I'm learning that being nice isn't always best for us. It's got to be an income for the long term. I am so upset by how I was treated by the sister and her friend at the weekend that it's really affected me. I should share that the reason I said the family is very outspoken is because shortly after I married hubby, the renter and sister's mom demanded to know when I was going to provide mil with a grandchild. And please trust me, it wasn't a kind enquiry.

Waiting for hubby to get in and then a chance to talk over a hot coffee for him. I think I'm right to go for an agent now. I'd be glad for being told I'm right.

Thanks.xJill

Researching:
Birmingham: Wood,Benson,Eadie,Wassall. Barnsley: Eadie. Whalsay,Sheltland: Polson,Poleson. Chipping Norton: Busby. Winchcombe: Goodall/Goodhall. Kate MM (Eadie) Meteyard. Sidney Herbert Meteyard - English Pre-Raphaelite Painter and member of the Birmingham Group. Meteyard/Meatyard family.

ChrisofWessex
Report
6 Nov 2012 23:32

Having read this, think you should especially as the grandparents are living next to you.

Agents fees may be a blessing in disguise. Actually were it I, I would be tempted to call a halt to hi having been spoken to like than - but then again could cause trouble = get an agent. Take care.

JustDinosaurJill
Report
6 Nov 2012 23:43

Hi Chris. Thanks. I've been looking at letting legislation for the last few minutes and it's scary. One friend just warned me to be careful because of getting caught with 'Right to Buy'.

R just got home. Coffee cooling and now I'm about to hit him with the change.

How are you doing these days?

xxJ

Researching:
Birmingham: Wood,Benson,Eadie,Wassall. Barnsley: Eadie. Whalsay,Sheltland: Polson,Poleson. Chipping Norton: Busby. Winchcombe: Goodall/Goodhall. Kate MM (Eadie) Meteyard. Sidney Herbert Meteyard - English Pre-Raphaelite Painter and member of the Birmingham Group. Meteyard/Meatyard family.

Family Whispers © ™
Report
7 Nov 2012 00:04

Hi Jil,

Getting an agent may be hard as the property is already let, but try anyway.

Also before you go any further get legal advive and a tennancy agreemant drawn up by a soliciter and References from your tennent from previous landlords (a letting agent would have done this for you).

LA

Researching:
Family Whispers Research © ™ Genealogists never die - they just swap places in the family tree.

GlasgowLass
Report
7 Nov 2012 00:11

Just yesterday a friend showed me before , middle and after photos of her house which she has rented out via an agent.
The tenants chose to paint all the beautiful hardwood windows and skirtings in white, ( even although their contract stated they must not re decorate without permission) and did an awful job.
They were told by the agent to put the damage right before moving out
The tenants then painted over the white with a muddy brown colour, which is streaked in white and smeared onto the walls and ceilings too.

I have never seen such a mess in my life. The white blobby paint was bad, but the brown is just dreadfull
The agents have decided that this mess is perfectly acceptable and the tenants deserve their deposit to be refunded!

Researching:
Brannan/ McGrath/ Kerr/ Jordan/ Finnigan NI and Free State. Devlin/ Lamont /Fyfe/ POLLOCK/ Johnston/Struthers/ Smith... Scotland.

JustDinosaurJill
Report
7 Nov 2012 00:25

Sounds like the agent was a nightmare Anne. The agent I originally chose is very reputable.

We are just discussing, hubby and I, about how we felt comfortable to be letting to someone known to his family for a lot of years.

I just don't know what to do. I feel sick and I should be in bed because I've got an early start.

Leaving it with hubby to look at. I hate the idea of shifting to goalposts now but I've got to think that this is a lifetime thing with the house.

The carpets we got were so cheap, we would have paid for fitting but she was adamant it was a job she wanted to do and had done where they were just living.

I don't know. I need sleep. Going to cause a lot of upset in the morning when/if I send a message. Hubby looking at it all now.

Researching:
Birmingham: Wood,Benson,Eadie,Wassall. Barnsley: Eadie. Whalsay,Sheltland: Polson,Poleson. Chipping Norton: Busby. Winchcombe: Goodall/Goodhall. Kate MM (Eadie) Meteyard. Sidney Herbert Meteyard - English Pre-Raphaelite Painter and member of the Birmingham Group. Meteyard/Meatyard family.

GRMarilyn
Report
7 Nov 2012 00:29

Jill.


Oh my goodness .......don't sign ANYTHING !!

Pull out.......NOW !!

They should respect your property ......,and their not even in it yet .

Get a Agent its worth every penny at least if anything is damaged from any tenant.... the agent will keep the deposit to pay for any disruptions to your property.

What a terrible Dilemma..

Good luck but seek help !

:-(

Researching:
Tregaskis- Blatchford- Bunker- ONeil.... Cornwall & Devon ( Ingram) Dorset .Bean Kent & Norfolk

Family Whispers © ™
Report
7 Nov 2012 00:49

Jil,

Letting to a friend, family or someone you know is a big NO!!! because you know them they will take the P++ss. It is harder to say no to someone you Know than to Someone you do not.

If you can get out of the agreement before it is too late. But you still may have to take legal advice as even a verbil agreement can be deemed as an intent to let.

We are often asked this question by our landlords, "Do I really need a written tenancy agreement, as I know the tenants personally, could I not just agree it verbally?"

The simple answer is yes, a verbal agreement is as legally binding as a written agreement, however, we would never advise you enter into one.

How is a Verbal Tenancy Agreement Created?
In order for a verbal tenancy to exist it must have three essential elements;

1. An offer
2. An acceptance of the offer
3. Some payment – known as the legal term consideration
If these three elements exist then a verbal tenancy agreement can be created. This contract is binding on all parties involved.

There are other elements to consider:

•Both parties must agree to be legally tied to the agreement
•Both parties are capable of making an agreement i.e. not under the age of 18, drunk or insane.
•Both parties must be acting freely and not under duress
•The contract being made cannot be contrary to law
It is advised from a professional perspective that a written tenancy agreement is created to avoid misinterpretation as well as agreeing to the key points in the tenancy.

By having a well-constructed tenancy agreement which outlines the tenant and landlords' responsibilities i.e. pets, smoke in the property etc. any disputes further down the line would be avoided.

How to avoid creating a verbal tenancy agreement.

It is very important to document all communication between a landlord and a tenant. The problem may arise in a verbal contract where a tenant may argue that they never accepted the terms of the contract and therefore a contract was never actually created.

If you are discussing a potential let or renewal of a contract, you should always make sure that that you do not create a verbal tenancy agreement.

You can avoid this by using the words 'Subject to Contract' on any correspondence relating to potential lets and when leaving messages on answering machines or speaking with prospective tenants.

LA

Researching:
Family Whispers Research © ™ Genealogists never die - they just swap places in the family tree.

supercrutch
Report
7 Nov 2012 01:02

Both my daughter and nephew use agents. Both get to approve any prospective tenant. The agents run credit checks and set the deposit accordingly.

Both owners have a right of inspection with 7 days notice. The tenancy contracts can be written to ensure that you have the right of cancelling the tenancy agreement in certain circumstances (malicious damage etc.,)

The commission is really worth paying as at the end of the tenancy daughter only had 2 weeks without a tenant and during that time they redecorated ayway.

Nephew rents an apartment overlooking Tower Bridge on a corporate basis, definitely needs an agent because of the high rents.

Any aggravation is dealt with by the agent which takes the pressure off the owner.

Sounds like the current family are not at all desirable. I'd get them out asap.

Good luck

Sue

Researching:
Jones!!!!!!!!!!!!!!

*$parkling $andie*
Report
7 Nov 2012 01:26

Hubby renovated my dad's house,when it was left to me , I wanted to sell it as it was but we couldn't get near the asking price.

Prime location , massive potential ,huge garden,so hubby decided to renovate it to a basic standard ,so peeps could have a 'canvass' of their own to work from.

He put in new modern kitchen, white bathroom suite and shower, laminate floors downstairs. Made a new hallway,(my input) thus making another bedroom.

The market dropped and we were looking at the option of renting, the estate agent gave us all the options,..he was very good, he lived in the village where the house was and would have acted as an agent for us had we rented.

As it was my family home I choose not to rent, but to hold out for a buyer,
Cos although the agent would have overseen it monthly I would have been gutted if anything had been damaged or misused.......it was my family home!

Even If you have no sentimental attachment to the property and are thinking of renting it, I would definitely recommend you using an agent ,who you make sure that they do a monthly check on the property and stop any damage /devaluation in it's tracks.
Take care, renting can be a tricky business .


Researching:
Nothing.. cos I'm fed up !

wisechild
Report
7 Nov 2012 07:09

Don´t know if you can do this in England, but because my Spanish isn´t up to dealing with legal matters, I have just had my OH legally appointed to deal with the lettings & any problems which arise. We had to do it through the court as the flat is not jointly owned, but now he can deal with contracts etc & take to court any tenants who break the terms. In fact everything an agent would do, except he doesn´t get a fee for doing it.

Kay????
Report
7 Nov 2012 08:25


Alarms bells would have rung when--------Asthma cropped up,,,,,,yet still insisted on carpets!

Also,what the legal status on the lamiante flooring, ?does it allow them to rip it out if they ever leave,? this can cause damage to existing floorboard and ,skirtings,as skirtings needs to be in place before laminate is laid.not sit on top...

To me its been a hasty let with nothing legal binding between all parties.which you could live to regret.....

Also has your gas.electrics and others utilites been checked and passed for letting requirements.?

--------------------------------------

I'd call the whole thing off till the house is complete and completed by you.......then let on your legal terms.

Rambling Rose
Report
7 Nov 2012 08:49

Has she got the keys? If so get them back and tell her you have changed your mind and you now HAVE to sell the property, make it up if necessary that the house does not meet letting requirements
( electric, gas safety standards) anything to get her out before she is in!

Then go through an agent, yes it costs but it gives you some protection, and don't forget landlords insurance.

Researching:
Names for the LBB. If something I say offends you, please say and I will always consider removal or editing my words. I don't bite :-)

Malcolm
Report
7 Nov 2012 09:04

There's no such thing as a "Gentlemens Agreement" any more. Just look at all the U.S. style liability claims that are appering in the U.K. now and you must know that you need to be protected. Get a reputable and well established agent, preferbly speak to someone else who uses them before taking them on.

Hopefully you will not need to re-enter the house or expose yourself to unpleasantness again.

Researching:
Robb, Purves, Rutherford, Bald - Scotland, Fife and Berwickshire.

Porkie_Pie
Report
7 Nov 2012 10:58

Once bitten

I now use an Agent and actually after their fee i am financially better off as they get more than i was charging,

My agent charges 50% of the first months rent as a finders fee and then they get 10% of the monthly rent their after,

They do everything, all the relevant checks including references from previous landlords and employers plus they supply the contract to which i have added my requirements

They did the work in finding possible tenants but it up to me to decide which tenant to accept based on their advice

Make sure you get landlords insurance and i also pay for a one off £86 which covers any possible losses to be recovered should the tenant leave owing rent or damage to the property the charge covers all legal and debt recovery that is required and that also includes paying for bailiffs until all my losses are recovered

Roy

ChrisofWessex
Report
7 Nov 2012 12:28

Jill, as to me - OK - up and down. Thank you for asking.

Just recalled dau and SIL rented out a house and used an agent. No problem until an elderly couple rented the bungalow - I mean elderly - he was 90.

When they vacated they discovered that he had used a corner of bedroom to wee in!

Carpet and floorboards had to be replaced as no matter how often dau scrubbed boards and bleached there was still a smell.

Deposit return was refused, tenant objected and took them to court - just before case was due to be heard, he dropped it.

Someone raised the point re asthma and carpet in bedrooms. That is weird - sounds more like they liked the fashion for laminate in iliving areas. It is more important to have bedroom clear of carpet and rugs, even curtains (using blinds instead) where asthma is concerned.

Merlin
Report
7 Nov 2012 13:44

Get an agent (A good reliable one) tell them they have to go through him (contracts etc) nothing verbal,it does,nt work,and friends or family are a definate NO NO.

Researching:
Vlad the Impaler and Dracula. Wend,Prickly,Island,GG.+CC.+DIZZY & Mersey.

Mayfield
Report
7 Nov 2012 16:40

Sorry to see the position you are in.

Have you agreed any term for the tenancy if not chances are it will be treated as a periodic tenancy you have to give two months the tenant only one.

I would usually say avoid people you know as tenants, but as they have spent time and money on the property that might be a bit complicated now and as they have relatives next door you will then have trouble with the neighbours for ever more. They could for example cause trouble to put off other tenants and it's always best to keep a good relationship with neighbouring properties anyway.

If as you say the floor layer was a contractor the fact that he moaned about the difficulty is unfortunate but as you say the sister did correct him and you will not have to deal with him again. It could all work out ok if things are put on a proper footing through an agent.

The best route is to see the agent first thing and ask their advice. Perhaps you can tell the tenants that you feel unable to manage the property yourself and wish to use an agent if you continue to let and that it's a stipulation of the agent that you have a proper tenancy agreement including periodic inspections

Also do get landlords liability insurance in case you get claims for trips or other injury. Hopefully you have CO and fire alarms as well as Gas Landlords certificate, PAT test certificates for any portable electric appliances and ideally have the electrical installation checked for safety. Gas & PAT tests must be done each year.

I do wish you the best of luck

Mayfield.


Researching:
Moribus facit homo,

Neubie
Report
7 Nov 2012 17:50

Hi , as a landlord you have an obligation to register the deposit. This is now Law.
You really do need to go through an agent . At the point of letting the property should be in a good clean condition with all the relevant electrical and gas checks completed. If you include white goods . cooker. fridge etc it is up to the landlord to repair or replace.
The prospective tenant and the agent will do an inventory , photos should be taken re the condition of the carpets and any problems prior to letting.
This gives both the landlord and the tenant piece of mind when the property is vacated. Also gives the landlord the right to charge from the deposit any repairs etc that may be needed.
They will also start the rental as a 6 month to be renewed if the tenant is acceptable.
The agents will also have a list of emergency contractors they can call on 24/7 if the need arises
Also if you use an agency they will do all checks required and also work hard to find new tenants for you when ever the property is vacated.
Also please make sure you have landlords insurance.
You are opening yourself up to a whole lot of problems by allowing these tenants to make alterations to the property, please be really careful as this could come back and bite you on the bum in 6 months time.
x
http://www.tenancyagreementservice.co.uk/tenancy-deposit-protection-schemes.htm

Researching:
A new way of looking at life XXX

JustDinosaurJill
Report
7 Nov 2012 18:05

Thanks all for your input. Lots to think about.

To answer some of the questions. Yes the house is all legal with regards necessary certificates and guarantees for work done to be legally let.

We've now got a legal contract being sorted. Hubby and I are much happier.

Landlord insurances to be sorted but going to go with the company who have provided our empty property insurance.

Thanks again all. I'm going to send you all individual thanks and then copy this thread to my computer and delete it from here.

Jill

Researching:
Birmingham: Wood,Benson,Eadie,Wassall. Barnsley: Eadie. Whalsay,Sheltland: Polson,Poleson. Chipping Norton: Busby. Winchcombe: Goodall/Goodhall. Kate MM (Eadie) Meteyard. Sidney Herbert Meteyard - English Pre-Raphaelite Painter and member of the Birmingham Group. Meteyard/Meatyard family.