New Scottish Census
Do you have Scottish ancestors?
Perhaps you do and you just didn't know! Search our brand new Scottish census records today and discover if you have Scottish roots.
Introduction to records
As well as using a collaborative way of building your family tree with other online family tree detectives, you will need to turn to original records to uncover your roots. Our lives may well be easy to chart for our descendants thanks to the mountains of data recorded about us, from passports, job applications and tax returns through to supermarket club cards and CCTV footage, but even 100 years ago there were numerous occasions where our ancestors' details were committed to paper by church and state. These snapshots of a moment in history, recorded in clerks' handwriting, are key to unlocking our family history.
The main records for tracing relatives in the UK are 19th-century census records and birth, marriage and death registers. They are very useful because they record nearly all of the population and so whether your ancestors were lords or labourers, they should appear. These records are not only proof of your ancestor's existence but a reflection of the times - occupations long ago made obsolete by machinery, workhouses full of paupers, birth certificates where parents couldn't write their own name. In addition to these there are a multitude of old documents which could contain clues to your family history, from wills to old newspaper cuttings although these are often less easily accessible. Records not only enable you to check that the information you have in your tree is correct, but also lead you on to find new branches of your family tree.
The census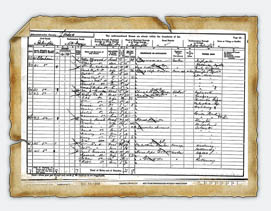 Every ten years, from 1841 to 2001, a census has been taken recording everyone in England and Wales. They are publicly accessible up to 1901. Images of the original returns can be viewed online. On census night, which was always a Sunday, census enumerators went from door to door, recording exactly who was present in each dwelling, from cottages to mansions, tenements to castles, hospitals to prisons, workhouses and even boats.
They recorded names and occupations, and various extra details. In 1841, they recorded whether the person was born in the county in which they were living, and ages rounded down to the nearest five years - a 39 year-old would be recorded as 35: rather flattering, but not so useful to family historians. From 1851 onwards, the records provide marital status, relationship to the head of the household, exact age, and county and parish of birth.
The index works out the age by subtracting the census age from the year - 1901 - 18 = 1883: in fact, as the 1901 census was taken on 31 March, someone aged 18 could have been born between 31 March 1883, and 1 April 1882. The site gives the option of viewing a transcript of the record, or an image of the record itself. The former is useful if you are new to reading old handwriting, but you definitely want to see and print a copy of the original.
The Scottish censuses are fully indexed at www.scotlandspeople.gov.uk. Ireland's 1911 and 1901 censuses are at the Public Record Office of Northern Ireland (www.proni.gov.uk) and the National Archives of Ireland (NAI) (www.nationalarchives.ie) and are scheduled to go online at www.nationalarchives.ie/genealogy/censusrtns.html. Some of the pre-1901 Irish census fragments that survived a disastrous fire at the Four Courts in 1922 are catalogued at www.ireland.com/ancestor/browse/counties/index.htm.
Dates of censuses and National Archives reference numbers
30 May 1831 HO 716 June 1841 HO 107
30 March 1851 HO 107 7 April 1861 RG 9
2 April 1871 RG 10 April 1881 RG 11
5 April 1891 RG 1231 March 1901 RG 13
(2 April 1911 RG 14)
Further reading
A. Adolph Tracing Your Family History (Collins, 2005)
A. Adolph, Tracing Your Irish Family History (Collins, 2007)
R. Bigwood, The Scottish Family Tree Detective: Tracing your ancestors in Scotland (Manchester University Press, 2006) S. Colwell, The National Archives: a practical guide for family historians (National Archives, 2006).
T. FitzHugh (rev. S. Lumas), The Dictionary of Genealogy, A&C Black, 1998.
S. Fowler, Army Records for Family Historians, PRO Publications, 2nd edn (1998, revised by W. Spencer)
C. Pomery, DNA and Family History: How genetic testing can advance your genealogical research (TNA, 2004) and associated website www.dnaandfamilyhistory.com