Gift subscriptions
Do you know someone interested in discovering their family history?
You can now buy a gift subscription to Genes Reunited so they can research their family tree.
Using the internet
In our busy modern lives, the prospect of loitering for hours in a records office combing through 50 boxes of documents to find our great-great grandfather isn't so appealing. Using the internet allows you to discover your origins, without it becoming your life's work.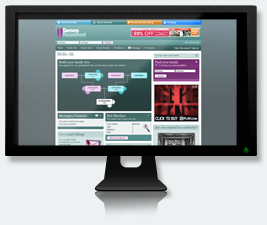 The internet is such a powerful tool for family history because it links our living room, office or library with many millions of other people across the globe and gives rise to collaborative projects. Tracing your whole family tree is a big job, but by bringing together people whose family trees link at some point, the internet can take the hard work out of genealogy, and enable people to share memories, photos and information with distant cousins who share their ancestry. Most people will discover branches of their family tree stretching across the world about which they had no clue. Increasingly the documents and resources containing details of our family history are being digitised and placed online making them an accessible and cost-effective way to uncover the past.
The Genes Reunited website has a free online family tree builder. When you enter information into your family tree and save it, a copy of your family tree is stored on an immense, top-of-the range computer in a guarded, secure location rather like a computer bomb shelter for the nation's family trees. It's a good, no-cost solution against PC melt-downs or spilt coffee.
It's all about you
You are the best place to start researching your family history as youwill form the beginning of your family tree. The basics for your genealogy are:
First, middle and last names
Year of birth
Place of birth - village/town and county
Key religious events, if applicable, such as baptism, bar mitzvahetc
Dates and place of marriages and divorces
Dates and places of your children's births and marriage(if applicable)
Occupations, hobbies, time living abroad etc
Don't be tempted to skip this step as you know most of this information about yourself. You are creating a record of your family which you may pass on to future generations and they will be grateful for this information about you. Even if you are adopted or unsure ofyour birth name or birth place, write down as much as you can aboutyourself to start with and it will make your research easier furtherdown the line.
Keep it safe
Even at this early stage the internet comes in handy. Placing all of your information into an online family tree site is far easier to manage in the long term than just keeping notes. If you are one of those people whose desk and home is engulfed by crumpled lists and Post-It notes - let a website look after your research. It's tempting to think that your family tree is safer on paper in your drawer, or saved as a file on your PC, but that's not actually the case.
Jargon buster
Genealogy The study and act of tracing family trees
TNA The National Archives
GRO General Registration Office
CMB Christenings, marriages and burials
BMD Births, marriages and deaths
FRC Family Records Centre
GEDCOM A family tree file which can be uploaded to websites of software packages
Census A count of every person in the population conducted in Britain every 10 years from 1801