Genes Reunited Blog
Welcome to the new Genes Reunited blog!
We regularly add blogs covering a variety of topics. You can add your own comments at the bottom.
The Genes Reunited Team will be writing blogs and keeping you up to date with changes happening on the site.
In the future we hope to have guest bloggers that will be able to give you tips and advice as to how to trace your family history.
The blogs will have various privacy settings, so that you can choose who you share your blog with.
Gift subscriptions
Do you know someone interested in discovering their family history?
You can now buy a gift subscription to Genes Reunited so they can research their family tree.
You have probably noticed that we now add links to the social media websites Facebook and Twitter at the bottom of our newsletters. These might be names you have heard of but don't know much about. We thought it would be helpful if we explain a bit about both websites to you and why we use them.

Social media is a word often used these days. It is a general term that refers to websites that allow general dialogue and conversations. It also allows users to add their own content by posting comments, links and photos. We use both Facebook and Twitter as a way to complement our site. Whilst we do have message boards on Genes Reunited, Facebook and Twitter allow for more instant chatting and interaction. We also use them as a way of telling people of new changes to Genes Reunited. We post competitions on there and interesting articles and stories that we come across. We do still post things on Genes Reunited, but as we said, it's a just different way of communicating that reaches out to people who may not yet be members of Genes Reunited.
So what do you need to do? You do have to sign up for both sites, but they're free.
Let's start with Facebook. Once you have registered on Facebook you can search for the Genes Reunited page.

Click on the link to the page and then click on the 'like' button at the top of our page.

Now that you have liked our page you'll see our posts on your Facebook newsfeed. This is the page you see when you log in to the site which tells you about everything your friends are up to and gives you details of the content your 'liked' pages have been adding. Just click on our name and this will take you to our page.

On our Facebook page we post items once or twice a day. It might be a 'fact of the day' or we might tell you about a new feature on the site. We love it when people add their feedback about new features or add their comments about an interesting article we have pointed out. It is a great way of getting people to inter-act with each other too and start conversations.
From time to time we also run photo competitions where we encourage you to add photos for a certain theme. Recently we ran a fashion through the ages competition and before that we had a churchyard theme. Take a look for yourselves at the great photos that were added to our page. The link to photos is on the left hand side of the Genes Reunited page.
Twitter is quite different to Facebook, and it can seem quite daunting at first. When you sign up for Twitter you have to give yourself a nickname starting with the @ sign. You can then add 'tweets' yourself. A 'tweet' is a text based post of no more than 140 characters. You can add links to other websites and add photos to each post. As a user you don't have to post anything at all if you don't want to. You can simply follow other Tweeters and read what they have to say. To follow Genes Reunited you need to find us first. Once you have registered there will be a quick tutorial to explain how you find people and get started.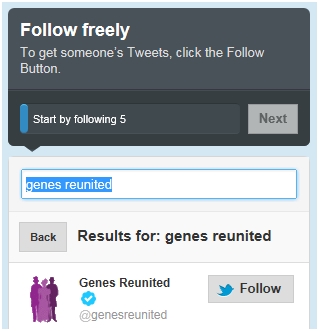 If you search for Genes Reunited you will see the option to 'follow' us. If you click on this our posts will then appear in your Twitter newsfeed along with the posts of anyone else you follow. There are many different Family History related Tweeters and you will come across all sorts of interesting and useful posts.
When you see our tweets there are several different things you can do. You can reply to it. That means you just send us a message to say hello or let us know what you think of something we have posted. You can retweet it. That means you are forwarding that tweet on and sharing it with your Twitter followers. You can also add it as a favourite so you can refer back to it later.

Our tweets tend to be about Genes Reunited with interesting things we have found on the site. Or, as with Facebook, we'll tell you about new features we have added. We also run competitions for our Twitter users from time to time. And we'll always retweet anything that is family history related that we think you'll find interesting.
As you can see, it really is quite straightforward using both Facebook and Twitter. As we said before, we don't want to detract from what we do on Genes Reunited. The whole point of using these websites is to try and encourage non-members to come along and use us for their family history research. It is simply another way for us to contact people and spread the word about family history. So sign up today and come and join us. You'll definitely impress your children and grandchildren when you start talking about your latest tweets and Facebook posts!