Phil Moir's Blog
Welcome to the new Genes Reunited blog!
We regularly add blogs covering a variety of topics. You can add your own comments at the bottom.
The Genes Reunited Team will be writing blogs and keeping you up to date with changes happening on the site.
In the future we hope to have guest bloggers that will be able to give you tips and advice as to how to trace your family history.
The blogs will have various privacy settings, so that you can choose who you share your blog with.
New Military Records
Was your ancestor a war hero?
View thousands of brand new military records, including Chelsea Pensioner records, Military Nurses, Prisoners of war and much more.
Published on 15 Feb 2012 15:19 :
technical
: 18 comments : 5293 views
It has been a few weeks since I posted a Technical Update, and I wouldn't want anyone thinking that we've been slacking. I'm sure you are all very aware that we have made some changes, many have been behind the scenes, some more up front. From a performance and stability and evolutionary point of view they have been quite significant, and looking at the statistics of the site running, and the general volume of feedback from members, we are now heading in the right direction. But of course there will be more improvements coming very soon.
New Tree
Back in November last year we introduced some members to the new Genes Reunited tree tool under a beta test environment. The functions of the new tree have changed little from the existing tree, but under the covers it has had a major overhaul. The code for the existing tree was old, bloated, was difficult to maintain and develop for the future. So early last year we set up a dedicated team to look at the tree and redesign the tree code with the future in mind. At the beginning of this year (2012), we rolled the new tree out to all users, but had to withdraw it, after experiencing some issues not been identified during beta testing. With today's release, we have re-released it as the primary tree tool for all users, but we also have kept a link to the old version of the tree in case you hit a problem. Some of you have loved the new tree, others less so, while some actively dislike it. Unfortunately the old tree just cannot be maintained in its current state and facilitate some of the changes coming, such as multiple trees, security options, better printing, alternative displays, etc., so we won't be able to support both going into the future. The best advice I can give you all is to use the tree feedback option that appears on the header section of the tree. Here is a quick guide to some of the tree-related changes.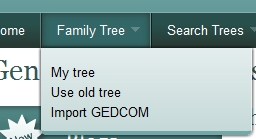 Link to the old tree is under the Family Tree menu option
On first glance, there isn't too much change to the display. We have tried to maximise the screen space for the tree, so the default person view at the foot of the screen has been moved. All the menu options for immediate family, full family, ancestors, descendants, hot matches, clipboard and printing are still there. The drop down to select either your tree or any other trees visible to you is on the left. The search has been moved to the upper right corner. The person editing screen is on a sliding page that appears from the right hand side. On the right hand side of the screen, in the middle, there is a tab feature. It is highlighted when you first go into the tree (see image below). Click on this and the editable view pulls across the screen.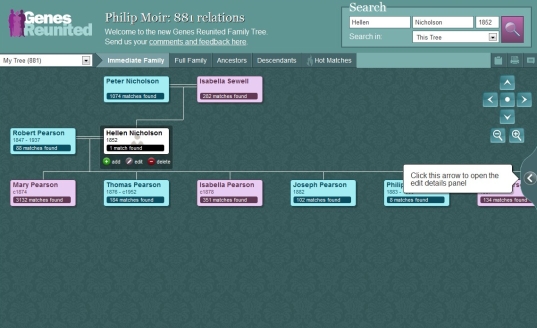 New tree is not that different on the outside to the old tree
The Details editing page has been increased in size and the font size has been increased also. The editable fields can be scrolled up and down to see all the information that was previously held.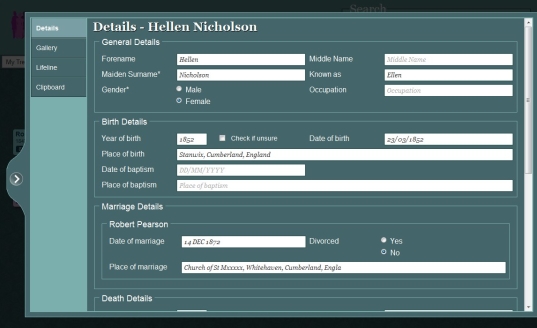 Details tab for editing a person is more spaced out and text is larger
The Gallery is on a separate tab, and the timeline has been improved to display more details and more accurately. While the clipboard works as before to assist copying data from one person to the next.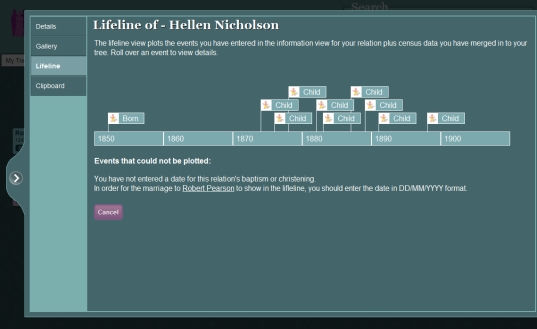 Timeline tab has been made more accurate
As I mentioned before, we had to re-develop the tree to support some of the features we have been consistently asked time and again to provide. In addition we have tried to make other features work better. We may or may not have got these perfected yet, so please let us know what you think. Let us know where the tree does not function and equally functions better. To provide feedback, click on the link by "Send us your comments and feedback here" or the menu icon to the right of the printer icon.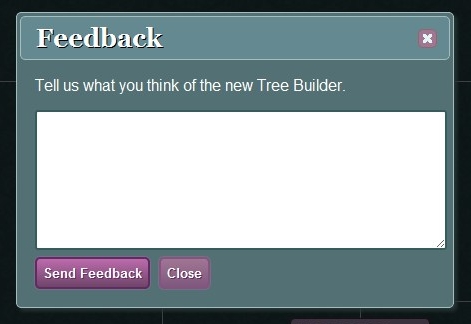 Please send us your feedback on the tree
Other Changes
On the home page we have reintroduced the Activity Alert on the Home page, but with a few improvements. Firstly any stickied post from the Announcements board will be shown here. Not in full detail, but the header and initial description, and it will include a link to the full announcement. This will help us distribute immediate news through the site, which has been asked for many times. This box will also contain up to five personal alerts to indicate when we last checked for Hot Matches, World War Matches, and other activities that are carried out for your benefit.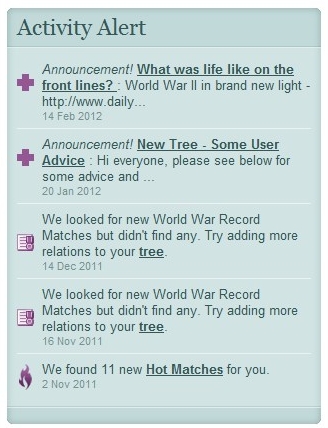 Activity Alert box on Home page
The release we did in mid January contained a few page rewrites. Like the tree, this was not to introduce features, but to migrate legacy code into new. The areas affected include the Photos and Videos section, which was previously hidden behind an obscure link on the Home page, but now has a dedicated link on the Community menu. Also the FAQs section under Help and the Maps under Search Results had to be re-written.

Photos and Videos under Community menu
Broken links - We realise that many of you have saved links to old pages, or use search engines to return to previous pages, and as we redevelop Genes some of these old pages no longer exist. These requests are recorded and we have tried to identify and redirect to the correct new page as many of these broken links as possible. In some cases there just isn't a corresponding link, but don't despair, we will make the best attempt to guide you to the right place.
Attaching records - During the legacy clearout we came across a number of issues with attaching records. We have fixed all the ones we found, and you should be able to link these to your tree correctly now.
Showing the right price - A good number of you have queried the price of viewing images and transcriptions. As a general rule, we have always shown the full price of viewing an item, regardless of whether it is included in your package or you have previously viewed the items on credits. We now display the actual price (in credits) of an item appropriate to your account. So for a Platinum member, all BMDs and Census records will show as Free, as will any specialist records if included in a purchased Feature. For a member using credits, if you have viewed an item already and it is still within your viewing period, it will also show as Free. Otherwise the credit price will be shown.
Going to wrong BNA page - We have identified and corrected a situation where the wrong newspaper page was being displayed.
Reply icon attached to wrong message - When a conversation existed and a member replied to a message later in the conversation, that message was not being flagged as replied to. In fact the reply icon was being placed against the initial conversation message. This issue has now been fixed.
Redirecting you to the right page after purchase - When you try to view a record that you are required to purchase credits, a package or feature for, after you have successfully paid, you will now have a link directly back to the original record you were trying to view.
Telling you why you need to purchase a package or credits - We are trying to help give better guidance throughout the site, and many people are confused when they try to view something and end up at the subscribe section. Firstly we have changed things around so that if you are a Standard or Gold member, we will direct you to the Pay Per View (Credits) option first, as this is more likely your preferred purchase choice. If you are a registered (non-paying) or Platinum member, then we guide you to the subscription page but we will tell you why, such as you are required to include the Additional Feature option if viewing Travel, Military, Parish or British Newspaper Archive records.
Infirmity column now visible on 1911 census images - We are now permitted to show you the contents of the previously hidden Infirmity column on the 1911 census images.
Hot Matches - We are continuing to tweak this process to ensure as many of you as possible get matches notifications. This is an ongoing process.
We have made more changes but this covers the main ones. As always I would love to hear any feedback you may have and I will do my best to respond as quick as I can. In the meantime, I hope you continue to enjoy the site, and if any of you are planning on attending the "Who Do You Think You Are" show at Olympia, London this coming weekend, then please drop by the stand. I will unfortunately only be able to attend on the Friday, but would love to meet as many of you as possible.
Best regards, Phil Moir
Genes Reunited, Lead Developer