Find Ancestors
Welcome to the Genes Reunited community boards!
The Genes Reunited community is made up of millions of people with similar interests. Discover your family history and make life long friends along the way.
You will find a close knit but welcoming group of keen genealogists all prepared to offer advice and help to new members.
And it's not all serious business. The boards are often a place to relax and be entertained by all kinds of subjects.
The Genes community will go out of their way to help you, so don't be shy about asking for help.
Quick Search
Single word search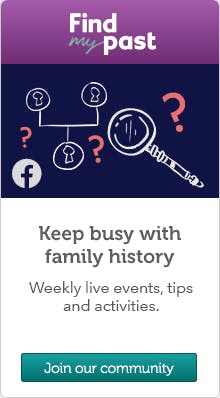 Icons
New posts
No new posts
Thread closed
Stickied, new posts
Stickied, no new posts
McCaughey of Armoy, Co. Antrim
Profile
Posted by
Options
Post Date

Niall
Report
28 Sep 2019 21:03

Oh Gawd!

Yep, at least seven years. I must of course thank Argyllgran, purely out of form, but it's infuriating.

I mean, look at Thomas McCaughy of Eglish, he'd be ideal. Except that my Thomas was at his son's wedding in 1872. If your Thomas hadn't been selfish enough to die when he did, he'd have fitted the bill nicely.

I'm beginning to think that I might have to try and map the backgrounds of all of the McCaugheys in N'Iron.

Eringobragh1916
Report
27 Sep 2019 12:11

I totally agree but doesn't it give you sleepless nights...!! I have been chasing all over Armoy (again)…


ArgyllGran
Report
27 Sep 2019 09:48

It's always good to have a project, Erin!

Researching:


Eringobragh1916
Report
27 Sep 2019 08:22

ArgyllGran..It will take Niall another 7 years to work that lot out...!!

ArgyllGran
Report
26 Sep 2019 23:28

McCaughey gravestone.

Hard to figure out the relationships.
A tree on Ancestry claims (without proof) that John (1827-85) was Francis's son - but Francis didn't marry Eliza until 1833. So was he married before??

Or could John have been a considerably younger brother of Francis? Can't find any record to prove that.

https://tinyurl.com/yxj9lwso



McCaughey Grave Broughshane Cemetry, Co Antrim Northern Ireland

Francis McCaughey and John McCaughey

In memory of
the late Francis McCaughey of Tullynuey
who departed this life 10/12/1866
aged 61 years

also his wife Eliza Wilson
died 12/11/1887 aged 76 years

also the above named John McCaughey
who died 1/10/1885 aged 58 years

and his daughter Margaret Thompson
born 1/9/1874 died 10/9/1907

also his wife Agnes McCaughey
who died 5/5/1932 aged 83 years

his granddaughet Dr Kathleen A McCaughey
who died 22/7/1946 aged 28 years

his daughter Jane Glenn
born 30/7/1872 died 18/2/1947

Also Annie McCaughey wife of
Thomas McCaughey Eglish
born 10/12/1884 died 17/7/1950

his daughter Elizabeth
born 1/21881 died 11/4/1953

his daughter
Mary Frances McCaughey
born 3/8/1877 died 24/2/1962

Thomas McCaughey Eglish
born 12/4/1883 died 18/8/1963

In memory of
Elizabeth McCaughey
relict of the late Francis McCaughey
of Rosherry
who departed this life 15/4/1850
aged 76 years

also her son John McCaughey of Rosherry
who died 20/3/1873 aged 80 years

and Margaret Glenn the beloved wife of
Thomas McCaughey
who died 14/10/1879 aged 34 years

also Mary Ann wife of Wm McCaughey
who died 1/7/1882 aged 94 years

and Thomas F
son of Thos and Margaret McCaughey
who died 11/6/1896 aged 17 years

also Thomas McCaughey
who died 3/4/1923 aged 83 years

also his wife Alice Wallace
who died 17/10/1928

In Memory of
the late Thomas McCaughey of Eglish
who departed this life 13/11/1867
aged 64 years

also his son Francis McCaughey
of Carncoagh
who died 15/3/1875 aged 58 years

and Margaret J Wallace the dearly beloved
of Robert M McCaughey Carncoagh
who died 4/2/1880 aged 27 years

also Samuel James son of
the above named Francis McCaughey
who died 21/4/1889 aged 54 years

also Jane wife of Thomas McCaughey
who died 11/7/1891 aged 85 years

and Ann Montgomery
relict of the late Francis McCaughey
who died 12/1900 aged 80 years

Margaret White McCaughey
died 29/1/1834 aged 76 years

Jane McCaughey
died 29/9/1934 aged 6 years

Robert McCaughey
16/5/1938 aged 86 years

Samuel James McCaughey
died 17/5/1969 aged 72 years


Researching:


Niall
Report
26 Sep 2019 22:39

Once again I'm bowled over by the speed and detail of the responses here. Argyllgran has been exceptionally thorough and has provided a lot of detail (thank you very much!), but unfortunately it doesn't tell us any more about Frank's siblings.

That link you provided Eringobragh1916 - astonishing. Most - but certainly not all - of this information I had already and part of the co-incidence can be seen by the reference to this thread :-)

The vegetarian diet certainly seems to have worked for Leonard, as he lived to around 86, although there is a rumour that he took to the drink in later life.

The author of the piece (John Edmundson?) has certainly done his research. As far as I can make out, the slightly piecemeal expansion of the McCaughey chain came about because Leonard built up the original chain from the XL, to the Eden in Glasgow, the Old Bank in Leeds and the College in Dublin. There was also a restaurant in Dundee I believe, but it wasn't a success. They then formed a public company 'The McCaughey Restaurants' and shares were sold.

It looks like Leonard got bored after a while and his son David - who had been working in The Old Bank - bought a hotel in Harcourt Street, presumably with Leonard's money. There is a letter from the Chairman of the company expressing his disappointment at not being told about David's pending departure. The hotel was called Rippington's Temperance Hotel, but I'm told that it was known locally as Rippinton's Knocking Shop. The name was changed to The Hotel Ivanhoe and after a few years they bought the house next door and extended. The Ivanhoe finally closed in 1973.

72 Harcourt Street where Leonard lived was less than a hundred yards up the street on the opposite side and was The Abbotsford Temperance Hotel. It may have been leased, as after the family moved out the original owner appears again in the street directory.

Whatever rift there may have been between Leonard & the shareholders seems to have been resolved by the middle of the 20th century, as there is a letter from the Ministry of Food around about 1946 to Martha McCaughey who was the manager of the XL at the time. It was sent to the company office, which was in the Ivanhoe in Dublin. The letter advises them that they are being fined 10/- for selling meat that has not been obtained using legitimate ration cards and that if it happens again that a prison term is a possibility, as this is their second offence. It seems that after Leonard's death the insistence on vegetarianism may have slipped a bit.

Thanks again,

Niall


Eringobragh1916
Report
26 Sep 2019 19:27

Welcome back Niall...I cannot believe it is so long ago either...I only visit this site occasionally now and couldn't believe seeing your post today when I was having a browse.....Don't know if you have the following but I enjoyed reading through it...

https://www.happycow.net/blog/uk-vegetarian-restaurant-chain-almost-120-years-ago/.

ArgyllGran has been busy already ..I hope somewhere a link may be found for you.


ArgyllGran
Report
26 Sep 2019 10:38

Francis McCaughey
in the Web: Northern Ireland, Will Calendar Index, 1858-1965
Name: Francis McCaughey
Death Date: 9 Dec 1866
Death Place: Northern Ireland
Record Date: 18 Jan 1867
Record Place: Belfast, Northern Ireland

Surname : McCaughey Date of Grant : 18 January 1867
Forename : Francis Reseal Date :
Registry : Belfast Effects : Effects under £800
No Image
Full Abstract :
Letters of Administration of the personal estate of Francis M'Caughey late of Tullynuey County Antrim Linen Manufacturer and Farmer deceased who died 9 December 1866 at same place were granted at Belfast to Eliza M'Caughey of Tullynuey (Ballymena) aforesaid the Widow of said deceased.

Researching:


ArgyllGran
Report
26 Sep 2019 10:35

???
Census Years1851AntrimKilconwayDunaghyTullyneweyResidents of a house

Residents of a house 10 in Tullynewey (Dunaghy, Kilconway, Antrim)

Macaughey Francis 45 - Male Head Of The Family - Linen manufacturer
Macaughey Elizabeth 39 - Female Wife
Macaughey Elzabet 17 - Female Daughter
Macaughey Samuel 15 - Male Son
Macaughey Mary 14 - Female Daughter
Macaughey Jane 12 - Female Daughter
Macaughey Louisa 10 - Female Daughter
Macaughey John 8 - Male Son
Macaughey David 3 - Male Son
Macaughey Margartta - 5 Female Daughter
Clark Alexa 22 - Male Servant
McCaughey Anna 6 - Female Daughter

Researching:


ArgyllGran
Report
26 Sep 2019 10:26

For our reference - although no sign of McClures so far:

Mr Francis McCaughey
in the Belfast, Northern Ireland, The Belfast Newsletter (Birth, Marriage and Death
Notices), 1738-1925
Name: Mr Francis McCaughey
Gender: Male
Notice Type: Marriage
Residence Place: Rusherry
Marriage Date: 7 May 1833
Marriage Place: Ireland
Spouse: Eliza Wilson
Publication Date: 14 May 1833

On the 7th inst. by the Rev Robert Stewart, Broughshane, Mr Francis McCaughey of Rosherry, to Eliza, eldest daughter of Mr Samuel Wilson, of Ballycloghan.



Francis McCaughey Esq
in the Belfast, Northern Ireland, The Belfast Newsletter (Birth, Marriage and Death Notices), 1738-1925
Name: Francis McCaughey Esq
Gender: Male
Death Age: 61
Notice Type: Death
Birth Date: abt 1805
Death Date: 9 Dec 1866
Death Place: Tullynney, Ballymena
Publication Date: 12 Dec 1866

Researching:


Niall
Report
25 Sep 2019 23:46

Hi folks,

I'm trying to resurrect this thread in the hope of advancing it further. You were all extremely and selflessly helpful back in 2012 (was it really that long ago??), but I wasn't able to take it any further.

There has however been a development; it seems my grandfather claimed that we were related to Samuel McCaughey of Ballymena:

https://en.wikipedia.org/wiki/Samuel_McCaughey

I had never heard of him, but it seems that through a combination of family connections, good timing, good luck and a staggering amount of hard work, he became the richest sheep farmer in Australia, owning more than 3.25 million acres and leaving over £1.6 million in his will when he died in 1919.

Of course this may have been wishful thinking on the part of my grandfather, but Samuel was born in 1835, making him a contemporary of my GGF Leonard - possibly a first cousin? His father was Frank McCaughey, a linen merchant of Tulleynewey near Ballymena:

http://www.genealogy.kirkpatrickaustralian.com/archives/getperson.php?personID=I7750&tree=TKA

I did find that Samuel's youngest sister married a man with McClure heritage, but unfortunately that didn't take me anywhere.

If anyone can find more details of the family of Frank McCaughey I would be very grateful. Even if it only serves to disprove the connection.

Thanks!



RottenR
Report
30 Jan 2012 12:39

Maybe if you post a query here someone may be able to help

http://www.ballymoneyancestry.com/ballymoney-ancestry-forum.aspx

Robert

Researcher
Report
30 Jan 2012 09:26

"Yes and the BF appears to support the findings from GR thread.....
Thanks Joy KM ...."

He has? That's good. There is such a wealth of information there :) That is why I suggested it first of all.

Eringobragh1916
Report
30 Jan 2012 09:04

Yes and the BF appears to support the findings from GR thread.....
Thanks Joy KM ....

Researcher
Report
30 Jan 2012 08:47

Did you post in , http://www.belfastforum.co.uk/ too?

Eringobragh1916
Report
30 Jan 2012 08:20

Niall....It could be that Leonard's place of birth referred to Armoy Civil Parish (Collectively) as opposed to one of the Townlands within that Civil Parish..there were 28 including Armoy Town...what you would need to do is cross reference all of these with any McAughey (variations ) in those areas....
I will send the list of the Townlands by PM (Personal Message)....

RottenR
Report
30 Jan 2012 00:14

Maybe the Presbyterian churches there may have some info the 2 closest to Armoy that I can remember are Bushvale and 1st Kilraughts

Robert

Niall
Report
30 Jan 2012 00:12

Thanks you very much for such thorough work Erin. I'm basing Leonard's orogin on his obituaries and also on his first marriage certificate which indicates that his father is from Armoy. I can't think of any reason why it would intentionally be inaccurate.

If it is then I may never get any further. That's one of the reasons I was hoping to hit on a sibling of Leonard's that might bring me down to a living relative who might have more information. Unfortunately I am left with only two members of my father's generation who are 89 & 90 and their memories are failing, plus they were reared in the Republic and subsequently in the UK, so their NI knowledge is weak.

Niall
Report
30 Jan 2012 00:07

I have thanks Maura, but St. Patrick's have nothing on them.

Eringobragh1916
Report
28 Jan 2012 19:01

Niall... I can find no McCaughy's in Armoy either..have varied the spelling to include M'Caughran/McGraughey /Caughey etc etc. have also looked at a the areas in the PLU of Ballycastle which was where Armoy T was (at the time in question )....unfortunately the further back you go the actual truth of where people actually originated becomes a little blurred,,,,
The question I myself asked was ,Leonard who I guess was an intelligent man who could read and write (lovely penmanship) gave his place of birth as the Co Armagh (1901) why...? Then changes it to the Co Antrim 1911....Armoy T.within Armoy (Civil Parish) had not altered its "borders" ....that being said I cannot find the McCaughey's et al in the Co Armagh either...!!
I also looked at the "Armoy" being misheard/transcribed as "Armagh" or Vice Versa......