Find Ancestors
Welcome to the Genes Reunited community boards!
The Genes Reunited community is made up of millions of people with similar interests. Discover your family history and make life long friends along the way.
You will find a close knit but welcoming group of keen genealogists all prepared to offer advice and help to new members.
And it's not all serious business. The boards are often a place to relax and be entertained by all kinds of subjects.
The Genes community will go out of their way to help you, so don't be shy about asking for help.
Quick Search
Single word search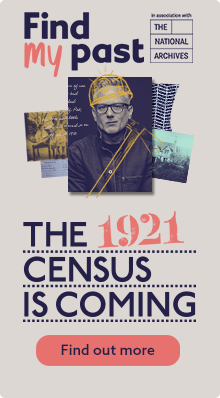 Icons
New posts
No new posts
Thread closed
Stickied, new posts
Stickied, no new posts
Francis Roman
Profile
Posted by
Options
Post Date

Click ADD REPLY button - not this link!
Report
11 Jan 2013 20:50

This fits for Byron's birth:

https://familysearch.org/pal:/MM9.1.1/FDY7-RZ4
name: Byron Roman
gender: Male
baptism/christening date:
baptism/christening place:
birth date: 13 Apr 1882
birthplace: Brooklyn, Kings, New York
death date:
name note:
race:
father's name: Andrew Roman
father's birthplace:
father's age:
mother's name: Maria O'Donnell
mother's birthplace:
mother's age:
indexing project (batch) number: C71521-1
system origin: New_York-ODM
source film number: 1324377
reference number:
Collection: Byron Roman, "New York, Births and Christenings, 1640-1962"

Rose

Researching:
I am not related to you and I'm not your husband's first wife!

Click ADD REPLY button - not this link!
Report
11 Jan 2013 20:56

Which puts him with the Umbrella maker Patchem posted.

Rose

Researching:
I am not related to you and I'm not your husband's first wife!

Click ADD REPLY button - not this link!
Report
11 Jan 2013 21:35

Gertrude came over too:

Marriages Mar 1900
Lovelidge Edward George Marylebone 1a 919
Roman Gertrude Frances Marylebone 1a 919

Really looks like Andrew was married to Maria O"Donnell.

1880 United States
Name: Andrew Roman
Age: 27
Birth Year: abt 1853
Birthplace: New York
Home in 1880: New York City, New York, New York
Race: White
Gender: Male
Relation to Head of House: Self (Head)
Marital Status: Married
Spouse's Name: Maria Roman
Father's Birthplace: Germany
Mother's Birthplace: England
Occupation: Umbrella Maker
Andrew Roman 27
Maria Roman 20
Gertude Roman 3
Frank Roman 1

Rose

Researching:
I am not related to you and I'm not your husband's first wife!

Click ADD REPLY button - not this link!
Report
11 Jan 2013 21:52

Joseph in 1911 is the same age as Byron.

Rose

Researching:
I am not related to you and I'm not your husband's first wife!

Steven
Report
16 Jan 2013 22:03

Hello Marie
Thanks for getting in touch.The reason that I don't have much on my tree about Andrew Martin Romans life in America is because I know so little.But here is the family story.Long ago (I really don't know when). An ancestor left Russia for America.
His name was ROMANOF/F (unsure of ending). May have been a family or a single
male. Some where along the way his name changed to ROMAN. Whether to sound more westernised for America, or whether immigration changed it to Roman.Or as has been mooted,as it sounded the same as Romanov (murdered Russian royal family).he may have changed it so as not to be wrongly associated with them fearing reprisals.
Anyway.Mr.Roman is now in America.This may even be Francis Roman.I have no idea .Hence the plea for help.The next thing is Andrew Martin Roman.(AMR) He had 4 children in the States. Joseph his son .And 3 girls,Gertrude, Annie and Katie.I have no idea if he was married at this time ,single,or living together with the childrens' mother. In 1898-1900 I think. AMR came to England as part of the Buffalo Bill wild west show.And Katie came with him. When the show left England AMR stayed here.Katie appears on the 1901 census then disappears. This is due to her being murdered in a Jack the Ripper type of way.Details of the court case can be found on Google if you enter t19090907-77. It says Kitty Roran. But this was later corrected to Kitty/katie Roman.
All the children born in England were before AMR married Annie Monk. I don't know if he deserted his first wife. or wives?. Was waiting for a divorce.or for her to pass away before he remarried.
I just remembered. The story is he married into the Emery family. The people who invented Emery paper,used in metalwork,And Emery boards used for nail filing etc.
So that's the story.What I am aiming to do is put names and dates to it all.
Thanks for offering any help.
Steve


MarieCeleste
Report
17 Jan 2013 19:36

Steven, really pleased you found your way back onto here!

What a great story (OK, I know the murder's not nice but it's good to have some history) - will have a look and see what can be turned up so keep checking back.

One thing Steven - you've marked the thread as answered so people will assume you don't want further help. If you go to your first post on page one there will be a pinky coloured button that says something like "mark this as unanswered" - click on that.

Would be an idea if you could give some feedback to the info people have posted for you. :-)

Steven
Report
17 Jan 2013 23:34

Marie Celeste.
I did have a little trouble. Couldn't see how the message would go to you. But I get the impression everybody who looks at the board sees it .
I misunderstood the bit about "marking as answered ".I just thought that meant I've answered the message you had posted. I suppose the more I use it the better I'll get. Its beginning to look like I need access to USA records,But with just a few names to go on.I could only enter very vague clues.
I will post notes for the other folk ,who were kind enough to spend some of there time looking at sites.And finding info for me. Its much appreciated.
All the best
Steve

Steven
Report
26 Jan 2013 23:47

Rose
I do have a downloaded copy of the 1915 marriage certificate.Was there something you wanted to know from it?. I don't know the mother of Katie or Joseph. It could have been a woman named Emery/ Emmery.
But that's a family story handed down.I have not been able to find any documentary evidence of this. Or much else really. It's getting a bit frustrating.

Steven
Report
26 Jan 2013 23:53

Patchem
I'm afraid you chased the wrong Andrew Roman.The one from Hungary is the wrong man.I went down the same path a while back .And nothing fitted in with what I had been told. Also there is nobody called Byron in my Roman family . (as far as I'm aware. The death of Katie in 1909 is correct.

Steven
Report
27 Jan 2013 00:11

Brumiejan
Yes.My tree does show Catherine Ebers as Francis wife. I was given this info from another member. And since posting my plea for help,Mike came up with marriage certificate info.
thanks for now.

Steven
Report
27 Jan 2013 01:13

Mike
Thanks for looking into this.Could you tell me where you found Andrew Martin Romans' date of birth from. Because I thought I saw it somewhere.but don't know where I was searching when I came across it. If you got the info from my tree.It may not be correct except for the year 1855.
I haven't seen the site Family Search. So cannot say if that name should be Roman or not.