Find Ancestors
Welcome to the Genes Reunited community boards!
The Genes Reunited community is made up of millions of people with similar interests. Discover your family history and make life long friends along the way.
You will find a close knit but welcoming group of keen genealogists all prepared to offer advice and help to new members.
And it's not all serious business. The boards are often a place to relax and be entertained by all kinds of subjects.
The Genes community will go out of their way to help you, so don't be shy about asking for help.
Quick Search
Single word search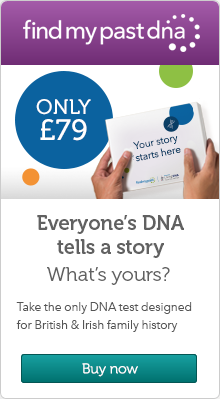 Icons
New posts
No new posts
Thread closed
Stickied, new posts
Stickied, no new posts
Mellish / Earwaker
Profile
Posted by
Options
Post Date

Sheil
Report
10 Feb 2019 13:05

Hi, can anyone help please, I'm looking for dates & info on a Charles or Thomas Mellish (? son) & a Emily Earwaker who may have been connected eith by a marriage of Mother of a Mellish

ErikaH
Report
10 Feb 2019 13:10

Which century? Where in the world?

Have you looked anywhere for info yourself?

Sheil
Report
10 Feb 2019 13:12

in the Hampshire area around late 1800's & into 1900's


ErikaH
Report
10 Feb 2019 13:17

And have you done any research?

No point in duplicating

What makes you think there's a connection between the two surnames?

How did you find Emily's forename? We need some specific info from you

Sheil
Report
10 Feb 2019 13:27

Hi. No research done reallyy, but long story , my husband had his DNA done & we are chsking out a possible cousin match. My husband knows a Tom Mellish is possibly his biological Father's name. My husbanad was born in Basingstoke in 1942 but could've been conceived in Fareham. As he was not brought up by his biological parents he has very little to go on to establish if his DNA match to a second cousin is indeed a DNA match

ErikaH
Report
10 Feb 2019 13:31

Was your husband's mother called Earwaker?



Sheil
Report
10 Feb 2019 13:34

No at the time her name was Elizabeth Emily White (Maiden Name) who was born in 1907

ErikaH
Report
10 Feb 2019 13:38

So, where does the name Emily Earwaker fit in?

Trying to help, but you've got to give all the info at your disposal. Can't work in the dark

ErikaH
Report
10 Feb 2019 13:40

WHITE, ELIZABETH EMILY PRATT
GRO Reference: 1907 M Quarter in FAREHAM Volume 02B Page 558

malyon
Report
10 Feb 2019 13:49

Births Mar 1907 (>99%)
WHITE Elizabeth Emily Fareham 2b 558




Sheil
Report
10 Feb 2019 13:49

Elizabeth Emily White nee Pratt is correct& is my husband's mother & we do have info on her family, The Emily Earmaker is from the distant cousin who either married or had a relationship with a Charles Mellish but we do not know who their children were, so we are trying to find out if a Thomas Mellish is a son from a marriage or born out of wedlock


ErikaH
Report
10 Feb 2019 13:54

Well, if you'd used freebmd, as I just have, you'd know that there is no marriage between the surnames, nor is there a birth.



Sheil
Report
10 Feb 2019 14:03

well sometimes they list household names on electorial rolls & we wondered if a thomas Mellish was listed at all. He was definitley in Hampshire area as a grown up (not sure of age) in around early 1940's. tbelow is the only info we have:

Hi Anthony, I have just come off the Phone with my mother - June Raymond. Her mother was Winifred Seller and Winifred's mother was Emily Seller. Emily later remarried and became Emily Earwaker. At My Great Grandmother Emily's funeral, my mum met for the first and only time, a Charles (aka Chaw) Mellish who was my great grandmother's first son by a Mr Mellish, possibly out of wedlock, or so family legend has it. Rumour Control also has it that Charles' father went on to have seven or eight children by another relationship. Perhaps he was the Tom your refer to? Does any of this resonate with you? If so, we may indeed be 2nd or 3rd cousins, connected via my Seller/Earwaker Great-Grandmother.

ErikaH
Report
10 Feb 2019 14:15

Marriages Dec 1913 (>99%)

Earwaker Robert Seller Fareham 2b 1277
Seller Emily Earwaker Fareham 2b 1277

safc
Report
10 Feb 2019 14:16

????

Record Transcription:
Hampshire, Portsmouth Marriages


Location: Hampshire, England


First name(s) Robert
Last name Earwaker
Age 42
Birth year 1871
Denomination Anglican
Marital status Widowed
Occupation Labourer
Residence Cosham
Marriage year 1913
Marriage date 08 Nov 1913
Marriage place Wymering
Dedication Ss Peter & Paul
Spouse's first name(s) Emily
Spouse's last name Seller
Spouse's age 46
Spouse's birth year 1867
Spouse's marital status Widowed
Spouse's residence Cosham
Father's first name(s) Charles
Father's last name Earwaker
Father's occupation Deceased
Spouse's father's first name(s) Thomas
Spouse's father's last name Millish
Spouse's father's occupation Carter
Witness 1 George Francis Seller
Witness 2 Annie Deon
County Hampshire
Country England
Register type Marriages
Register year range 1905-1922
Archive reference CHU 15/A/3/1/4
Archive Portsmouth History Centre
Record set Hampshire, Portsmouth Marriages
Category Birth, Marriage, Death & Parish Records
Subcategory Parish Marriages
Collections from England, Great Britain

Researching:
Abby says please do not send messages to safc, always reply on your thread, as Abby is just a paying member of genes reunited. helping other members. thank you.

ErikaH
Report
10 Feb 2019 14:16

1939

20 Dean Road , Portsmouth C.B., Hampshire, England


Emily Earwaker 10 Jul 1867 Female Unpaid Domestic Duties Married 62 2
Robert Earwaker 28 Jun 1871 Male Retired R N Married 62 1

ErikaH
Report
10 Feb 2019 14:19

Marriages Jun 1890 (>99%)

MELLISH Emily Fareham 2b 1040
Seller Robert Fareham 2b 1040

Mary
Report
10 Feb 2019 14:20

Emily Mellish born 1868 Canford Devon married Robert seller then married Robert Earwalker.

She was the daughter of Thomas 1841born Topuddle Devon and Emily Whitelock they also had a son Charles henry Mellish 1879-1959 who married and had a son Charles Arthur Thomas Mellish 1902 born Fareham Hampshire.


The answer seems to be in the above family.


Maryb

Researching:
Farrar, Jessop, Ward, Booth, Wragg, Walsh.

ErikaH
Report
10 Feb 2019 14:20

1881

Name: Emily Mellish
Age: 14
Estimated birth year: abt 1867
Relationship to Head: Daughter
Father: Thomas Mellish
Gender: Female
Where born: Canford, Dorset, England
Civil Parish: Milton
County/Island: Hampshire
Country: England
Street address: Wootton

Registration district: Lymington
ED, institution, or vessel: 9
Neighbors: View others on page
Piece: 1191
Folio: 121
Page Number: 15
Household Members:
Name Age
Thomas Mellish 40
Emily Mellish 14
Frederick Mellish 12
Cecily Mellish 11
Fanny Mellish 9
Selina Mellish 7
William Mellish 4
Charles Mellish 2



safc
Report
10 Feb 2019 14:22

Record Transcription:
1911 Census For England & Wales

Dean Road Cosham Hampshire, Cosham, Hampshire, England

Emily Seller's Household Members
Members that resided in the household at the time of the census.
First name(s) Last name Relationship Marital status Sex Age Birth year Occupation Birth place
Emily Seller Head Widow Female 43 1868 Laundress Gt Canford Nr Whimbone Dorset
George Seller Son Single Male 17 1894 Under Gardner Cosham Hants
Daisy Seller Daughter Single Female 19 1892 No Occupation Domestic Duty At Home Cosham Hants
Elsie Seller Daughter Single Female 14 1897 Nurse Girl Cosham Hants
Arthur Seller Son - Male 9 1902 At School Cosham Hants
Winifred Seller Daughter - Female 4 1907 - Fareham Hants
Leslie Mellish Nephew - Male 3 1908 - Fareham Hants
Edward Blackman Boarder Married Male 27 1884 Gardener Domestic Cosham
Daisy Blackman Boarder Wife Female 21 1890 - Scotland
William Blackman Son - Male 2 1909 - Cosham

Researching:
Abby says please do not send messages to safc, always reply on your thread, as Abby is just a paying member of genes reunited. helping other members. thank you.