Find Ancestors
Welcome to the Genes Reunited community boards!
The Genes Reunited community is made up of millions of people with similar interests. Discover your family history and make life long friends along the way.
You will find a close knit but welcoming group of keen genealogists all prepared to offer advice and help to new members.
And it's not all serious business. The boards are often a place to relax and be entertained by all kinds of subjects.
The Genes community will go out of their way to help you, so don't be shy about asking for help.
Quick Search
Single word search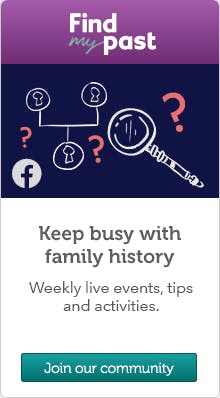 Icons
New posts
No new posts
Thread closed
Stickied, new posts
Stickied, no new posts
Louisa Gillispie Malcolm/Murry/Grunnell
Profile
Posted by
Options
Post Date

Stacey
Report
30 Sep 2019 17:06

Hi, I'm looking for my great grandmother. She was born Louisa/Leuisa Gillispie Malcolm in Kincardinshire Scotland in 1891 and died in 1971 in Swansea. She gave birth to my grandmother in a maternity home for unmarried mothers in Aberdeen in 1912 and then possibly moved to Dundee in 1914 and married Albert Murry/Murray then gave birth to Albert Joseph Murry/Murray in 1915. She divorced Albert in 1919 and I next find her in Sculcoate in Yorkshire where she married Albert E Grunnell and had a daughter, Grace Gertrude Grunnell.
Grace and Louisa (calling herself Louise by then) are next seen in Swansea, living with a baker, Percival Atkins. Grace is 21 by then and recorded as being an "invalid"

Louisa died in Swansea in 1971 and her death is listed as being Louise Olga Grunnell. Grace Gertrude died in Swansea in 1985 and is buried in Oystermouth cemetery.

I can't find a grave for Louisa and neither can Swansea council so I've no idea what happened to her or she first son or who recorded the death.

Is anyone linked to Louisa or Gertrude or Albert who can enlighten me as to whether Louisa's children got married etc? Thanks for reading.

ErikaH
Report
30 Sep 2019 17:29

What are you looking for? You seem to know most of what is likely to be available

To find who registered the death, buy a copy of the death cert. One would assume it would have been her daughter, but no way of knowing without the cert

To find info about her children, start with freebmd

https://www.freebmd.org.uk/cgi/search.pl

Or SP

https://www.scotlandspeople.gov.uk/search-our-records

ErikaH
Report
30 Sep 2019 17:31

For INFO

1939
69 Lydford Avenue, Swansea C.B., Glamorganshire, Wales
Percival R Atkins 10 May 1894 Male Baker Journeyman Widowed 327 1
Louise O Grunnell 17 May 1896 Female Unpaid Domestic Duties Widowed 327 2
Grace G Grunnell 18 Nov 1921 Female Invalid Single 327 3

KathleenBell
Report
30 Sep 2019 17:39

If you buy Louise's death certificate at least you would know who registered the death:-

First name(s) LOUISE OLGA
Last name GRUNNELL
Gender Female
Birth day 18
Birth month 5
Birth year 1891
Age -
Death quarter 1
Death year 1971
District Swansea
County Glamorganshire
Volume 8B
Page 3256
Country Wales
Record set England & Wales Deaths 1837-2007

Could Louise have been cremated and her ashes scattered? Perhaps if you could find the person who registered the death they might know.

Kath. x

Stacey
Report
30 Sep 2019 17:41

Thanks both. I've tried all of the sites and coughed up about £40 in buying credits to try to find out what happened to the children but I've only got the details I've come up with in my post.

I'd like to know where Louisa/Louise is buried but despite having paid Swansea council £6 to do a search they can't find her grave.

KathleenBell
Report
30 Sep 2019 17:44

There is a photo of Grace's grave here:-

https://billiongraves.com/grave/Grace-Gertrude-Grunnell/7144773

There is also a young child named Anna Jane Lorna Bateman on the same headstone. Do you have knowledge of this child and could the parents of this girl know anything about Louise?

Kath. x

Stacey
Report
30 Sep 2019 17:48

No, I've no idea who the child is, it's been puzzling me. It's too young to be her child so I wondered if it was a grandchild. Grace doesn't come up on any birth certs for anyone though and she's still got her maiden name when she died.

KathleenBell
Report
30 Sep 2019 17:54

This looks like the child's birth:-

First name(s) ANNA JANE L
Last name BATEMAN
Birth year 1997
Birth quarter 4
Registration month 12
Mother's maiden name Robson
District Kendal
District number 3771
County Westmorland
Country England
Register Number K34D
Entry Number 051
Date of registration mm/yy 1297
Record set England & Wales Births 1837-2006

I can't find a Bateman/Robson marriage in Kendal but there is this one with the Swansea connection:-

First name(s) TIMOTHY P
Last name BATEMAN
Marriage quarter 3
Marriage year 1988
Registration month 7
MarriageFinder ™

TIMOTHY P BATEMAN married one of these people

Wendy G Robson

Spouse's last name Robson
District Swansea
District number -
County Glamorganshire
Country Wales
Volume -
Volume as transcribed 27
Page number 1283
Record set England & Wales Marriages 1837-2005

Kath. x

KathleenBell
Report
30 Sep 2019 17:59

I'll send a possible address for the likely parents of this child by private message.

Kath. x

malyon
Report
30 Sep 2019 17:59

Anna Jane L Bateman
England & Wales Deaths 1837-2007
Collections from
Great Britain, Wales
Country
Wales
County
Glamorganshire
Year
1999
Birth Year
1997
Event Quarter
2
District
Cardiff

malyon
Report
30 Sep 2019 18:03

there is no mothers name for anna in familysearch all the other births that year have the mothers name

KathleenBell
Report
30 Sep 2019 18:06

Mother's maiden name is Robson - as in my post above.

Kath. x

ArgyllGran
Report
30 Sep 2019 18:40

The son Albert's birth, for our reference:

MURRAY
ALBERT JOSEPH
M
1915
282/4 1066
St Andrew (Dundee)


Have you investigated this marriage?

MURRAY
ALBERT JOSEPH
RAMSAY
CONSTANCE B
1967
282/1 390
Dundee East and West


This is his death:

MURRAY
ALBERT JOSEPH
82
mms MALCOLM
1997
352/ 5
Dundee

All found free of charge on SP.

He must have stayed with his father after Louisa went off to Sculcoates.


Presumably his wife's death:

MURRAY
CONSTANCE BEVER[idge ? ]
91
mms HUNTER
2015
351/ 204
Dundee

Researching:


Stacey
Report
30 Sep 2019 18:51

Argyll Gran, that's wonderful! I've tried SP, ancestry uk, family search and here and not been able to find a single thing out about him. Thank you.

ArgyllGran
Report
30 Sep 2019 18:54

You're welcome!

Incidentally, GR only has English and Welsh records - no use for Scotland.

Researching:


Stacey
Report
30 Sep 2019 18:59

Yeah, I've been looking for the Yorkshire and wales records on here and other people's family trees who have Louisa on it are very helpful.

I'm wondering if Louisa maybe couldn't read and write very well because her name is spelled very strangely here and there and she was using Murry (sic) as her maiden name at one point.

rootgatherer
Report
30 Sep 2019 22:14

Not that it helps but here's her baptism if you don't have it.


First name(s) Lueisa Gillispie
Last name Malcolm
Gender Female
Birth year 1891
Birth place Dunnottar, Kincardine, Scotland
Baptism year -
Baptism date -
Baptism place -
Father's first name(s) Unknown
Father's last name -
Mother's first name(s) Margaret
Mother's last name Malcolm
Residence Scotland
Place Dunnottar
County Kincardineshire
Country Scotland
Record set Scotland Births & Baptisms 1564-1950
Category Birth, Marriage, Death & Parish Records
Subcategory Parish Baptisms
Collections from Scotland, Great Britain

Researching:


Stacey
Report
30 Sep 2019 22:38

Thank you, I did have that.

rootgatherer
Report
30 Sep 2019 23:02

There are some ERs on FindMyPast and this is the latest one that I see with Louisa and Albert together.

Transcription:
England & Wales, Electoral Registers 1920-1932
What can I do with this record?

View Image
View an image of this record

Add To Tree
Attach this record as a source to a person on your tree. Also update people and relatives with details from this record

(On the 1939 register, Albert is living with his mother and sister?)

First name(s) Louisa Gertrude
Last name Grunnell
Year 1924
Season Spring
Polling district or place Myton
Constituency P B of Kingston-Upon-Hull, Central Division
Constituency in full Parliamentary Borough of Kingston-upon-Hull, Central Division
County Yorkshire
Country England
Register type Parliamentary Borough
Archive
The British Library
Archive reference SPR.Mic.P.344/BL.H.79
Record set England & Wales, Electoral Registers 1920-1932
Category Census, land & surveys
Subcategory Electoral Rolls
Collections from Great Britain, England


Researching:


Chris Ho :)
Report
1 Oct 2019 09:56

Just to add (if you hadn't seen) a Probate 1967 for below (Percival Richard) 215, Port Tennant Road, to Louise Olga Grunnell widow)

Chris :)

https://probatesearch.service.gov.uk/#wills

Deaths Dec 1966 (>99%)
---------------------------------------------------------------
ATKINS PERCIVAL R 72 SWANSEA 8B 764


Birth
ATKINS, PERCIVAL RICHARD PALMER
GRO Reference: 1894 J Quarter in SWANSEA Volume 11A Page 910


Deaths Sep 1957 (>99%)
---------------------------------------------------
GRUNNELL Albert E 57 Hull 2a 123

https://discovery.nationalarchives.gov.uk/details/r/D8578825

(Navy Record. Born 17/4/1900. Hull)


13 February 1924 - Hull Daily Mail - Hull, Yorkshire, England

SKIDDED IN FRONT OF TRAM.
Cycling along Hedon-road on Tuesday morning, Albert Grunnell, twenty-four years old, a lighterman, living at 104, Mersey street, skidded in front of a tramcar and was knocked down. He was treated at the Infirmary for injuries to the left ribs.

(1926 at above address, his Mother, with letter of thanks, after her husband being rescued from Old Harbour)


https://www.wrecksite.eu/peopleView.aspx?33129

Harry Feetham Grunnell
age: 20 years
date of death: 06/09/1917
Son of John Herbert and Hannah Elizabeth Grunnell, of 43, Scarborough St., Hessle Rd., Hull.