Find Ancestors
Welcome to the Genes Reunited community boards!
The Genes Reunited community is made up of millions of people with similar interests. Discover your family history and make life long friends along the way.
You will find a close knit but welcoming group of keen genealogists all prepared to offer advice and help to new members.
And it's not all serious business. The boards are often a place to relax and be entertained by all kinds of subjects.
The Genes community will go out of their way to help you, so don't be shy about asking for help.
Quick Search
Single word search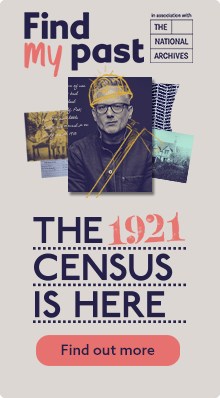 Icons
New posts
No new posts
Thread closed
Stickied, new posts
Stickied, no new posts
William John Carswell Craig
Profile
Posted by
Options
Post Date

Aspen
Report
18 Jun 2022 13:31

ErikaH
It is a strange one indeed. I will try and see where William John went and hopefully there will be something. The first son married and had a large family, but has nothing more than I have on here. DNA has not helped yet, but you live in hope.
If the mother did change her name, then it is difficult to find a death. One thing sticks for me is the baptism. The first baby was baptised by the adoptive parents and the second one by the mother. There is a chance that she kept that baby.

ErikaH
Report
18 Jun 2022 13:31

Is there any reason that there should/could be?

Aspen
Report
18 Jun 2022 13:24

Mary A Gillespie nee Wilson 12 Fountain Place was the mother of Margaret Gillespie who was known as Maud. Margaret Gillespie married William Smyth 21st Apr 1924 and remained in 12 Fountain Place until death.
I cannot find a connection to eith Craig or Cherry to this family.

ErikaH
Report
18 Jun 2022 12:06

The fact that the alleged 'father' was 'deceased' is often indicative of a lie being told - especially so with this woman, as she used the same name for the man/men, both allegedly 'deceased' which is unlikely, to say the least

Aspen
Report
18 Jun 2022 10:03

ArgyllGran
I would agree with you on that. Not sure about religion but the mother must have been Church of Ireland as William was baptised there. I have nothing more for the Dad, apart stating that he was a Commercial Traveller and his name. I cannot find a birth or death for him with the name Charles Glen Craig.
I am thinking now about a school. I will see if there are school records online as that might reveal something.
A bit of a mystery :-(

ArgyllGran
Report
18 Jun 2022 09:49

Just a suggestion -
if they were using false names (and possibly fictitious death of Charles ???), maybe it was because of the political struggles around that time - before, during and after the 1916 Derry Rising.

https://issuu.com/derrybluebadgeguide/docs/rising-insides

From the above, and other Google search results, the Fountain area of Derry seems to have been heavily involved on the Unionist side.

In 1912 -
"471,414 unionists would sign the [Ulster] Covenant, including 275 residents of the Fountain Street area." - from the above link.

These included people at 12 Fountain Place -
Margaret and Mary A Gillespie, John G Greer, and Samuel A McClelland.

Covenant signatories included lots of Charles Craigs, Elizabeth Craigs, and Elizabeth Stewarts, and a couple of Elizabeth Cherrys - at various addresses.

https://apps.proni.gov.uk/ulstercovenant/search.aspx


Researching:


Aspen
Report
17 Jun 2022 21:40

I know that William John Carswell Craig was baptised on the 5th November 1916 giving the address as 12 Fountain Place. There were no more children recorded after that. I do not know how long they remained in 12 Fountain Place or where they moved to.

Aspen
Report
12 Jun 2022 13:40

Nameslessone
I have done that as well. If the names on the birth certificate was incorrect, it just makes it more difficult. It is strange to have Charles Craig on both birth certs and both deceased. Albeit, one was a labourer and the other a commercial traveller. There are no deaths for either.

nameslessone
Report
12 Jun 2022 09:00

It might be worth looking into uploading the DNA results to other companies. Most will take from Ancestry but Ancestry won't take anyone else's.

ArgyllGran
Report
11 Jun 2022 21:17

Thanks for the explanation, Aspen.

Giving the child the nurse's surname as a middle name could just be a gesture of gratitude.

Researching:


Aspen
Report
11 Jun 2022 20:56

Nameslessone
I now can safely say the Elizabeth Stewart-Craig that died 1947 is not the one that I want. Elizabeth Medhurst Lanaway married Arthur Edward Stewart-Craig in 1913.

Aspen
Report
11 Jun 2022 20:13

ArgyllGran
The McGonigle family was there in the census 1911. Then I came across Elizabeth Carswell a nurse, she emigrated to Canada in 7th Oct 1911. She was Gillespie before marriage and left 12 Fountain Place. So between the 1911 census, that familt moved out and the Gillespie family move in. Elizabeth married Ernest Arthur Carswell in 1893 but was in England in the census 1911. Elizabeth had a sister Maude, (Margaret) who married William Smyth in 1924 and was living in 12 Fountain Place. I can see that Elizabeth Carswell travelled many times to 12 Fountain Place and was there from 30th July 1916 and by the looks of it to 10th May 1919. I cannot see any connection for Elizabeth Stewart-Cherry Graig to this family.
Looking at the other baby boy in 1915. On the original birth certificate, it states Charles Craig deceased. I know it does not on the transcript on rootsireland. Also you cannot view it on the free site, Irisgenealogy. As I said he was adopted and I have the information from the son. I am related but not direct. I am trying to help the son and he has his DNA done. Nothing much has come from it so far.
I have looked at the McGonigle family too and again, there seems to be no connection.
Very strange that a woman gives birth in someone else home and adds the nurses surname in the baby's name too.
I have checked all the passenger lists to see if Elizabeth Carswell took the baby back with her as she already adopted Doris. I do know Elizabeth has a son Arthur around May 1911 and sadly he died 1912 age 10 months.

ArgyllGran
Report
11 Jun 2022 18:41

In 1911, 12 Fountain Place was the home of Isabella McGonegle and her married daughter and family, surname Leslie.

I don't see any Carswells in Londonderry in 1911.

Researching:


ErikaH
Report
11 Jun 2022 18:39

Are you related to these people?

ArgyllGran
Report
11 Jun 2022 18:33

Why do you think Elizabeth Carswell was a nurse?

The birth cert only says she was present at the birth, and doesn't give her occupation.

How do you know the address (12 Fountain Place) belonged to her family?

How have you worked back to this family if the birth cert is all you have?


Is this the other child you mention?

SR District/Reg Area - Strabane
Birth of John N/R Craig on 27 February 1915
Child
Name John Craig
Date of Birth 27 February 1915
Sex Male
Place of Birth Raphoe, Co. Donegal
Mother
Forename Elizabeth
Surname Craig
Birth Surname Cherry
Father
Forename Charles
Surname Craig
Occupation Labourer (Deceased)

Researching:


Aspen
Report
11 Jun 2022 18:29

That makes me think that the truth was not told. The thing is, she must have had to do what was necessary. The first child was adopted and she had the second child 18 months later. I do think that she may have kept the second child and if that is the case, his name would still be the same.


nameslessone
Report
11 Jun 2022 18:21

Ah Praise be to God, 'tis a miracle. The man fathered a child whilst he was dead ;-). I know it can happen now but then….?



Aspen
Report
11 Jun 2022 18:09

DNA, is not showing much up yet. However, it might in the future and I will have to wait and see. In 1915, there was another baby born and the mother gave her maiden name as Cherry, not Stewart-Cherry. The interesting thing was the father was Charles Craig, deceased. On both birth certs, it indicates that she was married to Charles Craig.
I think the information may be false.
You have given me plenty too look at in the meantime. Thank you.

nameslessone
Report
11 Jun 2022 17:45

Curiouser and curiouser.

It looks like it is going to be impossible if all the names were false. DNA may be your only option - if you are related.

If you are not aware of what happened with illegimate births in Ireland thn have a look into Magalen Laundries.



Aspen
Report
11 Jun 2022 17:28

Thank you for that. I do feel that the information was not correct on the birth cert. Also, the name Carswell was the surname of the nurse that delivered the baby. The address where the baby was born, belonged to the Nures's family. I have checked to see if Elizabeth was connected to this family, but can't find it so far. The problem could be that the mother used another name as well and that will make it more difficult. I suppose she had to do what was was needed at the time.