Find Ancestors
Welcome to the Genes Reunited community boards!
The Genes Reunited community is made up of millions of people with similar interests. Discover your family history and make life long friends along the way.
You will find a close knit but welcoming group of keen genealogists all prepared to offer advice and help to new members.
And it's not all serious business. The boards are often a place to relax and be entertained by all kinds of subjects.
The Genes community will go out of their way to help you, so don't be shy about asking for help.
Quick Search
Single word search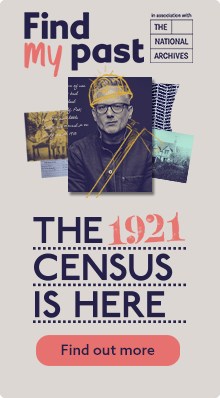 Icons
New posts
No new posts
Thread closed
Stickied, new posts
Stickied, no new posts
Lost Uncle James Irvine
Profile
Posted by
Options
Post Date

Neil
Report
22 Jun 2022 00:39

Trying to find what happened to my great uncle who sailed from NZ as 1st Mate aboard a ship in 1919 heading for Port Townsend, He sent a letter home to his mother in Shetland he expected to be home when he could get a ship but was not heard of. He was born in 1894 in Shetland Isles Scotland.

nameslessone
Report
22 Jun 2022 09:05

Do you know what ship he signed on for and when was it due to depart/ arrive.?

Have you looked for records of merchant seaman?

ErikaH
Report
22 Jun 2022 09:16

How much research have you done yourself? No point in duplicating

nameslessone
Report
22 Jun 2022 09:55

As 1919 would be in the midst of the Spanish flu epidemic you also need to consider that he died.
Find my past has the National Archives records of deaths at sea. These may include Scottish sailors. He may have been signed off at any port due to flu, possibly dying there.
It is important to know his ship.

ArgyllGran
Report
22 Jun 2022 10:02

Did he have a middle name?
Who was his mother and where did she live?

These are the only James Irvines registered in Shetland 1893-5:

IRVINE
JAMES MAGNUS
M
1893
006/1 15
Yell (Mid and South)


IRVINE
JAMES WILLIAM
M
1895
011/ 1
Unst


IRVINE
JAMES JOHN
M
1895
002/ 5
Delting


IRVINE
JAMES
M
1893
001/ 12
Bressay

Researching:


Shirley~I,m getting the hang of it
Report
22 Jun 2022 11:29

?

James Irvine
in the New Zealand, World War I Service Records, 1914-1920
Name: James Irvine
Birth Date: 18 Jun 1894
Birth Place: Shetland Islands, Scotland
Enlistment Date: 7 Mar 1916
Occ sailor
Next of Kin: Mrs M Irvine
Next of Kin Relationship: Mother
Mother:
M Irvine
Service Number: WW1 14642


Researching:
Surname Fahse. Germany. Essex .South East London My avatar is one of our wedding photos of 1957

ArgyllGran
Report
22 Jun 2022 11:51

PM from Neil with more info:

"his mother was Ann Brown Irvine (Nee Henry) they lived in Gulberwick but like your list I have not been able too find his birth Cert. This make me wonder whether he was actually born away from Shetland. James had a younger brother in Canada (George) who had the same birth day date and he apparently sent a birthday card to George for many years"



Possible marriage of parents:

HENRY
ANN
IRVINE
WILLIAM
1888
005/ 2
Lerwick


Ann's death:

IRVINE
ANN BROWN
70
1932
005/1 51
Lerwick




Ann Irvine
in the 1891 Scotland Census
Name: Ann Irvine
Age: 29
Estimated Birth Year: abt 1862
Relationship: Head
Gender: Female
Where born: Brindister, Shetland
Registration Number: 5
Registration district: Lerwick
Civil parish: Lerwick and Gulberwick
County: Shetland
Address: Sound Road Cottage
Occupation: Sailor's Wife
ED: 6
Household schedule number: 19
Line: 7
Roll: CSSCT1891_2
Household Members Age Relationship
Ann Irvine 29 Head
Wm Irvine 2 Son - Gulberwick


The son William went to NZ (at least all Ancestry's suggestions indicate that), and there are various records for him there - marriage (1910), army, death:

William Irvine
in the New Zealand, World War I Service Records, 1914-1920
Name: William Irvine
Gender: Male
Birth Date: 28 Oct 1888
Birth Place: Shetland Islands, North of Scotland
Enlistment Date: 9 Mar 1916
Next of Kin: Mrs W Irvine
Next of Kin Relationship: Wife
Spouse: W Irvine
Service Number: WW1 14641


New Zealand, Cemetery Records, 1800-2007

William Irvine
Death Age 62
Birth Date 1888
Death Date 11 Dec 1950
Death Place Dunedin, Otago, New Zealand
Cemetery Andersons Bay
Burial Place Dunedin, Otago, Otago, New Zealand


Cemetery record says he was a pensioner, resident of 109 Melbourne Street. Born Shetland Island; lived 47 years in province . Died at Dunedin Public Hospital. Ashes taken by relatives.


I don't see Ann or William in 1901.

Nor James anywhere, at any time.

Researching:


ArgyllGran
Report
22 Jun 2022 12:17

Re the younger brother George -

I guess this MAY be his birth:

IRVINE
GEORGE HENRY
M
1898
005/1 38
Lerwick

But that's no help with James!

Can't see George in 1901.

EDIT:
Maybe not his birth above.
There's a George H Irvine, 1898 Lerwick, with parents Charles and Mary, in 1901 census.


EDIT AGAIN:

No - George was born in 1902.

Researching:


LondonBelle
Report
22 Jun 2022 12:33

There is this 1901 Census but there is no George! The Family were all born Scotland. On the image the surname, I think, is 'Irvine'. The Image states Anne is married but no information about husband's occupation

Name: William Iovine
Age: 12
Estimated Birth Year: abt 1899
Relation to Head: Son
Gender: Male
Mother: Anne Iovine
Birth Place: Scotland
Civil Parish: South Shields
Search Photos: Search for 'South Shields' in the UK City, Town and Village Photos collection
Ecclesiastical parish: St Mary
County/Island: Durham
Country: England
Street Address:

Occupation:

Condition as to marriage:

Education:

Employment status:

View image
Registration District: South Shields
Sub-registration District: South Shields
ED, institution, or vessel: 70
Neighbors: View others on page
Piece: 4736
Folio: 134
Page Number: 39
Household Schedule Number: 273
Household Members:
Name Age
Anne Iovine 38
William Iovine 12
Thomas Iovine 10
John Iovine 10
James Iovine 6
Catherine Iovine 14
Mary A Iovine 1

Researching:
Sheik Ralphie

alviegal
Report
22 Jun 2022 12:37

1901 for the family.

1901 England, Wales & Scotland Census
195, South Eldon Street, South Shields, Durham, England

Household members (7 people)
First name(s) Last name Relationship Marital status Sex Age Birth year Occupation Birth place
Anne Irvine Wife
Married Female 38 1863 - Scotland
William Irvine Son
Single Male 12 1889 - Scotland
Thomas Irvine Son
Single Male 10 1891 - Scotland
John Irvine Son
Single Male 10 1891 - Scotland
James Irvine Son
Single Male 6 1895 - Scotland
Catherine Irvine Daughter
- Female 4 1897 - Scotland
Mary A Irvine Daughter
- Female 1 1900 - Scotland


ArgyllGran
Report
22 Jun 2022 12:40

Can't see a 1919 voyage, but wonder if this could be James in 1913 (though it's a very common name) :


James Irvine
in the Washington, U.S., Arriving and Departing Passenger and Crew Lists, 1882-1965
Name: James Irvine
Nationality: English [ GB on image - not English specifically ]
Arrival Age: 20
Birth Date: 1893
Departure Place: Coquimbo, Chile
Arrival Date: Sep 1913
Arrival Place: Port Townsend, Washington
Ship Name: Stimson

He's only an AB, but maybe was promoted before 1919 ?!
Line Number: 11

Researching:


LondonBelle
Report
22 Jun 2022 12:41

Might just be a coincidence but there is this birth on Scottishpeople,credits are required for further info.....last child on 1901 Census?

SurnameIRVINE
ForenameMARY ANN HENRY
Mother's Maiden Name
GenderF
Year1899
Ref005/1 46
RD NameLerwick

Researching:
Sheik Ralphie

ArgyllGran
Report
22 Jun 2022 12:50

Neil's tree on Ancestry says that George was born 18 June 1902 at Gulberwick - and there is a Lerwick registered birth in 1902, so presumably correct.

According to Neil's tree, the army record for James, posted by Shirley at 11:29, is the correct one, with DOB 18/6 /1894 - although mother's initial is given as M, not A


EDIT:
Looking at the image, it actually says Mrs W Irvine, so that's correct, as her husband was William.

Researching:


ArgyllGran
Report
22 Jun 2022 13:03

Another WW1 record for James:

James Irvine
in the New Zealand, World War I Army Nominal Rolls, 1914-1918
Name: James Irvine [ sailor ]
Regimental Number: 14642
Relative Name: Mrs W Irvine [ Tronafirth, Tringwall - misspelling of Tingwall]
Relative Relationship: Mother
Embarkation: 1916

His brother William, sawmill hand, is also listed .

Researching:


alviegal
Report
22 Jun 2022 13:25

Great source for Shetland families. Here is the family group.

https://www.bayanne.info/Shetland/getperson.php?personID=I80123&tree=ID1

nameslessone
Report
22 Jun 2022 14:26

Neil - it is much better for all the researches trying to help you if you post the information on the thread rather than by pm. Unless it is very sensitive - which I don't think this is.


James left NZ on the Barquentine Lahaina Oct 1919. The letter sent to his mother was from San Francisco. SF was proably a stopping of point on the way to Port Townsend which is in Washington State.

Added: This is a llovely painting of the ship:
https://www.granger.com/results.asp?image=0103167&itemw=4&itemf=0048&itemstep=1&itemx=1

If you google the ship there is another picture of its stranding. It looks as though the name was given to a new steamer in the 1920's. It also looks as though it sailed regularly across the pacific.

nameslessone
Report
22 Jun 2022 15:20

I couldn't ember where in Canad the main archives were kept.

This is a useful Scottish site which gives you that information as well as lots more.
Www.Glasgowfamilyhisyory.org.uk

Then explore our records - merchant seamen.

( couldn't c & p as my iPad decided not to let me)

ArgyllGran
Report
22 Jun 2022 18:00

The "Lahaina" sailed for Port Townsend from Wellington, in ballast, at 8.45am on October 21st 1919.

https://tinyurl.com/mv3h2w24

She arrived at Port Townsend on 21 December:

https://tinyurl.com/28v3cvd5

Researching:


LondonBelle
Report
23 Jun 2022 09:19

Message received from Neil

Thank you The names if the family are correct apart from the transcribing of the last name. i had a feeling they had gone south for some reason temporarily. William was my grandfather . Still not sure where James was born.
Regards Neil

Researching:
Sheik Ralphie

nameslessone
Report
23 Jun 2022 09:59

Gone South! As we are looking all around the world that needs clarifying.

As James was a 1st mate under sail then he would, presumably, be looking for something similar. If he was planning to sail back to the UK from the American west coast thenwouldn't it take quite a longtime?

I have never researched merchant seaman but I am sure you can sometimes find their documents. Neil needs to look into doing that so he can work out where James went next.