Genealogy Chat
Welcome to the Genes Reunited community boards!
The Genes Reunited community is made up of millions of people with similar interests. Discover your family history and make life long friends along the way.
You will find a close knit but welcoming group of keen genealogists all prepared to offer advice and help to new members.
And it's not all serious business. The boards are often a place to relax and be entertained by all kinds of subjects.
The Genes community will go out of their way to help you, so don't be shy about asking for help.
Quick Search
Single word search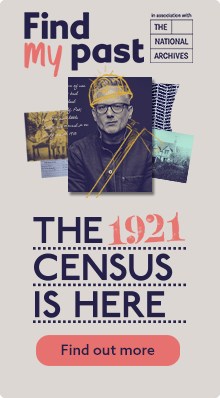 Icons
New posts
No new posts
Thread closed
Stickied, new posts
Stickied, no new posts
Tip of the day...Bibles and wills
Profile
Posted by
Options
Post Date

Jonesey
Report
28 Oct 2009 08:30

Apart from census and birth, marriage and death certificates other records exist which can tell you a great deal about your ancestors.

The first of these is a Family bible. During the 1800's and probably before, family bibles were treasured possessions and apart from getting the good word from them people used them as a place to record events (Births, Marriages ect) in their families lives. Those who were literate often wrote the details of the event on the flyleaf. Bibles were often passed down through the generations. Although in today's secular society the tradition seems to have died out you may find that someone in your family still has great aunt Agatha's bible which they either inherited or found when clearing out her house after she had passed away. It is certainly worth asking your relatives just in case.


The second important potential source of information is a will. It is estimated that two thirds of people leave a will. Contained within a will you can discover a great deal of information about children (Born on both sides of the blanket) and sometimes an insight into the kind of relationship that the deceased had with some of his relations. You may discover clues about ancestors that you did not know about or a lot more about those that you did.

Copies of wills are relatively easy and cheap to obtain. Where to look for them will depend on when and to some extent where your ancestor died. The most critical "When" is before or after 1858.

Before 12/1/1858 the wills of those living in the southern part of Britain were proven at the Prerogative Court of Canterbury. Copies are held at the National Archive and if you can find your ancestors will in the index you can download a copy to your computer for just £3.50.

After that date copies are held at the Court of Probate and copies of the calendars (Registers) can be viewed free in London and a copy of the will itself can be obtained by post for just £5.00. These links will explain more:

http://www.nationalarchives.gov.uk/familyhistory/wills/?WT.hp=Wills

http://www.hmcourts-service.gov.uk/cms/1226.htm

Just a word however about what you will get. Earlier wills are likely to be handwritten in Old English Secretarial Script which is not very easy to read. The will may contain words and phrases with which you are unfamiliar but if you persevere I am sure that you will get the gist of things.

Good hunting.

Researching:
Don't put off until tomorrow doing what you can do today. If you like doing it today you can do it again tomorrow. Be kind to your children for it is they who will decide which care home you end up in.

SueMaid
Report
28 Oct 2009 08:38

I am finding your "tip of the day" very informative. Thank you.

Sue

Jilliflower
Report
28 Oct 2009 09:25

Another good tip uncle Jonesey,
I am still crying over two family bibles:
My mother bought a huge Victorian Bible and to my horror the "family" page had been ripped out a) destroying all the info and
b) destroying the value of the Bible.
Also a great aunt in Canada had thrown out the family Bible "because it smelt!" and it has taken me hours to research the family when I could have had it on a plate!
As the good Book says "no rest for the wicked!"

SO you have now inspired me again to fill in the family details in MY Bible.
Thanks
Jill

AllanC
Report
28 Oct 2009 10:10

Prayer Books as well as Bibles often have inscriptions. They were more of an individual possession than Bibles so would have the owner's name written in.
A new one might have been presented to someone at confirmation or other event and have that recorded on the flyleaf.
And/or a Prayer Book might be passed down through several generations, each successive owner writing his/her name in it, which may help you sort out who was who in which generation.

lancashireAnn
Report
28 Oct 2009 13:57

don't just look at the flyleaf of a bible either. I have one where family information is written in any space at the end of a chapter or book and between OT & NT.

Wills I agree can be a great source, even letters of administration, where there is no actual will can be useful in giving a name & address of who the letters were given to. I have one will which lists all the other people living in the village (it was only a small one but...)

Researching:
Liverpool (Cartwright, Chambers, Miller), Todmorden (Sutcliffe, Mallison), Abergavenny (Watkins, Prosser)

AnninGlos
Report
28 Oct 2009 16:16

My Mother's family Bible passed down to her from her Father and his Father was a good source of information to me. Lovely to see my Gt Grandfather's writing and then my grandfather's and then a small bit of my Mum's My sister has my Father's family Bible but there is not so much information in it.

Researching:
Photo Helebore 2021 Researching Somerset, Dorset, Hampshire, Derbyshire, Staffs, Devon, Glamorganshire. Ingram, Masters, Tamblyn, Knight, Warner, Bate, Allen, Riggs, Dominey, Duffin

Von
Report
28 Oct 2009 16:28

Hi
Welsh wills pre 1858 are free to read on the National Library of Wales website.
http://www.llgc.org.uk/
Happy hunting
Von


Jilliflower
Report
28 Oct 2009 17:50

AN elderly friend found a bible hidden in his chimney from the 1700s and it was an ancestor who had written on several pages as well as family bmd. I was found when the house was being redesigned inside and the old fireplace was revealed.
My envy was enormouse! (thou shalt not covet thy neighbours house?)
Jill

Teresa With Irish Blood in Me Veins
Report
28 Oct 2009 20:54

I remember as a child seeing several Memorial Cards that my late Dad kept in his Sunday Missal..... Catholic Mass prayer book.

I know one was for his father who died long before my Mum and Dad married and there was one for his brother who died before his Dad did.

Dad suffered from Alzheimers so couldn't remember any DOBs etc when I first started doing my family tree 6 years ago.

I searched his house high and low for these Memorial Cards as I knew they had the DOB and Death but never found them.......until 2 years ago, after my Dad died and we were clearing out all of his personal belongings.

If only we had come across them earler, I could have saved hours and hours of searching BDM's on 1837.com which is now findmypast!


3 years ago I discovered that my late father-in- law had a sister and managed to trace my husband's 3 cousins he never knew he had.

We met up with the 2 brothers that survived..now in their 80's and one had a Bible that belonged to their father...Oh the joy of seeing that! Names and Birth dates of my husbands grandfather's parents and siblings! But of course I had previously found them and bought the birth and marriage certificates but the Bible did reveal when they died!

Ebay often has old family Bibles for sale...as well as other family documents.....always worth checking that out.

It must be a great delight to find on that is 'yours'.
.



Madmeg
Report
28 Oct 2009 21:20

Jillian - what a coincidence.

We sold mum's house 2 years ago to pay for her residential care. The new owners, a young couple, ripped out the old gas fire with back boiler set in the chimney where the old open fire used to be years ago - and there was my mother's family bible!

Now what I want to know is, why was it in the chimney? My dad would have installed the gas fire, he would have put it there. He would not put a combustible item behind a gas fire without a reason - he was a builder by trade, and despite not being religious, he would have had respect for my mother's family bible.

Can anyone advise?

Margaret

Jilliflower
Report
28 Oct 2009 22:15

I was guessing that the Bible my old friend found was from the days, perhaps when it was not permissable for the ag labs to read, let alone OWN a bible - and in English. He took it to a Christadelphian Bible Exhibition and it was the second oldest bible there and was in all the local papers.
But I can't imagine what your father was thinking of to put that Bible there. I wonder if it was some sort of superstition - to bring a blessing on the house? But - no - I agree with you that your dad wouldn't put something like that behind a fire. Mystery on mystery.
cheers,
Jill

Angela
Report
9 Feb 2010 22:25

Thanks Jonesy for a great tip! I was wondering how I go about looking into the wills side of all this...

Chris in Sussex
Report
9 Feb 2010 23:04

I would suggest that anyone researching wills looks at the following books recommended by the IHGS....Some are 'where to find' and others are a 'help' in reading wills.

If not available 'on the shelf' at your local library then they may be able to order it in locally....Check out your County library website for availability or ask at at your library 'Help Desk'

PRO Pocket Guide Using Wills (PRO 2000)
Arkell, Evans & Goose When Death Do Us Part (Local Population Studies 2000)
A. Camp Wills and their whereabouts (Published by the Author 1974)
A. Collins Basic Facts about using wills after 1858 and First Avenue House
(FFHS 1998)
J. Cox An Introduction to Wills, Probate and Death Duty Records
(FFHS1998)
J. Cox Hatred Pursued Beyond the Grave (HMSO 1993)
J S W Gibson Wills and where to find them (Phillimore, 1974)
J.S.W. Gibson & E. Churchill Probate Jurisdictions: Where to look for wills (FFHS 2002)
K. Grannum & N. Taylor Wills and Other Probate Records (TNA 2009)
R. Millward A Glossary of Household, Farming and Trade Terms (Published by
the Author 1991)
S.A. Raymond Words from Wills and Other Probate Records (FFHS 2004)
M. Scott Prerogative Court of Canterbury Wills and other Probate Records
(PRO 1997)

Chris



Researching:
Avatar...My darling Dad. 1931-2019 'Take nothing on its looks, take everything on evidence. There is no better rule' Charles Dickens, Great Expectations. 'A brickwall is a problem that you haven't solved yet' Dave Annal http://media.nationalarchives.gov.uk/index.php/brick-walls-and-lost-ancestors/

grannyfranny
Report
10 Feb 2010 10:04

My Mum had the 'torn out page', so I have inherited that at least, though she knew all the info anyway. OH's family have a Bible, I think his cousin holds it.

Another useful find was a number of 'Birthday books', little pocket sized books where you wrote people's birthdays. Although the YOB wasn't always there, at least you had the names and birthdays, very useful.

Researching:
Freeman of Berwick upon Tweed

Marina
Report
10 Feb 2010 11:31

My dad inherited the family Bible from his mum's side of the family.
I got all my info from that side of the family from this Bible,must have been lucky I say.
Marina

Researching:
Short family from Chudleigh and Ashton,Devon/ Bedford family from Buckinghamshire

Sally
Report
10 Feb 2010 20:48

thanks jonsey for all your tips
i was given an old birthday book when i was a child and oh dear i scratched out all the names but i still have the book useless though
sally

Researching:
stephen taafe*muriel denley1917 he died 3 weeks later

Chrissie2394
Report
10 Feb 2010 21:25

Thanks Jonesey for yet another great tip.

Chris

Researching:
Photo is of my nan celebrating her 102nd birthday with her gt gt granddaughter.

Heather
Report
11 Feb 2010 11:09

Shame GR doesnt collate all these tips - they are very good indeed Jonesy.

Evelyn
Report
11 Feb 2010 21:32

I found obituary notices cut out from newspapers and pasted in the back of my grandmother's Catholic Missal. That's what started me off on this whole genealogy thing!

Madmeg
Report
11 Feb 2010 22:08

Jillian have you mentioned the chimney before? My mother's family bible was found in the chimney after we sold her house and the new occupants ripped out the chimney. Most odd - why hide a bible in the chimney? Why hide it at all?