Genealogy Chat
Welcome to the Genes Reunited community boards!
The Genes Reunited community is made up of millions of people with similar interests. Discover your family history and make life long friends along the way.
You will find a close knit but welcoming group of keen genealogists all prepared to offer advice and help to new members.
And it's not all serious business. The boards are often a place to relax and be entertained by all kinds of subjects.
The Genes community will go out of their way to help you, so don't be shy about asking for help.
Quick Search
Single word search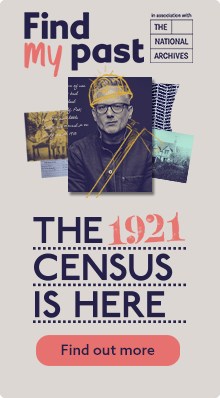 Icons
New posts
No new posts
Thread closed
Stickied, new posts
Stickied, no new posts
Tip of the day...Adoption records
Profile
Posted by
Options
Post Date

rhianelewis
Report
3 Nov 2012 20:02

Hello,
I have read all the threads and found it interesting and useful, I myself am trying to help my friend, his mother was born in 1933 and adopted a few months later, we have a copy of the adoption certificate, his mother and her adoptive parents have all sadly passed away, my friend is now eager to find out about his mothers birth parents, the birth mother was believed to have been 16 when she had her daughter and the given name was Annie Smith (quite common so we do wonder whether this is actually the real name), this information is all that his mother had been told? But when she was adopted she did also come with a big dowry of money, so we have no idea who's money this was?
We have wrote to the adoption people at the courts and are still waiting to hear off them as my friend has requested the adoption records, what I am wondering about is that he has been told that the admin lady goes to look for the records when she finds them she passes them onto a magistrate and then it is his decision how much information my friend is given, has anyone else have this happen?? My friend is an only child so any information gathered is for his own interest and wont be causing any family issues.

Alisoun
Report
4 Nov 2012 13:47

the threads on here are very interesting and useful . I am trying to find what happened to my grandmas birth mother after 1900 .there are a few clues
on her birth certificate dec 1899 her middle name was a surname which i'm told is a way unmarried mothers had of indicating the father also her profession was draper's assistant.so we looked for possible candidates of that name who lived locally and worked in similar professions .Unlikely to be able to trace him definitely though . by the time my grandma was baptised march 1900 this middle name had been changed to a more conventional one , her mother's own name was shortened (charlotte to Lottie )different initials so i would have missed it on register if she hadn't been the only fatherless child on the book . In 1901 my grandma was "a boarder" with her birth mother's surname only her 1st name was transcribed as May rather than maisie. By 1911 she was listed as adopted though as you suggest there would probably be no legal paper work and she had taken her adoptive families surname .on her marriage certivicate she was "Adopted name "known as unknown fathers surname /birth mothers "surname .So your advice at looking at all names is very valid . I know that she did trace her birth mother who wrote telling her not to contact her again as she was now respectable with a professional son . i don't know when my grandma found her (when she married in1924 ,had her own kids in 30's or when adoption rights changed . My late aunt found this letter of rejection after my grandmother's death and decided to destroy it . So I'm now looking for other clues . Would there be old newspapers with adverts for adoptive parents or court cases against putative fathers .?

Researching:
charlotte roberts,george jacob fellman ,alexander irvine

Alisoun
Report
4 Nov 2012 14:04

oops didnt see that this thread had the blocked icon on it .but i see some people are still following it .does that mean someone has to set up a new thread to discuss adoptions ?

Researching:
charlotte roberts,george jacob fellman ,alexander irvine

Angela
Report
4 Nov 2012 20:23

Hi, I've found the emails in this thread very interesting. Like many of you, I'm also trying to trace more information about my Mum's cousin who was adopted as a baby in 1929, so after the Adoptions Act. I've got a copy of his birth certificate which shows his mother (my gr auntie), no father is listed and "adopted" has been typed onto the birth cert. My mum and I would dearly love to find out more, but he could be still living, into his 80s and the last thing he needs is this. Does anyone know if I can find out more, for example his adoptive parents etc, what his name became, or am I caught up with the 100 year rule?

I'd appreciate any words of wisdom, many thanks.

Jonesey
Report
5 Nov 2012 09:13

Angela,

Back in 1929 it was envisaged that once adopted all links to the child's birth family would be completely severed and that no contact between the adopted and their natural parents would be possible. Although subsequent revisions of the act now mean that the adopted have the right to information about their origins it is principally the adopted who can access that information, not other interested parties.

Some revisions do give certain family members or descendants of the adopted rights to seek information but I do not know whether these are likely to extend as far as cousins. I would suggest that your mother contacts www.norcap.org.uk who would certainly know. Whilst in contact with Norcap she could also leave her details on their contact register which would then be checked against their database for potential links.

Good luck.

Researching:
Don't put off until tomorrow doing what you can do today. If you like doing it today you can do it again tomorrow. Be kind to your children for it is they who will decide which care home you end up in.

Angela
Report
5 Nov 2012 18:44

Jonesey, many thanks for your advice, I'll try Norcap.

Angela

Unknown
Report
7 Nov 2012 19:51

Hi

I hope you can give some advice. My dad was born in 1939 and was in a childrens home in Birmingham until around the age of 3 when he was adopted.

He has had access to the adoption file and did trace his birth mother who has since died. There was no father's name on the birth certificate or within the adoption file so where do we go from here?

When he met his mother (only saw her 2 times before she severed contact) she advised his father was of the surname Smith (helpful!) whose father ran a garage in Kings Heath, Birmingham. She also said he was in the RAF. I have tried researching along these lines but it is such a common surname I don't really know where to start and then of course we can't be sure she was telling the truth anyway!

Is there any other place we can go/records we can research where she would have had to list the fathers name?

Any advice would be really appreciated.

Jonesey
Report
8 Nov 2012 09:06

Rebecca,

Unfortunately with the scant information that you have the chances of you or your father discovering who your father's biological father was are pretty remote to say the least.

Assuming for the moment that the information that your father's mother gave him was accurate then the only thing that I can suggest is that you begin by trying to discover whether there was a man called Smith who owned or ran a garage in the Kings Heath area of Birmingham in 1938/9. To investigate that claim may I suggest looking at the editions of Kelly's directory of Birmingham and Suburbs covering that period. Copies of the directories are almost certain to be available at the Birmingham Reference Library but if not can be purchased in CD form from http://www.midlandshistoricaldata.org

If that part of the information can be proven correct it would then become necessary to investigate further into the family of the man who owned/ran the garage to try to discover whether he had a son who was in the RAF at the time.

It must be said however that even if your investigations proved that there was some truth in what your father's mother told him, it would still not prove that the individual mentioned was your father's natural father. Unfortunately it must be accepted that with the passing of his mother, your father's chances of proving who his father definitely was, probably died along with her.

Sorry if I appear negative but I think that it is better to be realistic rather than raise false hopes.

Researching:
Don't put off until tomorrow doing what you can do today. If you like doing it today you can do it again tomorrow. Be kind to your children for it is they who will decide which care home you end up in.

TaniaLL
Report
11 Nov 2012 15:15

Hi.

My nanna was adopted. We had a social worker look everything up and found out her mothers name and where she came from. we also know the address where she was born. My nanna had always thought, through chinese whispers, that she was one of a multiple birth. The social worker found out that she was a twin and so we also have her brothers birth certificate. I have started tracing her family backwards and I have found that her mother married three years later, though at the moment I have lost her trail.

What I am asking is- is there anyway that I can find out what name her brother was given when he was adopted? I would really like to trace him and his family. I know I can register myself on the adoption register and a number of other forums etc but that is of course left to chance that he even knows he was adopted and that a member of his family is as curious as I am. My nan passed away and he may no longer be alive as he would be 82 now.

I am also interested to know about where they were born as there is an address on the birth certificate. Is there anyway I can find out what family were living at the address where they were born? If I pay for electorol roll records would that show me anything? They were born in 1930.

Any help would be gratefully appreciated as I have come to a bit of a stand-still.

Researching:
Tyson, Blanchard, Wilson, Perritt and Holgate.

Jonesey
Report
12 Nov 2012 07:43

Tania,

Unfortunately your chances of discovering your nan's brother's name after his adoption are very slim. The way you describe how you discovered your nan's pre-adoption history sounds a bit like it may not have been done through "Official" channels. If that was the case and as the brother may well have been adopted in the same location at about the same time have you thought about a similar approach to try to discover more about him?

With regard to electoral registers copies of these are usually available either in hard copy format or on microfiche at the main public library or archive office in the area that the ER covered. Access during a personal visit is usually free. If a personal visit is not possible a phone call to the library or archive is advised. Staff there may be prepared to look the address up for you. You may be asked to pay for that help but as you know the specific address any cost should be minimal.

Although most ER's of that time are not available online there are some exceptions such as Birmingham (Available via www.midlandshistoricaldata.org) and London (Available at Ancestry).

It is also worth remembering that at that time only those who were aged over 21 years and registered to vote would appear on an ER. No ages, family relationships, occupations or birthplace ect appear on an ER.

Researching:
Don't put off until tomorrow doing what you can do today. If you like doing it today you can do it again tomorrow. Be kind to your children for it is they who will decide which care home you end up in.

TaniaLL
Report
12 Nov 2012 13:39

Hi Jonesey,
Thank you very much for your reply. I'm new to this so it is lovely to get a reply. All the information I have regarding my nanna's birth and that of her brother has come from social services. We have a copy of both of their birth certificates and they are the same surname, born on the same day and at the same address. I have a copy of my nanna's birth certificate and know all about the family she was adopted by, there are still links to that family now. She wasn't adopted however until she was 9 months old. I asked Banardo's to do a search of the childrens homes in that area for me but they came back with no results. I was hoping that they might have both gone to the same place from birth.

The reason I wanted the electorol roll is because they were born in a home address and I am looking at whether the mother is connected in some way to the family living there. She travelled from Lincolnshire to Hull to have the babies which would have been a fair trek in the 1930's. So I was thinking she maybe went to be with distant relatives. I suppose there is always the possibility that her brother was left with that family.

To further complicate things my nanna was adopted by a family and the adoptive parents neglected her. The NSPCC were involved and in the end she was adopted again -but by the parents of the adoptive parents! (Her grandma became her mother!). I can contact the NSPCC but I was wondering if anybody would know if they were likely to have known about her brother as well. Long shot I suppose!



Researching:
Tyson, Blanchard, Wilson, Perritt and Holgate.

Jacquelyn
Report
15 Nov 2012 22:55

Thanks for this info , most interesting as only just found out today that my great aunt was known to us as one name but turns out according to some records found by a cousin sorting out her mother belongings when born was given a different name and we can find no birth record for either! this is circa 1902. and i was just browsing looking for any info on adoption i could find as have no knowledge of this subject

Unknown
Report
19 Nov 2012 20:12

Hi

Thanks for your reply which is much as I thought but didn't know if we were missing something really obvious we could try.

Thanks again for your help and time - it is much appreciated.

Rebecca

damian
Report
21 Nov 2012 14:44

dose any one have an advice as to how i can find my brothers they were all adopted apart from me and my younger brother i have names birth dates and date of adoption :-D

Jonesey
Report
21 Nov 2012 15:27

Damian,

I would suggest that you join the Contact Register at Norcap in case your brothers who were adopted are trying to discover something about their birth family.

http://www.norcap.org.uk

Good luck.

Researching:
Don't put off until tomorrow doing what you can do today. If you like doing it today you can do it again tomorrow. Be kind to your children for it is they who will decide which care home you end up in.

~Looby Loo~
Report
26 Nov 2012 18:54

Hi Jonesey,

My daughter's boyfriend is trying to find his birth mother.

He knows the hospital he was born in, and his natural birth parents (who he believes were not married). I don't know where he got the information. So to help him I've been looking for his birth, but I cannot find the birth reg using both his birth name and adopted name, is there any reason for this?

Do you know where he should start? He cannot ask his adopted parents as he knows they would be terribly upset, but it's something he still wants to do. I've told him about Norcap.

Thanks in advance Lou


Researching:
Baker, Blann. Coyne, Jackman, Parr, Price,

Jonesey
Report
27 Nov 2012 13:31

Lou,

If the information he has about the hospital where he was born in and his natural parents is accurate then it should not be that difficult to find his birth registration.

Firstly his birth should have been registered under his natural fathers surname if his parents were married, under his natural mothers surname or possibly under both surnames if his parents were not married. In all cases his mothers maiden surname should appear as such in the index. It is worth considering that perhaps the surname that the lad has for who he believes was his natural mother may not have been her maiden name. For example if she had been or was still married to someone other than the man the lad believes was his natural father.

As far as where his birth was registered then most obvious starting point is the registration district in which the hospital was or in one of the registration districts surrounding the hospitals location. A factor to consider however is that the birth might have occurred in a location that was not where the mother normally lived and that it was registered later in the district where the mother normally lived. One of my son's friends was born slightly prematurely in Bristol whilst his mother was temporarily away from home. His birth was however registered in Birmingham once his mother returned to her home. I am not 100% sure of the mechanics for doing this but I believe that in such circumstances the person registering the birth has to make a declaration as to the reasons why the birth was not registered in the district where it actually occurred.

Have you checked for late registration of the birth? Births have to be registered within the 6 weeks following the actual date of birth. This can often mean that whilst the birth occurred during one quarter its registration might quite legitimately not be registered until the next quarter has begun.

Whilst your daughter's boyfriends adoptive parents feelings certainly need to be carefully considered if he has reached adulthood then it is his legal right to discover more about his natural parents should that be what he wants to do. If he knows where he was adopted then his first move should be to contact Social Services in that area as it will be they who should have his adoption file. Once his file has been located Social Services will council him before divulging information about his natural parentage to him.

Researching:
Don't put off until tomorrow doing what you can do today. If you like doing it today you can do it again tomorrow. Be kind to your children for it is they who will decide which care home you end up in.

~Looby Loo~
Report
1 Dec 2012 08:16


Hi Jonesey,

Thanks very much for your advice and where to start looking. I shall widen the search now for him, it did occurred to me he could be registered under both surnames. I will give him all the info you have supplied.

Thanks very much once again, your a little treasure.

I know it's early but ..Happy Christmas.

Lou x


Researching:
Baker, Blann. Coyne, Jackman, Parr, Price,

~Looby Loo~
Report
6 Dec 2012 13:58

Hi Jonesey,


I've a few more questions if you don't mind.


I've found his natural birth reg but along side of the page & volume numbers there appears another set of numbers followed by the letter S, can you tell me why and or what this is please?

He was adopted when he was 2 years old but we cannot find any birth reg with his new name which matches the natural Mother's maiden name. I am presuming of course that because the adopted parents changed his name he would have a new birth certificate confirming this, if this is so - then would his natural mother's maiden name be on it or his adopted mother's maiden name - if that makes sense?


Thanks again Lou


Researching:
Baker, Blann. Coyne, Jackman, Parr, Price,

Jonesey
Report
7 Dec 2012 13:02

Lou,

Although I am not 100% certain I am fairly sure that the letters and numbers beside his original birth registration in the index you refer to relate to the certificate issued when he was adopted.

My understanding is that when someone is adopted an" Adoption" certificate is issued. This will show his adopted name, his original birth date, original registration district and it will give details of his adoptive parents as if they had been his natural parents. Strictly speaking this is not a replacement birth certificate but to all intents and purposes looks and acts as one. Its issue will not appear in the index as a normal birth would but the letters and numbers you mentioned will indicate to the GRO staff where full details of the issue of his new certificate appear in the records.

It is worth remembering that until relatively recently adoption was viewed as complete separation from ones birth family and it was envisaged that neither the natural parents or adoptee, would be able to contact one another once the adoption process had been completed.

The lads best course of action is to contact Social Services, which if he is now an adult (Has attained 18 years of age), need not involve his adoptive parents. Social Services will advice him further.

Researching:
Don't put off until tomorrow doing what you can do today. If you like doing it today you can do it again tomorrow. Be kind to your children for it is they who will decide which care home you end up in.